These refrigerator pickled ratatouille vegetables are great for relish trays, sandwiches or just eating out of the jar. A great summer snack to make with vegetables from your garden!
You might also like these fresh pickled jalapenos recipe!
So this week we are celebrating the best picnic foods on Sunday Supper and while these refrigerator pickled ratatouille vegetables do not scream picnic food, they seem like such a summer food to me.
I've grown to love pickled vegetables and think they would be great on a picnic. You can eat them as is, on a sandwich or salad, or eat them with meats and cheeses.
However the real reason I made this quick pickle is that I wanted to use some of our garden vegetables and I thought this mix would be tasty. And it is!
The Ratatouille Vegetables I Pickled
I used vegetables that are usually in ratatouille and which I thought would taste good pickled. They aare: grape tomatoes, eggplant, zucchini, red onions and bell peppers.
The jar above on the left is the pickled vegetables just after I made them and the one on the right is after a few days in the refrigerator.
Notes About This Recipe
Make sure you poke holes in the tomatoes so they absorb the pickling juice. If you cut them they will become a big mess.
If you use eggplant like I did, make sure you cut them thin. They are like a sponge and will really soak up that liquid. If you don't like eggplant just leave it out.
Refrigerator Pickled Ratatouille Vegetables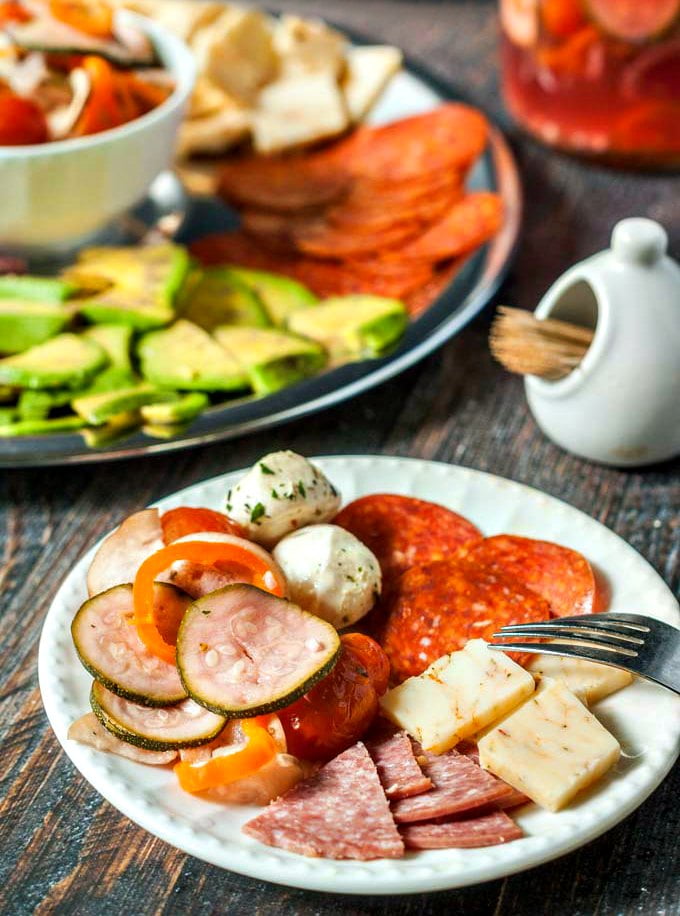 Two Pickling Brine Recipes
I'm going to give you two pickling recipes. One is my husband's recipe from his pickled jalapeño peppers that everyone loves and the other is a my blend which is more tangy than his.
His has more sugar so if you are a sweet pickle person, make his. And if you are dill pickle kind of person, use mine.
Ways You Can Use These Pickled Vegetables:
in salads: Just add a good olive oil and some meat and cheese and you have a pickled vegetable salad. My hubby and I eat this everyone once in a while in the summer.
on sandwiches: These are great on an Italian sub or really any sandwich for a little crunch and tang.
as a snack: This is a delicious little snack that is pretty healthy for you.
in pasta salad: Mix these veggies with a cooked pasta, a good olive oil and grated cheese for a tasty pasta salad.
on a relish tray: My family likes to make relish trays for get togethers. Usually they involve good cheese and meats, fruit, nuts etc. These pickled veggies would be the perfect addition.
I hope you like this quick pickled veggies recipe. For more picnic recipes check out all the great ideas from the Sunday Supper family below!
The nutritional information for 1 out of 8 servings using my pickle recipe and the following quantities of vegetables (1 c tomatoes, 1 ½ c zucchini, ½ c eggplant, ¾ c zucchini, ¼ c red onion) is:
26 cals / 0.3g fat / 5.3g carbs / 1.7g fiber / 1.1g protein = 3.5g net carbs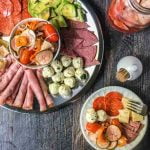 Refrigerated Pickled Ratatouille Vegetables
These refrigerator pickled ratatouille vegetables are great for relish trays, sandwiches or just eating out of the jar. A great summer snack to make with vegetables from your garden!
Ingredients
4

cups

raw vegetables

I used thinly sliced eggplant, zucchini, grape tomatoes, red onions and bell peppers

My Tangy Pickling Recipe

1

cup

vinegar

I used red wine, but white or apple cider vinegar would work

1

cup

water

½

teaspoon

Italian seasonings

1

tablespoon

salt

1

teaspoon

garlic, crushed

hot pepper flakes, just a pinch

1

teaspoon

sugar or sweetener

Rick's Sweeter Pickling Recipe

1

cups

water

1

cups

white vinegar

¼

cup

white sugar or sweetener

¼

cup

salt

2

cloves

garlic – crushed

½

teaspoons

oregano

½

teaspoon

coriander seeds
Instructions
My Pickling Recipe Instructions

In a sauce pan, add the vinegar, water, seasonings, garlic, hot pepper flakes, sugar and salt.

Mix until the salt and sugar dissolve and it's just about to boil.

Take off the stove.

Using a toothpick, poke holes into all of the tomatoes. (tThis will allow the pickling juice to penetrate.)

Add all of your vegetables into a quart sized jar.

Pour over the warm pickling juice and let sit and cool a bit.

Add your lid and refrigerate for a day or two.

Rick's Pickling Instruction

Add all the ingredients to the pan except the vegetables and bring to a simmer.

Mix well and pour over the vegetables in the jar.

Let cool and then store in the refrigerator.
Best Picnic Recipes to Enjoy at the Park #SundaySupper
Starters, Skewers, and Sandwiches al Fresco
Stow-and-Go Sides and Salads
Drinks and Desserts for Outdoor Dining

To get more great Sunday Supper Recipes, visit our website or check out our Pinterest board. Would you like to join the Sunday Supper Movement? It's easy. You can sign up by clicking here: Sunday Supper Movement.
SaveSave