Summer is all about potato salad for me, so I came up with this low carb potato-less salad using celeriac or rutabaga. You will love how good of a potato substitute these vegetables are!
Recently I have been playing around with different lower carb vegetables and had a craving for potato salad. Since celeriac has become one of my favorites I tried it first and loved it. However after that I tried a rutabaga I really liked that one too. So today I'm giving you my low carb potato-less salad in which you can use either celeriac or rutabagas. To me potato salad is a must in summer and while I have a turnip fauxtato salad recipe I think I like these better. Both make great substitutes for potatoes in this salad.
Low Carb Rutabaga Salad
Let's start with the rutabaga salad pictured below. I had never had a rutabaga but was very pleasantly surprised. It's a root vegetable that is a cross between a cabbage and a turnip. It is approximately 5.9g net carbs in a half cup vs. 14.2g for potato. Rutabaga is golden and when cooked it turns sweet but savory. It's less starchy than a potato but quite a good replacement for a cooked potato. Here is a great site for the wonders of rutabagas.
Low Carb Celeriac Salad
Celeriac or celery root is a dense, pale yellow root that tastes like a cross between celery and potatoes. Again it too is much less starchy than a potato but the flavor is good so it makes a good potato substitute. I recently made low carb fries using celeriac and loved them! A 1/2 cup of cooked celeriac has 4.7g net carbs vs. 14.2g net carbs for a potato. See the celeriac version below.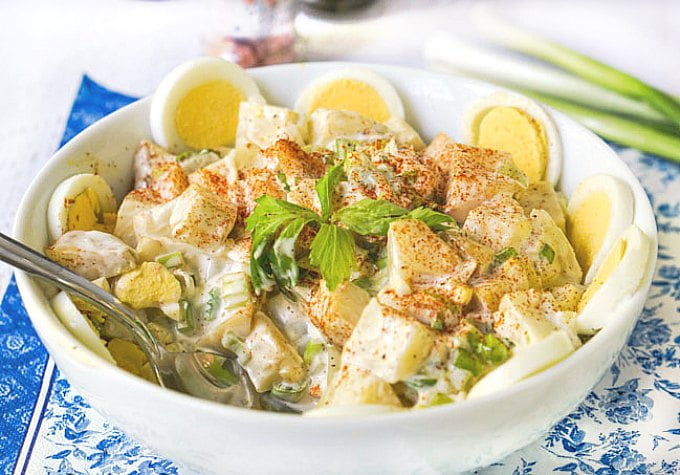 Low Carb Potatoes Salad Recipe
I used essentially the same recipe for both salads. I first peeled and cut the celeriac or rutabaga and then cooked it in the microwave for about 4-8 minutes until it was fork tender. While that is cooking I mixed the dressing of mayo, apple cider vinegar, brown mustard, sweetener, salt and pepper.
Then I cut up some green onions and celery and sliced my eggs. Lastly I put all the veggies in a big bowl and mix the dressing in. I used one egg cut up in the salad and garnished with the rest. My hubby likes a little paprika sprinkled on top but this just adds color.
Notes About The Recipe
Rutabagas have a bit of sweetness and add a golden color which is nice.
Celeriac has a bit of that celery tastes which goes great in potato salad.
Both vegetables are not as starchy as potatoes so make sure they are cooked well.
This recipe is produces a wetter salad like that pictured in the celeriac version. In the rutabaga version I used less dressing as that is the way my hubby likes it. So uses as much dressing as you like.
Well I hope you like these ideas for a low carb potato salad not using potatoes. I have been having fun trying new vegetables lately and highly recommend you try some new ones out yourself.
Root vegetables are great as chips, fries, in hashes or mashes and in soups and stews. Just check the net carbs for the vegetable before using as some are higher than others. Here is a nice article about different root vegetables if you are interested. The nutritional information for 1 serving of each salad.
Celeriac Potato Salad
148 cals / 11.7g fat / 8.7g carbs / 2.6g fiber / 3.3g protein = 6.1g net carbs
Rutabaga Potato Salad
154 cals / 11.7g fat / 11.9g carbs / 5.4g fiber / 3.5g protein = 6.5g net carbs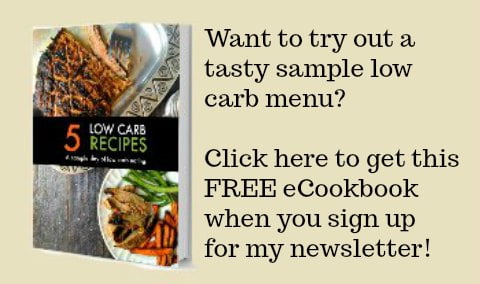 Low Carb Potato-less Salad using Celeriac & Rutabagas
Summer is all about potato salad for me, so I came up with this low carb potato-less salad using celeriac or rutabaga. You will love how good of a potato substitute these vegetables are!
Ingredients
4

cups

celery root or rutabaga, peeled & chopped

2/3

cups

mayonnaise

2

tablespoons

apple cider vinegar

1

teaspoon

sweetener (I used Swerve)

1/2

teaspoon

salt

1/4

teaspoon

pepper

1

teaspoon

brown mustard

4

greens onions, chopped

1

celery stalk, chopped

2

eggs (1 chopped, 1 sliced)
Instructions
Peel and cube the celery root or rutabaga. Cook in the microwave for 4-8 minutes and fork tender. Let cool while preparing the rest of the salad.

In a small bow mix the mayonnaise, vinegar, sweetener, salt, pepper and mustard.

In a larg bowl add the celery root or rutabaga along with the green onions, celery and 1 egg chopped. Add in the dressing and mix well. Garnish with the remaining egg.

Refrigerate until ready to eat.