These loaded smashed cauliflower bites are a nice low carb alternative to smashed potatoes. Add all your favorite toppings for a fun snack or side dish. (3.2g net carbs per serving)
Today on Sunday Supper we are celebrating creative cauliflower recipes. This is right up my alley! You know those recipes on Pinterest for smashed potatoes? Well they make my mouth drool. I love potatoes but I've come to love cauliflower almost as much. I find that there is almost nothing you can do with potatoes that you can't do with cauliflower. Case in point, these loaded smashed cauliflower bites. Easy to make and a great little low carb side dish or snack, these cauliflower bites are definitely a winner.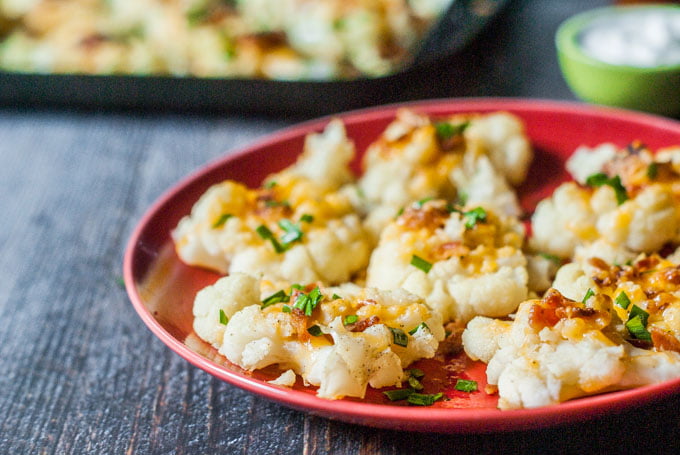 Surprisingly my husband doesn't mind all the cauliflower that we eat. I think he prefers it to potatoes actually. So when I made these he gobbled them right up. My son Max ate them but to be honest he wasn't as pleased as we were. Then again even if they were made with potatoes, he wouldn't be pleased. He likes his potatoes mashed and fried so I'm slowly working on him and he's getting there slowly but surely.
To make these yummy bites you first boil your cauliflower florets until they are fork tender but not mushy. Then you add them to a sprayed cookie sheet and smash each one a little bit with a potato masher. Just enough to flatten them. Then you sprinkle your shredded cheese and place under a broiler until the cheese melts. When they are all done, top with chopped chives and crumbed bacon. Delicious!
LOADED smashed cauliflower bites
You could definitely eat these as a snack but I liked having them as a side dish. I served it with ribs that made in my instant pot (that thing is awesome!). So next time you are drooling over those smashed potatoe recipes on Pinterest, give cauliflower a try. You'll be happy you did. For more delicious and creative cauliflower recipes from my Sunday Supper friends, just scroll down. The nutritional information for 1 serving is:
110 cals / 7.2g fat/ 5.1g carbs/1.9g fiber / 7.4g protein = 3.2g net carbs
Check out these other cauliflower recipes that my hubby loves.
---
---
Loaded Smashed Cauliflower Bites
These loaded smashed cauliflower bites are a nice alternative low carb to smashed potatoes. Add all your favorite toppings for a fun snack or side dish. (3.2g net carbs per serving)
Ingredients
1

head of cauliflower florets

3/4

cup

cheddar cheese

shredded or more

2

Tablespoons

chives

chopped

4

pieces

of bacon

crumbed

salt and pepper

cooking spray
Instructions
Cut your cauliflower into florets.

Add the florets to a big pot of water and boil until the cauliflower is fork tender but not mushy. About 15 minutes.

Strain the cauliflower and place on a sprayed cookie sheet.

Take a potato masher and mash each piece just enough to flatten it a bit.

Season with salt and pepper.

Sprinkle your cheese all over the cauliflower and then place under the broiler for 5-10 minutes until the cheese is melted. Make sure they don't burn.

Top with chives and crumbled bacon.

Can top with what ever your like and serve with sour cream.

Cook cauliflower for 15 minutes

set under broiler for 5-10
This post may contain affiliate links. For more information please visit our policies page.
---