These loaded keto cauliflower bites are a nice low carb alternative to smashed potatoes. The have all the flavor of loaded potato skins or fries but with tender cauliflower florets. Add all your favorite toppings for a fun snack or keto side dish. (3.5g net carbs per serving)
You might also like this keto loaded mashed cauliflower recipe!
You know those recipes on Pinterest for smashed potatoes? Well they make my mouth drool. I love potatoes but I've come to love cauliflower almost as much.
I find that there is almost nothing you can do with potatoes that you can't do with cauliflower. Case in point, these loaded keto cauliflower bites.
This recipe is super easy to make and a great little low carb side dish or snack. I topped mine with cheddar, bacon and green onions, but you can load up these cauliflower bites with any topping you want!
Surprisingly my husband doesn't mind all the cauliflower that we eat. I think he prefers it to potatoes actually. So when I made these he gobbled them right up.
My son Max ate them but to be honest he wasn't as pleased as we were. Then again even if they were made with potatoes, he wouldn't be pleased.
He likes his potatoes mashed and fried so I'm slowly working on him and he's getting there slowly but surely.
Recipe ingredients I used.
This is an easy recipe and all you need is a head of cauliflower, cheddar cheese, bacon and green onions (or chives).
And while that's what I like consider "loaded" feel free to add any toppings you want or would eat on a baked potato.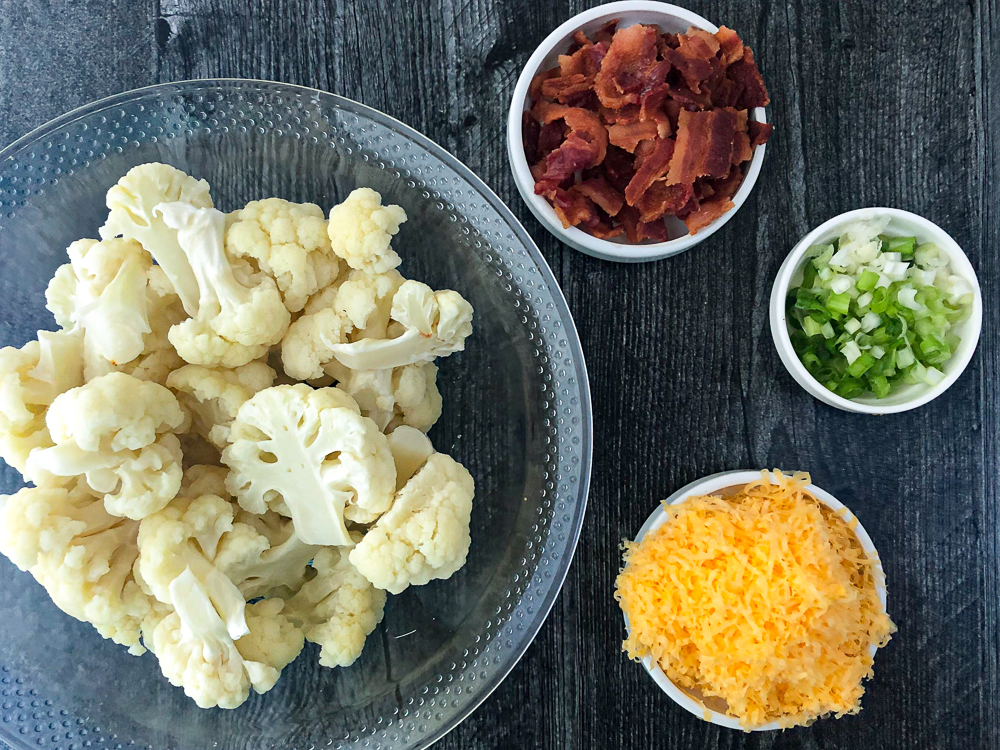 My shredded cheddar cheese tip.
I find I really like shredding my own cheddar cheese now instead of buying a bag of it already shredded. The reason why is that there are less carbs, it tastes better and it melts better. There are no preservatives or ani-caking agents. (more reasons)
My shredded cheese tip is to use a microplane to shred the block of cheese. It gives it this light and airy shred of cheese and I find you can use less to cover more. I hope below you can see how light and airy it is.
How do you make loaded keto cauliflower bites?
Cut the cauliflower head into florets. I used to boil the cauliflower florets but now I microwave them. Place it into a large microwaveable bowl. Rinse with water and leave about a tablespoon or two in the bowl. Cover and microwave for 5-10 minutes to steam them. You want them to be fork tender but not mushy. (upper left pic)
While that is cooking make your bacon, shred the cheese and chop the green onions.
Next spray a baking sheet with nonstick cooking spray and place the cooked florets on it. Now smash each one a little bit with a potato masher. Just enough to flatten them a bit. Season with salt and pepper. (upper right pic)
Now take the shredded cheddar and sprinkle a bit on each floret. Place the baking tray under a broiler for a few minutes until the cheese melts about 7-10 minutes. (lower left pic)
When they are all done, top with chopped green onions or chives and crumbed bacon. (lower right pic) Please scroll down to view and print the recipe card.)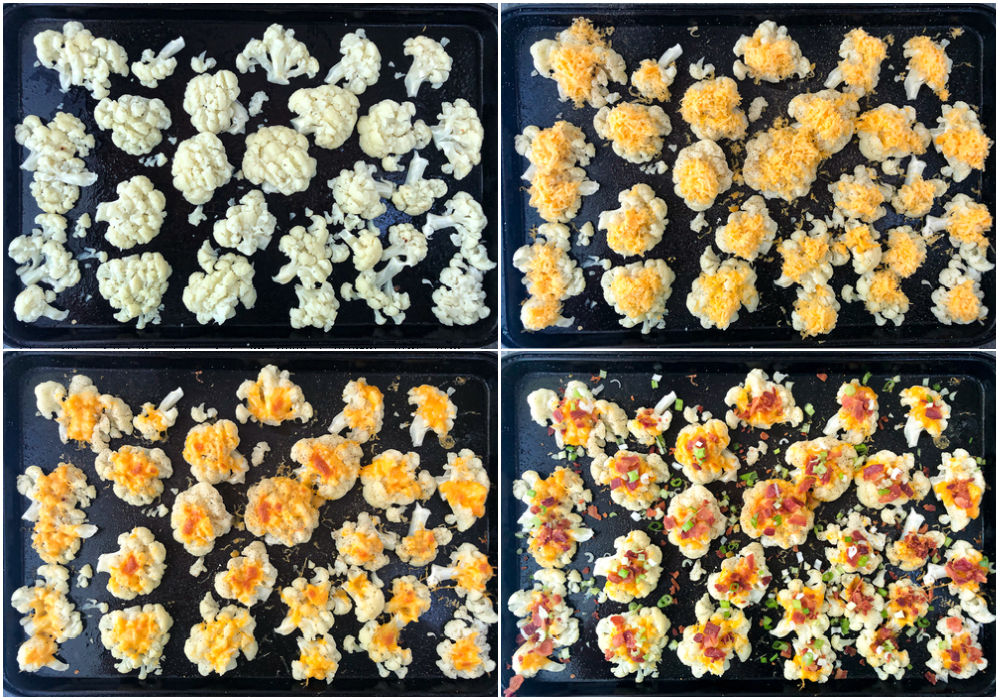 How to eat this loaded cauliflower dish.
I personally like to add a dollop of sour cream. I feel like these are a good keto substitute for potato skins or loaded fries. You could also add some hot sauce, hot pepper flakes, jalapeno slices, slice black olives or nothing at all.
What to serve with this dish.
You could definitely eat these as a snack but I liked having them as a side dish. I would serve it with air fryer baby back ribs or chicken legs. But it would also go great with burgers, meatloaf or pork chops. Any meat centric main dish would go with these cauliflower bites.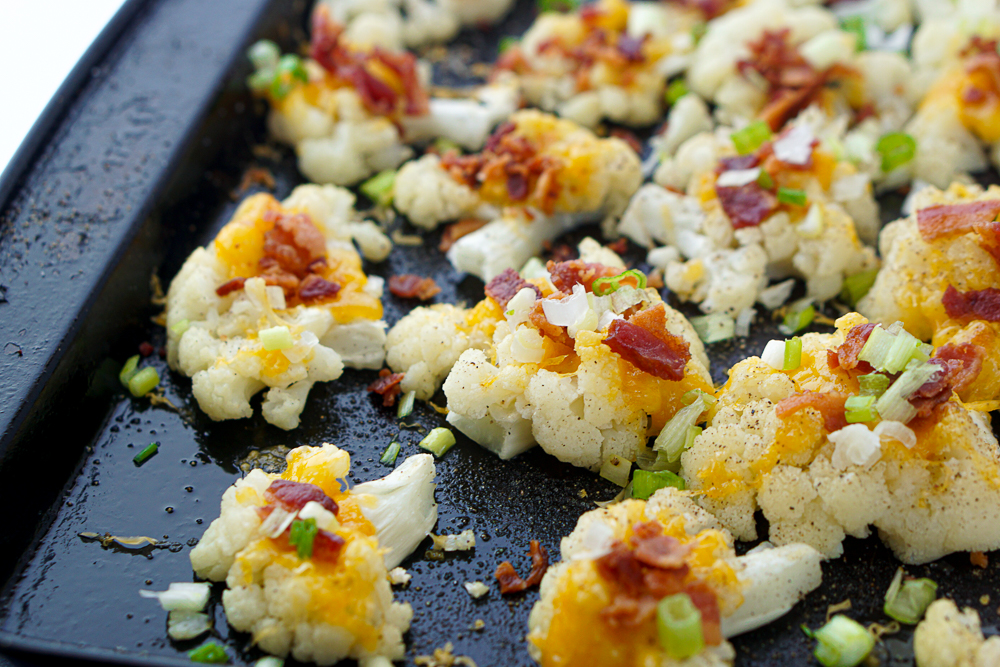 So next time you are drooling over those smashed potatoe recipes on Pinterest, give cauliflower a try. You'll be happy you did.
The nutritional information for 1 serving is: 93 calories
5.6g fat/ 5.6g carbs/2.1g fiber / 6.3g protein = 3.5g net carbs
Loaded Smashed Cauliflower Bites
These loaded keto cauliflower bites are a nice alternative low carb to smashed potatoes. Add all your favorite toppings for a fun snack or side dish. (3.5g net carbs per serving)
Ingredients
1 head of cauliflower florets
2 oz cheddar cheese, shredded
2 green onions, chopped (or chives)
4 pieces of bacon, crumbed
salt and pepper
Instructions
Cut your cauliflower into florets, make bacon and chop green onions or chives.
Add florets to a large microwaveable bowl. Rinse in water and keep about a tablespoon or 2 of water in the bowl. Cover and microwave for 5 minutes until the florets are tender but not mushy.
Or if you want to do it on the stove. Add the florets to a big pot of water and boil until the cauliflower is fork tender but not mushy. About 15 minutes.
Strain the cauliflower and place on a sprayed cookie sheet.
Take a potato masher and mash each piece just enough to flatten it a bit.
Season with salt and pepper.
Sprinkle your cheese all over the cauliflower and then place under the broiler for 5-10 minutes until the cheese is melted. Make sure they don't burn.
Top with chives and crumbled bacon.
Can top with whatever you like. I like to also use sour cream.
Nutrition Information:
Yield:

6
Serving Size:

1
Amount Per Serving:
Calories:

93
Unsaturated Fat:

0g
Check out my web-story for this post!