Low carb Bloody Mary infused vodka is a delicious way to have your Bloody Mary on a low carb or keto diet. It fun to make and even better to drink!.
You might also like this low carb blackberry lime infused tequila recipe!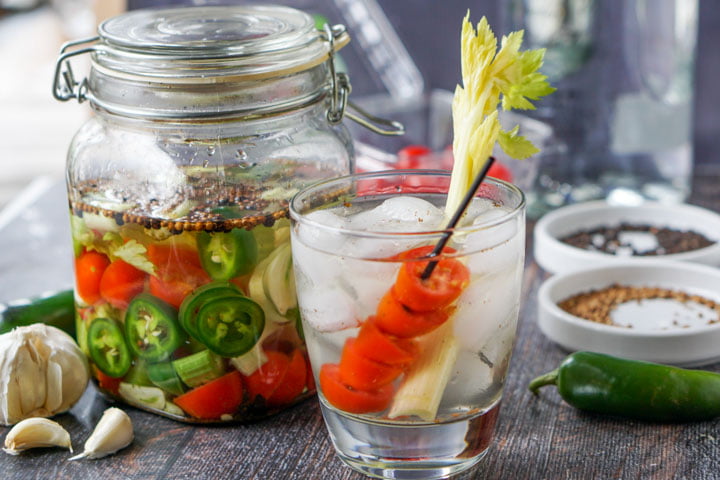 My hubby is a Bloody Mary master. He loves to make them when we are on vacation or on really hot summer weekends. While I like the taste of them, sometimes it's a bit too much like eating a juiced salad for my likes.
You know I like my salads so I guess I would prefer to eat them, rather than drink them. And I am on a carb counting frenzy, hence the reason I've been making all these infused vodkas like my mojito vodka.
So I got this idea to make a Bloody Mary Infused Vodka to drink on the rocks and boy did it turn good. This is by far my favorite infused vodka I've made. Even my hubby gave me a thumbs up!
A Note About The Carbs In This Drink
It's hard to calculate the nutrition for this drink because I don't know how much of the "essence" of the vegetables are getting into the vodka. Vodka has only 64 calories and zero carbs for 1 fluid ounce. So I feel this drink has little if any net carbs in it. However you should use your own judgement if you are on a strict low carb or keto diet.
Bloody Mary Infused Vodka Ingredients
This is another easy recipe. All you need to do is a fill a large mason jar with your favorite Bloody Mary fixings. Below you can see what I used in this infused vodka which was: celery stalks and leaves, garlic cloves, grape tomatoes, black peppercorns, coriander seeds, celery seeds and jalapeño peppers.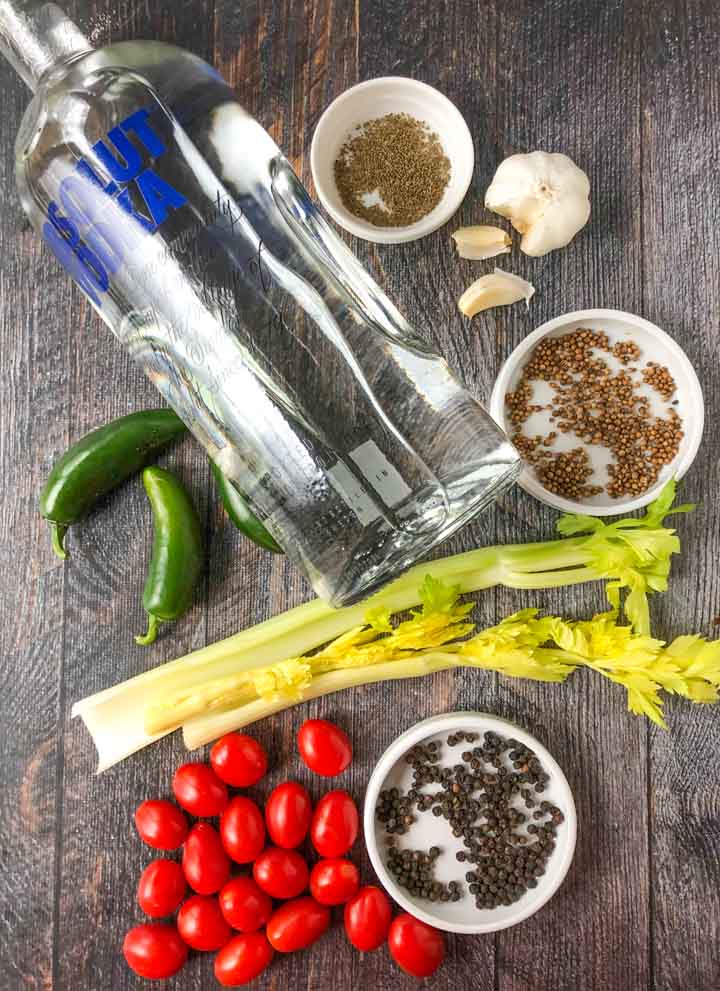 Add them to a jar like this along with a good middle shelf vodka, cover and refrigerate. I used Absolut vodka but you can use any kind you like. But remember if it's really cheap vodka it's still going to taste cheap even after the infusion of flavors.
And here it is coming out of the refrigerator after a week of steeping. Not much difference in looks but oh the flavor! We tasted it a few days in and you could really taste the celery. My official taste testers were of course me, my husband and my father in law.
Infusion Recipe Tips And Notes
When tasting make sure you shake it up first.
Also you can use different spices if you are a hard core Bloody Mary drinker. My husband wanted some horseradish in this but I didn't have any on hand.
When drinking this, you could salt the rim or add a dash worcestershire sauce.
If you don't like the heat you can just add a slice of jalapeno or eliminate it altogether.
Taste the infusion after a few days to see if you like it or not. It will get stronger the longer you keep it in the refrigerator. After a week it was perfect to me. You really get the spiciness from the peppercorns and jalapeño and a hint of garlic and tomato flavors.
Bloody Mary Infused Vodka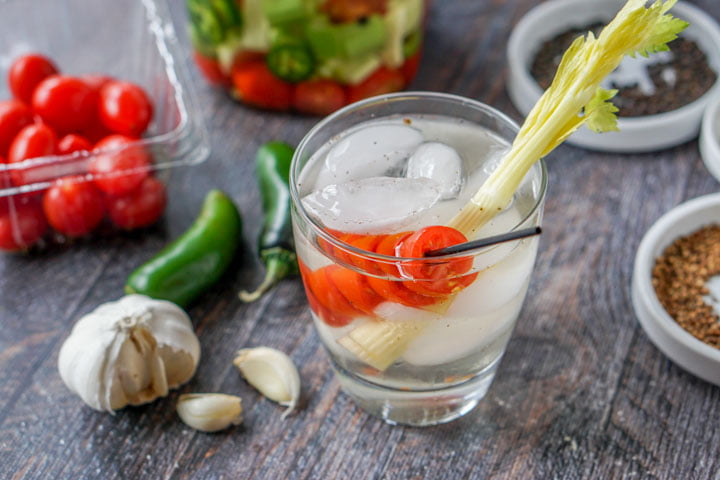 So if you are watching your carbs/calories and want a nice refreshing drink on a hot, Sunday afternoon try out this Bloody Mary Infused Vodka. It great on the rocks (which is may preferred way) but I'm sure you can add tomato juice, lemon wedges, seltzer, etc to make it your own.
Other Low Carb Infused Vodka Drinks
Here are a few of my other favorite infused alcohol recipes!
Low Carb Bloody Mary Infused Vodka
Low carb Bloody Mary infused vodka is a delicious way to have your Bloody Mary on a low carb or keto diet. It fun to make and even better to drink!. 
Total Time
7
days
5
minutes
Ingredients
½

pint

grape tomatoes sliced in half

1

stalk of leafy celery chopped in big pieces

1

jalapeño sliced

2-3

cloves

garlic, sliced in two

1

tablespoon

black peppercorns

2

teaspoons

coriander seed

1

teaspoon

celery seed

3

cups

middle shelf vodka
Instructions
Add your washed ingredients to a clean, dry quart mason jar.

Fill to top with a middle shelf vodka.

Screw on lid and store in the refrigerator for 1 week.

Shake well and strain into a clean jar or container. (tomatoes are great as garnish)

Store in the refrigerator.

To serve just add ice and garnishes such as celery stalks, lemon peels or grape tomatoes.