This grapefruit ginger fizz cocktail is a tasty low carb drink for Spring. Fresh grapefruit juice coupled with spicy ginger for a refreshing cocktail. Tastes great with either vodka or gin.
You might also like this low carb Vodka Chata drink!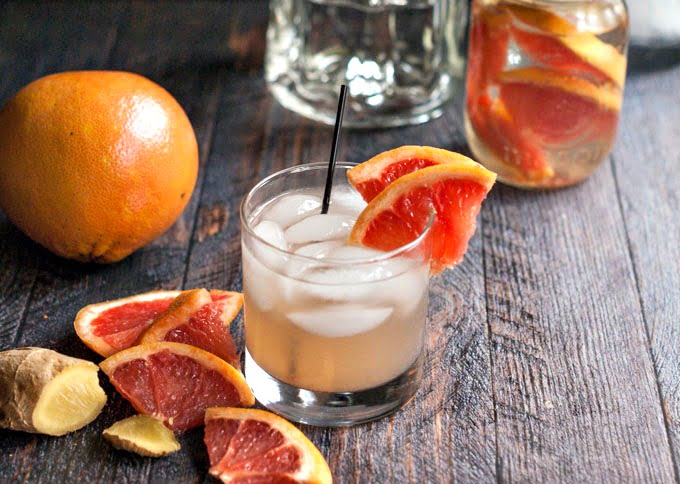 A few weekends ago we had fantastic weather. The sun was shining and we had a great day working outdoors and taking Izzy for walks on the bike trail. Life was good. And to celebrate I wanted to make a tasty beverage using some of the beautiful grapefruits I had along with some fresh ginger.
It turned out great and I want to share it with you because even my father in law gave me the thumbs up. That is high praise let me tell you. Of course it snowed last weekend but I'm hoping this weekend will bring warmer weather. Regardless I will be drinking my Grapefruit Ginger Fizz.
What Type Of Low Carb Alcohol To Use?
Most clear alcohols like vodka, gin, run and tequila have 0 carbs. You have to watch with flavored alcohols as they may have added sugar but the standard bottles will not have any carbs.
I don't drink that much but when I do it's vodka. I'm a vodka drinker because it goes with everything and it has 0 carbs. So I made this drink with vodka but I gin would also work great in this drink.
Grapefruit Ginger Fizz Low Carb Cocktail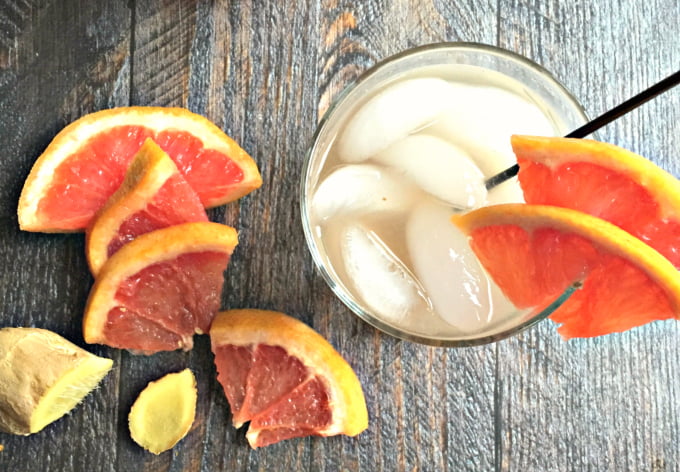 Low Carb Grapefruit Ginger Fizz Recipe
On to the recipe. I started by making a sugar free simple syrup with grated ginger, grapefruit zest and Swerve sweetener. If you don't care about the low carbness (made up word) please just substitute real sugar. It will probably work better.
After you make the syrup let it cool and add a teaspoon to your drink. The cocktail is made with a shot of vodka (or gin), fresh grapefruit juice, syrup and sugar free gingerale.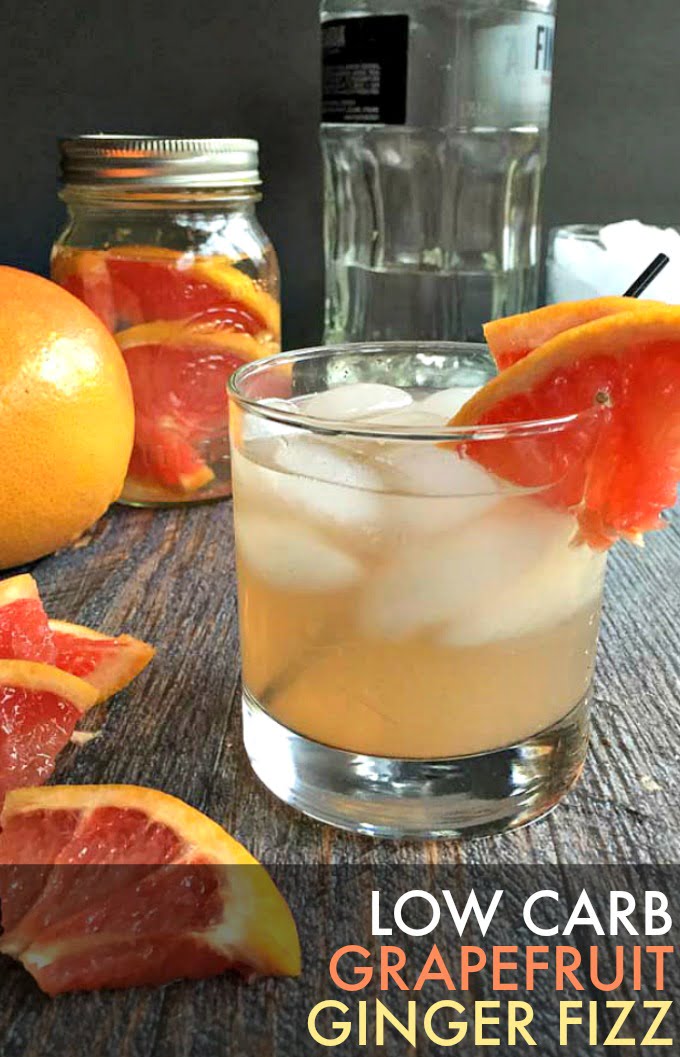 Other Ways To Make This Low Carb Drink
Some other ways you can make this is to use soda water and add the grapefruit zest and some grated ginger to your glass. I'm going to try that next time. Of course you'd want to have the vodka or gin and grapefruit juice too. Also I think diet ginger beer would be a nice addition. You'll have to taste test a bit to get the right balance of ginger to grapefruit. 😉
Other Fun Low Carb Drinks To Try!
By the way, I have some other fun drink recipes if you are interested. Here are a few of them:
The nutrition is difficult to calculate because you don't use much of the Swerve since you are only using 1 teaspoon of the syrup and it has no carbs anyway so there are only 2.8g of carbs and 80 calories per drink.
Well that was a quick one for you today but I wanted to post this so if you are enjoying a beautiful Spring day and want to have a tasty drink in the evening, I've got you covered. Enjoy!
Grapefruit Ginger Fizz
This grapefruit ginger fizz cocktail is a tasty low carb drink for Spring.
Ingredients
Syrup

½

cup

water

½

cup

swerve

zest of one grapefruit

1

teaspoon

of grated ginger

Drink

1

oz

of gin or vodka

2

Tablespoons

of fresh grapefruit juice

1

teaspoon

of syrup

gingerale to taste
Instructions
In a saucepan, add your water, ginger, grapefruit zest and

swerve

.

Simmer until all the

Swerve

has melted, set to low and let sit for 5 minutes.

Take off the burner and let cool.

In a drinking glass, add vodka or gin, grapefruit juice and 1 teaspoon of syrup.

Add gingerale to taste.

Please note you will have enough syrup for quite a few drinks.