If you are fan of this classic cocktail, you will love my keto Long Island Ice Tea recipe. It has all the flavor of original but without the carbs. A mixture of spirits and the citrus flavors make this a great keto cocktail for the weekend!
You might also like this keto Arnold Palmer cocktail!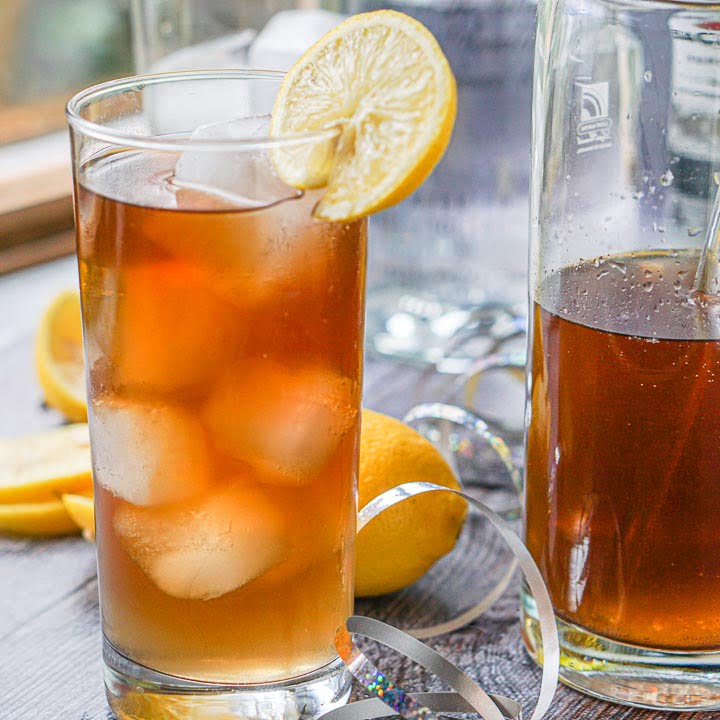 Most of the time when I make low carb drinks they taste just as good with or without the alcohol. However this keto Long Island ice tea is all about the alcohol as it's known for being mostly alcohol. That's one of the reasons I thought it would make a good keto cocktail.
I didn't used to like these drinks until I had one in a restaurant know for them. It was so good that I had to try my hand at making it low carb. It turned out delicious and will definitely be on my summer drink list.
Keto Long Island Ice Tea
Recipe In A Nutshell
In a small pan, add sweetener and water and simmer until dissolved. Let cool before using.
In a shaker cup, add the vodka, gin, rum and tequila.
Pour in the diet cola, lemon juice, simple syrup and orange extract.
Shake or mix well and pour into 2 tall glasses with ice.
Garnish with a slice of lemon.
Scroll to the bottom for the full recipe card you can print and save for later.
Why Is It Called A Long Island Ice Tea?
Most people know Long Island ice teas to be a very strong drink that looks like a regular ice tea drink. The classic drink has a higher alcohol concentration than most mixed drinks because it used 5 different liquors and small amounts of cola or other mixers.
It was said to be invented by Robert "Rosebud" Butt who won a contest for created a new drink using Triple Sec. And of course he worked in Long Island. Learn more about the Long Island ice teas here.
What's In A Long Island Iced Tea?
Typically a Long Island ice tea has a variety of liquors and then cola to give it the color of an ice tea. The classic cocktail is made with vodka, rum, gin, triple sec and tequila with a splash of cola for color.
There are lots of variations as some use sour mix or even tea itself. However these are what is normally in a Long Island ice tea.
How I Made My Keto Version
Because most hard alcohol does not have any carbs, I kept the standard vodka, rum, gin and tequila. However triple sec is an orange liquor and has about 11g of sugar so I eliminated that completely from the drink and instead used an orange extract and a sugar free simple syrup which has no carbs.
To make the sugar free simple syrup, you add equal parts Swerve sweetener and water to a pan. Bring the two to a simmer until everything dissolves and let cool before using.
I also used Realemon lemon juice that comes in the bottle because it doesn't have any carbs either. While fresh would be nice the juice of 1 lemon has roughly 3.3g net carbs so I figure why not save a few with the bottled. I did use it as a garnish though.
More Low Carb Drinks And Keto Cocktails
While you might not be throwing or attending any parties right now, here are few low carb cocktail recipes for you to try while cooped up at home. My low carb vodka chata is especially popular and the Bloody Mary infused vodka is fun to make.
More Keto Cocktails
Here are just a few of my favorite low carb cocktails.
Well I hope you give this keto Long Island ice tea drink a try. Yes it's strong so that means you only need one! The nutritional information for 1 drink is:
128 calories and 0g net carbs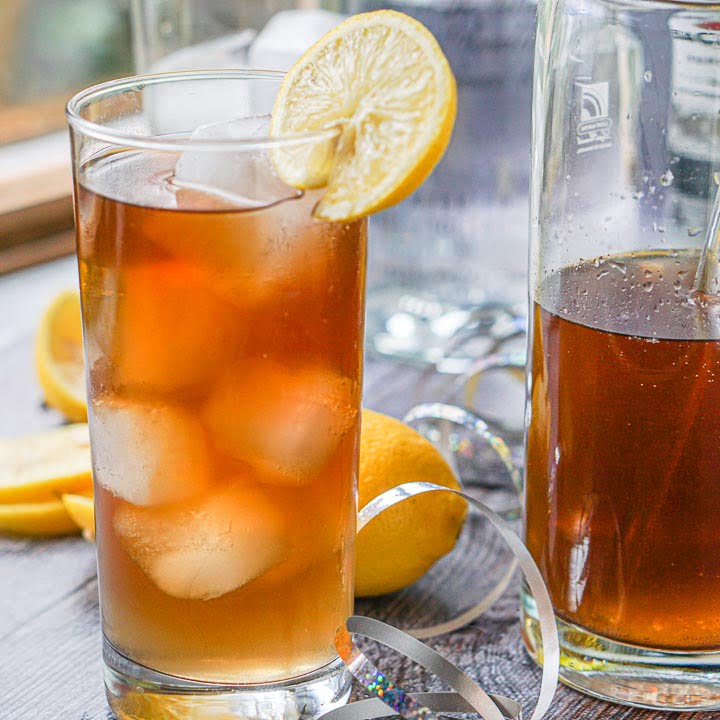 Keto Long Island Iced Tea Cocktail
If you like this classic cocktail you will love my keto version with 0 carbs.
Ingredients
1

oz

vodka

1

oz

gin

1

oz

rum (white)

1

oz

tequila (white)

2

tablespoons

lemon juice

½

cup

diet cola

1

tablespoon

simple syrup

⅛

teaspoon

orange extract
Simple Syrup
¼

cup

Swerve sweetner

¼

cup

water
Instructions
In a small sauce pan, add water and Swerve sweetner. Bring to a simmer and mix until the sweetener dissolves. Set aside to cool.

In a shaker bottle or small pitcher, add all of the ingredinets but only 1 tablespoon of the simple syrup. Taste to see if you want to adjust the sweetness.

Use two tall glasses filled with ice and pour the drink over top. Garnish with a slice of lemon.

If you want more orange taste you can also add orange zest to the drink.
Recipe Video