This low carb frozen mudslide cocktail is a delicious way to cool off at your next summer party. Or try the non-alcoholic version for an afternoon pick me up!
You might also like this low carb vodka chata drink!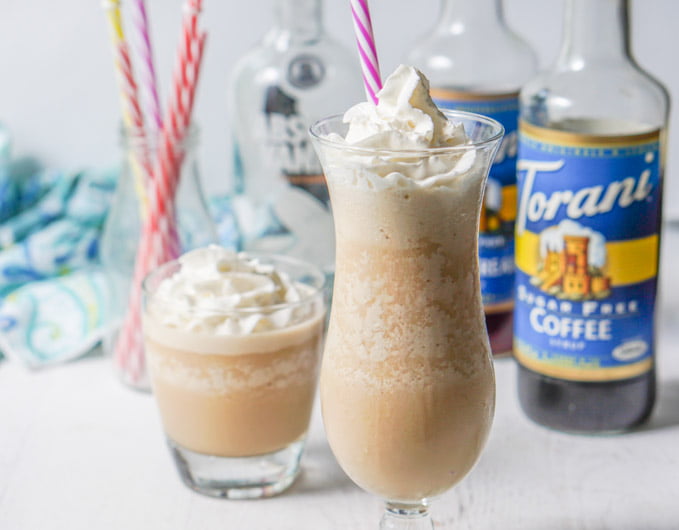 When it comes to drinks and cocktails I'm not normally one for a fru fru sweet cocktail. I usually aim for an infused vodka or or something on the rocks because they are low carb drinks. However the other day I saw some creamy delicious recipes on Pinterest and realized with sugar free syrups I can easily make these cocktails! So today I made a low carb frozen mudslide cocktail that will be great this summer!
Frozen Mudslide Or On The Rocks
Traditional a mudslide cocktail is like a boozy milkshake. That is they use ice cream to make a thick, sweet, shake-like texture. For this recipe we drank it both on the rocks and frozen. The only difference is the addition of ice for the frozen and since we used heavy cream there was no need for ice cream.
So there this frozen version has much less calories and carbs than the original version!
Ingredients For This Keto Cocktail
For a traditional mudslide you use Baileys Irish Cream, Kahlua, vodka and cream or ice cream. I found that I could get these flavors with Torani sugar free coffee and Irish cream syrups! I also used Absolute Vanilla vodka and some brewed coffee.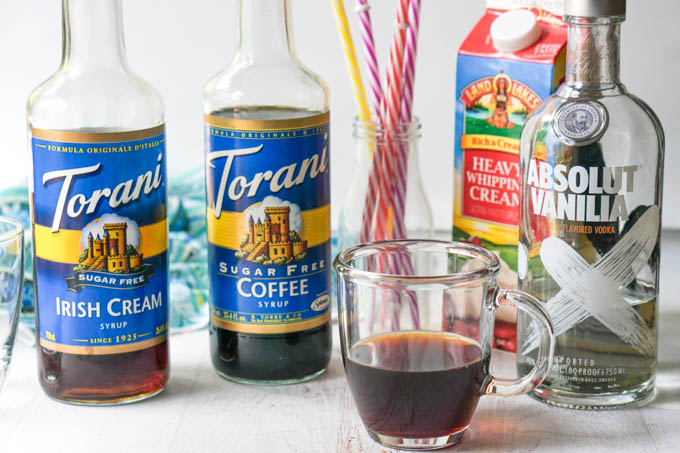 With Or Without Whipped Cream
I was really in the mood for indulgence and added some whipped cream from a canister. You don't need to add this to make the mudslide and my hubby didn't drink it that way. However Reddi-wip in the red canister has only 15 cals and 1g net carbs per 2 tablespoons. So if you want to splurge, go for it.
How To Make Homemade Whipped Cream
If you want to make your own whipped cream it's so easy and has less carbs with just 0.4g net carbs in 2 tablespoons.
To make homemade whipped cream, use very cold whipping cream and I like Torani S'mores sugar free syrup for sweetness. You can also use Swerve sweetener (powdered) or vanilla stevia instead of the S'mores. Using a mixer, add all the ingredients to the bowl and beat until stiff.
Store it in the refrigerator until you are ready to use as it can get flat if left out. I used an icing bag to pipe it out on top but no need unless you want to.
Mudslide Adjustments And Substitues
You might want it less sweet or even sweeter. My husband loved it but he thought it was sweet. I liked it just as it is. So if you are worried about it being too sweet, use a little less Torani syrup in yours because you can always add it back.
You don't have to use Absolute Vanilla vodka. You can use plain vodka or some other type of flavored vodka but be sure that it doesn't have added sugar. I know that most Absolut flavored vodkas have no carbs.
I used plain black coffee but you can use decaf if you don't want the caffeine or you can use instant coffee or espresso. If you are not a coffee drinker at all just use almond milk or water.
And as I mentioned above you can use whipped cream or not.
Non Alcoholic Version Is A Great Afternoon Pick Me Up
You can omit the vodka and use black coffee for a delicious frappuccino-type drink. You will get the kick from the coffee to keep you going in the afternoon.
Well I hope you give this one a try. I didn't include the whipped cream on top in the nutritional information since it's not necessary, so 1 serving has:
50 cals / 11.1g fat / 0.8g carbs / 0.7g protein = 0.8g net carbs
A Note About Torani Sugar Free Syrups
This is not a sponsored post but I do buy Torani sugar free syrups all the time. I wanted to let you know that they:
have free 1-3 day delivery on orders over $59
10% off your first order if you sign up for their e-newsletter
10% off flavors of the month (this month is sugar free black cherry and strawberry)
a selection of 37 sugar free flavors
here's a link to their website
Low Carb Frozen Mudslide Cocktail Recipe
This low carb frozen mudslide cocktail is a delicious way to cool off at your next summer party!  Or try the non-alcoholic version for an afternoon pick me up! 
Ingredients
2

cups

ice

¼

cup

Absolut Vanilla vodka (can use plain vodka)

¼

cup

heavy whipping cream

½

cup

black coffee (can use decaf, instant, espresso or just almond milk)

½

cup

Torani Sugar Free Coffee Syrup

⅓

cup

Torani Sugar Free Irish Cream Syrup

whipped cream on top (optional)
Instructions
In a blender add the ice, coffee, vodka, sugar free syrups and heavy cream.

Blend until the ice is fully crushed and is the consistency of a frozen drink.

NOTE: This recipe is sweet. You can always try just 7 tablespoons of coffee syrup and 5 tablespoons of irish cream first. Taste it and if it's not sweet enough then add 1 more of each to make the original recipe.
Recipe Notes
The nutritional information for 1 drink without whipped cream on top is:
150 cals / 11.1g fat / 0.8g carbs / 0.7g protein = 0.8g net carbs