This easy keto paloma recipe is a tasty keto tequila drink with grapefruit and lime flavors. Much like a keto margarita but even easier using sugar free grapefruit soda. Learn how to make this super easy and refreshing keto tequila cocktail in just minutes. Each low carb drink has only 128 calories and no net carbs so it's perfect for those on a low calorie or keto diet!
You might also like this low carb ginger grapefruit fizz cocktail!
I am a fan of tequila cocktails and while I don't drink a lot, I do like to have a cocktail on the weekend. This week I was in the mood for something different and created this easy keto paloma recipe and of course made it low carb and sugar free.
I love it and it is my new favorite tequila cocktail. It's a blend of grapefruit soda, lime juice and tequila so it's very refreshing, light and great for those on a low carb diet.
All you need to make a keto Paloma cocktail is decent tequila, diet grapefruit soda and lime juice. And if you want to salt the rim, you can use salt, grapefruit and lime zest but that is optional.
Why is it called Paloma and this cocktail's history.
No one is sure about the origins of this cocktail but since Paloma is Spanish for dove, it is thought that it comes from an old Mexican folk song called La Paloma.
It's a classic cocktail in Mexico and there are different variations of it like a spicy Paloma using jalapenos! If you want to dig a little deeper there are some theories about it being invented after grapefruit soda (such as Squirt) appeared in Mexico. (learn more)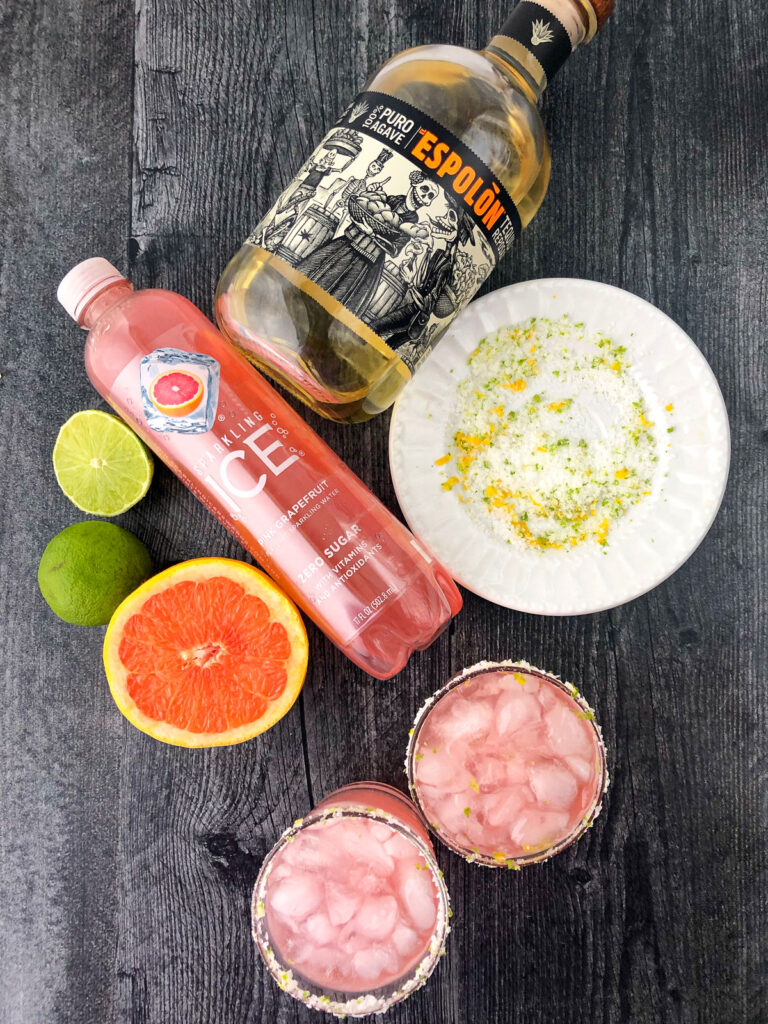 What are the ingredients for a Paloma cocktail? How is it different from a margarita?
A classic Paloma drink contains tequila, fresh lime juice, agave syrup and grapefruit soda.
What makes this drink different from a margarita is that you don't use cointreau or triple sec like you would a margarita so it's bit less sweet. So if you like margaritas this might be a nice change of pace.
How do I make this drink keto friendly?
To make this cocktail keto you really just need to eliminate the sugar from it. Because tequila has no carbs you just need to add the grapefruit and lime flavors and some sweetener.
To do this we are using lime juice, diet grapefruit soda and tequila. The diet soda adds the sweetness as well as the fruity flavor.
What is the best tequila to use?
Since this is a keto cocktail I don't feel that you need to use the finest tequila unless that is something that is important to you. However I do think for any homemade drink you should use a good mid shelf tequila. Above you can see we used Tespolon which is an agave tequila but some might prefer a silver tequila. If you would like to use a more expensive brand here is a good article about choosing tequila for a Paloma cocktail.
What is the best grapefruit soda for a keto Paloma drink.
Surprisingly there are a lot of options and brands of grapefruit soda that are sugar free. My husband and I taste tested a few pictured below and found that the Sparkling Ice Grapefruit soda and Squirt to be the best and easiest flavors use and they are readily available in most stores.
Our Dollar General sells the Sparkling Ice and our grocery story sells both diet Squirt and the Ice drink.
Fresca would be our 3rd choice and from there you can try Grapefruit Bubly seltzer water or Spindrift grapefruit sparkling water. With those you need to add a sugar free simple syrup for some sweetness and it just wasn't worth it to me.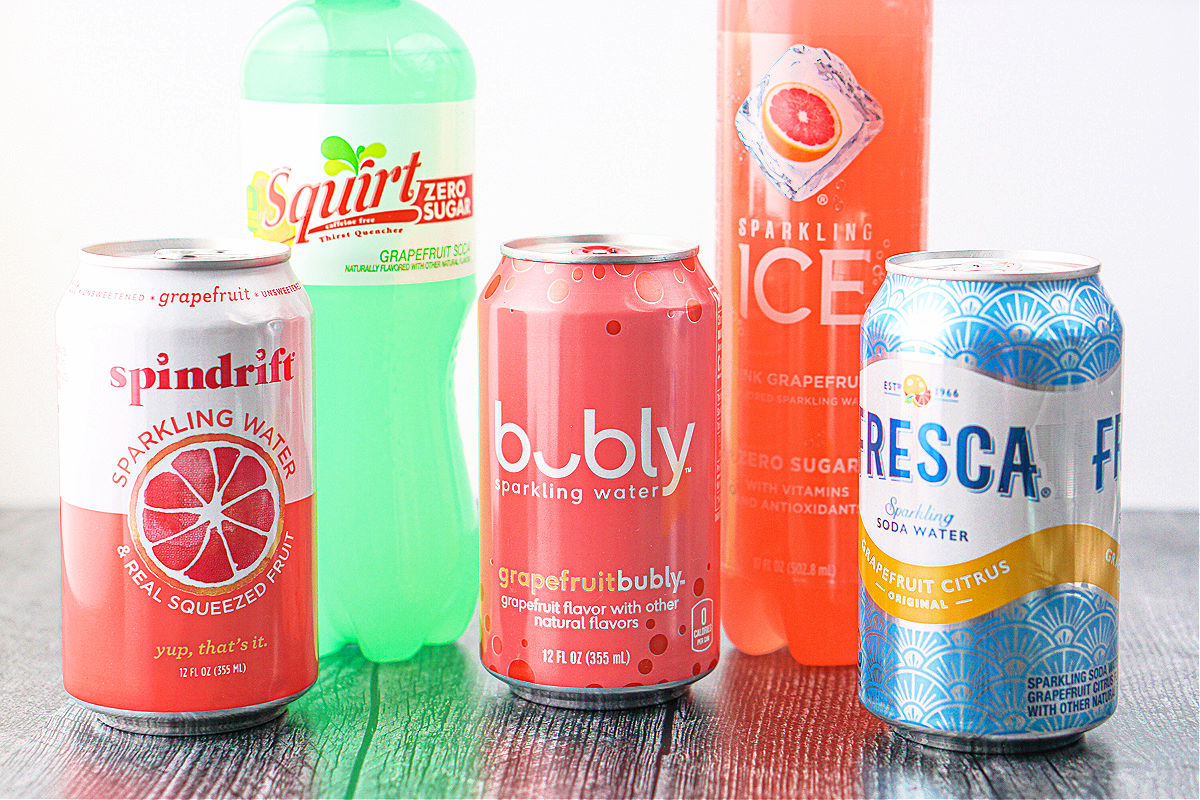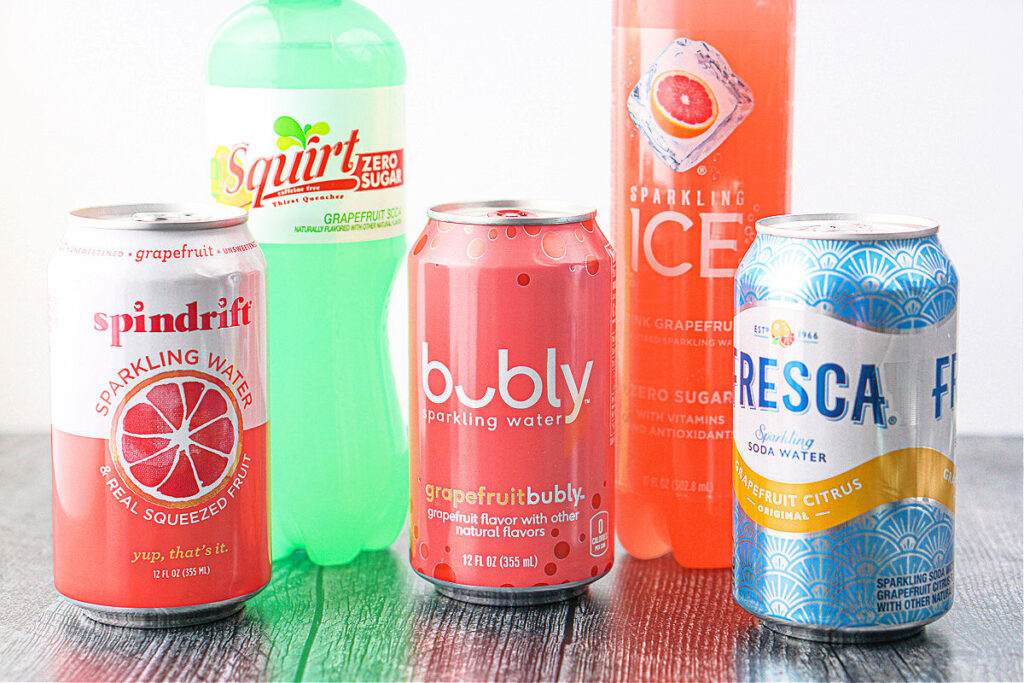 The nutritional information for fresh grapefruit juice.
Fresh pink grapefruit juice is full of vitamin C and many health benefits so you could use that if you wanted. But then you would need to add some club soda or soda water for fizz and some additional sweetener. However this is an option if you don't want to use diet soda.
The nutrition facts for 100g of fresh juice (which is about half of a grapefruit) is: 39 calories, 0.1g fat, 9g carbs and 0.5g of protein. (source)
How to make a keto paloma drink.
Mix coarse salt (like kosher salt) and the zest from a grapefruit and a lime on a small plate. Wet the rim of your cocktail glass with water. Turn over glass and place rim in salt mixture. Try to coat the whole rime with the zest and salt. (This salt rime is an optional step.)
Fill the cocktail or high-ball glass with ice cubes.
Pour in 2 oz (4 tablespoons) of your favorite tequila, ½ ounce lime juice (1 tablespoon) and diet grapefruit juice into a cocktail shaker. I suggest Sparkling Ice grapefruit soda or Diet Squirt.
Shake well then pour into your glass. Garnish with lime wedge or grapefruit wedge if you want. (Please scroll down to print the recipe card.)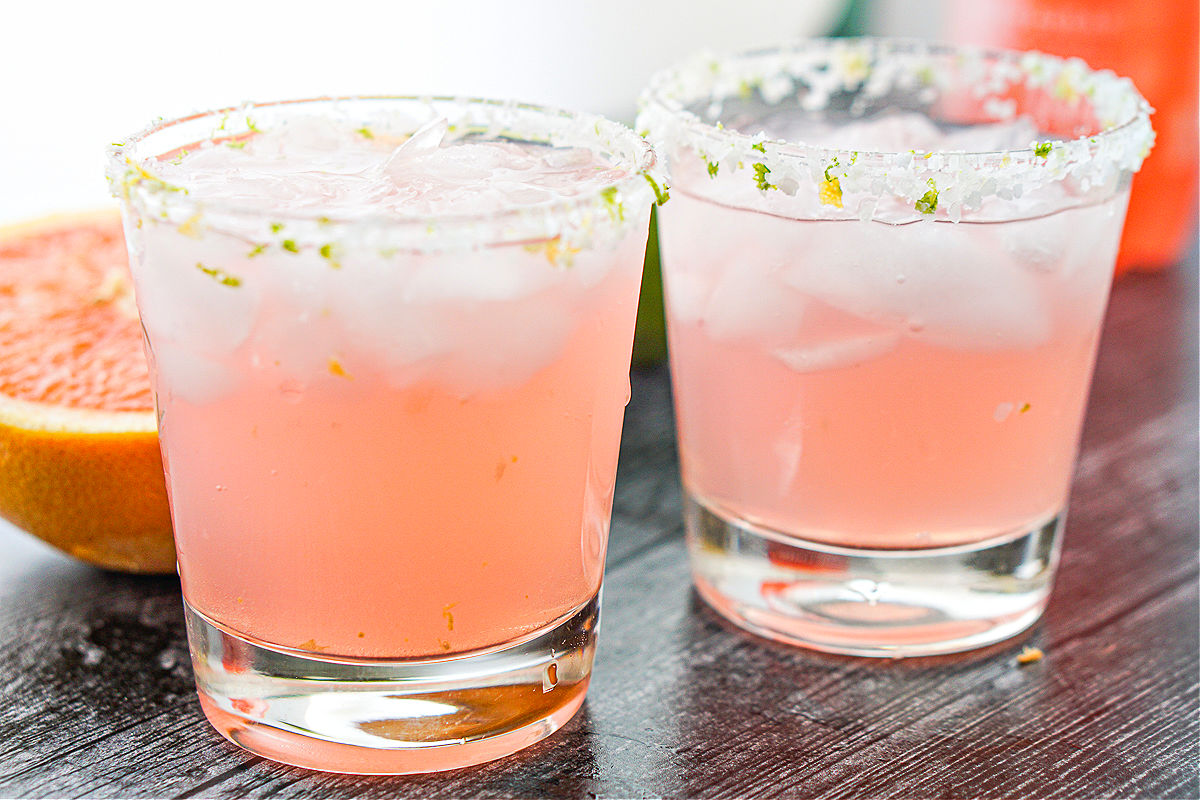 Other keto tequila drinks to try.
As I mentioned above, I like a good tequila based cocktail so here are few more delicious keto friendly tequila drinks to try.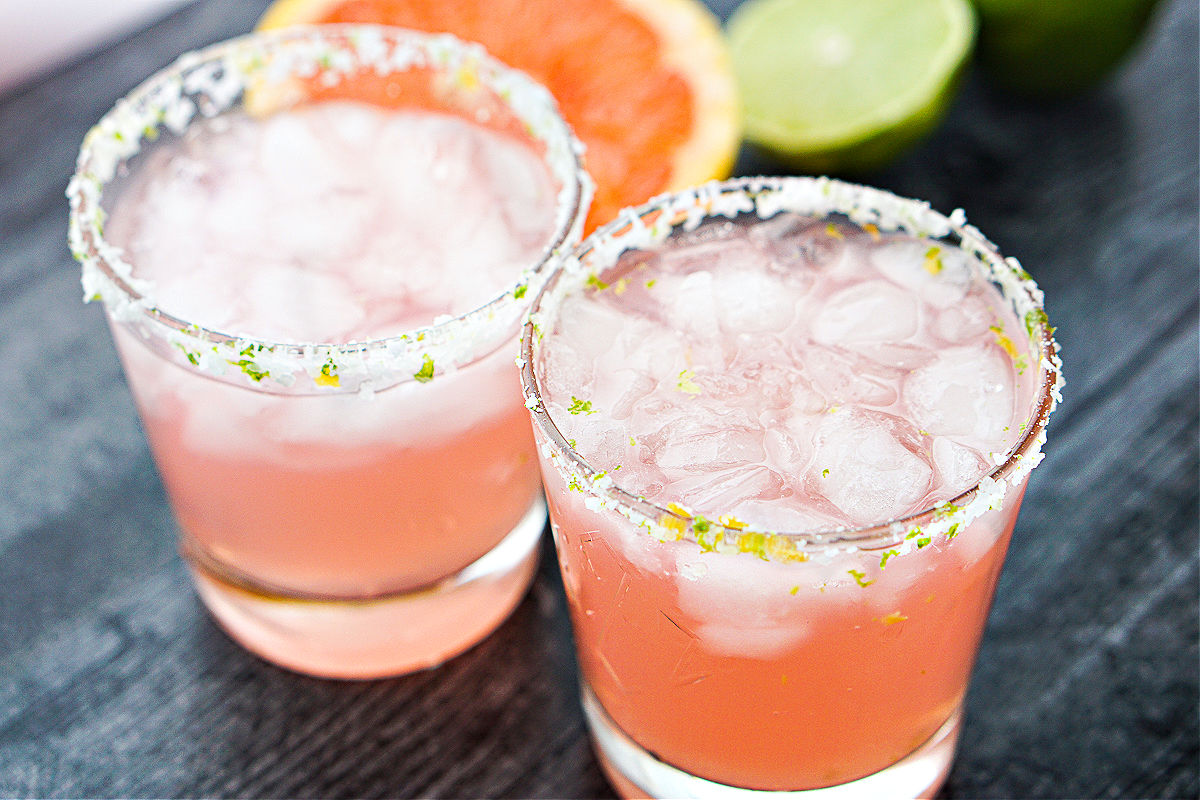 I hope you give this easy keto paloma recipe a try. It's so easy and refreshing and I personally love the flavor. It would be great for the spring because of the color and perfect for warmer weather. Enjoy!
The nutritional information for 1 cocktail is 128 calories and 0g net carbs.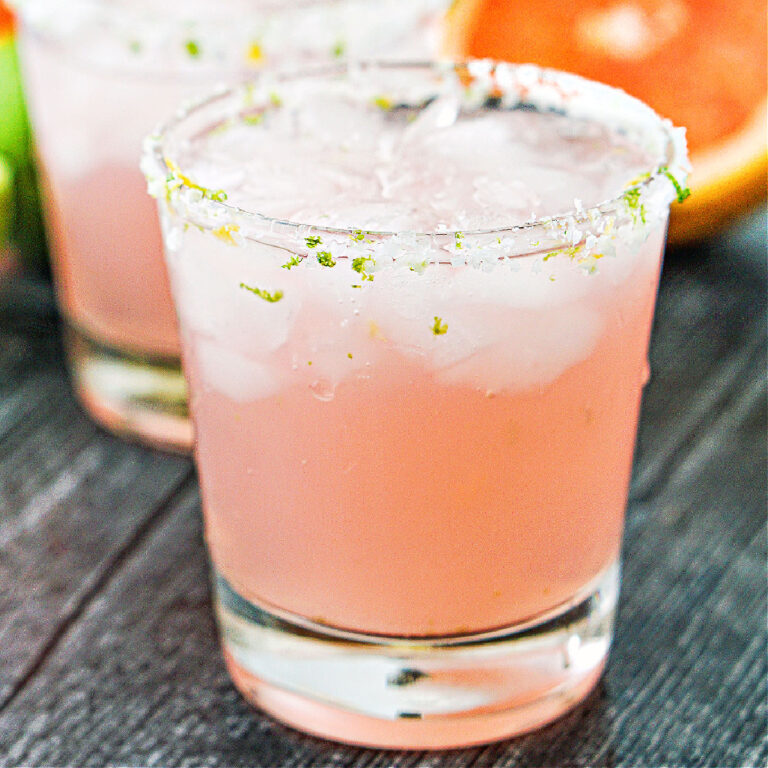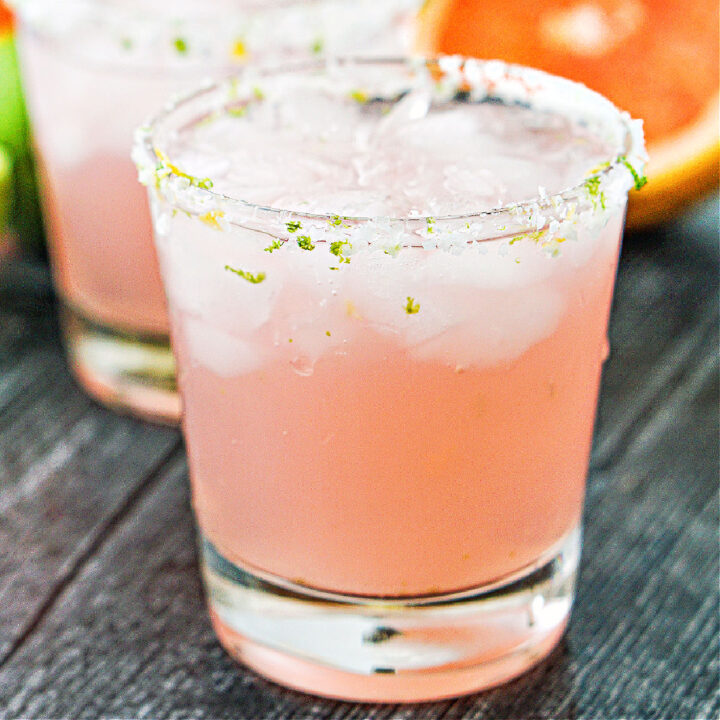 Easy Keto Paloma Cocktail Recipe
This easy low carb paloma recipe is both keto and sugar free. It has the refreshing flavors of grapefruit and bit of lime mixed with tequila for a delcious keto cocktail. Takes only minutes to make and has only 128 calories and no carbs.
Ingredients
2 ounces tequila (mid shelf)
1 tablespoon lime juice
4-6 ounces grapefruit soda (diet soda like Sparkling Ice or Diet Squirt)
coarse salt, lime wedge and zest, grapefruit zest (optional)
Instructions
Get out a small plate and mix the salt with grapefruit and lime zest. Take your cocktail glass and wet the rim all the way around then place upside down into the salt mixture. Try the get the zest and salt all the way around the rim of the glass. (This step is optional).
Fill a cocktail or highball glass with ice cubes or crushed ice. Then pour in your favorite tequila, lime juice and fill the rest of the way with your grapefruit soda. Start with about ½ cup of soda and taste. Then add more tequila, lime juice or soda to your liking.
If you want to garnish with a wedge of lime or grapefruit slices you can. Stir and begin sipping!
Nutrition Information:
Yield:

1
Serving Size:

1
Amount Per Serving:
Calories:

128