For a delicious low carb dessert drink you have to try this keto key lime pie martini. You only need a few ingredients and you have a tasty sweet, tarty and creamy sugar free drink that tastes like a piece of pie! Best of all this keto cocktail has only 1.2g net carbs.
You might also like this keto raspberry iced tea recipe!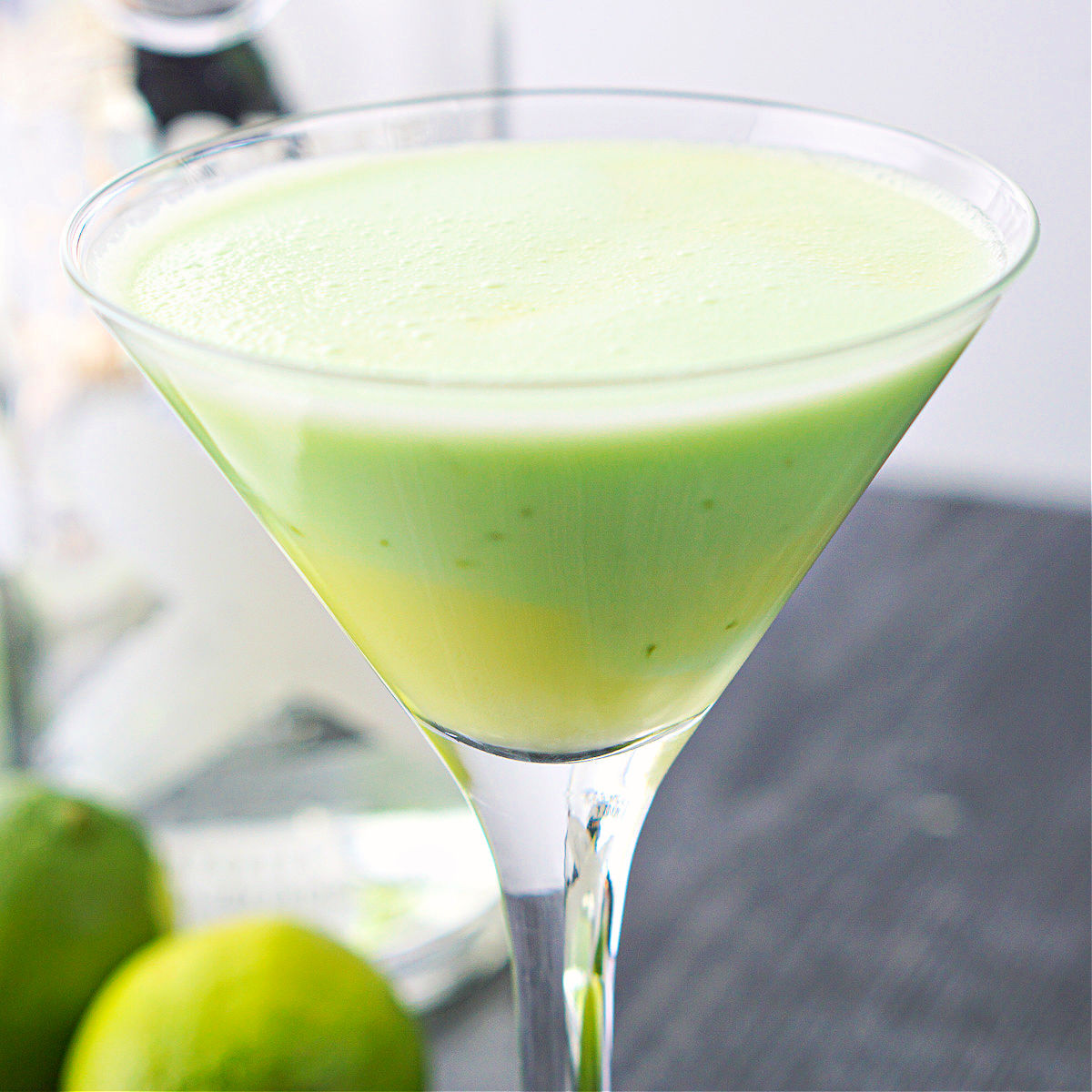 Recently on vacation I went to lunch with my brother and my sister in law. She recommended this drink from the brunch menu. I ordered it and immediately knew I was going to come home and make a low carb version.
So today my hubby and I were taste testing this keto key lime pie martini and we got the flavors just right!It has a sweet, tart and creamy flavor! It tastes like a piece of pie in a drink and it only has 1.2g net carbs so it works if you are on a low carb diet.
Low carb cocktail ingredients I used.
All you need to make this keto lime drink is a few simple ingredients – lime juice, Swerve powdered sweetener, vanilla vodka, coconut milk and heavy cream.
A few notes about the ingredients.
I like flavored Absolut vodkas because I know they don't have added sugar or carbs. I'm sure there are other brands but just check that they are not sweetened.
Bottle lime juice has less carbs than fresh lime juice but not much difference in flavor so you can use either. Also if you want to use fresh key lime juice feel free. I was unable to find any and I don't feel they would add much to the drink. Key limes tend to be more aromatic and floral tasting. Learn more about the difference between regular limes and key limes.
I used Native Forest organic lite coconut milk. It has less than 1g carbs for ⅓ cup. You can use whatever coconut milk you want just make sure to check the labels. Some brands have many more carbs than the others. You can also use coconut cream. Just don't use coconut drink that you can buy in the refrigerated section.
Swerve confectioner's sweetener mixes very well but you can try your favorite sweetener of choice and I don't think it will make much difference.
How to make a keto key lime pie martini.
Add to a blender the lime juice, lime zest, coconut milk, sweetener and heavy cream. Blend until well mixed. If you want a green color add a few drops of green food dye.
Take a taste and adjust the sweetness if you want. Then add in the vodka and mix again. You can also do this in a cocktail shaker and fill the shaker with ice cubes to make it colder if you want.
If the zest bothers you or used some ice cubes in the martini shaker, strain into a martini glass and enjoy. (Please scroll down to view the printable recipe card.)
Note: You can add a graham cracker crust around the rim of the martini glass but it will add more carbs. To do this, just crush the crackers into a fine crumb and place on a small plate. Wet the rim of the glass with water then turn upside down and mix the rim around in the crumbs.
I like to use a mini usb blender like this for drinks like this and for smoothies. They are easy to clean and compact. For serious blending like for ice cream and pureed soups etc. I love my Vitamix.
Other keto cocktails to try for summer!
Summer is such a fun time to try out different cocktails. You can just sit out side in the warm evening and enjoy a cooling drink. Here are few my favorites but I have over 60 low carb alcoholic and nonalcoholic drink recipes.
Well I hope you like this keto key lime pie martini as much as we did. It was fun taste testing as well as having the finished product! It's the perfect combination of sweet and tart with creaminess … but it's sugar free and keto friendly! Enjoy.
The nutritional information for 1 drink is 242 calories / 14.9g fat / 1.2g carbs / 0.6g = 1.2g net carbs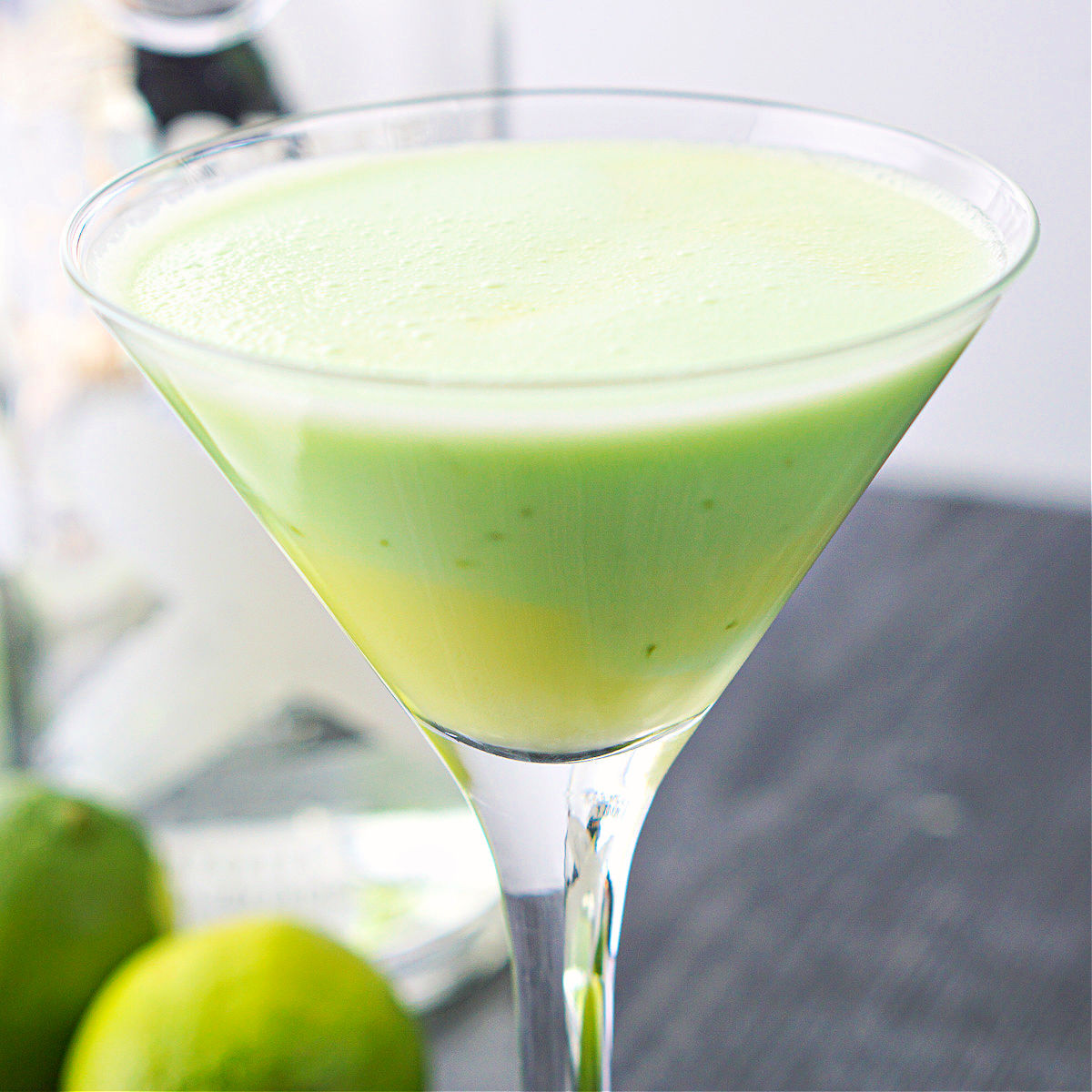 Keto Key Lime Pie Martini Recipe
This delicious keto key lime martini is dessert in cocktail form. It's sweet but tart and creamy too. An easy sugar free drink to try this summer!
Ingredients
2 tablespoons lime juice
zest of half a lime
¼ cup Swerve confectioners sweetener
2 ounces vanilla vodka (I like Absolut)
¼ coconut milk (can also use cream of coconut)
2 tablespoons heavy cream
Instructions
To a blender, add lime juice and zest, coconut milk, sweetener and heavy cream. Blend just to mix the ingredients. You can also do this in a martini shaker and add a bit of ice to make it colder.
Then add the vodka and mix. Taste to see if you want it sweeter.
If you want it be green in color, add a few drops of food dye.
Pour into a martini or cocktail glass and enjoy. If the zest bothers you, strain into a glass. If usinga shaker instead of the blender, you will also want to strain the ice cubes.
Notes
The nutritional information for 1 drink is 242 calories / 14.9g fat / 1.2g carbs / 0.6g = 1.2g net carbs
Nutrition Information:
Yield:

1
Serving Size:

1
Amount Per Serving:
Calories:

242