If you are looking for the perfect keto drink for summer, try this keto bourbon peach smash. A sweet, refreshing cocktail that is sugar free and low carb with only 1.1g net carbs! This is sure to be your new favorite smash drink. This recipe was sponsored by Torani. All opinions are my own. #torani #puremadezerosugar #lowcarbsummer
You might also like this keto vodka chata drink!

My husband and I have been making our own sugar free peach iced tea using Torani sugar free peach syrup. We really like the combination of tart lemon juice and sweet peach in our ice tea.
So that got me to thinking about making a bourbon cocktail with that same flavor combination and I came up with this keto bourbon peach smash. It's so tasty and refreshing for summer and sugar free too!
You get that distinctive bourbon flavor which goes great with the sweet – tart combination of peach and lemon. The fresh mint adds a refreshing finishing touch for those hot days of summer. This low carb drink has only 1.1g net carbs and 132 calories!
What is a smash cocktail?
A smash cocktail is somewhat like a mint julep drink but the basic components are some type of liquor, sweetness, herbs, fruit, ice and a splash of water. (History of the smash cocktail.)
Smash cocktails are great to drink in the summer because you can use seasonal fruit and herbs to make this tasty drink.
What is the difference between whiskey and bourbon?
You may have heard of a whiskey smash or a bourbon smash so what is the difference? First of all bourbon is a type of whiskey.
All whiskey is made from fermented grain and then aged. The kind of grain used is part of what makes various types of whiskey. Bourbon is defined by using a mixture of grains with at least 51% from corn. (source)
Is bourbon keto? How many carbs are in bourbon?
Bourbon, like most hard liquors, has zero carbs but it does have calories. Note that some people find alcohol can slow their progress on a keto diet while others say a drink here and there does not bother them. That is for you to decide.
But yes bourbon can be considered keto and the nutritional information for 1 ½ oz of bourbon is 97 calories and no carbs, fat or protein.
Recipe ingredients I used.
I used just 4 ingredients in this bourbon smash: fresh lemon, sprigs of fresh mint, Torani Puremade Zero Sugar Peach Syrup and bourbon.
Normally a bourbon smash would use a simple syrup but the Torani Puremade Zero Sugar Peach Syrup is the perfect substitute because it adds the sweetness of a simple syrup but also has the peach flavor. Best of all it has zero calories and zero carbs! So it's great for keto cocktails!
As for the bourbon I used my hubby's favorite brand. You don't have to use expensive bourbon but I would use a mid shelf brand if possible.
Note if you are watching carbs, I would not use a peach flavored bourbon or whiskey in this recipe because they have extra carbs. I know Crown Royal Peach has 4g carbs in 1 ½ oz.
Why I love Torani syrups for keto cocktails.
If you have followed my blog long enough you know I love Torani sugar free syrups for my drinks and sweet keto recipes. So I am excited about their new line of Torani Puremade Zero Sugar Syrups.
This new line is made from natural sweeteners that have zero calories, no GMOs and the colors are even from natural sources. This line is a great substitute for any drink that calls for a simple syrup or homemade sugar syrup.
Torani has a HUGE selection of sugar free syrups and you can find them here.
How to make a keto bourbon peach smash!
First thing you want to do is muddle or smash the fresh lemons and fresh mint. If you have a cocktail shaker use that but if not add them to a large glass or pyrex measuring cup and smash with a spoon. You want to release the juices and essential oils from both the lemon and the mint. Then fill your shaker or glass with ice.
Next add your Torani peach syrup and your favorite bourbon to the lemon and mint. Shake or mix well and taste. Add more lemon, mint, syrup or bourbon at this point. If you want you can also add a splash of sparkling water or club soda.
Fill a cocktail glass with ice and strain your bourbon peach smash into it. Garnish with a sprig of mint or lemon wedge.
More low carb peach cocktails to try.
Here are a few more low carb drinks you can make with Torani's Puremade Zero Sugar Peach Syrup. Their sugar free syrups are a great substitute for simple syrups often used in cocktails.
Bourbon: Try a peach bourbon old fashioned. For this drink use the peach syrup, bourbon, bitters and an orange slice. You can try a bit of orange extract as well.
Tequila: With tequila a peach margarita would use of course tequila, peach syrup, orange extract and lime juice.
Peach Tea: Think of this as a peach flavored Long Island ice tea drink. Use this recipe and substitute the peach syrup instead of the simple syrup.
Vodka: This keto ginger peach vodka mule uses Torani Sugar Free Peach Syrup.
Rum: Rum is the main alcohol in mojitos. So try a peach mojito with rum, mint, peach syrup and lime juice.
Gin: A peach gin fizz is made with the peach syrup, gin and soda.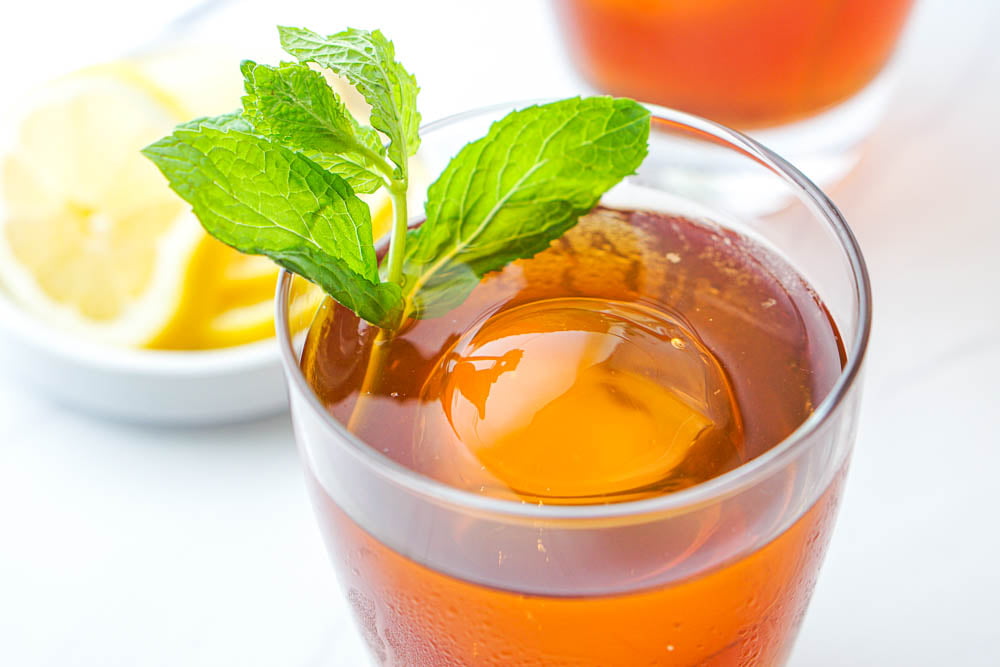 I hope you love this keto bourbon peach smash as much as we do. And grab a bottle of Torani Puremade Zero Sugar Syrups for your summer drinks.
You can find their VAST selection of sugar free syrups at Torani.com. These syrups are great for summer cocktails, coffee drinks, Italian sodas and for flavoring iced tea.
The nutritional information for 1 drink is 132 calories
0g fat / 2.3g carbs / 1.2g fiber / 0.2g protein
Keto Bourbon Peach Smash
This keto bourbon peach smash cocktail is a refreshing summer drink that is low carb and sugar free.
Ingredients
2 ounces bourbon (use your favorite bourbon)
1 ounce Torani puremade zero peach syrup
¼ lemon wedge or slices
fresh mint leaves and mint sprig for garnish
Instructions
In a cocktail shaker or large pyrex measure cup add lemon slices or wedges along with a 4 -5 mint leaves.
Use the back of wooden spoon, mash the lemons and mint leaves to release the juices and essential oils.
Add in the Torani syrup and bourbon and mix well.
Taste and adjust the flavors to our liking.
Strain the drink into a cocktail glass filled with ice.
If want you can also add a splash of sparkling water or club soda to water it down a bit.
Nutrition Information:
Yield:

1
Serving Size:

1
Amount Per Serving:
Calories:

132