Enjoy the flavors of fall in the infused vodka using cranberries, oranges, cloves and star anise. A great low carb drink for fall.
You might also like this Bloody Mary infused vodka!

I've been wanting to make this infused vodka for awhile now. You know how I like my vodka, especially flavored vodka but somehow the ones that I made this summer (Mojito Infused Vodka or the Fruit &Herb Infused Vodka) do not appeal to me in the colder seasons. So I thought I'd make a Thanksgiving drink using citrus, spice and berries. It has to be good, doesn't it? If nothing else it certainly looks pretty sitting on my counter while it steeps!
Fruit and Spices Used In This Infused Vodka
Below you can see what I used to make this concoction. I bought some star anise down at the Strip district and I already had some whole cloves, cranberries and oranges. I peeled the orange and tried not to get much pith. The peel is where are all those essential oils come from.
When I made this the first time, I couldn't wait to taste it and my husband and I snuck a taste (or two) so we had to refill it again. The star anise is very strong, as is the clove. The cranberry gives it a nice blush color and you can taste it as well as the orange peel but not enough for my liking.
I ended up putting in a drop of sweet orange pure essential oil into my drink. I think as this steeps the cranberries will impart more flavor. So I would suggest adding more orange peel (1 or 2 oranges) and a little less of star anise and clove (maybe ⅛ cup clove and ¼ cup star anise). It really depends on your likes and dislikes honestly.
How To Serve This Drink
You could always mix this with cranberry or orange juice to get those flavors too. I wanted a low carb cocktail (in other words I wanted to sip this on the rocks) so I was trying to get as much flavor from all the ingredients as I could. When you've let it steep a few days to a week (or more if you want) just strain and keep refrigerated. Serve it over ice like I do, or you can drink it was seltzer or juice for a delicious cocktail.
I think you can get at least two batches out of this recipe. That is once you've strained the vodka out for a drink, you could refill it with plain vodka and let it steep again. Well I hope you like this fall cocktail. I think it will be a festive addition to the holiday parties!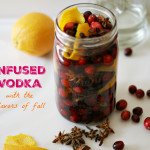 Fall Flavored Infused Vodka (low carb)
Enjoy the flavors of fall in the infused vodka using cranberries, oranges, cloves and star anise. A great low carb drink for fall.
Ingredients
2

Tablespoons

whole cloves

the peel of 1 to 2 oranges

or 2-3 drops of sweet orange pure essential oil

¼

cup

star anise

1 8

oz

bag of fresh cranberries

½

bottle middle shelf vodka
Instructions
In a large mason jar, layer your ingredients except the vodka.

Add your vodka last, seal and store in a cool dark area.

Taste after a couple days and make adjustments if necessary.

It should be done after a week or whenever it tastes best to you.

Strain the vodka into a glass and refill the jar if you wish to make more. You can probably do this at least one more time to get another batch.

Store in the refrigerator

Mix with orange juice, cranberry juice, seltzer water or sip over ice.

Enjoy!