There is nothing like soaking in a bath with some bath salts for sore muscles. Let the soothing Epsom salts and essential oils work their magic as you soak in the tub. These bath salts are very easy to make and are also a fun and easy gift to give for the holidays!
You might also like this easy lip balm recipe using essential oils.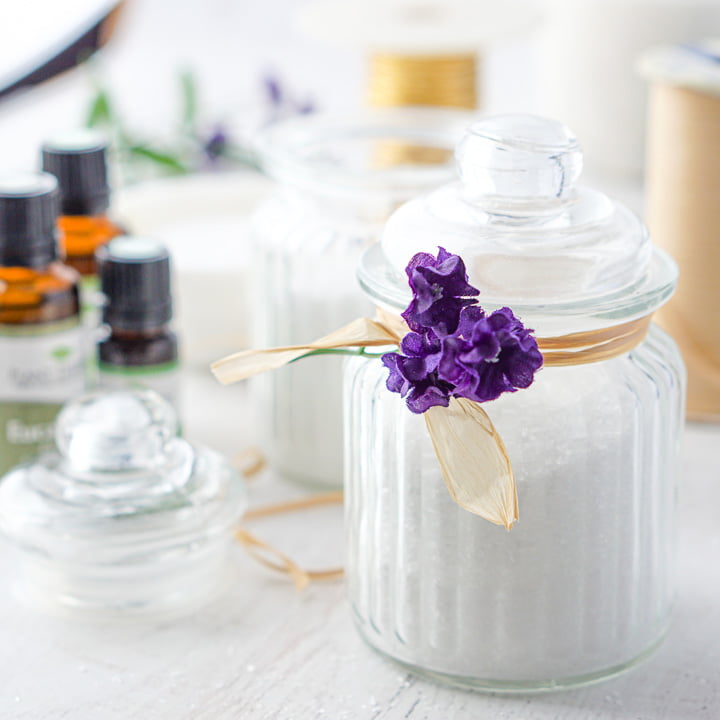 I don't know about you but when the cold weather sets in, I love a good bath. Especially if I am sore and achey or when I feel a cold coming on, a good hot bath can make all the difference.
That's why have these bath salts for sore muscles on hand during the winter time. It's a simple recipe to make and feels so relaxing and soothing to me. So today I'm showing you how I make them in case you are a bath person like me.
Other Bath Salts Recipes To Try
I have a whole post on making bath salts but this post is specifically for sore muscles. By varying the essential oils you can make bath salts for relaxing or invigorating. Or you can play around with different essential oils to make your own scent.
For instance I love the scent of the lemongrass ginger rose bath salts pictured above. I had a tea that used those ingredients and it inspired me.
I have some black pepper and rose essential oils that I want to play around with because I once had a lotion with those scents in it and I really liked it. It's fun to recreate scent combinations with your oils and then put them in your bath salts.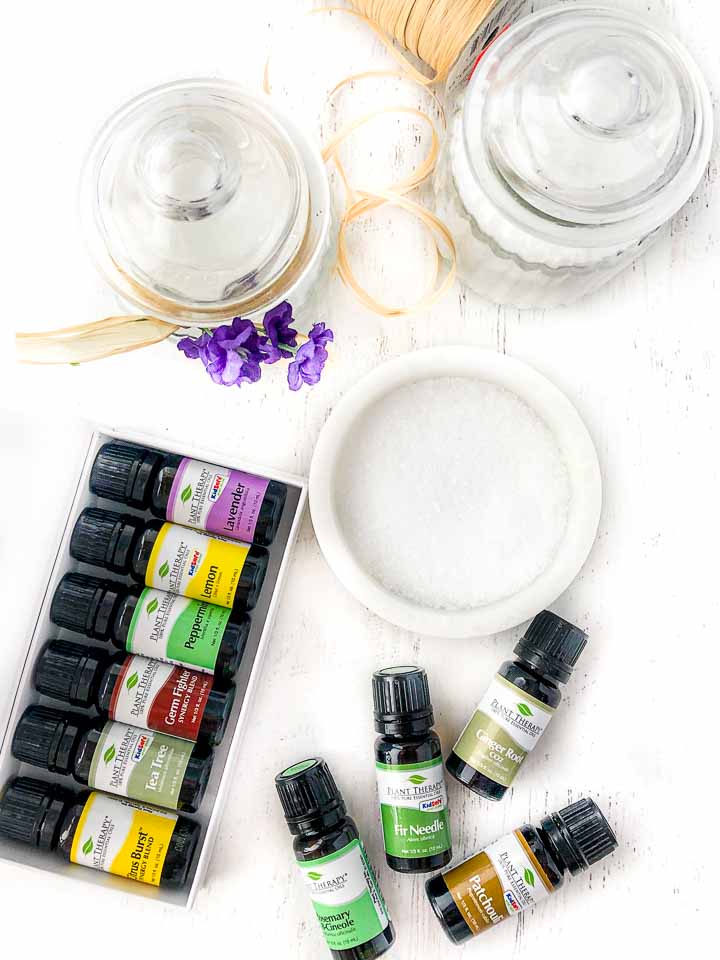 Muscle Soak Bath Salts Ingredients
The basic ingredients in my bath salts are epsom salts, baking soda and pure essential oils.
Epsom salts are primarily made of magnesium which is absorbed through the skin. So a bath is a great way to get more magnesium. Magnesium is known to help sore muscles by relaxing muscles and flushing out lactic acid buildup. (Read more about epsom salts at the Epsom Salt Council or here's a nice article on Livestrong.com.)
Baking soda is said to neutralize chemicals in your bath water. It also makes your bath water feel a bit more silky. (learn more)
About The Essential Oils I Used
And now for the pure essential oils, I used fir needle, eucalyptus and lemongrass. I personally like the scent of this combination and for the properties that each brings to the recipe. However if you want to substitute peppermint for the fir needle, that would work nicely too.
Fir Needle: antiseptic, antibacterial, anti-fungal properties; relieves muscle pain and swelling; lovely evergreen scent
Eucalyptus: antibacterial, anti-inflammatory and analgesic properties; reduces fatigue and alleviates pain
Lemongrass: analgesic, anti-inflammatory and antiseptic properties; warms up muscles and relieves mental strain
Lately I've been using Plant Therapy essential oils. Below you can see the nice kit I bought in the background and the single oils come in these nice colorful containers. They are high quality essential oils, come in a wide variety and are affordable so I highly recommend them.
Sore Muscle Soak Recipe
The basic bath salts for sore muscles recipe is:
2 cups of epsom salts + ½ cup of baking soda + 15 drops of pure essential oils (5 drops of lemongrass, fir needle and eucalyptus)
Mix well and store in a glass jar or container. Pure essential oils can react to plastic I believe so it's best to store them in glass.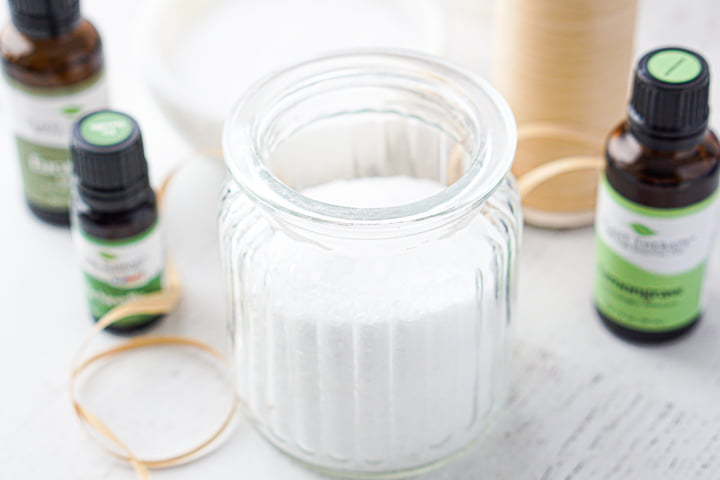 How Much Bath Salts To Use
I like to use ½ cup of bath salts in my baths. So if you are giving this as a gift, you want to make enough for a few baths. You also want to add a label suggesting how much to use too.
These Bath Salts Make An Easy Gift
Below is a little gift I gave for Christmas. I found the jars at the Dollar Tree and had some raffia and artificial flowers from other crafts.
Most people have lots of craft supplies at home and probably can do a better job than me decorating the jars. For Christmas you can use sprigs of holly or pin from you own back yard. Or use colorful papers and make a nice tag.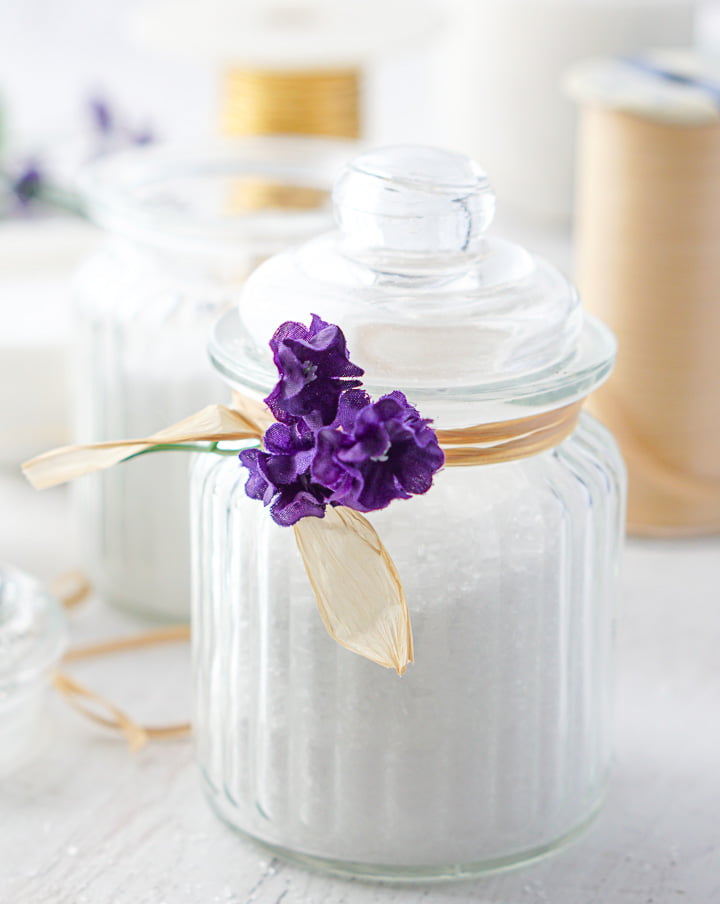 You can buy the Epsom salts, baking powder, jars and decorations at the dollar store. So if you have some essential oils on hand this little jar of salts really only cost a few dollars.
I hope you enjoyed this little project and especially hope you get to take a nice soothing bath over the busy holidays with this lovely recipe. Enjoy!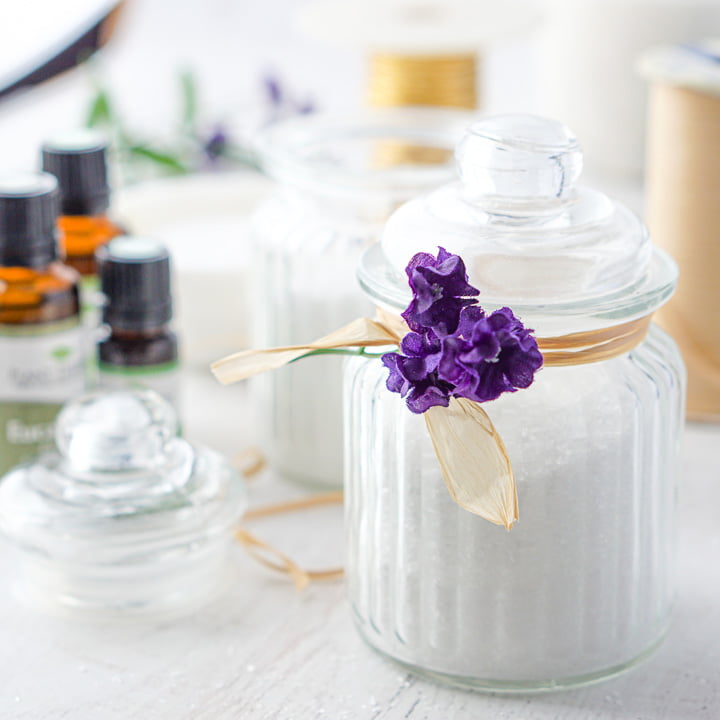 Bath Salts for Sore Muscles using Essential Oils
Take a luscious bath to sooth sore muscles with these bath salts using pure essential oils and other items you can find at the dollar store. Makes a great gift for only a few dollars.
Materials
2 cups Epsom salts
½ cup baking soda
5 drops of Lemongrass Essential Oil 
5 drops of Eucalyptus Essential Oil
5 drops of Fir Needle Essential Oil (can sub Peppermint)
Tools
glass jars and decorations
Instructions
In a large glass or ceramic bowl add all your ingredients and mix well.

Spoon into glass containers for gifts or for yourself.
Use a ½ cup of bath salts per bath.
Notes
May substitute peppermint oil for fir needle oil if you prefer.