This is a super quick and easy recipe to make your own homemade lip balm using essential oils. Only 3 ingredients and a few tips to help make this lip balm in minutes!
You might also like this nourishing face cream using essential oils!
I've been meaning to make my own lip balm using essential oils for a long time. With winter around the corner and the fact that my puppy got hold of my son's Burt Bee's lip balm and mangled it into a yellow plastic mess, I decide today is the day.
My sister made some and gave them as Christmas presents last year (check them out here). Also we made them a long time ago back when we had an herbal gift shop<sigh> those were fun times.
So I knew it wasn't that hard and now that I did it again, I see that I will probably never buy another lip balm for the rest of my life. (Also I made enough to quench the lips of a small country.)
Homemade Lip Balm REcipe & Tips
The first thing you want to do is put a few spoons in the freezer for testing. Just trust me and put them in the freezer about 10 minutes before you get started.
Below you can see I put some coconut oil and beeswax beads in a glass pyrex measuring cup with a spout. It took about 90 seconds for mine to melt but you should stop and mix your batch every 30 seconds until it's done as your microwave may be different than mine.
It's a bit like melting chocolate in a microwave; the beads look like they are almost melted and when you mix them they melt all the way.
Now you want to take out your frozen spoons to test the consistency. I like mine soft so I only used about 1/4 oz of beeswax in my lip balm. When you dip the spoon in the melted liquid it will harden immediately.
If it's the consistency you like you are done and you can move on to the essential oils. If not add a bit more beeswax beads and melt some more. That's why I said freeze a few spoons so you can keep testing.
Which Essential oils to use in lip balm
Once you get the consistency you want you can add your essential oils. I used lemon and peppermint but the peppermint really overpowered the lemon. I knew my son and husband would prefer peppermint so that is why I used it.
Some other good options are: lavender, sweet orange, clove (use sparingly), tea tree (use sparingly), spearmint, mandarin, lime and of course peppermint and lemon.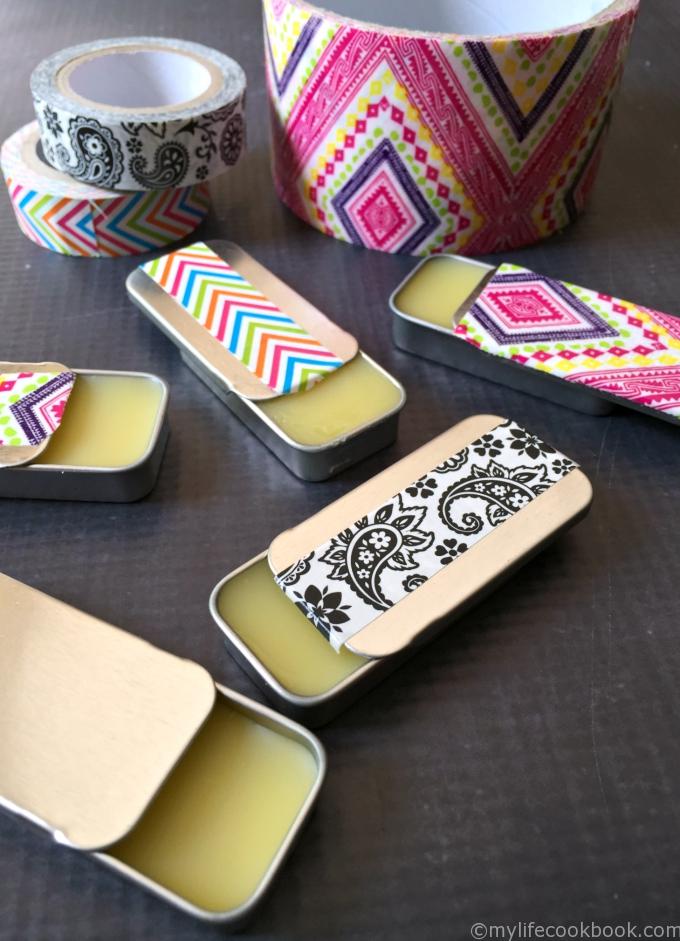 Here are some notes and tips about making these cute lip balms:
I found these cool containers on Amazon and they were only $8.43 for 5 containers. In addition I also refilled an old lip balm container as well as a few small plastic pots from the dollar store.
I decorated them with washi tape because I just happened to have some on hand.
The beeswax beads were from Amazon too. I read the reviews and many people seemed to complain about the smell of beeswax but honestly it just smelled like beeswax to me and when it was melted it didn't seem to have any smell at all so don't let that throw you off. Especially if you are using essential oils, you definitely won't smell anything.
Also make sure you are using pure essential oils and not fragrance oils.
You can add many different items to this recipe. I kept it basic because I plan on using it quickly and making it again. You will see that this makes a decent size batch of lip balm. You can add vitamin E to preserve it and other oils and bases to nourish your lips. But as I said, I just wanted to keep it simple and wasn't planning for it to last forever. If you are, consider vitamin E.
Some recipes tell you to do this in a double boiler or in a tin can inside a pan of water on the stove. However, I was lazy and melted mine in the microwave. It worked just fine and only took minutes.
I used fractionated coconut oil in the first batch and regular coconut oil in the second batch. You can use a number of carrier oils but I thought coconut oil would be pretty common these days (you can buy it in most grocery stores) so I used that for my final batch.
Hope you get a chance to make these lip balm using essential oils and you have as much fun as I did.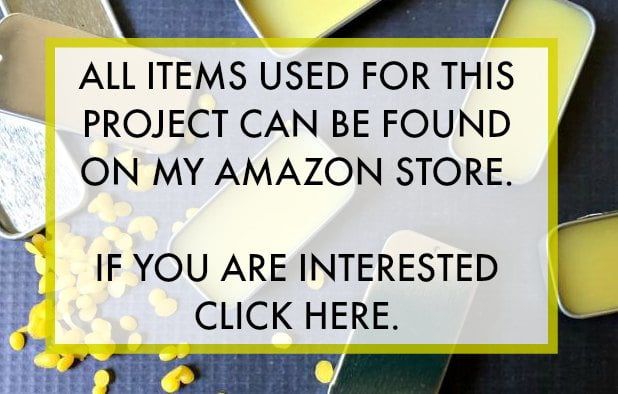 Quick & Easy Lip Balm (using essential oils)
A quick and easy recipe to make your own lip balm with essential oils. Only 3 ingredients and you can make this in minutes. Fun to do with kids too!
Ingredients
1/4 to 1/2

oz

beeswax beads

1/4

cup

coconut oil or carrier oil of your choice

15 - 20

drops pure essential oils

I used peppermint and lemon
Instructions
Put a couple spoons in the freezer before starting.

Add your coconut oil to a glass measuring cup or a container with a spout and preferably made of glass.

Add your beeswax beads starting with a 1/4 oz. (You will add more if you want the consistency to be harder).

Microwave in 30 second intervals and mix in-between until the beeswax is melted. The time will vary depending on your microwave, the amount you are making and the carrier oil you use. Mine took 90 seconds then I added more beeswax for another 30 seconds.

Mix well until all the beeswax is melted.

Pull out a spoon from the freezer and dip into the mixture. Test the consistency and if it's to your liking it's ready. If not, add a bit more beeswax and continue to microwave until you reach the desired consistency.

Add your essentials oils and mix well.

Pour into containers and let cool and harden.

Enjoy!