This nourishing face cream is so easy to make and uses essential oils and other healthy ingredients to nourish your skin.
You might also like these homemade lip balms using essential oils!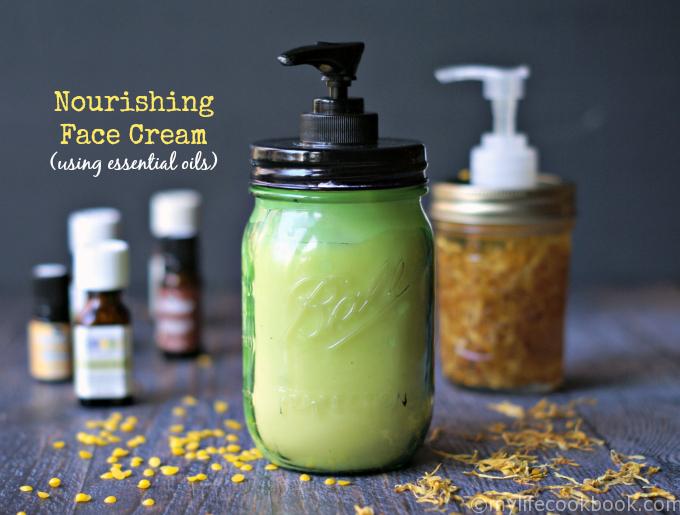 For about six months I had a little growth on my face that never would go away. I bit the bullet and went to a dermatologist and he took care of it but when it was biopsied, it came back as cancerous. I was truly shocked! It's nothing to worry about but I'm vowing to take better care of my skin.
For me it's about using natural products, eating nutrient dense foods and of course now always wearing sun screen. I'm starting with making my own nourishing face cream. I had all the necessary ingredients and two of my favorite essential oil books so I thought I'd give it a try. It was so easy to make and I really like the feel of it on my face, so I had to share it with you.
Nourishing Face Cream Ingredients
The main ingredients are my calendula infused oil that I made previously, pure essential oils, water and beeswax. I know you are thinking eww beeswax, but you don't use much and it helps emulsify the oil and water. The result is a thick, creamy lotion that I use on my face every night and sometimes during the day.
Calendula Infused Body Oil
Essential Oils For This Homemade Face Cream
The essential oils I picked were specifically for their excellent healthy skin properties in this nourishing face cream:
Lavender: Anti-inflammatory, soothing, used for skin care, prevents aging
Frankincense: Anti-inflammatory, well suited for skin conditions from wrinkles to scars, good for dry skin
Helichrysum: Anti-inflammatory, used for skin irritations, sagging skins
Carrot Seed: Skin rejuvenating oil, good for mature skin
Geranium: Soothes inflammation and irritated skin, good for both dry and oil skin, aids in poor circulation, prevents aging
Please note you can find all of these ingredients on my Amazon Store if you are interested.
Notes About This Face Cream Recipe
I have been using essential oils for almost 20 years. My sister and I used to have a lovely herbal gift shop in which we sold good, pure essential oils, and she used to teach classes in which we made balms, salves and various crafts with them.
I am by no means an expert but I have long been enamored with essential oils. During that time I came across 2 books that I would really recommend if you are a book person. These are Amazon affiliate links but you can buy them where ever you want if you are interested in learning more about essential oils.
Aromatherapy: A Complete Guide to the Healing Art is where I got this lotion recipe from and seems to no longer be in print but the second edition is and I own both of them. The oils that I used were my contribution to the recipe.
The Complete Book of Essential Oils and Aromatherapy has over 600 recipes and covers just about anything your can think of regarding essential oils and aromatherapy. I'm sure there are other great essential oil books out there. If you have one you love, please drop me a comment and let me know what it is. I am definitely a book person and a huge library of books at my house.
Above you can see the calendula petals that I used. I have a big bag that my sister gave me but you can buy some on Amazon.com You don't even need to have the infused oils to make this. You can use another carrier oil like jojoba, almond, fractionated coconut or apricot kernel. The calendula just adds more healthy skin properties to the lotion.
Nourishing Face Cream
I made a huge jar of this cream and it will last for a long time. You only need about a dime size of lotion for your face. Note that since this is an all natural product there are no preservatives. You therefore might want to store it in the refrigerator or add some vitamin E (from a capsule) which is a natural preservative.
This was a lot of fun for me and I plan on making this all year round. If making your own natural bath and body products appeals to you, I urge you to try this because it's pretty easy and a lot of fun. Not to mention it's good for your body compared to the chemicals and preservatives of commercial products. Enjoy!
Update: Please note: This face cream is rather thick would be better suited to a cream jar. I originally used this glass mason jar when I made this lotion months ago intending to pump a bit out but it was a bit too thick. I ended up unscrewing the top and dipping my hand in the top. Next time I make it I would put it in a small wide mouth jar or maybe recycle a similar type container. I still use it everyday and love it. Especially in the winter. I tend to drier skin so it has been perfect for me.
Nourishing Face Cream Using Essential Oils
This nourishing face cream is so easy to make and uses essential oils and other healthy ingredients to nourish your skin.
Ingredients
¾

cup

calendula infused oil

or carrier oil of your choice

1

cup

water

½

ounce

beeswax beads

about 2 Tablespoons

30

drops essential oil

I used 6 drops each Frankincense, Lavender, Helichrysum, Carrot Seed, Geranium
Instructions
Add beeswax to the oil in a pyrex glass measuring cup and microwave for 30 second intervals until the beeswax has melted. Stir between intervals and the beeswax will melt quickly. Should only take a minute or two.

Place your water in a blender and add the top but take out the center ring.

Turn the blender on high and slowly pour the oil and beeswax mixture into the blender.

As you are adding the oil the mixture should start to harden about ¾ the way through.

Pour in all the oil slowly and then turn your blender down to low and add your essential oils.

Just blend enough so the oils are mixed.

Scrape out the cream with a rubber spatula into a wide mouth jar or container of your choice. I used a pump but it's a bit hard to pump because it is thick so I would recommend a small jar that you can get it out easier in.

Store in the refrigerator to extend the shelf life. Can also add some vitamin E which is a natural preservative.

A little bit goes a long way. I use just a dime size amount on my face every night and most days.

There is no exact science to making this lotion. With practice you can get the consistency you want. It's like making mayonnaise; emulsion and consistency depend on the temperature of the oil mixture and how quickly or slowly your pour it. I was satisfied with my lotion on the first try but you might want to play around with yours.
If you like this post, you might like these too!