I am a huge neti pot fan. If you suffer from allergies or have sinus congestion, a neti pot can be your best friend. The one that I have comes with little salt packets that you mix with distilled water. They are convenient for traveling but they can be expensive so I decided to make my own neti pot salt. After all, how hard can it be?
To get a sense of how many of those salt packets we can go through, check out my family's collection of neti pots. We each have our own. My hubby doesn't use his much, but Max and I do. We both have pretty bad allergies and it really helps clear us out.  You know how it feels when you get so stuffed up that you can't breathe at all through your nose? Well when I use my neti pot, all that stuff comes out and I can breathe like a dream.
So after a little internet investigation I found a recipe that I've been using for a couple of months now. Luckily I had all the ingredients at hand. The recipe calls for 8 Tablespoons of unprocessed, fine sea salt. I use Real Salt
a lot in my cooking and it's the perfect type of salt for this recipe. Next add 10 drops of rosemary essential oil and 6 drops of tea tree oil essential oil to the salt. Make sure you use PURE essential oils and not fragrance oils. This is vitally important.  And now that we are on the subject:
Disclaimer: I am not a doctor and these ideas are not to be taken as medical advice– they are simply what works for me and my family. If you are using essential oils for medicinal purposes, make sure you are using a high-quality oil.
Mix the oils in the salt mixture and keep in a glass jar or container.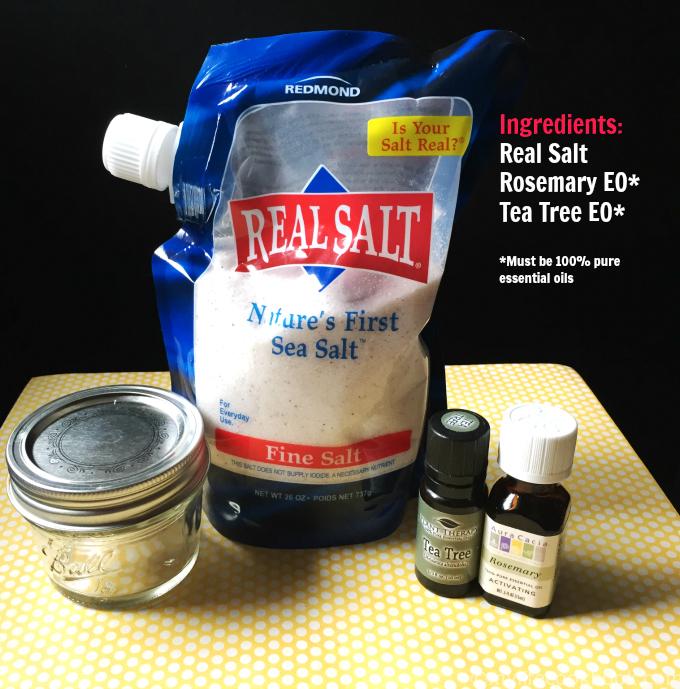 To use, just take a pinch of the salt and put it in your neti pot with some warm distilled water. Dissolve and then use as you normally do.
That's all there is to it. As you can see above I don't have an allegiance to any one essential oil company. I've always highly respected Aura Cacia essential oils and recently I have found Plant Therapy oils. Both companies offer high quality, pure essential oils at a good price.