These thick pork chops are so easy when made in the air fryer. All you need is a few spices for the seasoning rub and you will have tender, juicy pork chops in less than 15 minutes. These air fryer pork chops are also low carb so it will fit in your keto diet meal plan!
You might also like these smoked thick pork chops recipe!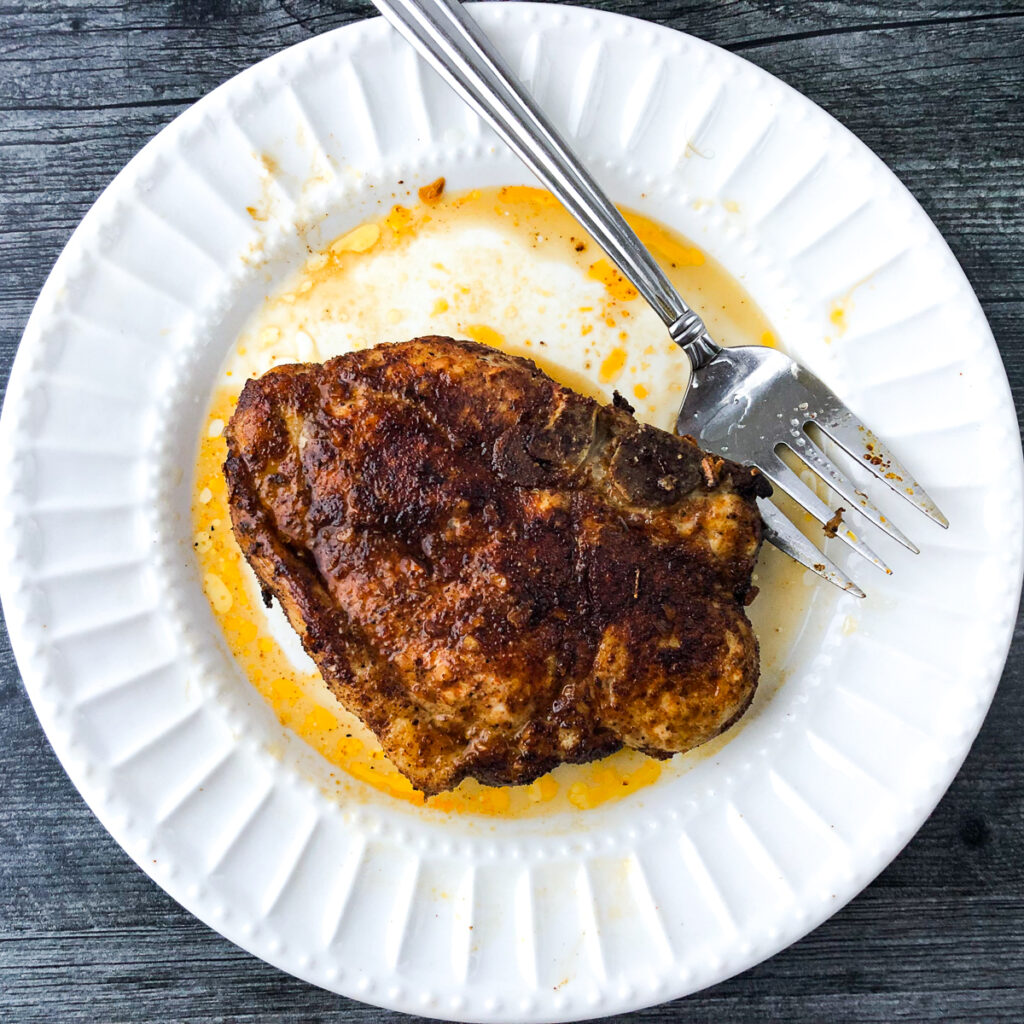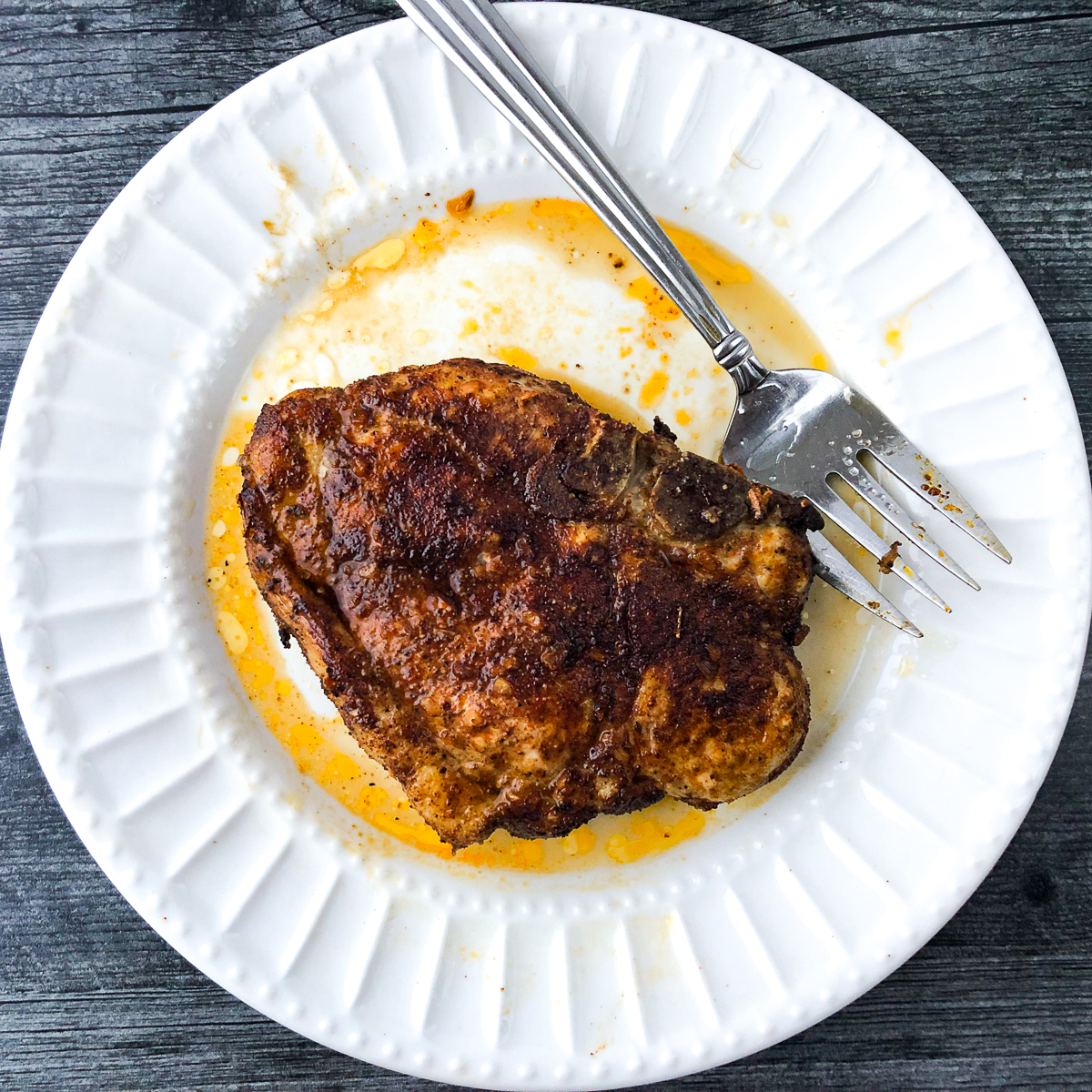 Recently we fell in love with this smoked pork chop recipe my son in law shared with us. We are now going to be eating these thick pork chops on a regular basis because we love them so much.
I like them because they are naturally low carb food but also because they have so much flavor. Also when you make thick pork chops in the air fryer they are done in only 15 minutes which is perfect for busy weeknights.
Spices in my pork chop rub.
I love this keto spice rub seasoning for pork chops. The ingredients are sweet paprika, salt, chili powder, onion powder, garlic powder, black pepper, cayenne powder and Lakanto or Swerve brown sugar sweetener.
Of course if you don't care about carbs you can substitute brown sugar for the Lakanto or Swerve sweetener. And this rub can be used on just about any meat such as beef and chicken.
So you might want to make a bigger batch and save the rest for another recipe.
How to make thick pork chops in the air fryer.
Step 1: First you want to let the pork chops site out for about 15 minutes to come to room temperature. Then preheat air fryer for 5 minutes at 360°F. Below you can see the pieces of meat that I bought. They are about 1 inch thick and almost a pound each.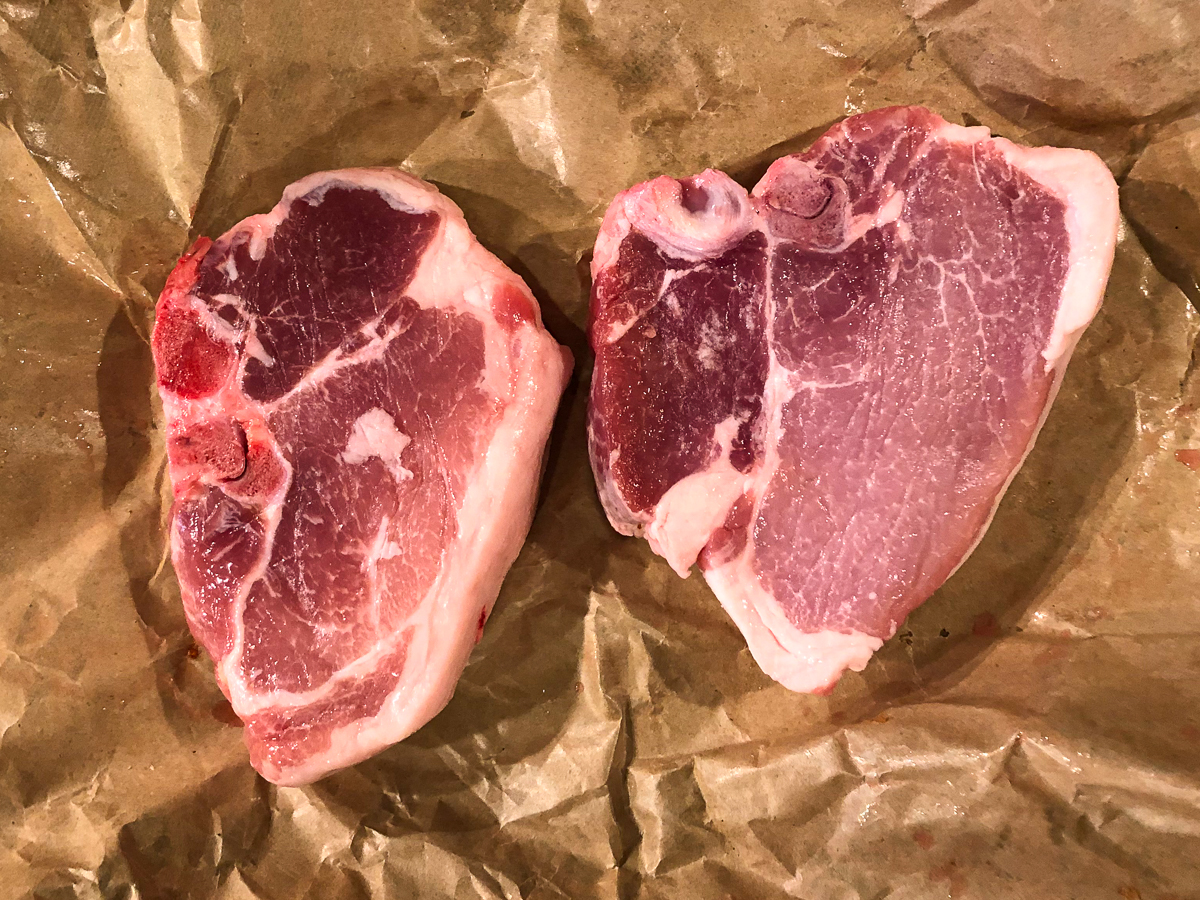 Step 2: Use paper towels to blot dry the chops. Add the spices to a small mixing bowl and mix together to make the spice rub. Then rub them on all sides of the chops. I like to add the spice mixture on the sides as well if you have enough of the rub.
Step 3: Spray the basket of the air fryer with cooking spray or use a bit of olive oil to coat the bottom so they don't stick. Then place the chops in the basket and cook at 360°F for 12-15 minutes and flip chops half way through.
You want the internal temperature to be about 140-145°F with a meat thermometer. Bake time may vary depending on the size of your pork chops. You may have to cook for a couple minutes for more with thicker chops or less if you have thinner chops.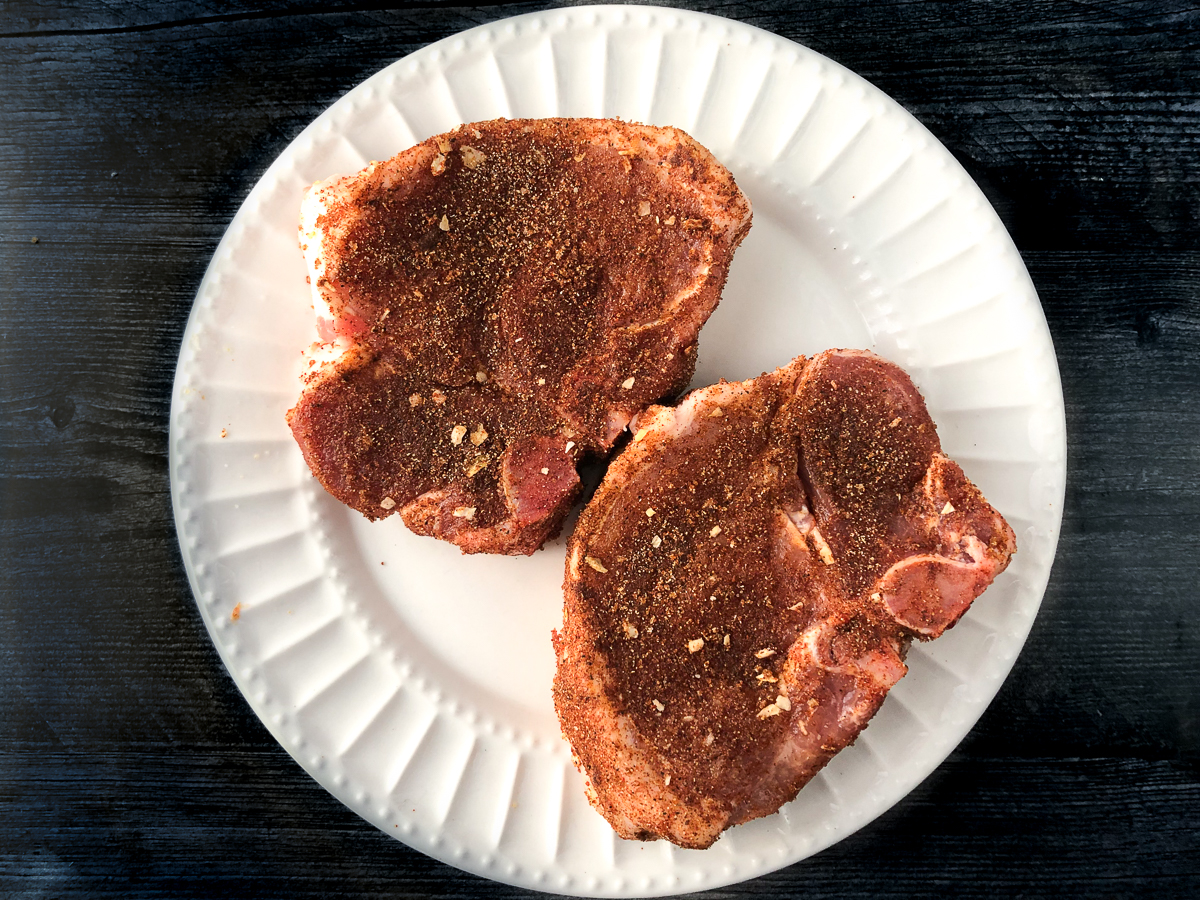 Step 4: Take them out of the basket, place on a dish and cover with a piece of aluminum foil to keep the chops warm. Let them rest for about 10 minutes before slicing. These are very big pork chops and 2 chops could feed 3-4 people depending on if you have big eaters or not.
Store leftover pork chops in an airtight storage container in the refrigerator. (Please scroll down to view the printable recipe card.)
Frequently asked questions for juicy air fryer pork chops.
Do I have to use bone-in pork chops?
No you can use boneless pork chops and even thinner pork chops than I do. Just know that it will take less time, especially if they are thin chops.
Do I have to use the spice rub?
No you don't though I will say it adds amazing flavor. If you choose not to, just season with salt and ground black pepper. Make sure to do both sides.
Can I do more than 2 chops at a time?
If you have big pork chops like I do you can do as many pork chops that fit in the basket of the air fryer. Just make sure they do not overlap so the air fryer can cook properly.
What is the best type of pork chop to use for this recipe.
I used a 1 inch, bone in, center loin chop. I like these best because they are like a T bone steak with a piece of tenderloin on one side of the bone. They are very flavorful. Pork loin chops usually are leaner and tend to be a bit drier. Here is a great post on different types.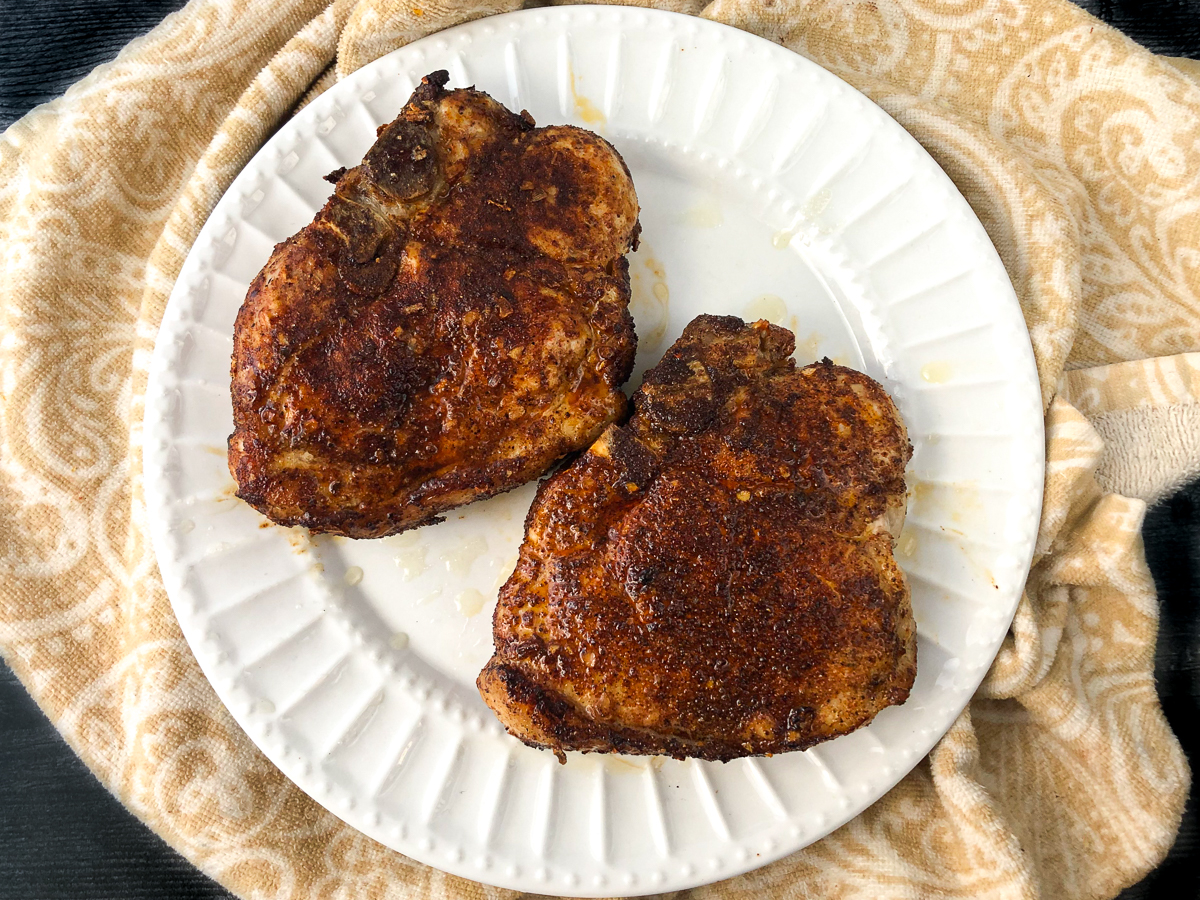 What to serve with these chops.
If you don't care about carbs, I would serve this will mashed potatoes or other potato dish. Also a rice side dish would work great.
For those that are watching their carbs, I have over 70 low carb side recipes. I would suggest this cheesy broccoli cauliflower rice or asiago cauliflower rice as they take less than 15 minutes.
If you have more time I LOVE this keto scalloped potatoes (using turnips believe it or not) and this low carb cauliflower au gratin recipe.
Other great air fryer recipes.
Below are some of my favorite of 45 air fryer recipes on this food blog. Most are low carb but they are all delicious and very easy. From meat main dishes to desserts!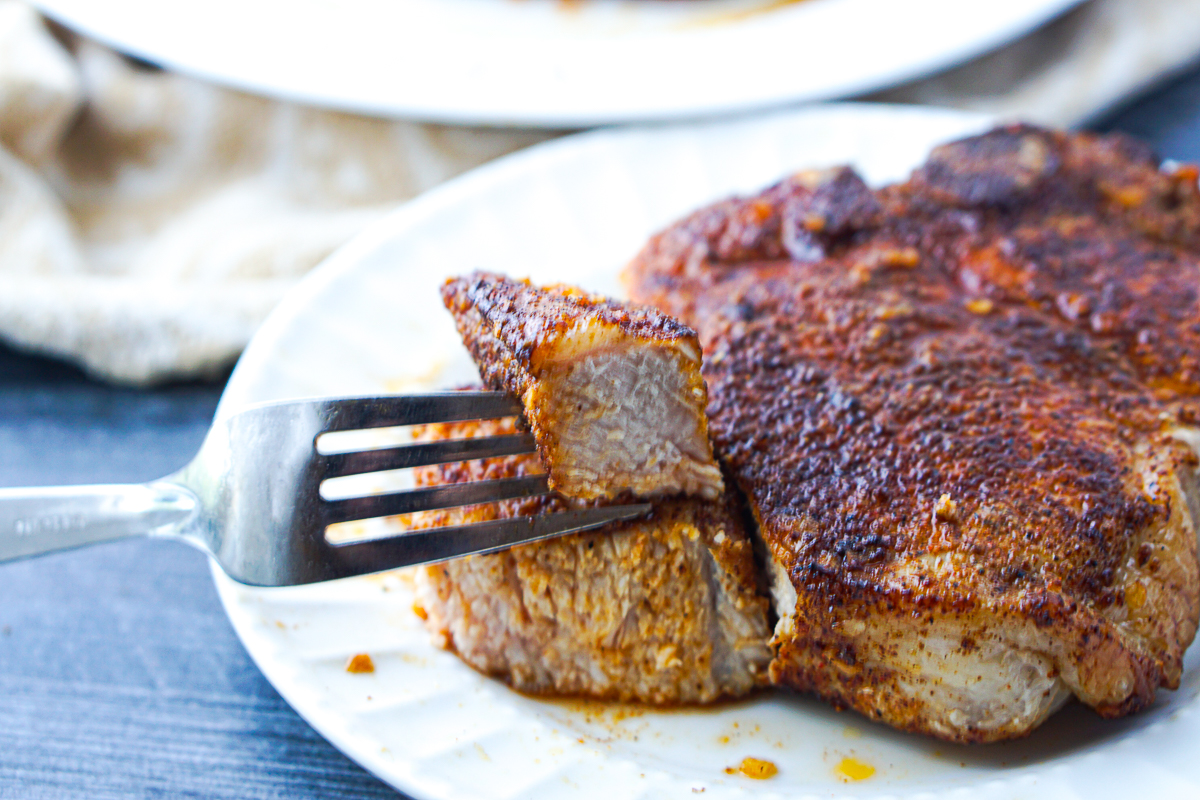 Well that is all I have for you today. This recipe is definitely a keeper. I will be experimenting with different kinds of chops in the future and come back here to update you.
Regardless based on how much my family liked these, this weeknight dinner recipe will definitely be part of our meal rotation. Enjoy!
The nutritional information for ½ large chop is 348 calories / 9.1g fat / 1.3g carbs / 0.3g fiber / 46.2g protein = 1g net carbs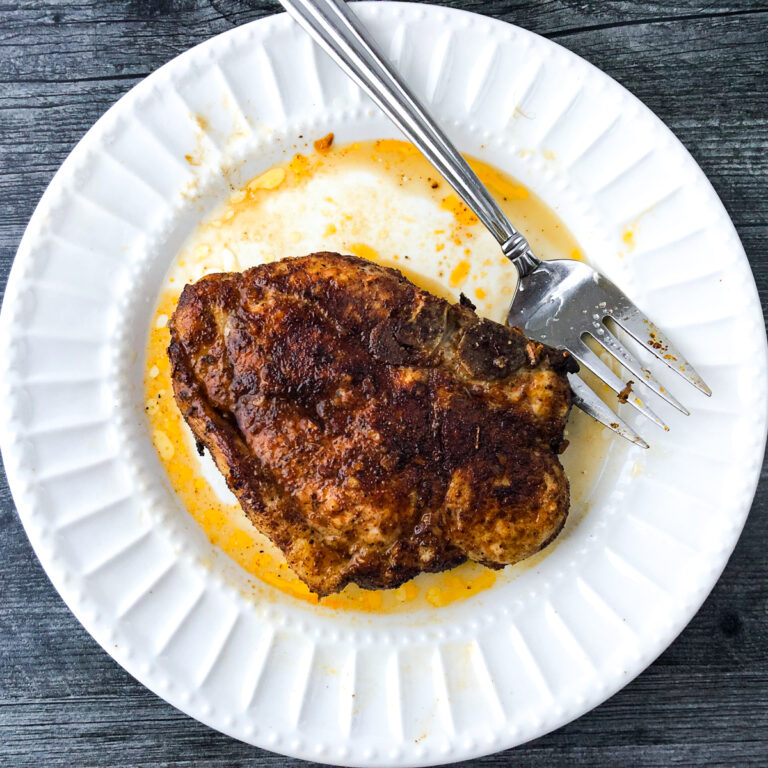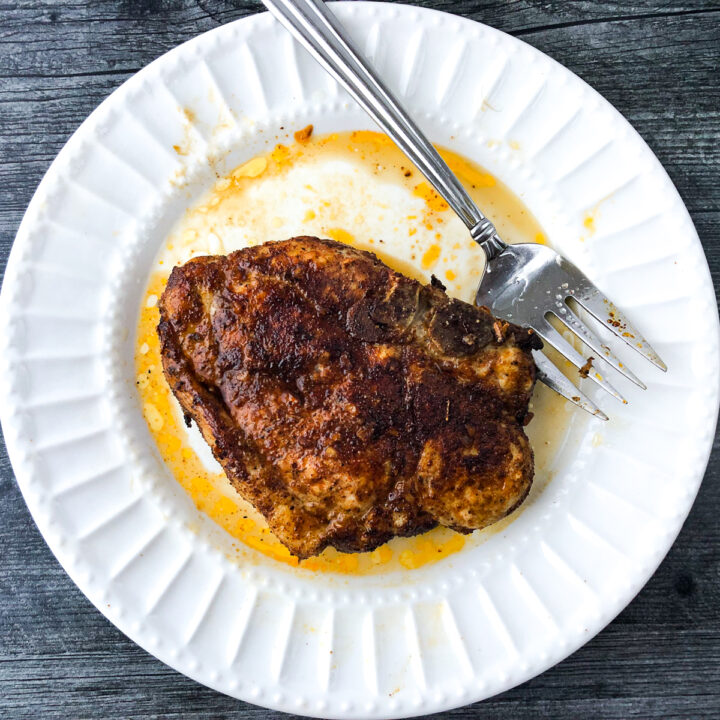 Thick Pork Chops in the Air Fryer
These thick, juicy air fryer pork chops are so easy to make. All you need is a few spices for the rub and you will have moist, tender pork chops in less than 15 minutes. This air fryer recipe is sure to become one of your favorite dinner dishes.
Ingredients
2 thick pork chops (1 inch, bone in, center cut - 2 lbs)
1 teaspoon garlic powder
1 teaspoon onion powder
½ teaspoon cayenne powder
½ teaspoon paprika
½ teaspoon salt
1 teaspoon brown sugar (or Swerve brown sweetener if low carb)
Instructions
Take out the chops from the refrigerator and let sit out for 15 minutes to come to room temperature.
Preheat the air fryer for 5 minutes while you make the spice rub.
Mix all of the spices in a small bowl.
Rub the spices all over the pork chops - even the sides.
Spray the air fryer basket with non stick cooking spray and place the pork chops in the preheated air fryer. Do not overlap the meat. If you have more than 2 large chops you might have to do them in batches.
Cook for 12-15 minutes at 360°F. Flip halfway through. The internal temperature should be 140-145°F.
Cover loosely with aluminum foil and let the meat rest for 10 minutes and it will continue to cook for a few minutes after you take them out. Note cooking time may vary due to the thickness of your chops.
Notes
The nutritional information for ½ large chop is 348 calories / 9.1g fat / 1.3g carbs / 0.3g fiber / 46.2g protein = 1g net carbs
Nutrition Information:
Yield:

4
Serving Size:

1
Amount Per Serving:
Calories:

348