If you like mashed cauliflower you are going to love this keto roasted cauliflower mash that uses a combination of Swiss and gruyere cheese to make it rich and flavorful. Roasting cauliflower and onions adds a depth of flavor and then the cheeses makes it nice and creamy. This is a great low carb side dish to go with a meaty main dish and has only 4.3g net carbs.
You might also like this keto loaded mashed cauliflower recipe.
For Valentine's Day dinner I wanted to make this seared salmon with lemon herb butter but I wanted a special keto side dish to go with it since I'm on a low carb diet. So I came up with this keto roasted cauliflower mash and I used my new favorite Swiss and gruyere cheese combination.
I first roasted cauliflower and onions for maximum flavor and boy did it come through. Then I mashed that with cream cheese, Swiss and gruyere cheese and it was so rich and decadent. Which is what I was going for.
So this recipe coupled with the seared salmon and simple green beans are what we are having for our Valentine's Day dinner and I know they are going to love this delicious meal. This is the best low carb alternative to mashed potatoes that I've made so far.
What does gruyere cheese taste like?
Gruyere cheese is know for being rich, creamy, salty and have a bit of nuttiness flavor to it. The older the cheese the more complex flavor it has but young cheese tend to me more creamy.
The best substitutes for gruyere cheese are Emmentaler, Jarlsberg, Comte, Edam and even American Swiss cheese. (source)
The gruyere cheese I bought was from Aldi and it's mixed with Swiss to give it a creamy texture. You don't need to go out and buy a fancy complex cheese. If you have an Aldi near by you can get there. If not just
I think in this particular recipe you can easily substitute with just Swiss cheese. No need to buy a more expensive type of cheese.
Other keto dishes to make with leftover Swiss and gruyere cheese.
I've picked this cheese blend because first of all it's readily available and inexpensive at Aldi. And I have made a few keto recipes with it already and really like the flavor.
You could use this leftover cheese blend with my hamburgers with creamy mushroom sauce which is a super popular recipe. I also use this gruyere cheese blend in these scalloped turnips and this ham and spinach quiche.
The 5 recipe ingredients I used.
Below you can see that I only used 5 simple ingredients and I bought them all at Aldi. I used a head of cauliflower, yellow onion, olive oil, Swiss & Gruyere cheese blend, cream cheese and olive oil.
As I mentioned above you can always just use Swiss cheese if you can't find this cheese blend. Maybe add another like parmesan cheese too for the contrast. I would not use cheddar though with the Swiss.
Also you could use sour cream or heavy whipping cream if you don't have cream cheese though the cream cheese will give it a thicker consistency.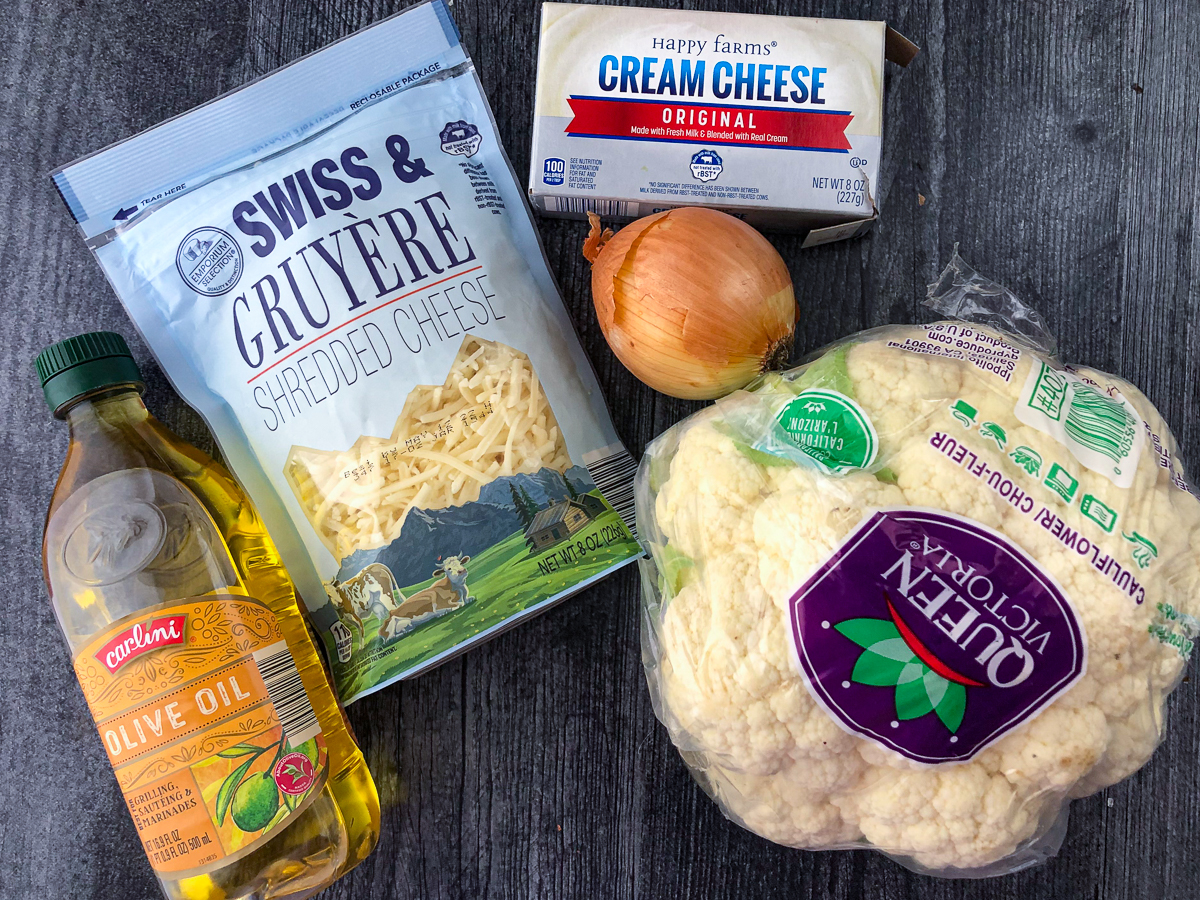 How to make keto roasted cauliflower mash.
Step 1: Preheat the oven to 400°F and prepare a baking sheet by spraying with nonstick cooking spray and set aside.
Step 2: Slice the cauliflower into florets and onions into pieces with uniform thickness and toss with olive oil. Then season with salt and black pepper. Spread out in a simple layer on the prepared baking sheet and place in the oven for 30-35 minutes.
You want the cauliflower and onions to be nice and gold brown but not burnt. Also the cauliflower should be fork tender so that it will mash well.
Below you can see what it should look like coming out of the oven.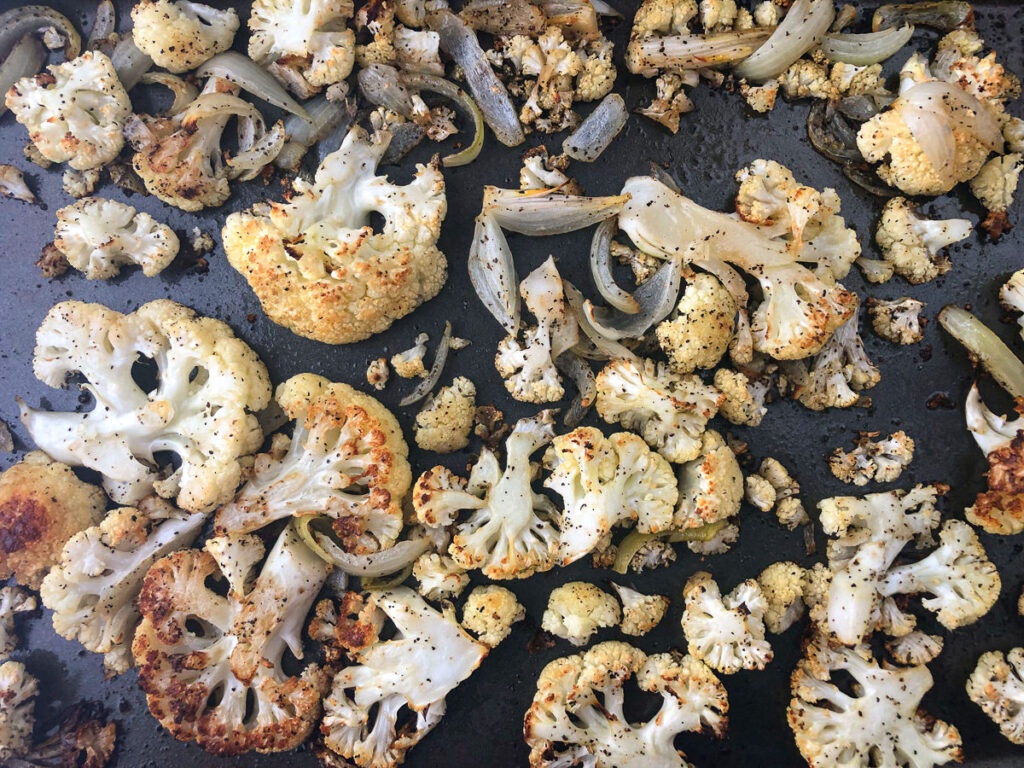 Step 3: Place the cauliflower mixture, cream cheese and gruyere cheese blend into a high speed blender. Blend for 1-2 minutes until nice and creamy with a smooth texture. It will be thick like mashed potatoes.
You can also use a food processor if you don't have a high speed blender. An immersion blender will work but might not make them creamy and smooth enough but it will work. A potato masher would not work well though.
If you want to make it thinner you can add a bit of water or heavy cream but do it a tablespoon at a time. I wanted them thick and creamy though so they would seem more decadent. Roasting the cauliflower eliminates the excess water you would have if you had steamed or boiled it.
Step 4: (Optional) Spray a small casserole dish with non-stick cooking spray and set aside. Spoon the cauliflower mash into a prepared baking dish and sprinkle more of the Swiss gruyere shredded cheese on top and place under the broiler until melted and bubbly.
Store leftovers in an airtight container. (Please scroll down to view the printable recipe card.)
Recipe Tips and Notes
I do not like to use frozen cauliflower as it always seems to be watery or soggy. I would recommend just using a fresh cauliflower head.
After eating this mashed cauliflower, it didn't really need the melted cheese on top. It is quite rich without it so it's up to you if you want to skip this step or not. I was going all out for my Valentine's dinner.
You could also add whole garlic cloves to roasted vegetables. I personally like the natural sweetness of roasted onions but you can't go wrong with roasted garlic cloves.
This is a good side dish to make ahead of time if you are making it for a special occasion. Just place in a baking dish and heat it up in the microwave.
You could add some fresh herbs for garnish. I would stick wit parsley or maybe some fresh thyme. The green color would add some contrast. But you don't need it for the flavor.
What keto main dishes to serve with this roasted cauliflower mash.
As I mentioned above I this would be the perfect side dish to go with my seared salmon for a Valentine's Day dinner. This dish is really rich so it went well with the fish. You could use it with any type of simple meat dish like a steak, roasted chicken or turkey or even a pork chops.
I would not usually make this for a weeknight meal but more for a special occasion type of side dish. That's not to say you couldn't because it's not very hard and only uses 5 ingredients!
Well I hope you give this keto mashed roasted cauliflower a try. Even though it's not the most beautiful looking side dish it truly is delicious. I even froze a serving for when I'm craving keto comfort food. Enjoy!
You might also like this keto curry roasted cauliflower recipe.
The nutritional information for 1 serving (without cheese topping) is: 201 calories / 15.8g fat / 7.5g carbs / 3.2g fiber / 7.5g protein =. 4.3g net carbs
Keto Roasted Cauliflower Mash with Swiss & Gruyere Cheese
This decadent low carb roasted cauliflower mash recipe uses a swiss cheese and gruyere cheese blend to make it rich and thick. Roasting the cauliflower adds another layer of flavor to make this keto cauliflower mash the perfect low carb side dish for a special occasion.
Ingredients
4 cups fresh cauliflower florets or slices (1 small head cauliflower)
2 tablespoons olive oil
½ cup onion slices
½ teaspoon salt
½ teaspoon black pepper
2 ounces cream cheese
½ cup swiss & gruyere shredded cheese blend
Instructions
Preheat oven to 400°F and spray a baking sheet with non-stick cooking spray.
In a large mixing bowl add sliced onions and and cauliflower along with olive oil, salt and pepper. Mix well then spread evenly over the prepared bakign sheet.
Place in the oven and bake for 30-35 minutes until the cauliflower is tender and golden brown.
Place cauliflower mixture into a high speed blend along with the cream cheese and shredded cheese. Note you might have to do this in batches.
Blend on high until it looks like mashed potatoes. Note this will be a thick cauliflower mash and if you want it to be a bit thinner you can add a tablespoon of water or cream. I wanted it to be thick and rich so the consistency was fine for me.
Optional - Originally I placed the mashed cauliflower into a sprayed baking dish and added more cheese on top (½ cup of the shredded cheese blend). Then I put in under the broiler until it got nice and bubbly. I don't think this is necessary and doesn't add much to the flavor so I'm just sharing this bit as an option.
Notes
The nutritional information for 1 serving (without cheese topping) is: 201 calories / 15.8g fat / 7.5g carbs / 3.2g fiber / 7.5g protein =. 4.3g net carbs
Nutrition Information:
Yield:

4
Serving Size:

1
Amount Per Serving:
Calories:

201