This nourishing and healthy Instant Pot beef stew recipe is full of good for you ingredients yet packed with flavor. You can also make this beef stew in the slow cooker. Either way it creates tender chunks of beef and colorful vegetables in a super tasty broth. And it is a low calorie beef stew with only has 163 calories per serving but still family friendly.
You might also like my best low carb recipes for fall.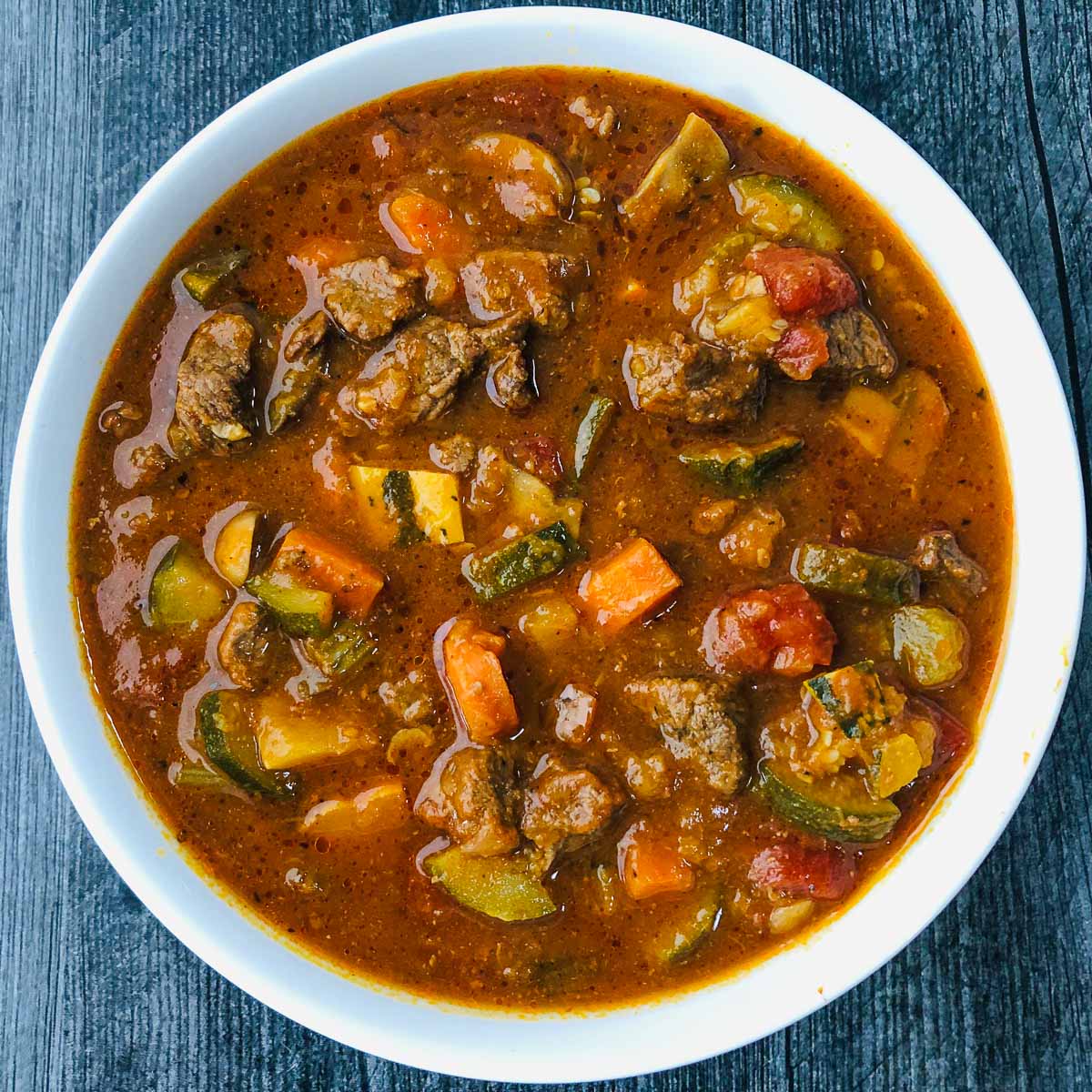 I love homemade beef stew. I remember making it when I first starting working. I'd put meat, veggies, spices and tomato sauce in the slow cooker and when I got home from work I could smell the goodness as I walked in the door. It was easy and healthy and honestly I just loved it.
While this healthy Instant Pot beef stew recipe is very similar to my slow cooker Paleo stew post in that I didn't use flour or a cornstarch slurry to thicken it like classic beef stew. However today I used a few additional ingredients for their health boosting properties.
I also wanted to use my Instant Pot and show you how easy it is to make this tender beef stew using really good ingredients. But mostly it was to play with my Instant Pot. 😉 There is the added bonus that this is a low calorie beef stew but the regardless of that it's just plain tasty.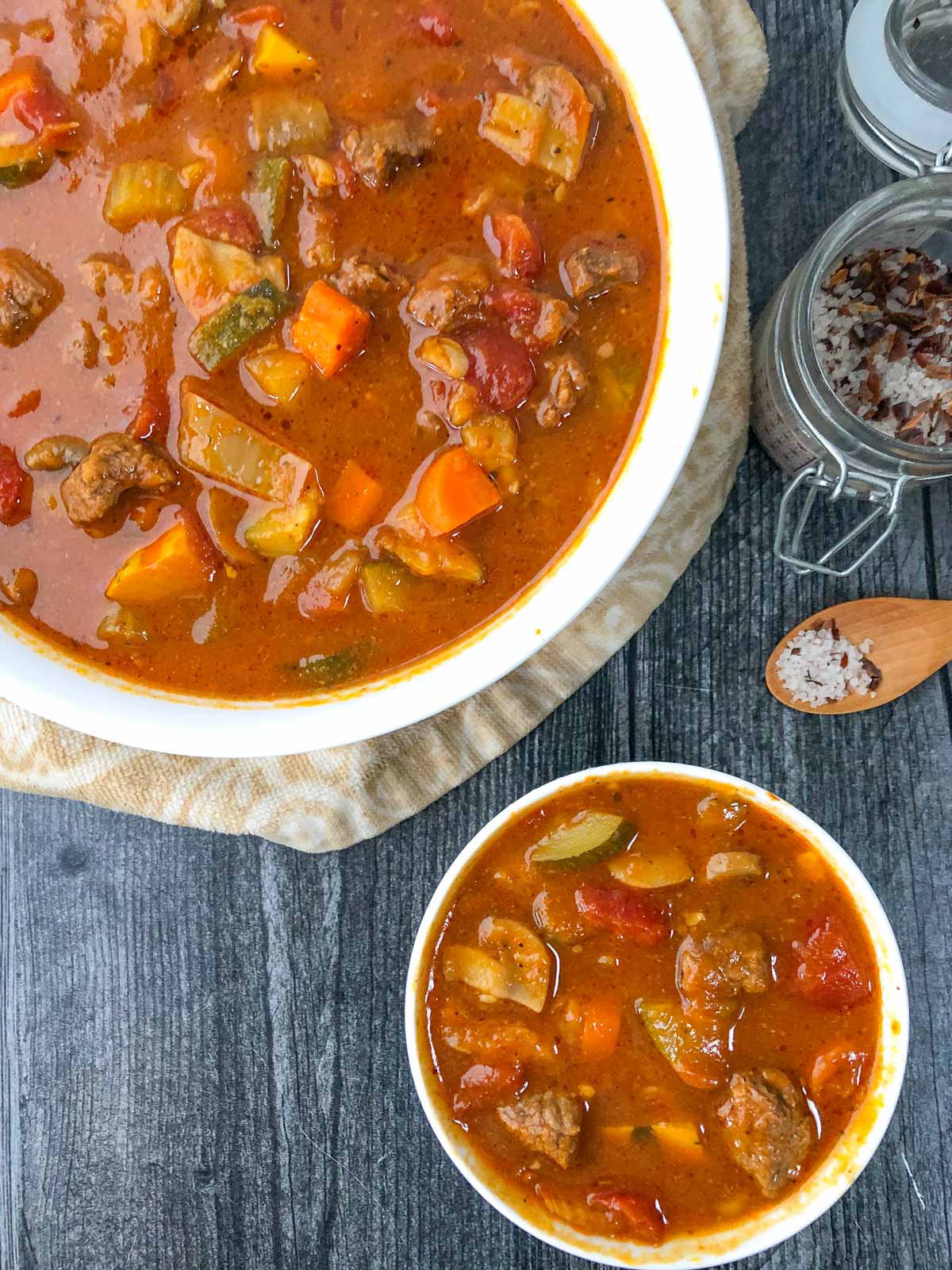 Why use an Instant Pot for stew?
Have you heard of the Instant Pot? It's a slow cooker, pressure cooker, rice cooker, yogurt maker and you can even make a cheesecake in it!
Anyway I really, really like the pressure cooker aspect of it to make meat that melts in your mouth and to do it quickly. I also like that when it's done cooking, it stays warm until you are ready to eat so I can make this at lunch and it will be fine for dinner.
The healthy and nourishing ingredients I used.
As I mentioned above, I wanted to make this stew as healthy as I could with ingredients I had at home, so this is why I used the following ingredients:
As for the seasonal vegetables this tends to change every time I make it. Today I used mushrooms, carrots, yellow onion, celery, zucchini and delicata squash. Feel free to use what ever you want. Other good veggies would be green beans, sweet potatoes, cauliflower, eggplant, peppers, potatoes, peas, corn, beans, etc.
Lastly I used pre-cut stew meat that you can find in most grocery stores. You could use grass fed meat to up the health quotient and use other cuts of beef like chuck roast, round steak, etc. Just cut them up into roughly 1 inch pieces
How to make beef stew in the Instant Pot.
Step 1: Hit the saute button and adjust to high heat. Add the olive oil and let that heat for a couple minutes to get hot. Then add the beef cubes to the hot pot in a single layer to brown them. Sprinkle a little salt, pepper and cinnamon and as the meat browns add the onions to the beef chunks.
Step 2: When the meat has browned, hit the cancel button to take it out of saute mode. Add the stock and tomatoes, mix and then place the lid on. Turn the pressure release value to the back and press the manual setting. Pressure cook for 15 minutes. This will get the meat nice and tender.
Step 3: When that is done do a quick pressure release and take off the lid. Add in the other ingredients. Mix well and then pressure cook again for 20 more minutes. Let the pressure come down naturally and you are done! Just ladle into bowls once it has cooled down.
The savory broth and tender beef chunks are what makes this an amazing beef stew. Store leftovers in an airtight container. This is a good meal to freeze. I like to put some into individual freezer safe containers for a quick lunch.
To make this flavorful stew in the slow cooker.
To make this in the slow cooker you first need to brown the pieces of meat and onions in a large skillet on the stove. Then season the beef with salt, pepper and cinnamon as well. When it's browned you can addd it to the crockpot along with the rest of the ingredients and cook on low for 6-8 hours or on high for 4-6 hours. Note cooking time may vary.
You could also skip the browning of the meat and just put everything in at once. Mix it very well and let cook until the meat is nice and tender.
What to eat with this healthy dish.
You can eat a comforting bowl of this delicious beef stew as is like a hearty soup with a piece of crusty bread. Or you can eat it over rice or even with egg noodles to make it a more complete meal. Keeping with the healthy options in mind you can opt for brown rice or even cauliflower rice for a low carb option. I just like to eat it as is.
Well I hope you like this delicious and flavorful Instant Pot beef stew recipe. I've made it twice in the past month and even froze portions. However I end up eating those too. It's really tasty and warming comfort food during the cold winter months! Enjoy.
The nutritional information for 1 serving is: 163 cals / 3.7g fat / 13.1g carbs / 3.1g fiber / 13.4g protein
Healthy Instant Pot Beef Stew
Cook Time:
1 hour
30 minutes
Total Time:
1 hour
35 minutes
This healthy Instant Pot beef stew is full of health boosting ingredients. It's easy comfort food in the Instant Pot or slow cooker and a tasty, hearty, and low calorie beef stew.
Ingredients
1 tablespoon olive oil
1 pound stew meat
½ teaspoon salt
½ teaspoon black pepper
¼ teaspoon cinnamon
½ onion, diced
1 cup pumpkin puree (not pie filling)
2 cups beef stock or broth (bone broth if possible)
15.5 oz diced tomatoes (1 can)
4 cups vegetables chopped (I used ¾ cup carrots, 1 cup celery, ½ cup mushrooms, 1 cup zucchini, ¾ cup delicata squash)*
2 tablespoons tomato paste
½ teaspoon salt
½ teaspoon Italian seasoning
2 cloves garlic, crushed
¼ teaspoon cayenne powder
½ teaspoon garlic powder
Instructions
Push the saute setting on the Intant Pot and adjust the heat to high. Let it heat up for 2-3 minutes.
Add the oil then the beef cubes, salt, pepper and cinnamon. Brown the meat for a minute or two and then add the onions.
When meat is brown, add stock and tomatoes. Put the lid on the pot and lock into place. Make sure the vent is on closed.
Push the manual button for 15 minutes. When the timer goes off, do a quick release by turning it to vent.
Open the pot and add the pumpkin, tomato paste, salt, Italian seasoning, garlic, cayenne and garlic powder. Mix well, then add the vegetables and mix again.
Place lid on pot and push vent to closed. Press manual button for 20 minutes.
When time goes off use the quick release or do a natural release if you are not ready to eat.
Serve this hearty beef stew as is or over rice or egg noodles.
Nutrition Information:
Yield:

8
Serving Size:

1
Amount Per Serving:
Calories:

163
Unsaturated Fat:

0g