These easy keto bacon wrapped stuffed chicken cutlets make for a delicious low carb dinner. The juicy chicken is stuffed with ham and cheese, rolled and wrapped in bacon. You only need 4 ingredients to make these keto chicken cordon bleu type recipe and it's sure to be a family favorite. One serving has only 0.5g net carbs.
You might also like this low carb artichoke & spinach stuffed chicken recipe!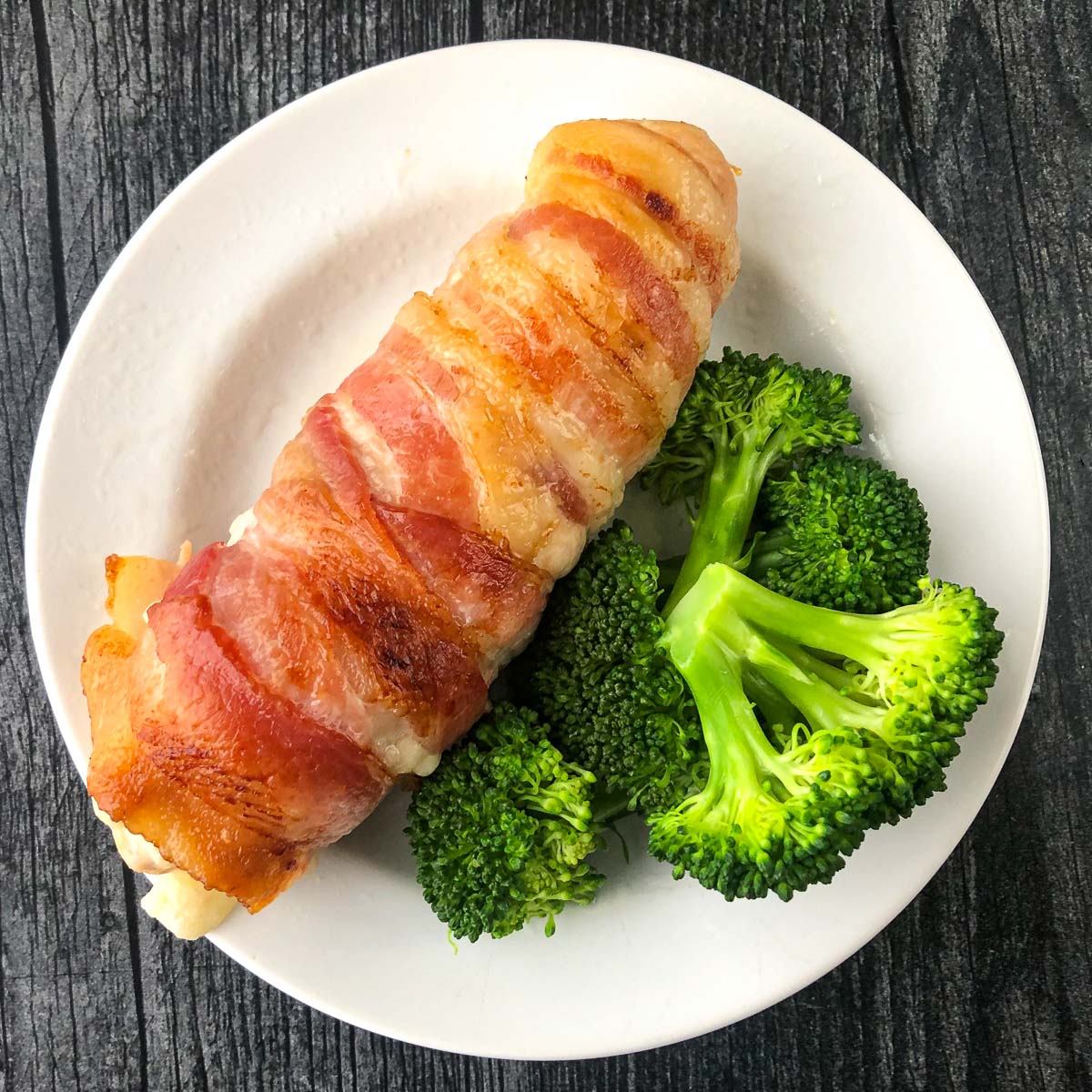 I recently bought a HUGE pack of sliced Swiss cheese from Sam's club. My son likes Swiss cheese and I just joined so I got caught up in the food shopping spirit of a warehouse club.
We will never eat that much cheese so I'm trying to find other ways to use it and came up with these easy keto bacon wrapped stuffed chicken cutlets. I would consider them a keto chicken cordon bleu because the the filling is ham and Swiss cheese but instead of breading they are wrapped in bacon.
It's so much easier and you only need 4 ingredients. This is a low carb dinner that everyone will love even if they are not on a low carb diet. Even the picky eaters will give this delicious chicken recipe a 5 star rating!
What is chicken cordon bleu?
Chicken cordon bleu is a dish with chicken, stuffed with ham and cheese that is breaded and then pan fried. As I mentioned I wanted to make a similar dish but wanted to keep it keto friendly so breading was out of the question.
I ended up wrapping them in bacon instead because bacon trumps breading in my book and it's low carb!
The 4 ingredients I used.
All you need to make this easy keto dinner is thin sliced chicken breast, sliced ham, sliced Swiss cheese and bacon. I like the flavor combination of ham and swiss but there is no reason you can't use cheddar cheese, mozzarella cheese or another type of cheese if you wish.
There is no need for any seasoning as the bacon and ham will add plenty of saltiness.
Sometimes you can buy thin sliced chicken breast but if you can't find it, slice a regular boneless skinless chicken breast in half like you would a bagel and then pound each piece thinner with a meat mallet or tenderizer.
If you are more of a thigh person check out this keto bacon wrapped chicken thighs that I made in the air fryer. You lay out the thigh flat with the smoother side up and make a pocket that you stuff with your filling and then roll up and wrap with bacon.
How to make keto bacon wrapped stuffed chicken cutlets.
Preheat oven to 400°F.
If you are using regular chicken breast, you will want to slice them like you would a bagel. Then take the two slices and place them in a baggie or between pieces of plastic wrap and pound them thinner. If you have 2 chicken breasts you will get 4 thin cutlets.
Now take one of the thin cutlets and lay the chicken flat. Place a slice of ham and then a slice of cheese on top of that. Next roll them up and wrap with 1-2 strips of bacon.
of bacon. The number of bacon slices will all depend on how big your cutlets are and the type of bacon you use. I used a center cut of bacon and it was pretty thick so it took 2 pieces The bacon will keep them together but if you have problems, just add a few toothpicks.
Take out a baking dish and spray with nonstick cooking spray. Place them in the baking dish and cook for 30 minutes or until the internal temperature reaches 165°F using a meat thermometer. Cooking time may vary. (Note you want to use a. baking dish and not a baking sheet because there will be excess liquid when it's done.)
Take out and cool for 5 minutes before serving.
Store leftovers in an airtight container. (Please scroll down to view the printable recipe card.)
Ways to change up this recipe.
Add a layer of fresh spinach leaves to lighten the flavors a bit and for color.
You can also add fresh herbs like basil or parsley. The basil will go well if you use mozzarella or provolone cheese. Sun dried tomatoes would also be nice with this flavor combination.
For a creamy filling use some cream cheese and shredded Swiss cheese. Mix them together and spread on the ham before rolling up the cutlets.
To make this recipe in the air fryer.
If you want to make this recipe in the air fryer instead of the oven, you would first spray the air fryer basket and then place the rollups with the bacon seams down for about 15 minutes at 380°F.
Then flip them and cook for another 10-15 minutes until the internal temperature is 165°F and the bacon is crispy enough for you tastes.
If you want the bacon to be crispier.
After baking for 30 minutes you might not have very crisp bacon. In this case you want to first drain some of the grease out of the baking dish and then set it under the broiler. Broil until the bacon gets crispy and then flip and do the other side.
This might take an additional 3-5 minutes on each side. Again it depends on the thickness of your bacon and the size of your roll ups.
What is a good keto side dish to go with this chicken dinner?
Since I like to eat low carb and because this is a really intensely meaty dish I think you should serve this with a green vegetable or lighter side dish. Here are few of my low carb side dishes that would go well.
More bacon wrapped keto recipes to try.
I think most people will eat anything wrapped in bacon and I have a few such tasty recipes on the blog. The air fryer is a great way to cook these types of bacon dishes.
So I hope you like this keto bacon wrapped stuffed chicken recipe and if you are bacon lover I can't see how you won't. Enjoy!
The nutritional information for 1 piece of chicken is: 446 cals / 16.6g fat / 0.5g carbs / 0g fiber / 69.8g protein = 0.5g net carbs
 You might also like this recipe on how to smoke chicken thighs from my friend Taryn! Or try these bacon wrapped maple parmesan asparagus bundles from Sara!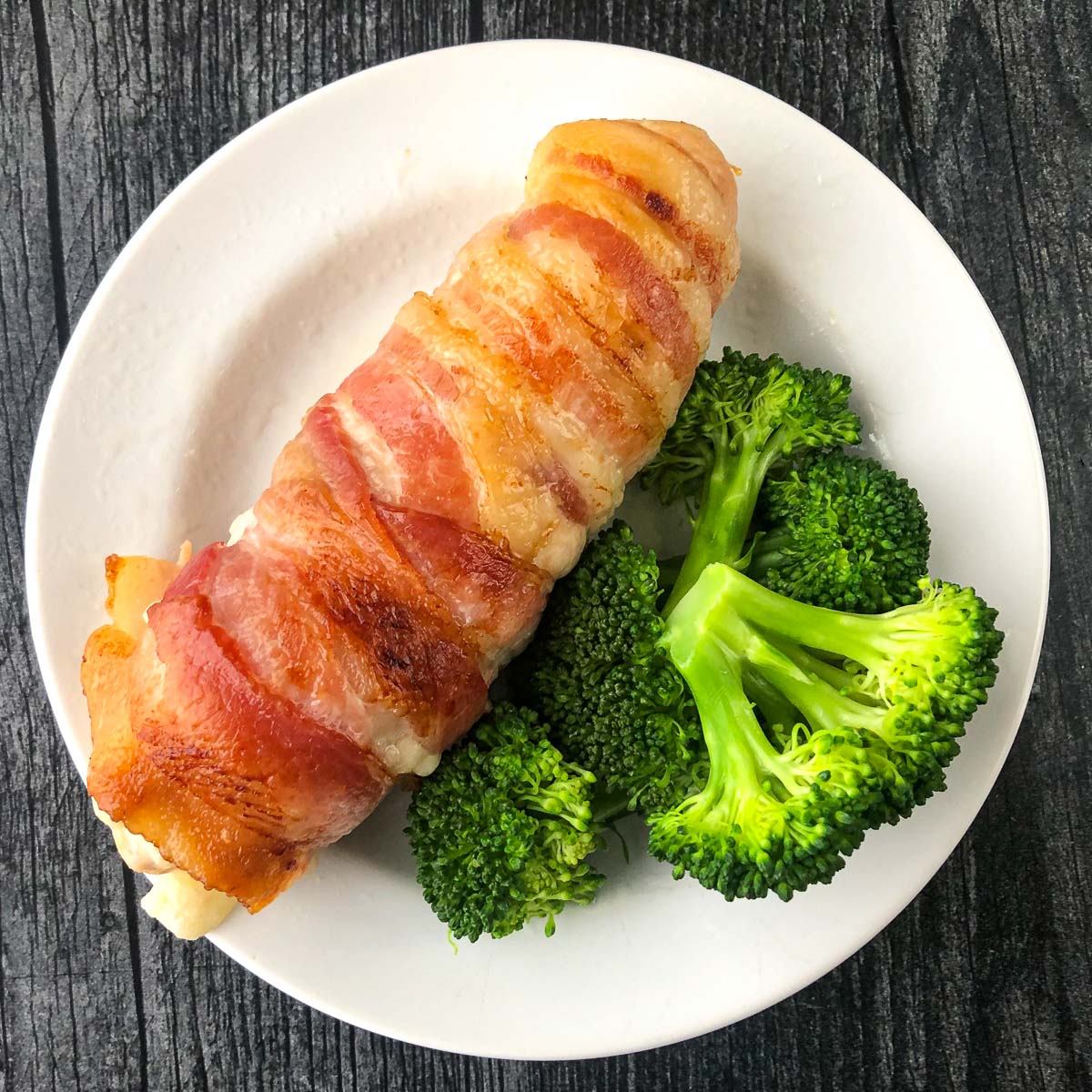 Easy Keto Bacon Wrapped Stuffed Chicken Breasts
These keto bacon wrapped stuffed chicken breasts are filled with cheese and ham to make for a delicious, low carb dinner.
Ingredients
2 skinless, boneless chicken breasts (made into 4 thin cutlets)
8 pieces of bacon
4 pieces of swiss cheese
4 pieces of lean ham
Instructions
Preheat oven to 400 degree F.
Slice the chicken breasts in half as you would a bagel so that you have 4 thin cutlets.
Place a piece of the chicken in a plastic baggie and pound thin with a meat tenderizer. Do this for all 4 pieces and try to get a uniform thickness for each one.
Take the cutlets and layer a piece ham then the swiss cheese.
Roll up and then wrap a piece of bacon around it to keep it together. I needed 2 pieces of bacon per cutlet. If they don't stay together, use toothpicks.
Place in a baking dish and cook for 30 minutes. Baking time may vary.
Drain excess grease from the pan and then place under the broiler for 3-5 minutes. Make sure the bacon doesn't burn.
Flip over and broil the other side.
Serve and enjoy!
Notes
The nutritional information for 1 roll up is:
446 cals / 16.6g fat / 0.5g carbs / 0g fiber / 69.8g protein = 0.5g net carbs
Nutrition Information:
Yield:

4
Serving Size:

4 Servings
Amount Per Serving:
Calories:

446
Net Carbohydrates:

0.5g