For a simple but delicious weeknight dinner, try this easy keto marinated chicken recipe in the air fryer. Balsamic chicken breasts and green beans are roasted in the air fryer for an easy keto dinner in less than 30 minutes! Each serving has just 3.6g net carbs.
You might also like this keto air fryer salmon recipe!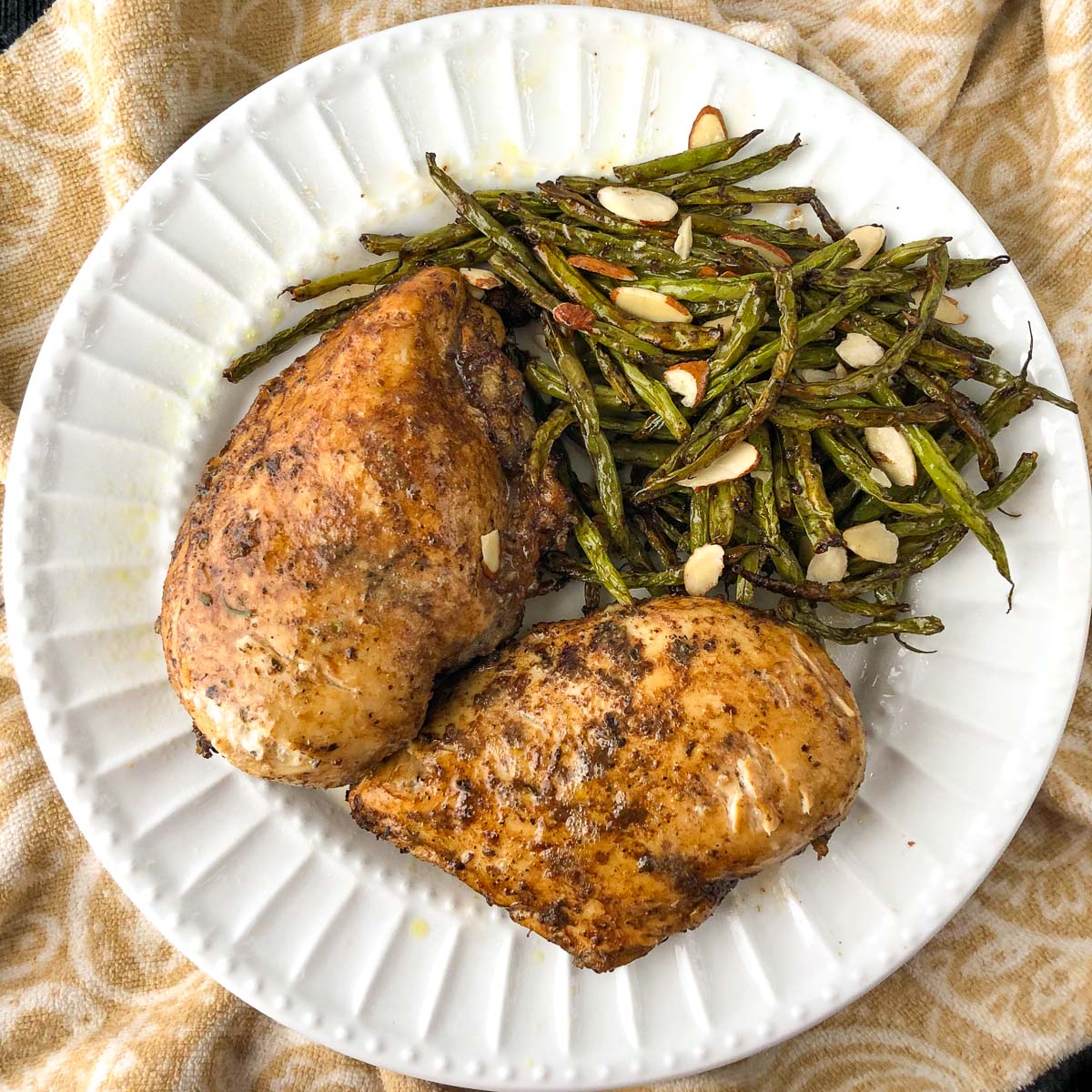 Something as simple as chicken breast can be a delicious dish when you have a good marinade. Today I wanted to make a one pan air fryer dinner so I made this keto marinated chicken and green beans dinner.
I used a low carb balsamic marinade on both the meat and green beans then cooked them together in the air fryer for a quick and easy dinner in just 20 minutes.
The air fryer chicken came out juicy and tender and the green beans were full of flavor from the garlic and herb marinade. This is a good, healthy meal that is perfect for busy weeknight meals, especially if you are on a low carb diet.
Recipe ingredients I used.
The marinade that I used with both the meat and the green beans was made with balsamic vinegar, olive oil, fresh garlic, dijon mustard, salt, black pepper and Italian seasoning.
I used boneless, skinless chicken breast and French style green beans. If you want you can add some slivered almonds at the tend to the green beans but that is optional.
You can also use boneless chicken thighs or bone in pieces. The cooking time may vary thought. Just use an instant read thermometer and when the chicken reaches 165°F it's done.
I like the taste of dijon but you can use brown mustard or even plain yellow mustard.
How to make keto marinated chicken in the air fryer.
Step 1: Whisk together the marinade. Place the chicken pieces in a large ziplock bag and pour half of the marinade over chicken. Refrigerate overnight or for a few hours. Save the rest of the marinade for the green beans later on.
Step 2: When ready to cook, preheat the air fryer for 5 minutes at 380°F. Take the other half of the marinade and mix it with the raw green beans.
Step 3: Spray the basket with cooking spray. Place the prepared chicken breasts in the middle and the spread the marinated green beans around them in a single layer.
Step 4: Cook for 18-20 minutes at 380°F flipping each chicken piece halfway through. Cook until the internal temperature is 165°F. Note cooking time may vary depending on the size of the chicken pieces. Also you might have to cook in batches if your air fryer is smaller.
Step 5: Take out of the air fryer and serve. Store leftovers in an airtight container. (Please scroll down to view the printable recipe card.)
This balsamic chicken is so moist and tender when you make it in the air fryer. And when you add the green beans you have a complete meal. It's a healthy dinner that's low carb too and it takes very little time to make.
If you want to you could add a nice green salad or even some cauliflower rice or veggie noodles. But it's a nice meal as it is.
Other keto air fryer recipes for dinner.
I love using my air fryer for cooking a low carb dinner and therefore have a lot of low carb dinner recipes for you. These are some of my favorite recipes but you can find my collection of 49 air fryer recipes here.
I hope you give this keto marinated chicken made in the air fryer a try. It's really easy to make and healthy too. It's sure to be one of your favorite low carb recipes. Enjoy!
The nutritional information for 1 serving including the green beans is 446 calories / 31.1g fat / 4g carbs / 0.4g fiber / 35.6g protein = 3.6g net carbs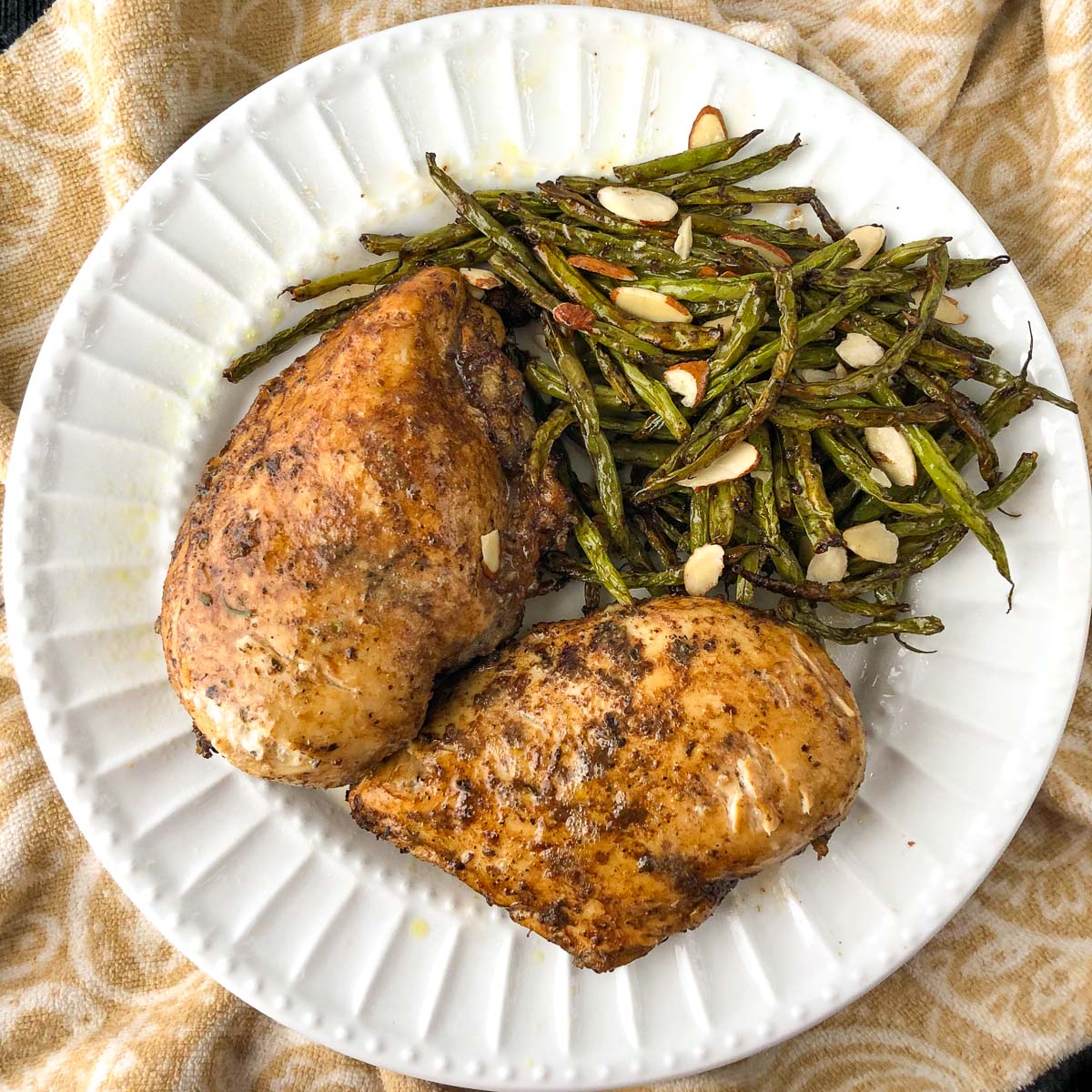 Keto Marinated Chicken in the Air Fryer
This easy keto marinated chicken recipe is so easy in the air fryer. Just marinate the meat and green beans then air fryer them together for a quick and healthy one pan dinner! The balsamic marinade has delicious flavor that would go with many types of foods.
Ingredients
1 pound chicken breast, boneless, skinless
¼ cup balsamic vinegar
½ cup olive oil
2 cloves garlic, crushed
1 teaspoon Dijon mustard
½ teaspoon salt
¼ teaspoon black pepper
¼ teaspoon Italian seasoning
½ pound green beans, trimmed and cleaned
Instructions
Whisk together the olive oil, balsamic vinegar, garlic, dijon mustard and spices. Place the chicken into a ziplock bag and pour haf of the marinade over the chicken and mix well in the bag. Place in the refrigerator for at least 2 hours and up to 12 hours. Save the rest of the marinade for the green beans.
When ready to eat preheat air fryer at 380°F for 5 minutes. Meanwhile take the remaining marinade and use it to mix with the green beans.
Take out the chicken and drain the marinade. Spray the air fryer basket with nonstick cooking spray and then place the chicken in the middle. Scatter the green beans around the chicken and cook for 20 minutes at 380°F. Flip the chicken half way.
Check on the green beans. If they seem to be cooking too much take them out and continue to cook the chicken. The internal temperature should be 165°F when using an instant read meat thermometer. Note baking time may vary.
Let the chicken rest a few minutes before slicing. Serve the green beans alongside. For a little crunch you can add some sliced almonds or other nuts if you want.
Notes
The nutritional information for 1 serving of chicken and green beans is 446 calories / 31.1g fat / 4g carbs / 0.4g fiber / 35.6g protein = 3.6g net carbs
Nutrition Information:
Yield:

4
Serving Size:

1
Amount Per Serving:
Calories:

446