If your craving some tasty fried seafood you have to try this keto old bay fried shrimp that you make in the air fryer. It takes no time at all to prepare and bake and is crispy, crunchy and delicious. This very low carb seafood recipe has no net carbs and only uses 4 ingredients!
You might also like this low carb coconut shrimp recipe!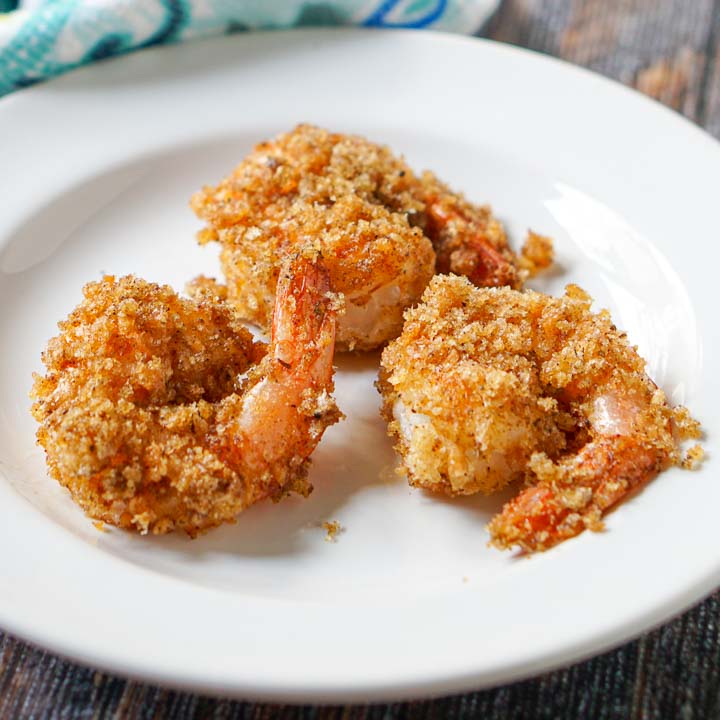 I'm still playing around with my new air fryer and since it's lent I thought this keto old bay fried shrimp recipe would be the way to go. My family loved it and it was so easy to make that I wish I had more shrimp to fry!
The old bay spice gives it some extra spice and I made a quick & easy keto tartar sauce to go with it. This dinner can be one in about 20 minutes!
4 Ingredients For Keto Fried Shrimp
As you may know I love using pork rinds for keto fried foods and this shrimp recipe is no exception. So the only ingredients I used were mayonnaise, raw shrimp, pork rinds and old bay spice.
Aside from the old bay spice which I had in my cupboard, I bought the rest at Aldi. I love their frozen raw shrimp and use it in a lot of low carb recipes.
Let's Make Some Old Bay Fried Shrimp!
Lately I've been using mayo when breading keto fried food because it keeps things moist and tasty. So all I did is thaw and peel the shrimp and place a few of them in a baggie with the mayo.
Then I squished the mayo to coat the shrimp and the bread them with a mixture of ground pork rinds and old bay seasoning. I had to do this in batches because I didn't want to use more mayo then necessary.
How Long To Fry Shrimp In The Air Fryer
Make sure to spray the basket or trays on from your air fryer before laying the breaded shrimp down on them. Set the temperature to 380°F for 10 minutes. Test one but make sure you don't over cook them.
Super Easy Keto Tartar Sauce Recipe
We ran out of tarter sauce so I just took 1 dill pickle and put it in the food processor and whiz for a few seconds until finely chopped. Mix with some mayo and that's it!
Make sure it's a dill pickle and not a sweet one. One dill pickle spear has roughly 1g carbs and mayonnaise has 0g. I used 1 spear with ½ cup of mayonnaise.
Other Keto Dips For Fried Foods
I love to eat fried food into flavored dips. Here are a few that would go great with this old bay fried shrimp.
Recipe Tips & Notes
I like to keep the tails on because it makes it easier to handle when making it or even to dip in sauce after cooked.
Use a food processor to crush your pork rinds. Below you can see what mine look like and I did them by hand. They just don't get as finely crushed when you do it by hand so a food processor does a better job.
If you don't have old bay seasoning you can use any cajun spice blend or make your own old bay.
IF MAKING IN THE OVEN: Set the temperature to 400°F and bake for 8-12 minutes.
We really liked these keto fried shrimp and since of Friday fish fry has been canceled I'm sure I will be making it again! This recipe made 23 shrimp from a 12 oz package and each shrimp has:
53 cals / 3.3g fat / 0g carbs / 5.7g protein = 0g net carbs
Where to buy pork rind breading
If you don't want to make your own pork rind crumbs you can always buy these Pork Panko breading crumbs on Amazon!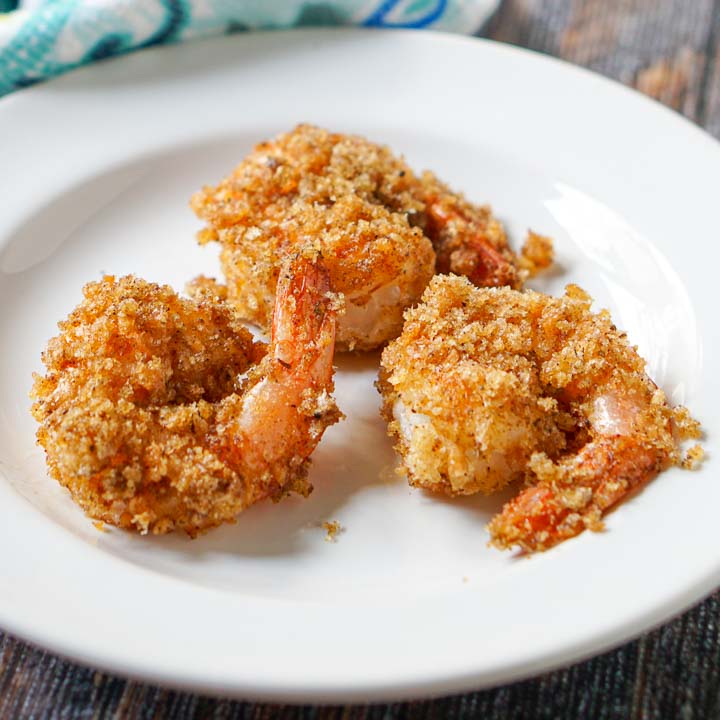 Keto Old Bay Fried Shrimp in the Air Fryer
This old bay keto fried shrimp is a breeze in the air fryer. Only 4 ingredients and a few minutes to make this seafood dish and it has 0g net carb per shrimp.
Ingredients
12 oz shrimp, raw, peeled
4 tablespoons mayonnaise
2 teaspoons Old Bay Seasoning
3.25 oz pork rinds, crushed
Instructions
Add the pork rinds to a food processor and process until it's fine crumbs.
Place into a bowl and mix with old bay seasoning.
In a baggie add the mayo and a few shrimp at a time, coat in the mayo. Then bread them with the pork rind mixutre.
Place on a sprayed air fryer basket or tray and cooke for 10 minutes at 380°F.
Notes
The nutrtional information for 1 shrimp is:
53 cals / 3.3g fat / 0g carbs / 5.7g protein - 0g net carbs
Nutrition Information:
Yield:

23
Serving Size:

1
Amount Per Serving:
Calories:

53