If you like to eat fried foods such as fried chicken, zucchini, fish, etc. try this easy pork rind breading recipe to make them low carb. I have used it for many of my low carb recipes and my family just loves it.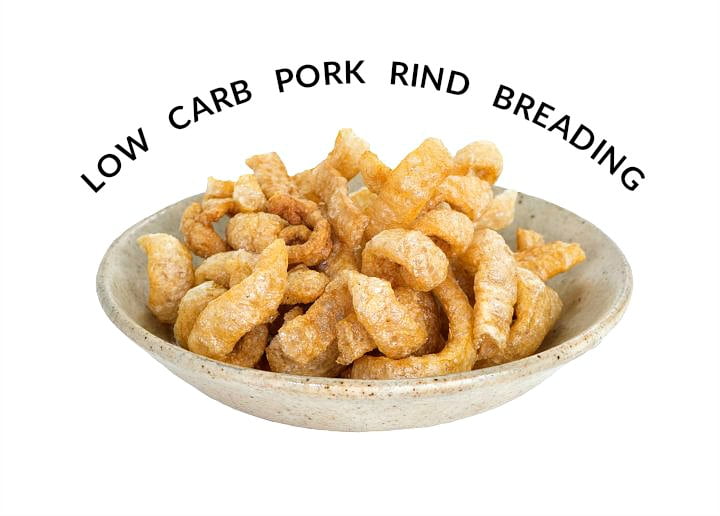 I have to admit I do not like pork rinds. They have zero carbs and if you are a chips eater, you would think they were the perfect low carb snack. They just do not appeal to me. However, last year I finally tried them for breading chicken nuggets and I was hooked.
Today I'm going to share with you my low carb pork rind breading recipe that you can use with so many recipes and you too will become a pork rind fan.
What Are Pork Rinds?
Pork rinds are sometimes called cracklins but they are actually different. Pork rinds are fried pig skin and they do not have fat on the skin while cracklins have some fat on them. Also pork rinds are puffier while cracklins have a richer crunch.
What you see in most grocery stores are pork rinds and they are what we are going to be using in our breading. Click here to learn more about pork rinds.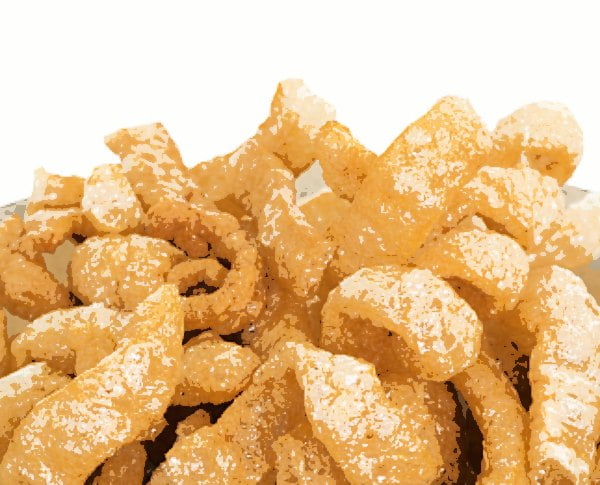 How Many Carbs In Pork Rinds
Low carb and keto dieters love pork rinds because they have no carbs. They are salty and crunchy so if you are chips person these are a good substitute. They also come in different flavors.
I often use the Aldi brand and 1 oz has approximately:
160 calories / 12g fat / 0 carbs / 0 fiber / 16g protein
What I Put In My Pork Rind Breading
Now I'll show you how I make my pork rind breading. First of you have to grind the pork rinds into crumbs. It's easiest to put them in the food processor but sometimes I just pound the bag with a meat mallet. But the food processor does a better job. I also add in parmesan cheese and spices. For a basic recipe I use:
3.5oz bag of pork rinds crushed + ½ cup parmesan cheese + 1 teaspoon garlic powder + 1 teaspoon paprika
You can vary the spices if you want depending on the dish you are making. If you are making parmesan chicken you might want to use Italian seasoniong spice or for Mexican use chili powder and cumin.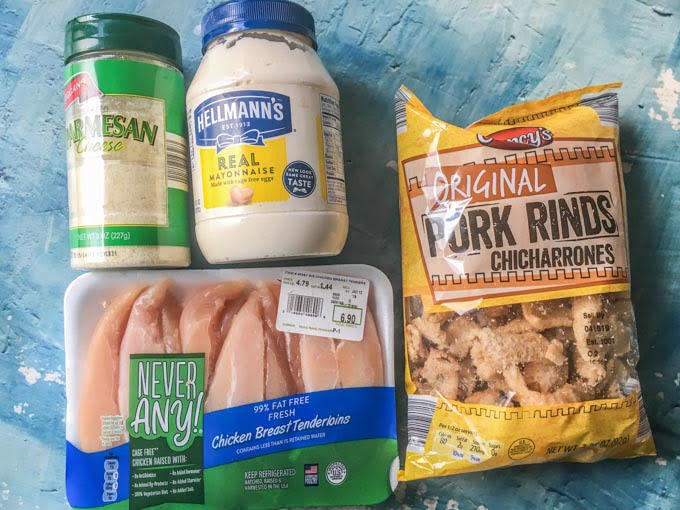 My Secret Ingredient For Low Carb Fried Food
I started using mayonnaise to first coat my chicken or whatever I'm breading and then I dip into the pork rinds breading. Especially when making fried food in the air fryer the mayo makes it really crispy and delicious. I've even used ranch dressing once and it was very tasty!
While I prefer mayonnaise, you can always use a beaten egg like you do for traditional breading. But try the mayo. You might be pleasantly surprised.
Low Carb Recipes That Use Pork Rinds Breading
The following are low carb recipes that I have used pork rinds to bread food or as a bread crumb topping. Just to give you a few ideas on how to use this mixture.
Low Carb Recipes using Pork Rinds as breading or topping
And If You Are Looking To Make Your Own Pork Rinds
If you are so inclined and would like to make your own pork rinds, check out my friend Carolyn's homemade chicharrones recipe. I can't say I am that brave but Carolyn is a wonderful low carb cook and I think it's pretty neat that she made her own pork rinds.
Where To Buy Pork Rind Breading
If you don't want to make your own pork rind crumbs you can always buy these Pork Panko breading crumbs on Amazon!

Well I hope you I have convinced you to try this low carb breading recipe. Here it is and let me know what you about it.

Easy Pork Rind Breading for Low Carb Fried Chicken, Fish etc.
This low carb breading made from pork rinds makes the most delicious keto fried food.
Ingredients
3.5 oz bag of Pork Rinds
½ cup grated parmesan cheese
1 teaspoon garlic powder
1 teaspoon paprika
Instructions
Add the pork rinds to a food processor and grind until the pork rinds make a fine crumb.
Mix together with the parmesan cheese and spices.
Store in a sealed container.
Notes
This recipe should make enougth for at least 1 lb of chicken, fish, etc.
Recommended Products
As an Amazon Associate and member of other affiliate programs, I earn from qualifying purchases.
Nutrition Information:
Yield:

1 cup
Serving Size:

1
Amount Per Serving:
Calories:

747
Total Fat:

46.7g
Carbohydrates:

4.8g
Net Carbohydrates:

3.8g g
Protein:

79.2g