Everyone uses avocados for guacamole or as part of a salad. However today I want to show you 5 different ways to use an avocado in your low carb cooking. You can make everything from puddings to fries with this delicious low carb fruit.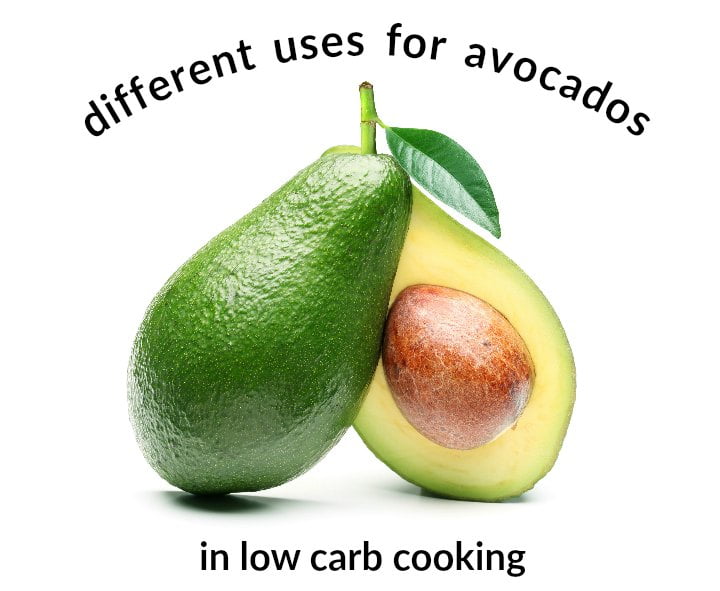 This is my first post in a series that I'm starting in which I share with you little tips and tricks to low carb cooking. I've been cooking low carb recipes for years and I thought it might be fun to share what I've learned with you.
Today we are going to be discussing
avocados in low carb cooking.
Avocados are great for low carb or keto diets. There are so many things you can make with them. First let's talk about why avocados are so good for you and then I'll let you know how I like to use them.
Why avocados are good for you
The avocado is a fruit not a vegetable. It's full of good for you vitamin and minerals as well as healthy fats and fiber.
Some of the vitamins and minerals in avocados are vitamins K, C, B5, B6 and E. It's also high in folate.
As far as nutritional information, one 3.5oz avocado has 160 calories, 15g healthy fat, 2g net carbs and 2g of protein.
You can learn more about the benefits of avocados in this article.
Cooking with Avocados
My favorite ways to use avocados are:
as a thickener in recipes such as smoothies, smoothie bowls and pudding
as a healthy fat for baking things such as brownies
making cool low carb dishes like avocado fries or ice cream
making dips and dressings for their creaminess and taste
using it as a bowl by stuffing it with salads or baking eggs in them
1. Using Avocados as a thickener
Look at how thick the smoothie is the bowl pictured below. You might think it would have a weird avocado taste but when you add the right ingredients it will mask the avocado.
In this shamrock smoothie bowl I've used peppermint which is rather strong to make it taste like a shamrock shake!
TIP 1: When using avocados in a smoothie if you freeze them it will make your smoothie nice and cold. You won't need any ice. However you might have to let the avocado thaw for about 5 minutes but then it should blend nicely.
TIP2: If you buy a whole bunch of avocados try freezing them for dishes like this. Cut the avocado in half or into big chunks and place on a cookie sheet in the freezer for 1 hour. Then take out the frozen avocados and place them in a freezer bag. Freeze until you are ready to use them.
Try making an avocado pudding
This keto chocolate peanut butter protein pudding is really tasty and I used the avocado to make it thicker without using cornstarch or eggs. That way you can whip it up in the blender in minutes and it's a very healthy keto snack.
2. Use Avocados in your Baking
Now I have not personally made brownies with avocados… yet. But some of my blogging friends have and I'm sharing their recipes below.
Avocados are often used as a substitute for butter, shortening, sour cream, oil, eggs etc. which will increase the nutritional value fo the dish. It's a good fat, has less calories and adds phytonutrients.
Their creamy texture and high water content make baked goods softer and less crumbly. Learn more about baking with avocados here.
Photo Credit: www.wholesomeyum.com
Photo Credit: ketocookingchristian.com
Photo Credit: lowcarbyum.com
3. Make Ice cream or fries with avocados!
While most anything tastes delicious wrapped in bacon, avocados are my favorite. They are so creamy but hold their shape. Their mild taste is overwhelmed by the bacon but the avocado in this recipe is more for the texture than anything else. Learn how to make bacon wrapped avocado fries here.
As for using avocado in ice cream, it gives it a rich and creamy texture yet it adds those healthy fats. In the recipes below for chocolate avocado ice cream, you don't taste the avocado but can really appreciate the creaminess it adds to the recipe.
Avocado Fries & Ice Cream
4. Avocado Dips and Dressings
Dips and dressings are probably the most common way to use avocado other than in salads. Everyone has had guacamole but have you tried avocado in your salad dressing? It can take the place of oil or mayo and add the healthy nutrients we talked about above. I like it because I love the creaminess and how avocado goes so well with lime and garlic.
Below are 3 of my most popular avocado dip & dressing recipes.
5. The avocado as a bowl or to bake eggs in
If you like avocados, they are the perfect vehicle for your favorite low carb shrimp or chicken salad. Scoop out a little of the avocado and top with a mound of your favorite salad. Not only is the presentation nice, but no plates or bowls are needed. You can also take out all the avocado to mix in with your salad and then fill the avocado skin back up.
Many people also bake eggs in their avocados. Here are two recipes that show you how.
Photo Credit: www.wholesomeyum.com
Photo Credit: stepawayfromthecarbs.com
Well that is all I have for you today. I hope I have inspired you to try using avocados more or to even try one of these delicious low carb recipes. Let me know how you use avocados or please share them with me on Instagram with #myversionMLC.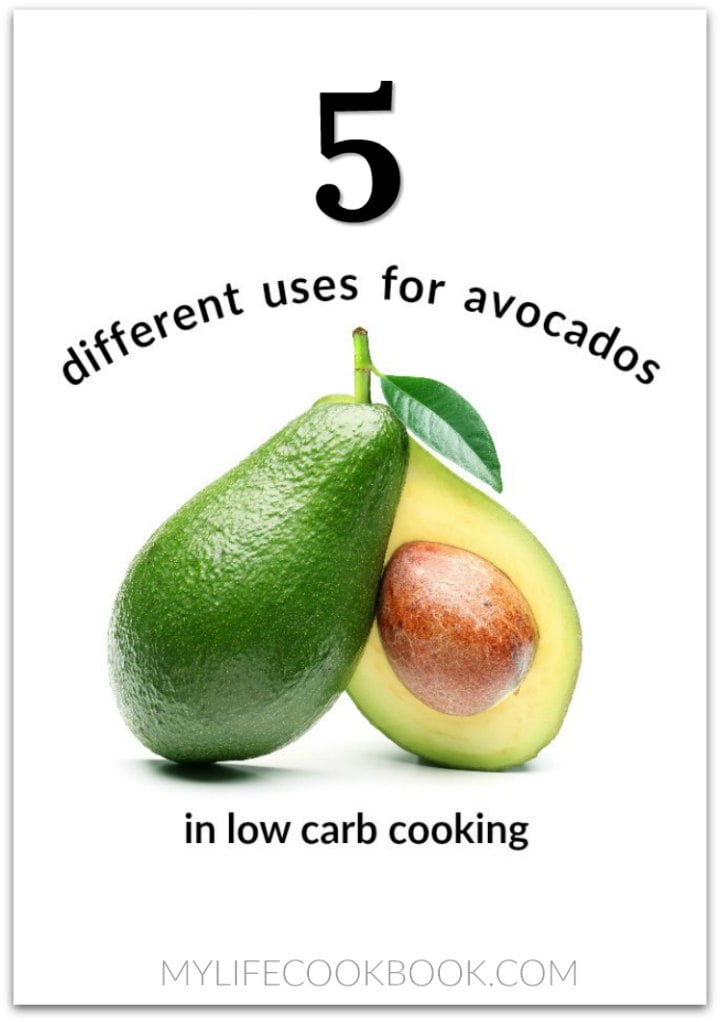 This post contains affiliate links. For more information visit our policies page.