This low carb kale salad with lemony tahini dressing is a delicious healthy and hearty salad. The lemony tahini dressing is packed with flavor and goes great with the salad. One tablespoon has only 0.3g net carbs!
You might also like this apricot pecan kale salad.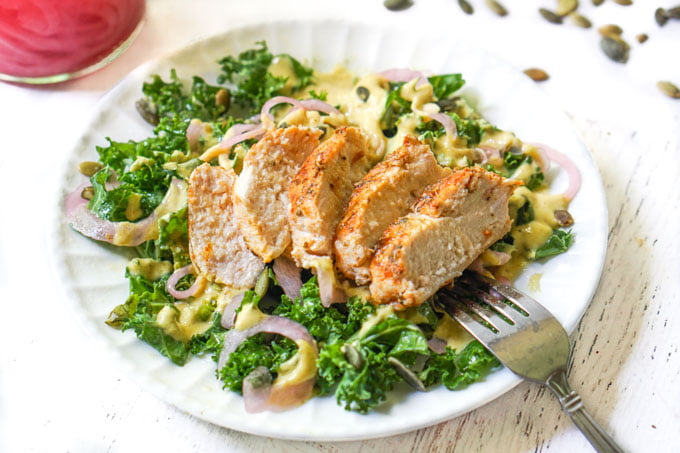 I am a big fan of kale and I grow it every year but unfortunately, I forget to use it. Both my husband and my father in law smirk when I plant it. They wonder why I bother. But this low carb kale salad with lemony tahini dressing is one reason I love it.
The kale salad has pickled red onions and pumpkin seeds which provide lots of crunch and the thick, creamy tahini dressing brings it all together.
Healthy Hearty Kale
Kale is one of the best greens to add to your diet. Actually, it's one of the most nutrient dense foods around. One cup has 206% of the RDA of Vitamin A, 684% of Vitamin K, 134% of Vitamin C and many more nutrients. Here is a great article to read more about the benefits of kale.
I used kale in this salad because it's so healthy but also because I think it is delicious. It's a nice sturdy green that holds up well to this thick, lemony hummus-like dressing.
Making The Lemon Tahini Dressing
This dressing is very simple. Just put everything in the blender and whiz away. The ingredients are olive oil, lemon juice and zest, tahini, garlic, nutritional yeast and curry powder. I know it sounds like a weird combination of ingredients but believe it works.
It's a really versatile dressing. While I'm using it as a dressing here, it could also be used as a condiment or dip. I think itt would be great for a chicken salad too.
Tips For The Tahini Dressing
This dressing taste like curried lemony hummus. I used nutritional yeast to give it a bit of a cheesy flavor too. If you don't have this (I'm sure not many people do) you can also use parmesan cheese.
For tahini I found a brand that I really like. It's called Once Again Tahini and contains only sesame seeds so the carbs are very low.
Tip For Using Kale
I usually use baby kale but today I only had a bag of curly kale that I bought at Aldi. Sometimes I use kale from my garden. If you have the tougher curly kind or garden kale, I would suggest ripping the leaves away from the woody stems and cutting it into bite size pieces. Then massage the leaves with a bit of oil and let it sit for a few minutes. This will make it more tender.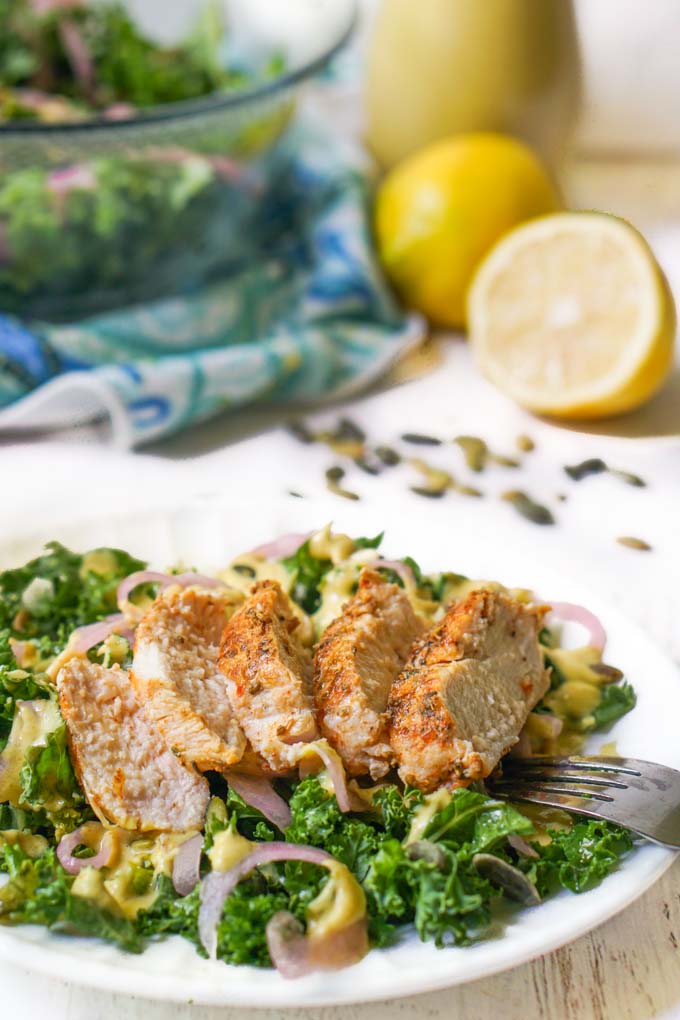 Making This Kale Salad A Meal
I added pickled red onions, pepitas (pumpkin seeds) and sliced chicken breasts to make this a meal. I think salmon could also be a nice addition. If you don't have pickled red onions, just use a thinly sliced raw red onion.
However the tang from the pickled onion, the crunch from the kale and pumpkin seeds, and the meaty chicken all go great together with the dressing.
I hope you liked this recipe as much as I do. Once you try it you will be hooked and start growing kale in your garden every year. Just make sure to use it more than me so you won't get any smirks from your hubby. 😉 The nutritional information is:
Kale Salad, 1 serving
112 cals / 4.6g fat / 3.9g carbs / 1.3g fiber / 14.6g protein = 2.6g net carbs
Lemon Tahini Dressing (1 tablespoon)
52 cals / 5.1g fat / 0.7g carbs / 0.4g fiber / 0.9g protein = 0.3g net carbs
Low Carb Kale Salad with Lemony Tahini Dressing
This low carb kale salad with lemony tahini dressing is a hearty and delicious salad. The lemony tahini dressing is packed with flavor and very versatile!
Ingredients
Lemony Tahini Dressing

½

cup

olive oil

½

cup

lemon juice

¼

cup

yeast flakes

½

cup

tahini

½

cup

water

½

teaspoon

salt

1 ½

teaspoon

curry powder

2

cloves

of garlic

zest of ¼ of a lemon

Kale Salad

4

cups

baby kale leaves

½

pickled red onion sliced (can use raw red onions)

8

oz

chicken breasts, cooked and sliced

¼

cup

pepitas to garnish
Instructions
Lemon Tahini Dressing
Add all ingredients to a food processor and blend on high.

Store in the refrigerator for 1-2 weeks.

Arrange kale and pickled onions on a plate and spoon dressing over top.

Garnish with pepitas (pumpkin seed kernels) if you wish.