This air fryer buffalo chicken sandwich recipe is gluten free, super easy and low carb too. The crispy gluten free breading makes for a tasty keto fried chicken that is then smothered in low carb buffalo sauce! Make it into a buffalo chicken sandwich or add it to a salad.
You might also like this keto air fryer popcorn chicken recipe.
I don't know who invented air fryers but thank you! Recently I made a very simple keto buffalo sauce and have been using it one everything.
Today I made an air fryer buffalo chicken sandwich that my family loved. The buffalo sauce takes fried chicken to the next level and it's keto!
You can eat this as a gluten free but crispy buffalo chicken sandwich or on top of a salad for a keto lunch or dinner! The chicken gets so nice and crispy in the air fryer and when topped with the buffalo sauce it has all that tang and spice.
Ingredients I used.
To make the crispy keto breading without flour I simply used my favorite ingredients which were crushed pork rinds and parmesan cheese. I also used mayonnaise and boneless, skinless chicken breasts. And for my buffalo sauce it just hot sauce, butter and garlic.
I finally bought this pork panko which is just crushed pork rinds in a jar to act as keto panko bread crumbs. However I appreciate the convenience. Otherwise I have to dirty my food processor to crush the pork rinds.
Also for the chicken I bought thinly cut chicken breasts and then I cut them in half to make smaller pieces.
If you can't find these in your grocery store, just pound your chicken into thin patties and then cut them into small pieces. Below you can see that for 1 lb of chicken I got 10 pieces for my fried chicken.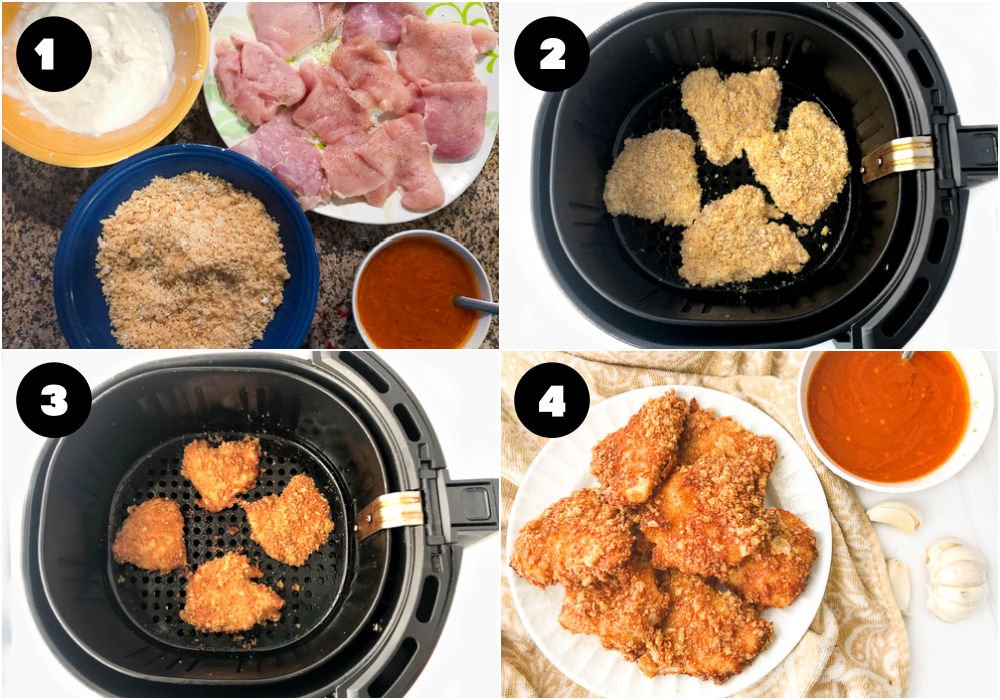 Let's make our keto buffalo chicken in the air fryer!
Above you can see the steps I took to make this recipe. To reiterate for the whole recipe you need chicken breast, mayonnaise, pork rinds, parmesan, butter, garlic and hot sauce.
Prepare your breading by make mixing a little water with mayonnaise in a shallow bowl and mix the pork rinds and parmesan in another bowl.
Bread the chicken by dipping the pieces of chicken into the mayonnaise mixture and then the gluten free breading. Spray the basket of your air fryer and then place the breaded chicken into it.
Set the air fryer to 380°F and bake for 10 minutes and the increase the heat to 400°F for 5 minutes. Cooking time may vary depending on the size of your chicken pieces.
When done, pour a few spoonfuls of the keto buffalo sauce over top and make your sandwich or salad. You will probably use 2 small pieces for a sandwich.
Recipe Tips & Notes
For the chicken try to buy thin cut skinless, boneless chicken breasts. If you can't find them, cut the breast through the middle as you would a bagel so you have 2 thinner large pieces. Then pound them out with a meat mallet. I then cut them in half so I had 4 thin, smaller pieces from one large breast.
I just use pork panko and parmesan cheese for my breading but you can also add some spices if you want. Try garlic powder or onion powder or even cayenne pepper if you like it crazy hot.
I used a tablespoon of water to thin out the mayonnaise and make it easier to dip in. You don't want it too runny though so use as little of water as you can.
You can add some of the sauce toward the end of the air fryer if you want but it's easier and less messy to just add it when the chicken is done frying.
I made my patties rather small so I just used 2 patties per sandwich. I did like them thin and small though. It's up to you how big you want yours to be.
Try this on a salad like the one pictured below. You can top with blue cheese and/or ranch dressing. Otherwise you can use lettuce leaves instead of the bun.
I loved these keto buffalo chicken sandwiches! Next time I'm going to try to freeze them so I can have them on a salad whenever I want and I'll let you know how it goes.
This recipe made 10 small patties and the nutritional information for 1 chicken patty is:
178 cals / 11.7g fat / 0.8g carbs / 17.6g protein = 0.8g net carbs
The nutrition information for 1 tablespoon of buffalo sauce is 39 calories
4.5g fat / 0.1g carbs / 0.1g protein = 0.1g net carbs
Air Fryer Crispy Buffalo Chicken Sandwich (keto, gluten free)
This keto buffalo chicken sandwich is so easy in the air fryer. Using a gluten free breading to get a crispy chicken patty and then top with a low carb buffalo sauce.
Ingredients
1 lb thin chicken breast, bonelss, skinless
1 cup pork rinds, crushed
1 cup parmesan cheese
6 tablespoons mayonnnaise
2 tablespoon water
Instructions
To make the keto buffalo sauce click here to get the recipe.
Take your thin sliced chicken breast and cut in half to make smaller pieces. If you don't have thin chicken breast, slice them through the middle as you would a bagel adn then using meat mallet pound them thinnner. Then cut each piece in half. I got 10 smaller pieces from 1 lb of thin sliced chicken breast.
Get two shallow bowls. Place mayo and water in 1 bowl and mix to thin the mayonnaise. In the otther bowl mix the pork bread crums and parmesan cheese.
Spray the basket of the air fryer and set aside. Take each piece of chicken and dip in the mayonnaise mixture to coat and then into the bread crumb mixture. Coat both sides and then place into the air fryer. Do not overlap the chicken. You might have to do batches.
Set the air fryer to 380°F and bake the chicken for 10 minutes. Then turn the heat up to 400°F for 5 minutes.
When done, add a few spoonfuls of the buffalo sauce ontop and eat with a lettuce bun for a keto sandwich or slice and place over salad with ranch or blue cheese dressing.
Notes
This recipe made 10 small patties and the nutritional information for 1 chicken patty is:
178 cals / 11.7g fat / 0.8g carbs / 17.6g protein = 0.8g net carbs
The nutrition information for 1 tablespoon of buffalo sauce is:
39 calories 4.5g fat / 0.1g carbs / 0.1g protein = 0.1g net carbs
Nutrition Information:
Yield:

10 pieces
Serving Size:

1 piece
Amount Per Serving:
Calories:

178