This one pan dinner of chicken with artichokes and fennel is a yummy combination of caramelized onions and fennel atop chicken thighs. There is also a light sauce of lemon and garlic to this easy but flavorful low carb dinner.
You might also like this keto pork tenderloin with lemon dinner recipe.
There used to be a fabulous Greek restaurant near where I live called The Lemon Grill. The food was authentic and really tasty. Anyway, they had a chicken sliders dish that I adore.
The filling was made with marinated chicken, caramelized onions, artichokes and feta cheese and the bread is generously lathered with good olive oil and grilled. They were delicious!
So I had idea to make the filling as a main dish and nix the bread because ya know I'm always low carbin' it. So I came up with this easy chicken and artichokes with fennel dish and was so happy with how it came out.
The sweetness of the caramelized onions and fennel added to the spices from the chicken as well as the fresh flavor of the light lemon and garlic sauce. This was a nice change of pace from our usual one pot dinners and it was low carb too!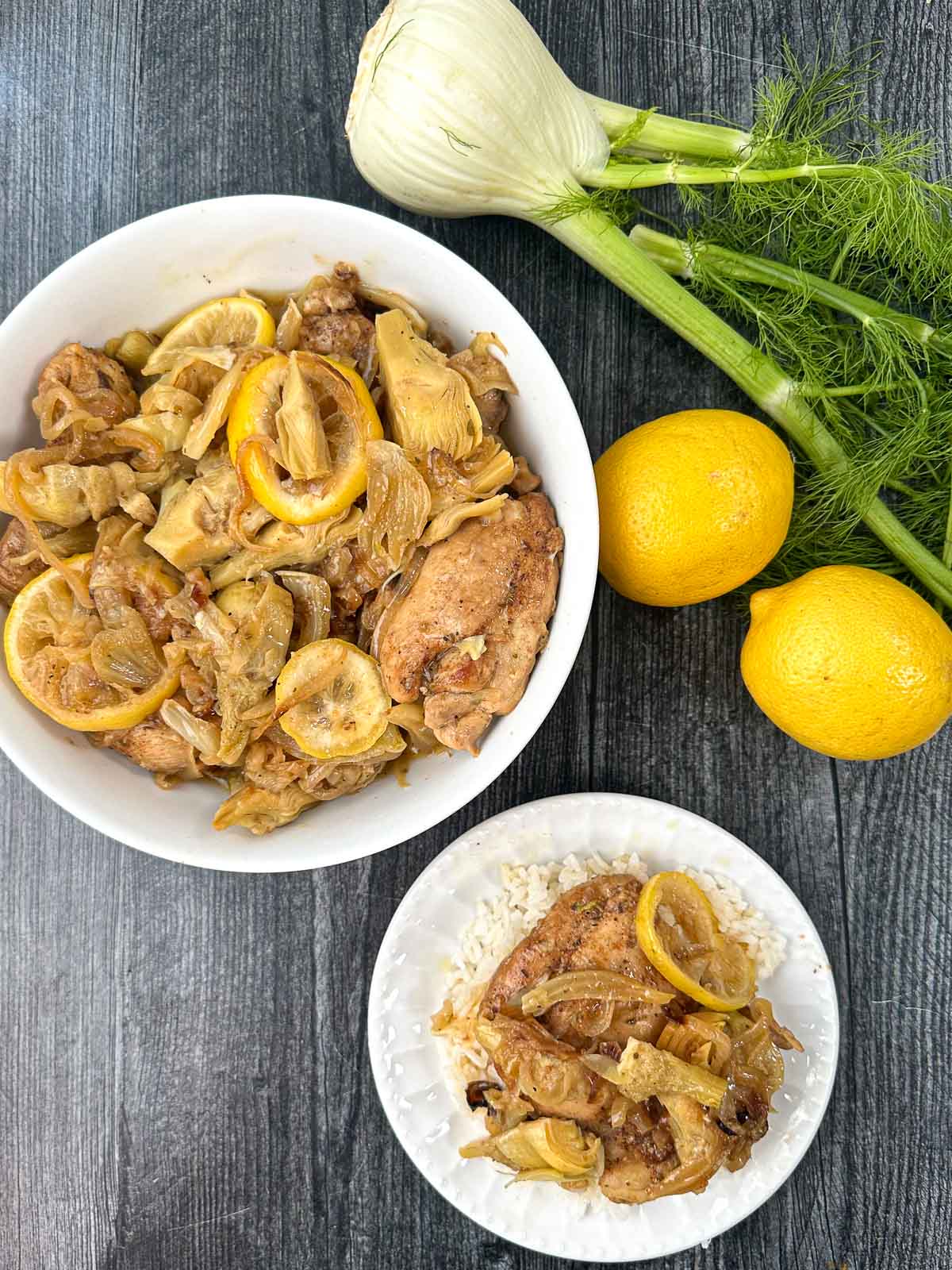 Recipe ingredients I used.
The simple ingredients I used were chicken thighs, fennel, yellow onions, butter, salt, black pepper, oregano, paprika, olive oil, artichoke hearts, lemon, broth, garlic cloves and butter.
Chicken Thighs
I like chicken thighs for this recipe. Specifically boneless, skinless thighs. You could also use bone-in thighs if you want or even skinless chicken breasts but I chose the boneless skinless for easy eating.
Fresh Fennel and Onions
This is an unusual ingredient but it should be readily available at a larger grocery store. You can see what it looks like above It's a bulb and you eat the one part like an onion though you can use the fronds for seasoning. It goes great with the caramelized onions.
Seasonings
I used sort of a mediterranean season blend of oregano, paprika, fresh garlic (crushed) salt and pepper. You should have all of these in your pantry.
Fresh Lemon
I love the taste of fresh lemon juice in this dish. You slice them and lay them on top so the chicken is infused with the lemon flavor. You can even eat the baked slice, rind and all but that's not for everyone.
Artichoke Hearts
You can use either jar or canned artichoke hearts. I buy mine at Aldi. I can't see anyone using fresh artichokes because of how much work it would be to make them. Doesn't matter if they are quartered or the whole heart. You want them to be in bite sized pieces though.
Chicken Broth
You can use chicken broth, stock or even bouillon. I love Better than Bouillon and when mixed with hot water it makes the best flavored chicken stock but use what you have on hand.
Olive Oil & Butter
I use butter to caramelize the onions and fennel. However I use a good olive oil for browning the chicken. I think it's essential to use both.
How to make chicken with artichokes and fennel.
Step 1: Get out a dutch oven or heavy pot and meat up to medium high heat. Add butter and once it's melted turn the heat down to medium heat. Add the onions and saute until they are translucent have started to brown.
Step 2: Then add the sliced fennel and a few table spoons of the chicken broth. Stir for a minute then cover and cook for 5 minutes until the fennel has softened. You want to get your fennel soft and further cook the onions until they are golden brown.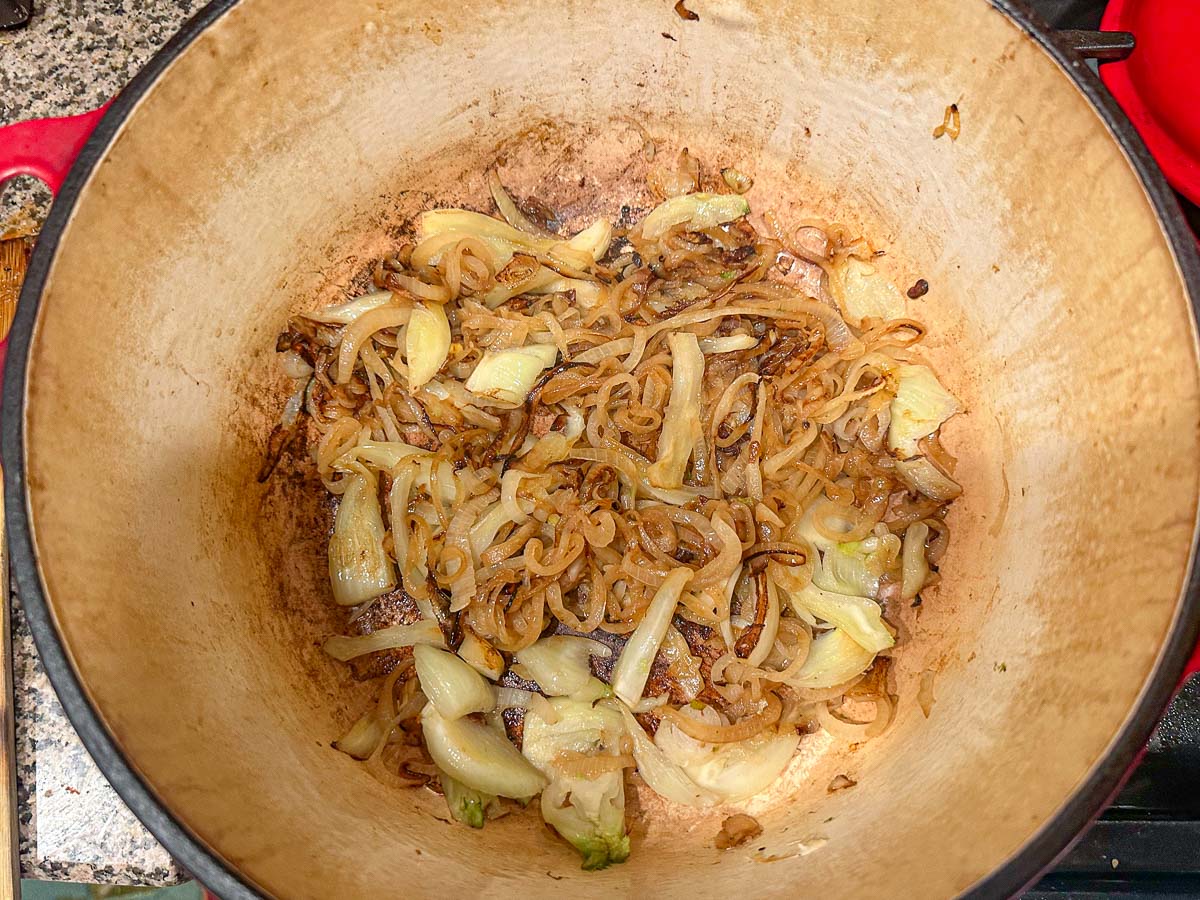 Step 3: While that's cooking, mix your spices together and rub into the meat. When the fennel and onions are cooked, take them out set aside. Then turn the heat up in your pan with some olive oil and brown chicken on both sides. This takes a couple minutes per side.
Step 3: Once your chicken pieces are browned on both sides, add your artichokes. Cut the remaining butter into small pieces and scatter over the chicken. Lastly add back the caramelized onions and fennel.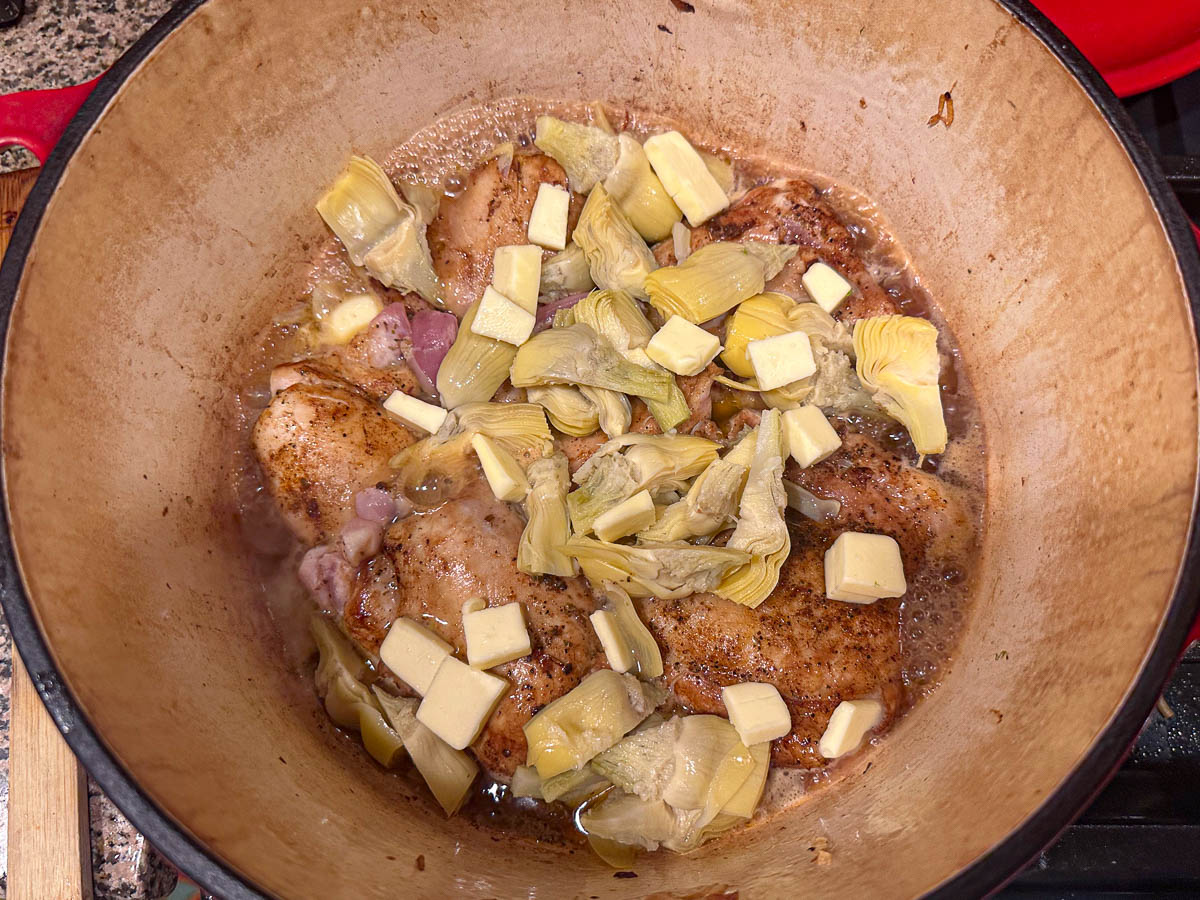 Step 4: Take the remaining chicken broth and mix in the crushed garlic. Pour this mixture over everything then top with the lemon slices. Cover the pot, set the heat to medium and cook for about 20 minutes.
Check to make sure your chicken is done. It should be fork tender and the internal temperature should be at least 165°F when using a meat thermometer. Also you will find the the flesh of the lemons will practically melt away.
You can throw away to the lemons if you want but they are edible. I like to leave them in because they add color. You can also sprinkle some fresh herbs like fresh parsley or thyme on top if you wish just for color.
Please scroll down for the printable recipe card. Store leftovers in an airtight container or cover with plastic wrap and refrigerate.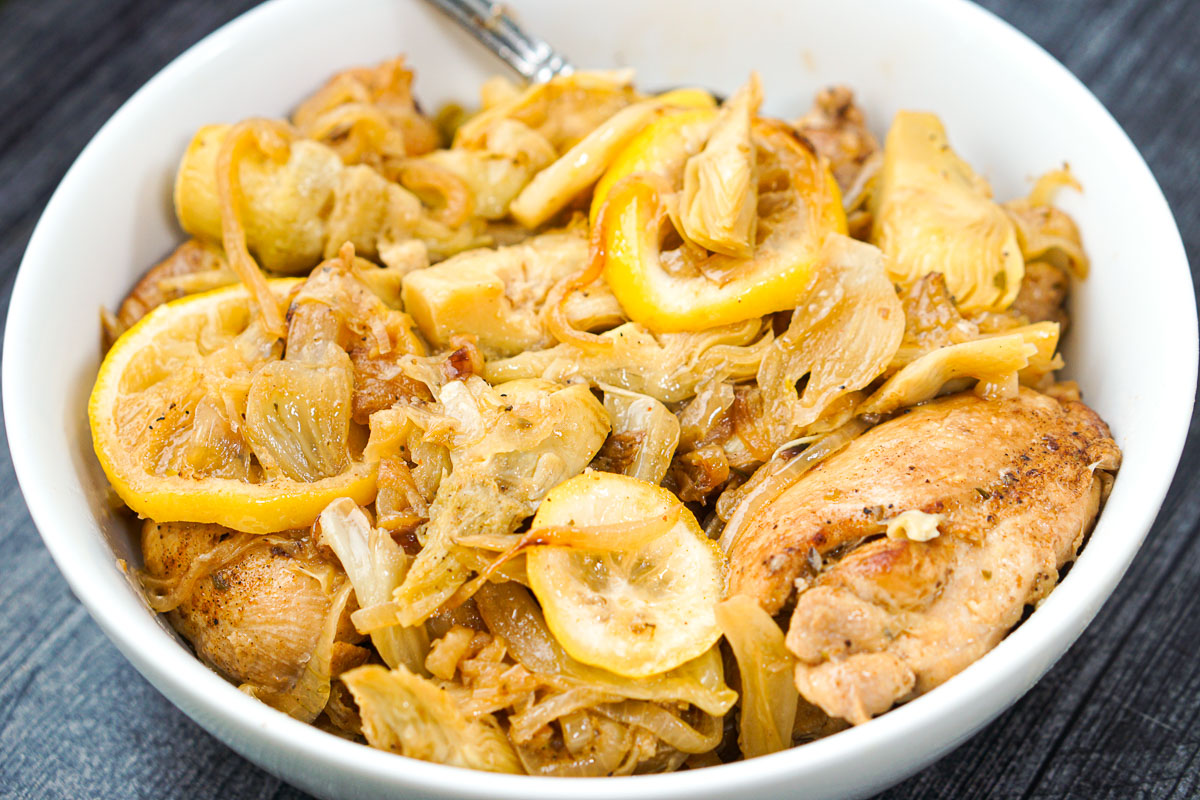 What to serve with this chicken recipe.
Below you can see we ate this with rice but you could also serve it with pasta or just eat as is for a lower carb dinner. You can also use cauliflower rice as a low carb option.
Add a nice green salad and/or green vegetables like these asparagus fries or this ginger butter broccoli recipe would go nicely too.
Other delicious and healthy chicken dinners.
I have quite a few chicken dinner recipes you might also like. Here are a few of my favorite recipes.
While this experiment was not like those yummy chicken sliders from the Lemon Grill, it as fantastic dinner surprise. I hope you give it a try and let me know what you think about it. It was a deliciously easy weeknight dinner for us and I loved that it was low carb. Enjoy!
The nutritional information for 1 serving is 329 calories / 18.7g fat / 9.7g carbs / 3g fiber / 31.9g protein = 6.7g net carbs
Chicken with Artichokes and Fennel
Total Time:
1 hour
5 minutes
For a delicious dinner try this chicken with artichokes and fennel one pot dinner. It's full of caramelized onions, sweet fennel and lemony chicken along with artichokes and garlic. A flavorful combination for a low carb dinner.
Ingredients
6 chicken thighs, boneless skinless
1 bulb of fennel, sliced
2 medium yellow onions, sliced
4 tablespoons butter, divided
½ teaspoon salt
2 tablespoons olive oil
½ teaspoon oregano
¼ teaspoon paprika
¼ teaspoon black pepper
1 lemon sliced
12 ounces artichoke hearts
½ cup broth
3 cloves garlic, crushed
Instructions
Heat up a dutch oven or large pot to medium high heat. Add 2 tablespoons of butter and once it melts add the sliced onions and turn the heat down to medium.
Cook for 12 minutes or until the onions are golden brown.
Add the sliced fennel plus 2 tablespoons of the chicken broth and cover to cook for 5 minutes.
Take out the onions and fennel and set aside.
Add the remaining 2 tablespoons of olive oil and turn up the heat to medium high.
Mix the salt, pepper, paprika and oregano and rub onto thighs. Place the pieces of meat into the hot pot and brown for a few minutes on each side.
Chop the remaining butter into small pieces. Spoon the artichokes over the chicken and then add the butter on top of that. Lastly add back the onions and fennel.
Mix the crushed garlic with the remaining broth and pour over chicken. Place the lemon slices on top, cover and reduce heat to medium. Cook for 20 minutes. until the chicken is cook through and tender.
Serve as is or over rice or pasta. Store leftvoers into an airtight container.
Nutrition Information:
Yield:

6
Serving Size:

1 grams
Amount Per Serving:
Unsaturated Fat:

0g