This easy keto pork tenderloin recipe is very easy to make on the stove top and full of flavor. The tender pork is covered with a lemon butter sauce that is bright and tangy. Each serving has only 1.3g net carbs!
You might also like this keto stuffed pork tenderloin with mushroom sauce.
I personally love the flavor of lemon in both savory and sweet dishes. I grew up with a few yummy Middle Eastern dishes that use mainly lemon like bamya which is a lemony okra stew and perhaps that is why.
Regardless this easy low carb pork tenderloin recipe is one of my favorite keto recipes and super easy to make. The lemon butter sauce is out of this world. It would taste great on fish or chicken too.
Simple Ingredients I Used
This is a very simple recipe but believe me it is tasty! I used a pork tenderloin, lemons, garlic, butter, olive oil and heavy whipping cream. That's it. And I bought them all at Aldi as you can see from the brands below. 😉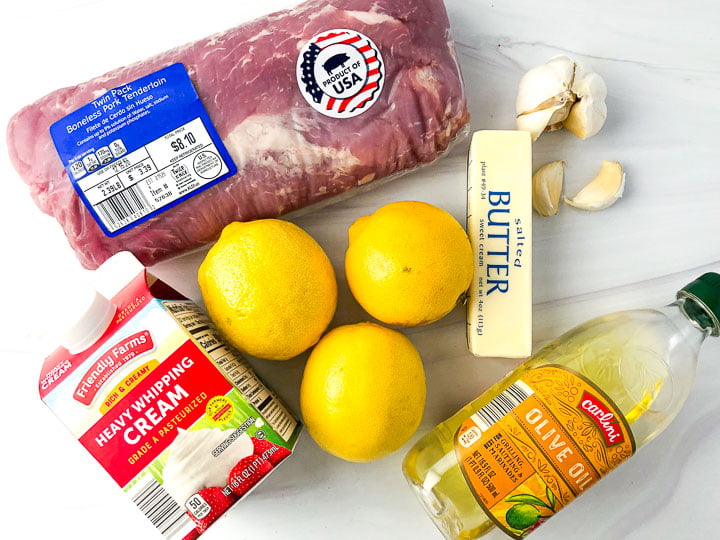 How To Make Pork Medallions
All you need to do to turn the pork into medallions or cutlets is to slice pork tenderloin into ½ inch pieces. Take each piece and place it in a baggie and pound thin with a meat tenderizer mallet or a heavy skillet. See photo 1 below to see what they should look like.
When you make medallions like this, they cook much faster and it seems like you are getting more pieces of meat this way. It also makes for tender and juicy pork.
Note I am using a pork tenderloin not a pork loin. Pork loin is not as tender and a bit drier.
How To Make Lemon Butter Sauce
For Pork
The lemon butter sauce ingredients are basically lemon juice, garlic, butter and heavy whipping cream. Here is how you make it.
Once you brown the pork, add lemon juice to get up all the tasty brown bits using whisk.
Then add in the butter and garlic and mix well. Let saute for a minute to get the garlic fragrant.
Then at the end of the dish add in the cream and whisk to combine.
NOTE: For this recipe I had to make the sauce in between steps because I didn't want the cream to separate. So I had to add it at the end. If you want to make this sauce for another dish you can make it all at once at the end.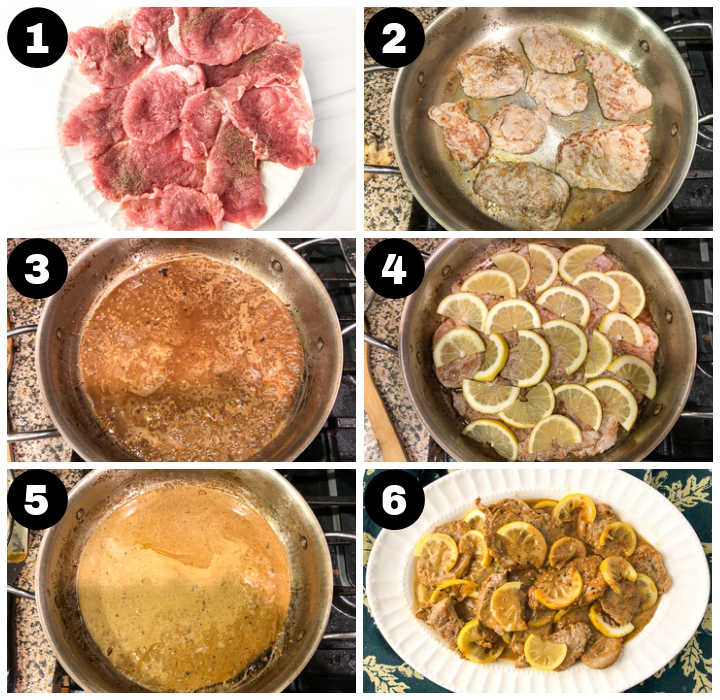 Easy Keto Pork Tenderloin Recipe
Above you can see the steps I took to make this pork recipe so you can see what it looks like as I go through each step. Remeber to save this page or print out the recipe card below!
Cut and pound the pork tenderloin into thin medallions or cutlets (pic 1).
Season with salt and black pepper on them. Then add olive oil to a large skillet. Heat oil and brown them on both sides (pic 2).
Take them out and set them aside to make the lemon butter sauce (pic 3).
Place the pork cutlets back in and place lemon slices on top (pic 4). Cover and cook for 5 minutes so the pork is cooked through.
When done, spoon the pork tenderloin cutlets and lemon slices on a platter. Pour the cream in the pan and whisk to combine.
Pour the sauce over the platter and serve.
If you like cooked lemons you can add them on top of the platter as they are pretty but also edible. However no one but me eats them in my family.;)
That's all there is to it.
What To Serve With This
Lemony Pork Dish
I served this dish with egg noodles for my family but I LOVE wide zucchini noodles. You could also serve this keto friendly dish over cauliflower rice, with cauliflower mash or eat it as is with a green vegetable and salad.
I hope you enjoy this easy and juicy pork tenderloin dinner as it's so easy and yummy. It's great for a weeknight meal. And check out some of my other low carb keto pork recipes!
The nutritional information is: 435 cals
27g fat / 1.4g carbs / 0.1g fiber / 44.9g protein = 1.3g net carbs
You might also like my friend's creamy mustard lemon pork loin recipe!
Easy Lemon Butter Pork Tenderloin - Low Carb
This skillet dinner of easy lemon butter pork tenderloin is very easy to make and full of flavor. The meat is so tender and the lemon butter sauce is bright and tangy. So this dish is the perfect weeknight dinner on a keto diet. Each serving has only 1.3g net carbs!
Ingredients
2 tablespoons olive oil
1 ½ pounds pork tenderloin
salt and black pepper
1 lemon, juiced (just use the juice)
2 cloves garlic, crushed
4 tablespoons butter
2 lemons, sliced
2 tablespoons heavy cream
Instructions
To make the pork tenderloin medallions, cut the roast up into ½ inch pieces. Place each piece into a baggie and using a meat tenderizer or heavy skillet, pound it thin. Sprinkle salt and pepper on all the thin cutlets.
Heat the oil in a large saute pan to medium high heat. Add the pork and brown on both sides. Take out the pork once it is golden brown and use the pan for the sauce.
Add the lemon juice and try to scrape up all the brown bits. Add in the butter and garlic and whisk to combine.
Place the pork back in the pan and lay the lemon slices on top. Cover and cook for 5 minutes or until the pork is cooked.
Take out the pork and lemons and add place on a platter. Add heavy cream to the sauce and whisk to combine. Pour over pork and serve.
Notes
The nutritional information is: 435 cals
27g fat / 1.4g carbs / 0.1g fiber / 44.9g protein = 1.3g net carbs
Nutrition Information:
Yield:

4
Serving Size:

1
Amount Per Serving:
Calories:

435
Unsaturated Fat:

0g