This baked keto creamy chicken recipe is a low carb version of one my mom's old recipes. It's chicken baked in a creamy parmesan sauce that is rich and delicious and doesn't use canned cream of chicken soup! Each serving has just 1.6g net carbs.
You might also like these low carb creamy savory crepes.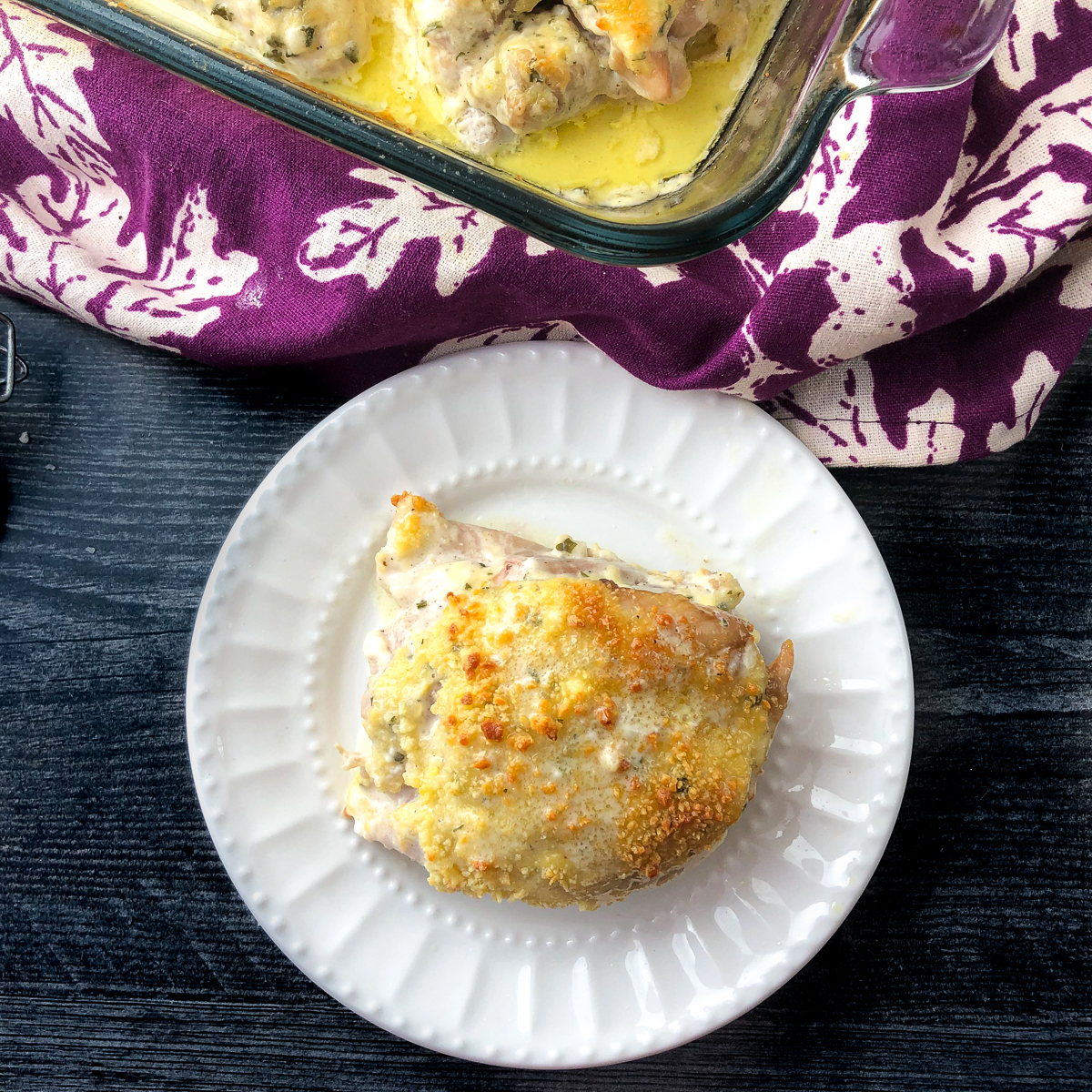 Did your mom make a lot of recipes using canned soup? My mom made a few and it was some of my favorite comfort meals. Today I needed some dinner ideas and remembered a recipe of hers.
I made this baked keto creamy chicken recipe but omitted the canned soup to make it low carb. Essentially I made a keto cream of chicken soup and baked chicken with that and some Parmesan cheese. It's so full of flavor and really good low carb comfort food.
This was a big hit with my family even though they are not on a low carb diet. And it' super easy to make so it goes on my meal plan for an easy weeknight dinner.
Other creamy cheesy low carb recipes to make.
One of things I love about low carb recipes is the freedom to use dairy products like cream and cheese. I truly love those ingredients as you might have been able to tell from the following recipes:
These keto recipes are so tasty and comforting to me. Of course you should watch how much you use these ingredients but I find that with rich meals like this you don't eat as much because it's very satiating.
Simple ingredients I used.
All I used to make this tasty recipe is a mixture of boneless skinless chicken breasts and thighs, Better than Bouillon chicken base, heavy whipping cream, cream cheese, garlic powder, dried onion flakes, salt, black pepper, dried parsley and parmesan cheese.
These are simple ingredients that you probably already have on hand. You can use bone in chicken pieces if you like, it just may take more time to cook.
How to make keto creamy chicken without canned soup.
Step 1: Preheat the oven to 350°F.
Step 2: Start with the sauce which is my keto cream of chicken soup in this case. Heat up a medium sized pan on the stove to medium heat. Add the heavy cream, cream cheese, herbs and spices and some Better than Bouillon. This is one of my favorite products to make soups with as it adds SO much flavor.
I highly recommend it, however if you don't have any you can use powdered bouillon. I would not use chicken broth or chicken stock as that would make the sauce too watery. You need the bouillon that is a powder or paste.
Step 3: Bring the mixture to a simmer and whisk the ingredients together until they are well incorporated. Let cook for 2-3 minutes then take it off the heat and let it cool for a few more minutes.
Step 4: In the meantime spray a baking dish with nonstick cooking spray. Place the boneless chicken into the pan. Season with salt and black pepper then pour the soup mixture over the uncooked chicken breasts and thighs.
Step 5: Next sprinkle the parmesan cheese evenly over the soup layer.
Step 6: Bake for about 45- 60 minutes until the chicken has reached the internal temperature of 165°F using an instant read thermometer. Cooking time will vary depending on the size of your pieces. Mine took the full 60 minutes.
Store leftovers in an airtight container. (Please scroll down to view and print the recipe card.)
Variations – You can add cauliflower rice, a bunch of spinach, sun dried tomatoes, sliced mushrooms or broccoli florets and they would all be tasty with in with this dish.
What to serve with this main dish.
I ate this with steamed green vegetables( like green beans, broccoli or Brussels sprouts) as the parmesan cream sauce is very rich and flavorful. I have also eaten it on a bed of cauliflower rice and it was a bit like chicken ala king!
You could also try zucchini noodles and pour some of the creamy sauce over top.
For everyone else, mashed potatoes would be an excellent side dish with this meal. As would be white rice or even noodles.
I hope you like this baked keto creamy chicken dish as much as we did. I think it's a total family pleaser regardless if you are on a low carb diet or not.
And you don't have to use cans of cream of mushroom or cream of chicken soup!
The nutritional information for 1 serving is: 355 calories / 21.4g fat / 1.7g carbs / 0.1g fiber / 38.8g protein = 1.6g net carbs
For another delicious recipe, check out my friend Sara's one-pan keto cream Tuscan chicken recipe!
Keto Creamy Chicken Recipe
This low carb baked cream of chicken recipe is one that my mom made a lot when I was young. It's a low carb version of her recipe and simply rich and delicious and it doesn't use canned soup!
Ingredients
3 pounds chicken (boneless, skinless breasts and thighs)
2 teaspoons Better than Bouillon chicken base
1 cup of heavy cream
2 oz cream cheese
½ teaspoon garlic powder
1 teaspoon dried onion flakes (if using onion powder only use ½ teaspoon)
½ teaspoon salt
¼ teaspoon pepper
1 teaspoon dried parsley
½ cup Parmesan cheese
Instructions
Preheat oven to 350° F. Spray a baking or glass casserole dish with non-stick cooking spray and set aside.
Add the chicken to a large baking pan.
In a sauce pan, add the cream, cream cheese, Better than Bouillon and spices.
Simmer for 2-3 minutes and whisk until everything is well combined. Let cool for a few minutes.
Pour over the chicken pieces and then top with grated Parmesan cheese.
Place in the oven and cook for 45 - 60 minutes until cooked through. The internal temperature should reach 165°F using a meat thermometer.
Let cool a bit before serving.

Variations – You can add cauliflower rice, spinach, sun dried tomatoes, mushrooms or broccoli florets and they would all be tasty with in with this dish.
Notes
The nutritional information for 1 serving is: 355 calories / 21.4g fat / 1.7g carbs / 0.1g fiber / 38.8g protein = 1.6g net carbs
Nutrition Information:
Yield:

8
Serving Size:

1
Amount Per Serving:
Calories:

355
Unsaturated Fat:

0g