This keto Mexican meatloaf tastes like chili in a meatloaf form. It's a delicious change from classic meatloaf and is gluten free. A great meal for those on a low carb diet but the whole family will love it. Each serving has only 5g net carbs and it's very easy to make!
You might also like my low carb meatloaf stuffed portobello mushrooms!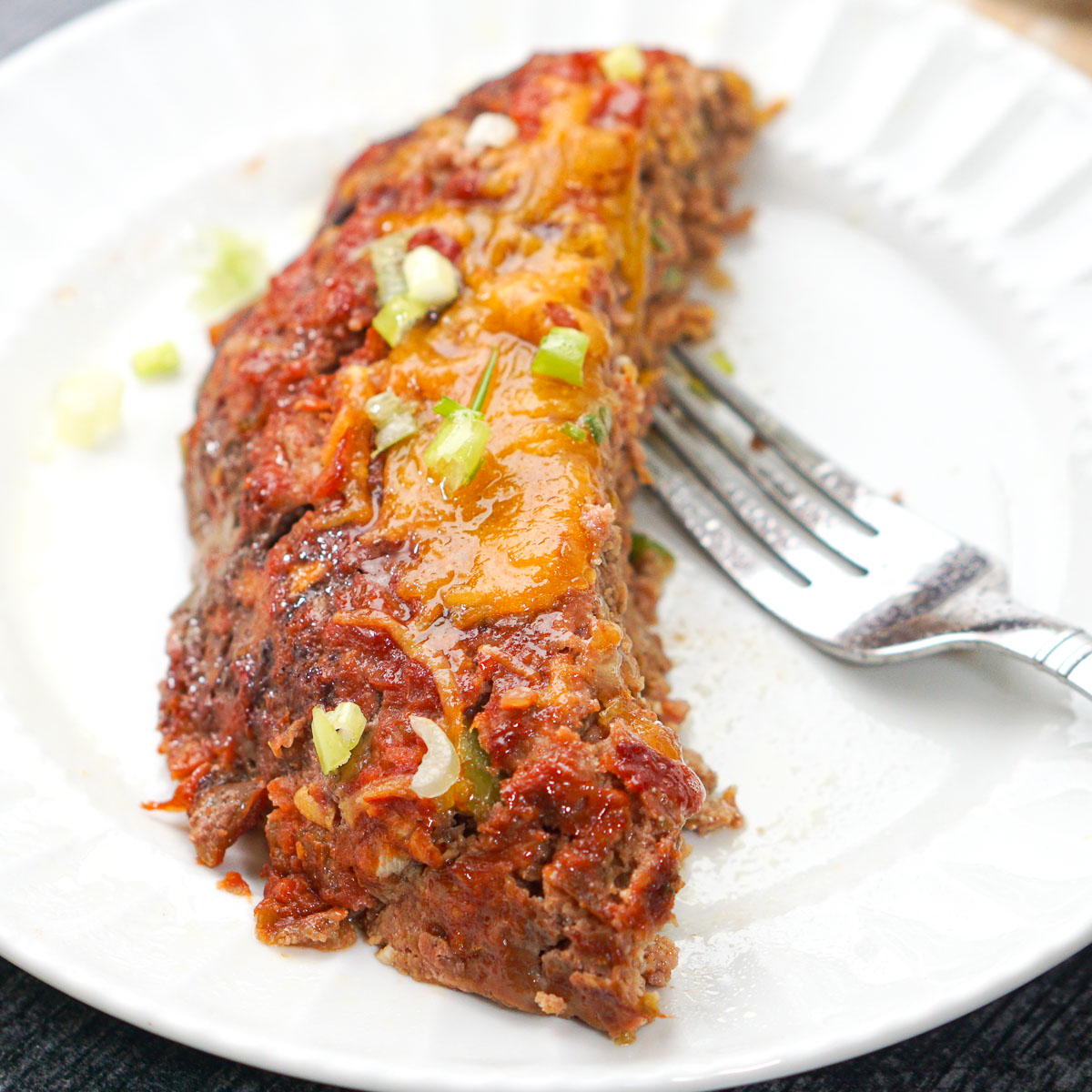 Meatloaf is a fairly regular dish around our house. I usually make my turkey veggie meatloaf because it's very healthy and full of veggies. But today I wanted to make something different so I made this keto Mexican meatloaf.
I used the same seasonings that I put in my chili and to keep it low carb and gluten free I used almond flour instead of breadcrumbs. It was a big success and nice twist from my usual meatloaf.
The almond flour worked out great as a low carb meatloaf binder, so if you are looking for a keto meatloaf with no pork rinds, try this recipe!
Recipe ingredients I used.
This recipe is a combination of my mom's chili and a low carb meatloaf. I used both ground beef and ground pork, onion, green pepper, garlic, almond flour, chili powder, cumin, salt, black pepper, paprika, cinnamon, onion powder, oregano, egg, salsa, cheddar cheese and green onion.
I like to use both ground beef and ground pork because mades for a moist and juicy meatloaf but if you can find ground pork you can just use beef. You could also use ground turkey.
The salsa I used was medium chunky jar salsa from Aldi. It's fairly low in carbs for the amount you are using.
How to make keto Mexican meatloaf.
Step 1: Preheat oven to 400°F. Cover a baking sheet with aluminum foil and then spray it with nonstick cooking spray.
Step 2: Add the onion, bell pepper and garlic to a food processor and pulse until finely minced. You don't want chunks of veggies in your meatloaf. You can also do this by hand if you want.
Step 3: Spoon the onion mixture along with the ground beef and pork, egg, almond flour, spices and half of the salsa to a large mixing bowl.
Use your hands to combine the ingredients and then place the meat mixture on the prepared baking dish. Form the meatloaf mixture into an oval shape and smooth with your hand.
Step 4: Use the remaining salsa to spread evenly over the loaf. Place in the oven and bake for 30 minutes. Take it out and sprinkle the cheddar cheese and place back in the oven. Bake for another 5 minutes to melt the cheese. The internal temperature should register 160°F on a meat thermometer.
Step 5: Take out of the oven and let rest for 5 minutes. Store leftovers in an airtight container. Please scroll down to view the printable recipe card.
I garnished this with some green onions just for color but I do like onions on my chili so why not. You could even top with sour cream or more salsa if you wish.
Other additions could be fresh cilantro, pickled jalapenos, black olives, guacamole, avocados or hot sauce.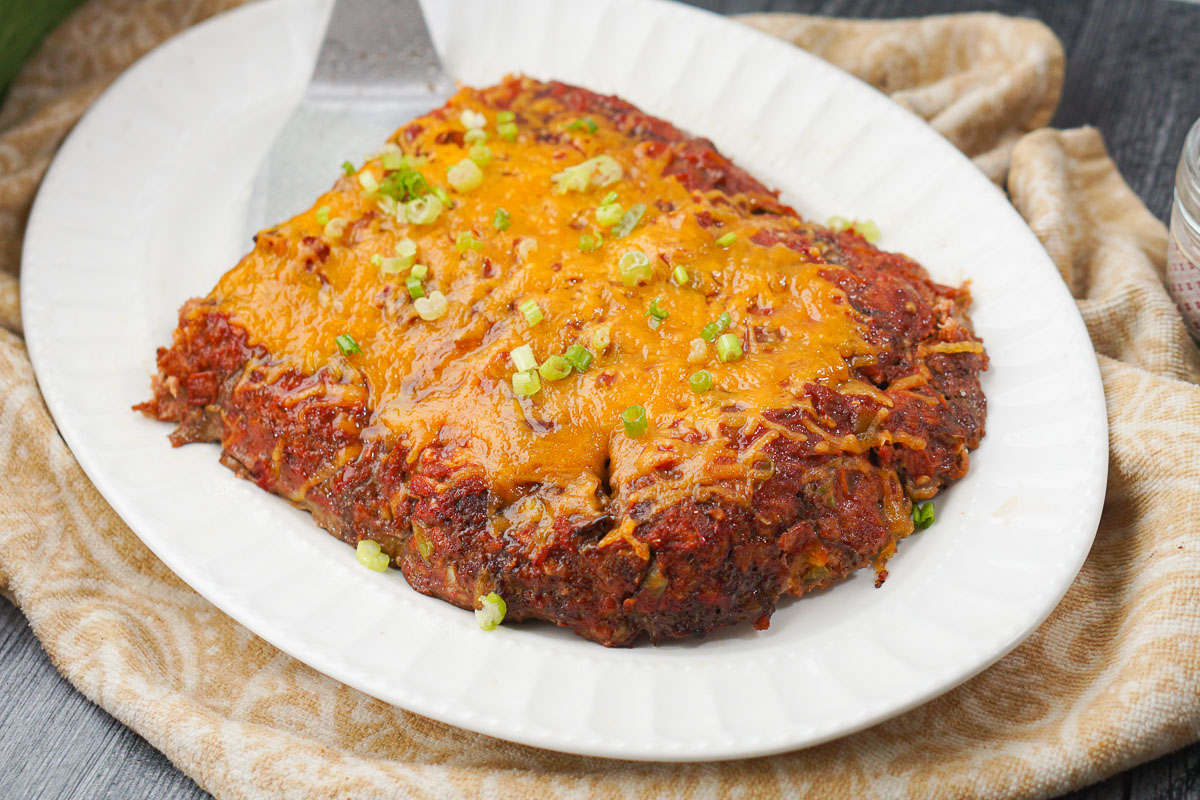 More keto Mexican recipes to try.
My family loves Mexican food and it's not too hard to make low carb meals with Mexican flavors. Here are a few of my favorite recipes that you might like to try.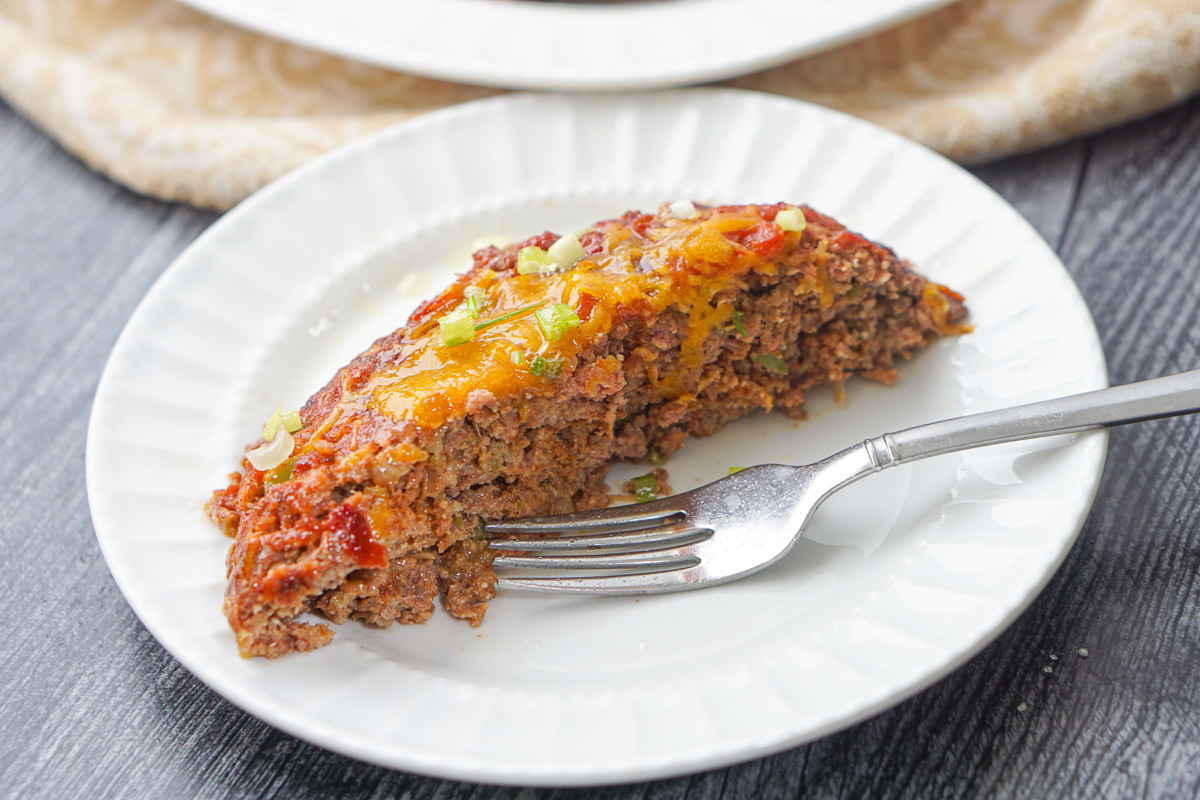 This Mexican meatloaf was very moist and full of flavor. Well I hope you like this little twist on your everyday meatloaf.
The nutritional information for 1 piece of meatloaf is 359 cals / 22.5g fat / 6.2g carbs / 1.2g fiber / 32.8 g protein = 5g net carbs
And for more great low carb Mexican flavor, try my friend Julianne's Keto Taco Casserole. It's delicious!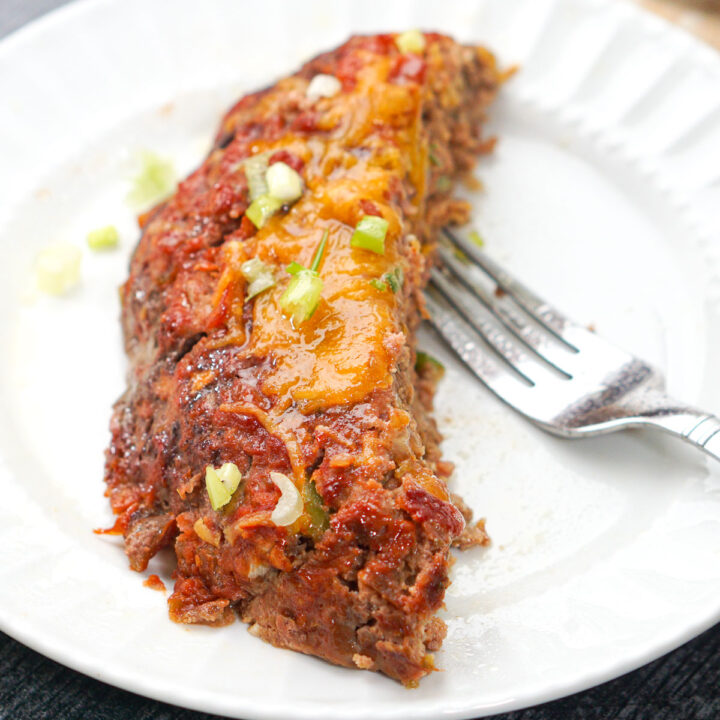 Easy Keto Mexican Meatloaf Recipe
This low carb Mexican meatloaf is a combination of my chili and keto meatloaf recipe. It's an easy and delicious low carb dinner for busy weekdays. Full of flavor and spice!
Ingredients
1 pound ground beef
1 pound ground pork
½ cup onion, minced
½ cup green pepper, minced
3 cloves garlic, minced
⅓ cup almond flour
1 teaspoon chili powder
1 teaspoon cumin
½ teaspoon salt
¼ teaspoon black pepper
½ teaspoon paprika
¼ teaspoon cinnamon
½ teaspoon onion powder
¼ teaspoon oregano
1 egg
½ cup low carb salsa
¼ cup cheddar cheese, optional
2 green onion, sliced for garnish (optional)
Instructions
Preheat oven to 400°F and prepare a baking sheet by covering it in aluminum foil. Spray with nonstick cooking spray and set aside.
Add onion, garlic cloves and green peppers to a food processor and process until they are finely minced. Can also do this by hand if you wish but pieces should be very small.
Add this mixture to a large mxing bowl along with the ground beef and pork, egg, almond flour, spices and ¼ cup of salsa.
Mix well and then form into an oval loaf on the baking sheet. Use the remaining salsa (¼ cup) and spread evenly over meatloaf.
Bake for 30 minutes until the meat is cooked through. Note cooking time may vary depending on how you shape your loaf. Mine are rather long and thin so it only took 30 minutes.
Take out of the oven and sprinkle cheddar cheese if using on top. Place back into the oven and bake another 5 minutes until the cheese has melted. Take out and let rest for 5 minutes.
Garnish with green onions if using and serve with extra salsa or sour cream if you wish. Other additions could be cilantro, jalapenos, black olives or hot sauce.
Notes
The nutritional information for 1 piece of meatloaf is 359 cals / 22.5g fat / 6.2g carbs / 1.2g fiber / 32.8 g protein = 5g net carbs
Nutrition Information:
Yield:

8
Serving Size:

1
Amount Per Serving:
Calories:

359
Unsaturated Fat:

0g