This easy keto chocolate mousse recipe takes just minutes to make and you can add additional flavors like peppermint, orange or raspberry. A quick sugar free dessert that would look great on your Christmas table or for a special treat for those on a keto diet. Each decadent chocolate dessert has only 1.2g net carbs!
You might also like this keto peanut butter mousse recipe.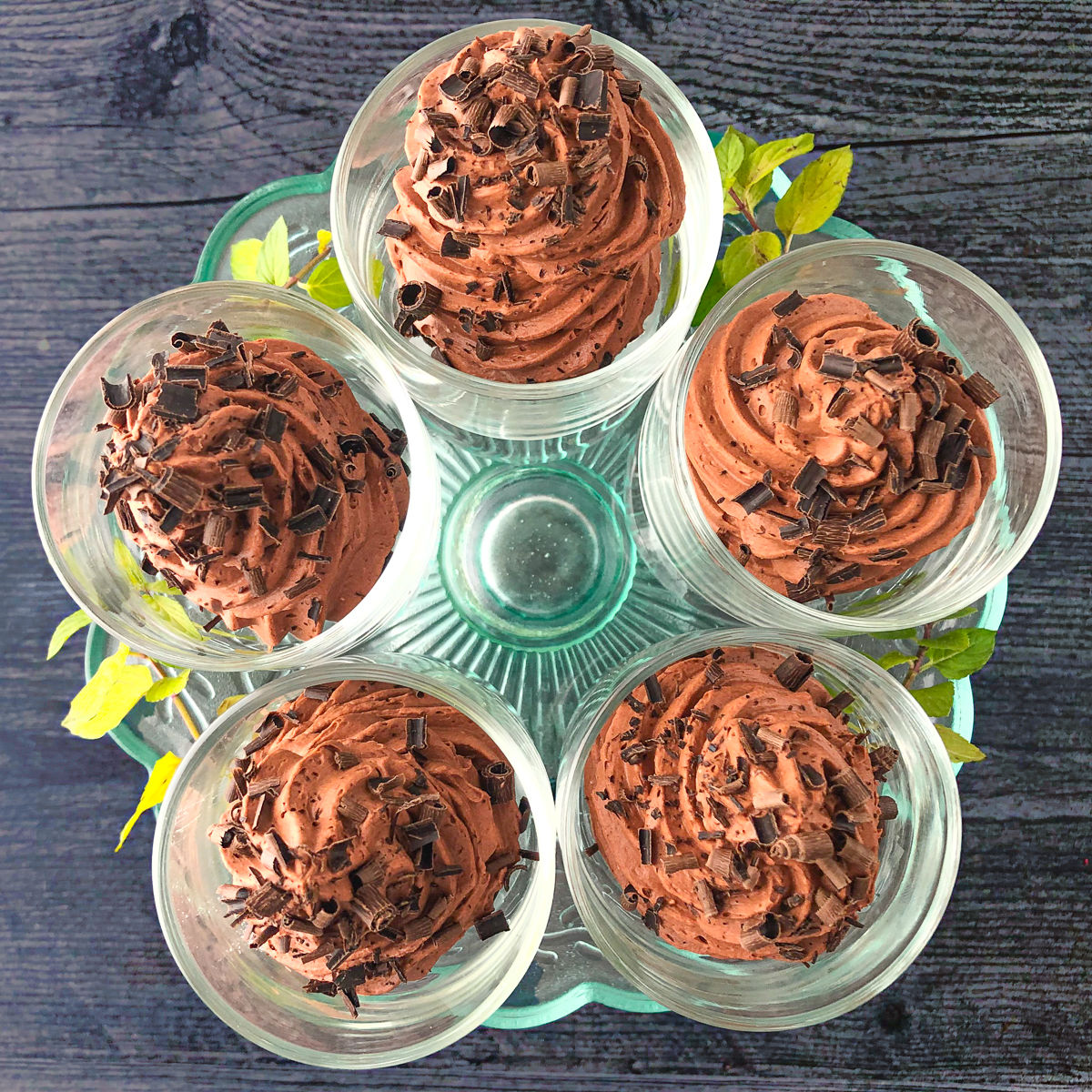 I've had a lot of chocolate cravings lately. I guess I need a little keto comfort food with all of the holiday preparations coming up. So I came up with this idea for an easy keto chocolate mousse recipe.
This sweet treat was so easy and so yummy and it only took about 6 ingredients and 5 minutes. The result was this rich and creamy chocolatey goodness. It will also be the perfect dessert for Christmas as it's pretty and easy!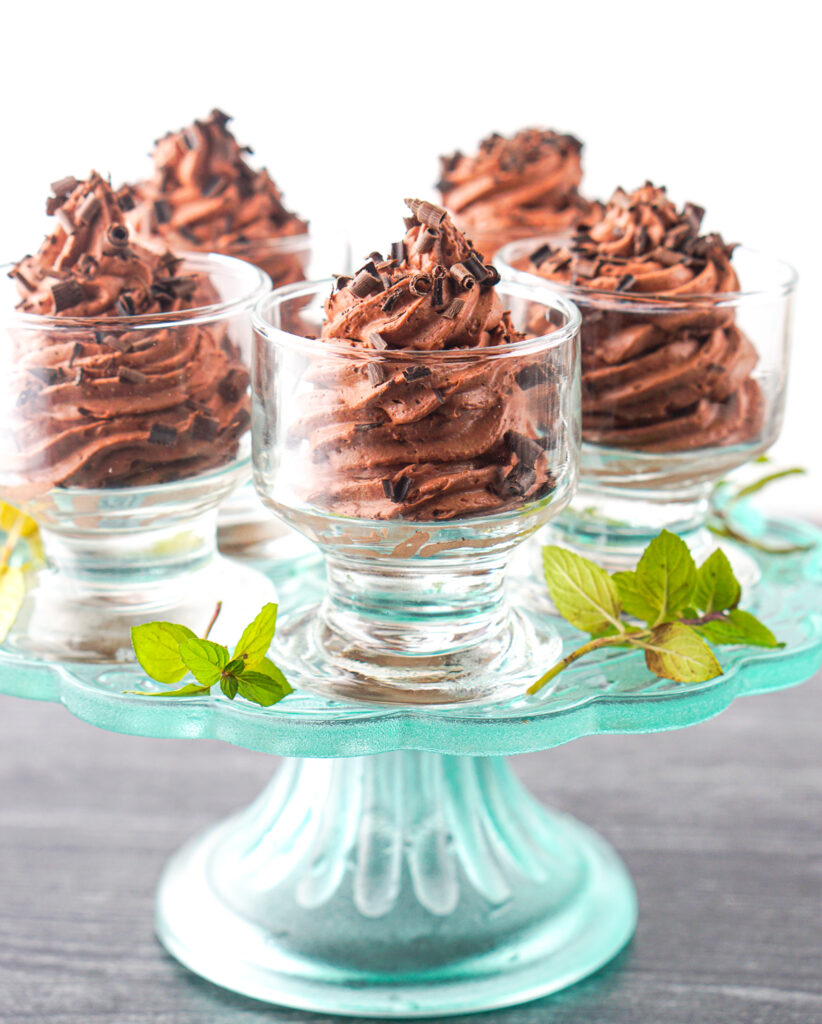 Recipe ingredients I used.
As I mentioned above this recipe only needs 6 ingredients and that is cream cheese, heavy cream, Swerve confectioners sweetener, unsweetened cocoa powder, SweetLeaf vanilla liquid stevia and vanilla extract.
I love Divine cocoa powder because it's lower in carbs than regular cocoa powder and has a rich color. However if you don't have it you can use regular cocoa powder.
Swerve is a natural sweetener that I use for so many of my keto dessert recipes. For this recipe I prefer Swerve confectioners sweetener to granulated sweetener because I think it mixes better. But again if you don't have it use regular sweetener of choice though powdered sweetener is best.
And if you don't have any liquid stevia, you could probably go without it. Taste the mousse and if you want it sweeter add a tablespoon more of the sweetener.
What I love about this recipe is that it's very easy to change up the flavor. Today I added a little peppermint extract and made this a chocolate mint mousse. But you can do this with a variety of flavor extracts and it won't change the macros of the recipe.
How to make this easy keto chocolate mousse recipe.
Step 1: You want to use cream cheese which is at room temperature so make sure you take it out about 15 minutes before you make this recipe. And you need to use an electric mixer.
Step 2: Place the cream cheese in a mixing bowl and cream with the Swerve sweetener for 1-2 minutes. I might not seem like it's going to come together but keep going and it will.
Step 3: Next add the cocoa powder, stevia and vanilla extract. Cream the chocolate mixture together and then add in the heavy cream. You want to beat this until soft peaks form. The consistency should be light and fluffy like that pictured below.
Step 4: Spoon or pipe the the creamy chocolate mousse into small dessert cups and refrigerate until ready to serve. Store leftovers in an airtight container in the refrigerator. (Please scroll down to view and print the recipe card.)
How many carbs in this keto mousse recipe.
This recipe made 6 small dessert which was perfect for us because they are very filling and perfectly satisfied our sweet tooth.
The nutritional information for 1 dessert with chocoalte garnish is 205 calories / 18.6g fat / 4.3g carbs / 3.1g fiber / 2.8g protein = 1.2g net carbs
Since there is only 1.2g net carbs per serving you could make this batch into 3 larger desserts and it would still be really low carb. Without the garnish it has just 0.9g net carbs.
How to garnish and add different flavors to this mousse.
Below you can see how I used these lower carb chocolate bars as a garnish on top of the mousse. You just need a vegetable peeler to make chocolate curls with a chocolate bar that is high in cocoa and therefore low in carbs.
The Moser Roth bars I get at Aldi and the Lindt can be found at Target. You don't need to use these as a garnish but it does look nice and you hardly use any of the chocolate to garnish all 6 desserts.
Other low carb additions would sugar free chocolate chips (like Lily's), toasted shredded coconut, chopped nuts, sugar free sprinkles, etc. Just make sure to account for their carb count.
As for flavoring you can try adding flavor extracts that are used for baking and can be found in just about any grocery store. They don't add any calories or carbs to the dessert and can add a lot of flavor.
Recently I added peppermint extract but other extract flavors to try are orange, raspberry, almond, caramel, etc.
Other super easy keto desserts you might like.
Since I'm not much of a baker, I tend to like desserts like this one which are no bake and very simple. Here are a few more low carb sweet recipes you might want to try.
Well this is definitely an easy and most delicious keto dessert. I hope you give this low carb chocolate mousse recipe a try. My family inhaled these and because they are so easy I will be sure to make them again.
This sugar free mousse uses simple ingredients and takes little time to make so it's the perfect dessert for the holidays. It's also quite pretty and definitely tasty whether or not your are on a low carb diet. Enjoy!
Easy Keto Chocolate Mousse Recipe
These easy and delcious keto chocolate mousse desserts take little time and just a few ingredients. So for a decadent but sugar free dessert for the holidays or special occasion, this rich chocolate mousse recipe is for you.
Ingredients
4 oz cream cheese, room temperature
¾ cup heavy cream
3 tablespoons cocoa powder
¼ cup Swerve confectioners sweetener
1 teaspoon vanilla extract*
10 drops liquid vanilla stevia (optional)*
chocolate bar shavings for garnish (optional)*
Instructions
Using an electric hand mixer add the cream cheese and Swerve sweetener to a large mixing bowl and cream together. It might take a minute or two but it will come together.
Next add the cocoa poweder, vanilla extract and liquid stevia and mix until well combined.
Slowly add the heavy cream to the chocolate mixture and beat for 2-3 minutes until stiff peaks form and it's nice and fluffy.
Spoon or pipe into dessert dishes.
Use a potato or vegtable peeler to make chocolate shavings for garnish. Make sure to use a very dark chocoolate bar* to keep the carbs down. This step is optional.
Cover with plastic wrap and refrigerate until ready to serve.
Notes
*Recipe Notes and Tips
I used SweetLeaf vanilla cream liquid stevia to make this a bit more sweeter. If you don't have any liquid stevia, taste the mousse after whipping and test the sweetness level. If want more sweetness add another tablespoon of Swerve sweetener (or sweetener of your choice)
I used a dark chocolate bar to garnish these desserts but that is purely for show. If you use a very dark chocolate bar like Lindt 90% or Moser Roth 85% chocolate bars you will probably only add 0.4g net carbs to each dessert.
Sometimes I like to use flavor extracts to change it up a bit. Recently I used peppermint extract for a chocolate mint flavor. If you want to do so, just use 1 teaspoon of any flavor you want. I suggest trying orange, raspberry, caramel, coconut or almond extract. They are found in the baking aisle and have no carbs or calories so they are fun to play around with.
The nutritional information for 1 dessert with chocoalte garnish is 205 calories / 18.6g fat / 4.3g carbs / 3.1g fiber / 2.8g protein = 1.2g net carbs
Nutrition Information:
Yield:

6
Serving Size:

1
Amount Per Serving:
Calories:

205