Try this easy low carb breakfast of strawberries & cream keto chaffles. These cheese waffles only take a few ingredients to make and then you top them with whipped cream and sweet sliced strawberries. It's a delicious way to start your day and each strawberries & cream chaffle has only 4.2g net carbs!
You might also like one of these low carb waffle recipes!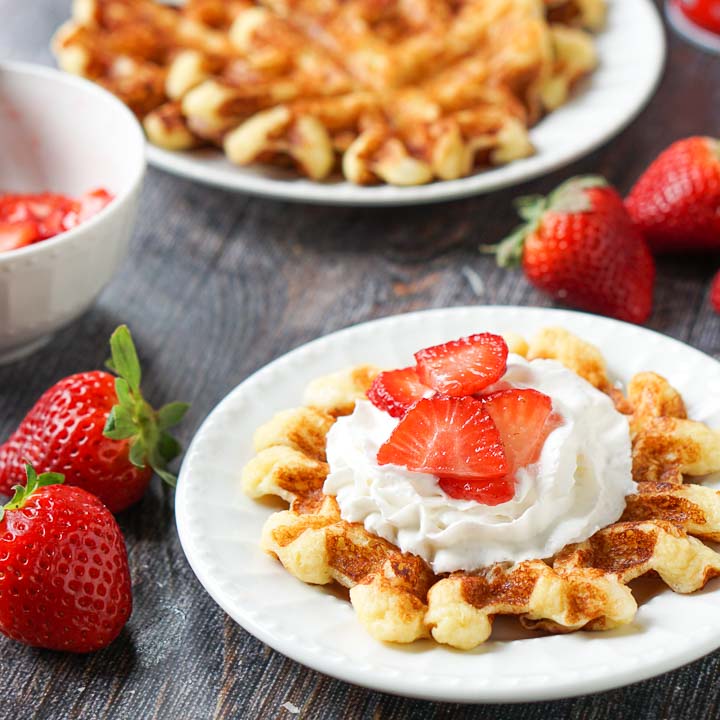 My family really likes waffles, especially with strawberries and cream. So I wanted to make a low carb waffle with almond flour but didn't have much success. That is why I am sticking to my cheese waffles and made these strawberries & cream keto chaffles.
You can whip these up quickly to make a delicious and filling low carb breakfast in minutes. Each one of these chaffles which are topped with whipped cream and sweet strawberries has only 4.2g net carbs. My husband loved them and so did I.
What Is A Chaffle?
A chaffle is a keto waffle that is made primarily with cheese. If you are familiar with Fathead dough which is a popular on a low carb diet, I would say a chaffle is very much like that, but in waffle form.
It's a combination of mozzarella, cream cheese, eggs and almond flour. I'll show you how I made them next.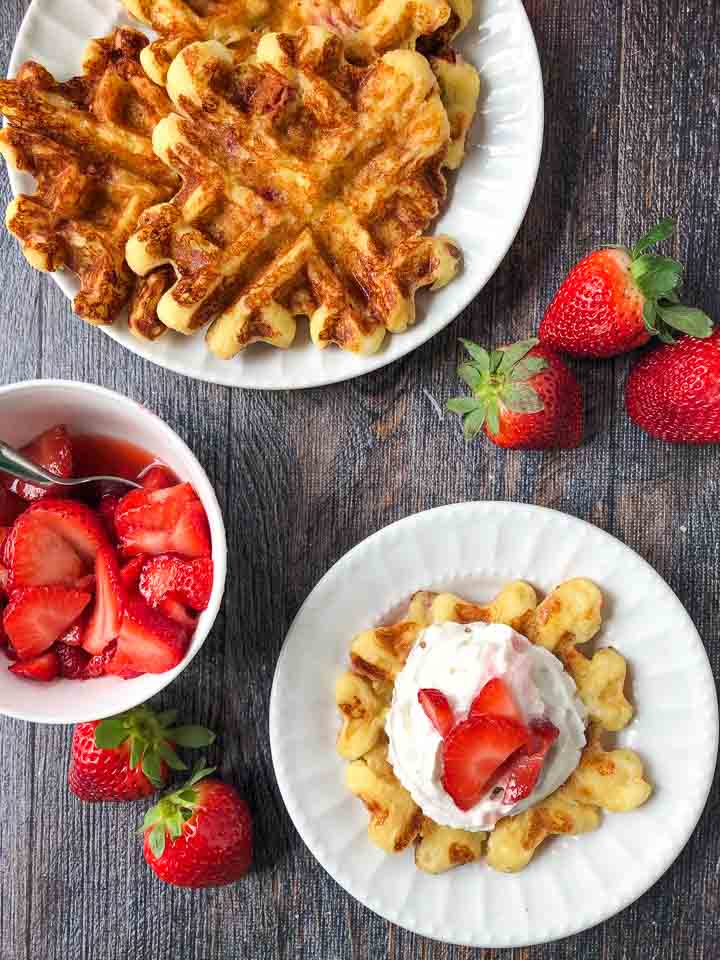 How To Make A Chaffle
The first thing you want to do is add mozzarella cheese to a microwavable bowl with cream cheese. Cook it in the microwave for 1 minute then take it out and stir together. It will be thick and stringy but all of the cheese should be melted. If it's not, put it back and cook for 30 seconds more.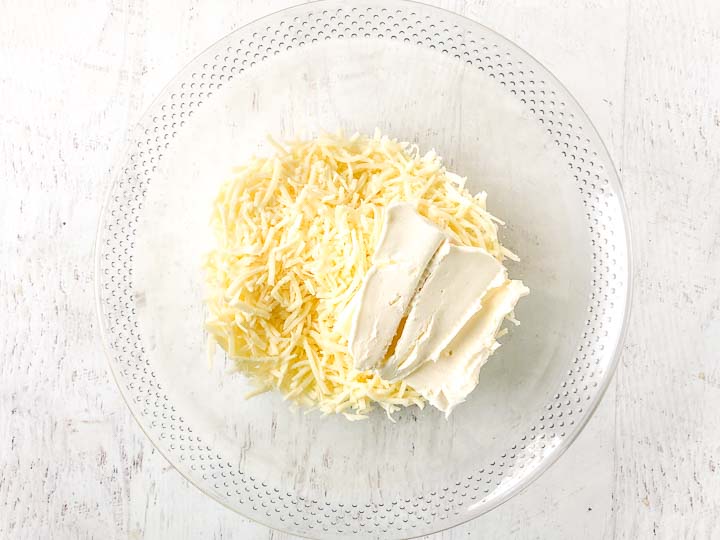 While that is cooking, beat the eggs and then add in the almond flour, baking powder and Swerve sweetener. Mix well and then spoon into the cheese mixture. This is sometimes difficult to mix but do your best. It should look like the batter below.
Next fold in the chopped strawberries and then place it in the refrigerator for 20 minutes.
When it comes out of the refrigerator, use a ¼ cup measuring cup and spoon it into the middle of your waffle iron. I love my Oster waffle iron because nothing seems to stick to it. However if you waffle maker needs to be greased first, please do so.
Also note that you don't want to make a big waffle. Small is the way to go so it's easier to get out of the waffle iron.
Easy Strawberries & Cream Topping
While you are waiting for the waffle mixture in the refrigerator, slice your strawberries and mix them with a little Swerve sweetener. Mix well and set aside or in the refrigerator. The strawberries will release some of their juices which will be perfect for toppings your keto waffles. I just use whipped cream from a canister but you can always make your own.
And if you want to know an easy way to make homemade whipped cream just add some heavy cream to a mixer along with a little sweetener and beat until nice and creamy. I've even made a s'mores whipped cream using a little Torani sugar free s'mores syrup. It's delicious!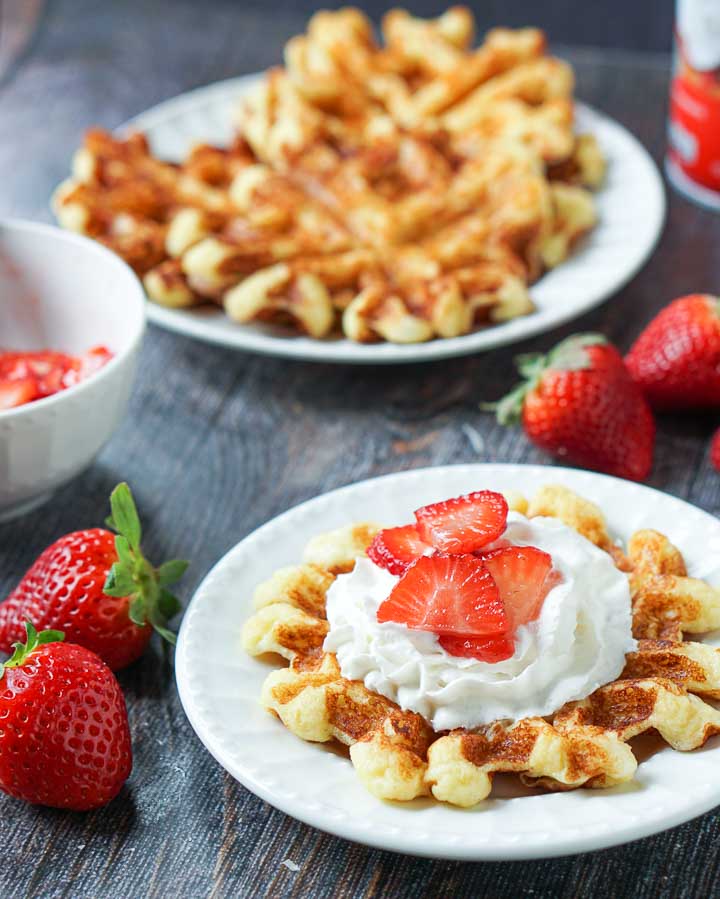 Recipe Tips & Notes
When adding the waffle mixture on to the waffle iron, make sure to keep it rather small. This makes it easier to get off the iron.
Some waffle irons require you to grease them before hand. I love my Oster waffle iron because you don't have to but yours might so make sure to do that.
Try to make the strawberries ahead of time so it has time to marinate. The juices will come out and make it better for topping the waffles.
You can make your own whipped cream or just use regular whipped cream in a canister. It has more carbs but they are not that bad.
The waffle itself is not very sweet but if you wanted more strawberry flavor you can try using a strawberry extract.
As I mentioned above in the notes, these keto chaffles on their own are not overly sweet. Most of the sweetness comes from the strawberries. I hope you give these a try. They really are quite easy and very delicious too. The nutritional information for 1 waffle with strawberries and cream is:
189 cals / 14.3g fat / 5.2g carbs / 1g fiber / 10g protein = 4.2g net carbs
You might also like my friend Jessica's ketogenic strawberry shortcake pancakes and 2 ingredient keto waffles.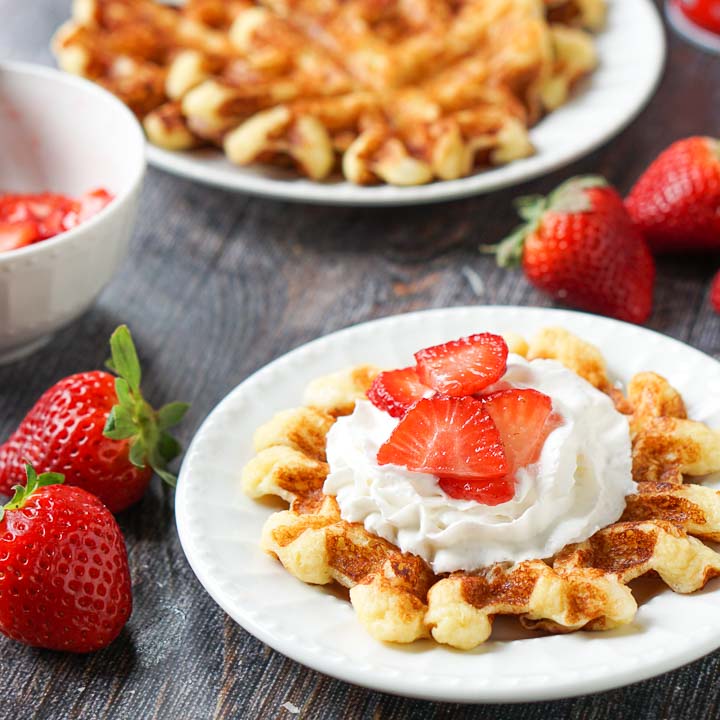 Strawberries & Cream Keto Chaffles
Whip up a batch of these delicious strawberries & cream keto chaffles for a low carb breakfast. Only 4.2g net carbs per waffle.
Ingredients
3 oz cream cheese
2 cups mozzarella cheese, shredded
2 eggs, beaten
½ cup almond flour
3 tablespoons Swerve confectioners sweetener
2 teaspoons baking powder
8 strawberries
1 cup whipped cream (canister - 2 tablespoons per waffle)
1 tablespoon Swerve confectioners sweetener
Instructions
Add the cream cheese and mozzarella to a microwavable bowl and cook for 1 minute. Mix well and if all the cheese is melted go to next step. Otherwise cook for 30 seconds more and then mix well.
In another bowl, beat eggs then add in the almond flour, baking powder and 3 tablespoons of Swerve sweetener.
Add the cream cheese mixture to the almond flour mixture and mix well and then fold in 2 chopped up strawberries. Refrigerate for 20 minutes.
In the meantime slice the remaining strawberries and add the 1 tablespoon of Swerve. Mix well and set aside or refrigerate.
After 20 minutes take the batter out of the refrigerator. Heat up your waffle iron and if it needs to be greased go ahead and do that.
Take ¼ cup of the mixture and add to the center of the heated waffle iron. Make sure to keep the waffles small so they will be easier to get out of the waffle maker.
When it's cooked transfer to a plate and let cool before add whipped cream and strawberries.
This recipe gave me 8 small waflles.
Notes
Recommended Products
As an Amazon Associate and member of other affiliate programs, I earn from qualifying purchases.
Nutrition Information:
Yield:

8
Serving Size:

1
Amount Per Serving:
Calories:

189
Net Carbohydrates:

4.2g