This filling, low carb peanut butter smoothie will get your going in the morning with matcha green tea and keep you satisfied until lunch.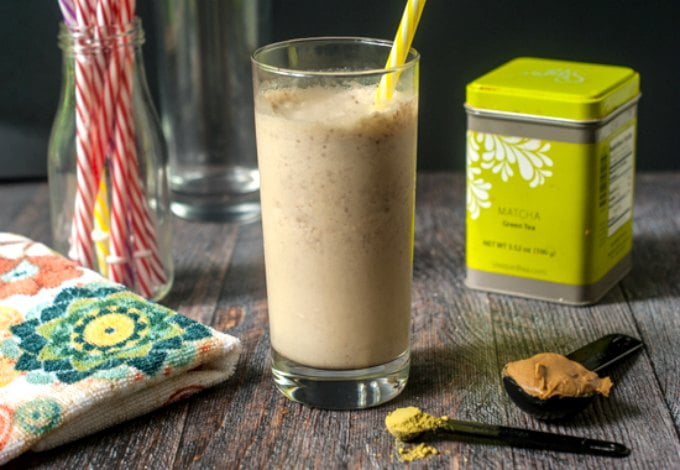 I don't usually post on a Saturday but I'm really digging this low carb peanut butter smoothie so I thought I'd write a quick post for you about it. Earlier in the week I made a Low Carb Berry Smoothie with basically the same components … almond milk, matcha, flax, gelatin and nut butter….It had a net carb value of 9.7g which I didn't think was too bad because I feel this is a meal replacement drink. This one however only has 3.0g of net carbs so if you are really watching your carbs, you should check this one out.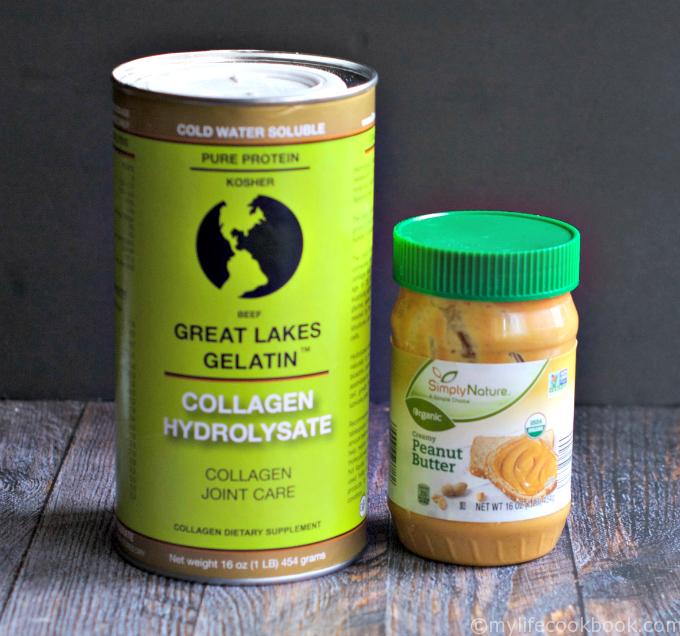 Below I've listed the specific ingredients and why I use them (please note some are Amazon affiliate links):
Great Lakes Gelatin (Collagen Hydrolysate) : This is my protein source. Sometimes I use pea protein powder or some other protein powder but this particular gelatin is from grass fed cows. It is a good source of protein and has many health benefits (here is a nice article by Chris Kresser) and few calories.
Simply Nature Peanut Butter: This is my healthy fat source. Aldi's brand of organic peanut butter contains only organic peanuts and sea salt. No added sugar makes this a great brand for peanut butter lovers (like me). Nut butters are my choice for a healthy fat which gives you sustainable energy and helps to fill you up. Sometimes I use coconut oil but this peanut butter does the double duty of adding fat and flavor.
Steeped Matcha Green Tea: This is my caffeine source. I have many, many matcha recipes on this site because I love it. It's a great source of antioxidants and it gives me a bit of an energy boost without the jitters. There are many health benefits in green tea and matcha (which is a powdered whole leaf green tea by the way).
Ground Flax Seed: This is my fiber source. I use Bob's Red Mill but I feel most brands are probably comparable. I added this to give the smoothie more bulk to make it more filling. Sometimes I use chia seeds too.
Silk Almond Milk: This is the base liquid. I like to add a bit of almond milk to give it more flavor. I like Silk because it has negligible net carbs.
Sweet Leaf Vanilla Stevia: This smoothie is not particularly sweet on it's own because the peanut butter doesn't have any added sugar nor does the protein powder (gelatin). If I was using a vanilla protein powder I would probably not add any more sweetener but I have a major sweet tooth and I thought that this drink needed some.
So just to compare the nutrition of the two smoothies you can see that the berry one has a lot more carbs due to the berries. I'm not knocking the berries because they are great for you and even add more fiber. But if you are really watching carbs, the peanut butter one is the way to go. I like to mix it up and alternate between the two.
Berry Smoothie
233 cals / fat = 13.8g / carbs = 15.3g / fiber = 5.6g / protein = 12.5g Net Carbs = 9.7g
Peanut Butter Smoothie
189 cals / fat = 12.8g / carbs = 5.5g / fiber = 2.5g / protein = 11.5g Net Carbs = 3.0g
Well that's all I have for you today. We got about 8 inches of snow in my part of Pittsburgh so I think it's going to be a good day to stay inside. And as I look out the window I feel like I'm in a snow globe so that's pretty cool. Hope you enjoy your weekend!
Filling Low Carb Peanut Butter Smoothie
This filling, low carb peanut butter smoothie will get your going in the morning with matcha green tea and keep you satisfied until lunch.
Ingredients
1

cup

almond milk

1

Tablespoon

natural peanut butter

all natural, just peanuts

1

Tablespoon

Great Lakes gelatin

green canister

1

Tablespoon

ground flax

1/2

teaspoon

matcha green tea

6

ice cubes

sweetener of your choice

I used Sweet Leaf Vanilla Stevia you can use any sweetener you like and make sure to add that to the carb count if you are tracking carbs.
Instructions
Add your almond milk first to a high speed blender and then the rest of your ingredients.

Blend on high until smooth.

Drink and enjoy!

cals = 189 / fat = 12.8g / carbs = 5.5g / fiber = 2.5g / protein = 11.5g Net Carbs = 3.0 carbs