If you are fan of shamrock shakes that appear around St. Patrick's Day you will love this easy keto shamrock shake recipe. It's a sugar free mint milkshake without ice cream only 5 ingredients. It's creamy, rich and decadent with cooling peppermint flavoring. You can make this St. Patrick's Day keto sweet treat in just 5 minutes and it has only 4.2g net carbs.
You might also like this keto salted caramel milkshake recipe!
As I was out driving today I saw a sign for shamrock milkshakes at McDonald's. I thought I'd surprise my son today with a keto shamrock shake because he loves them. I wanted to make it sugar free because I wanted to make one for my diabetic father in law who lives with us.
It was super easy to make in that you only need 5 ingredients and no ice cream – not even keto friendly ice cream. and then some food coloring to make it green. I was done in 5 minutes and now I'm waiting for my son to get off the bus.
I know he's going to love it because my father in law gulped it down as did my hubby. By the way if you want to make a more healthy version of this check out my low carb vanilla mint matcha smoothie recipe. It's full of healthy ingredients and has that lovely fresh mint flavor!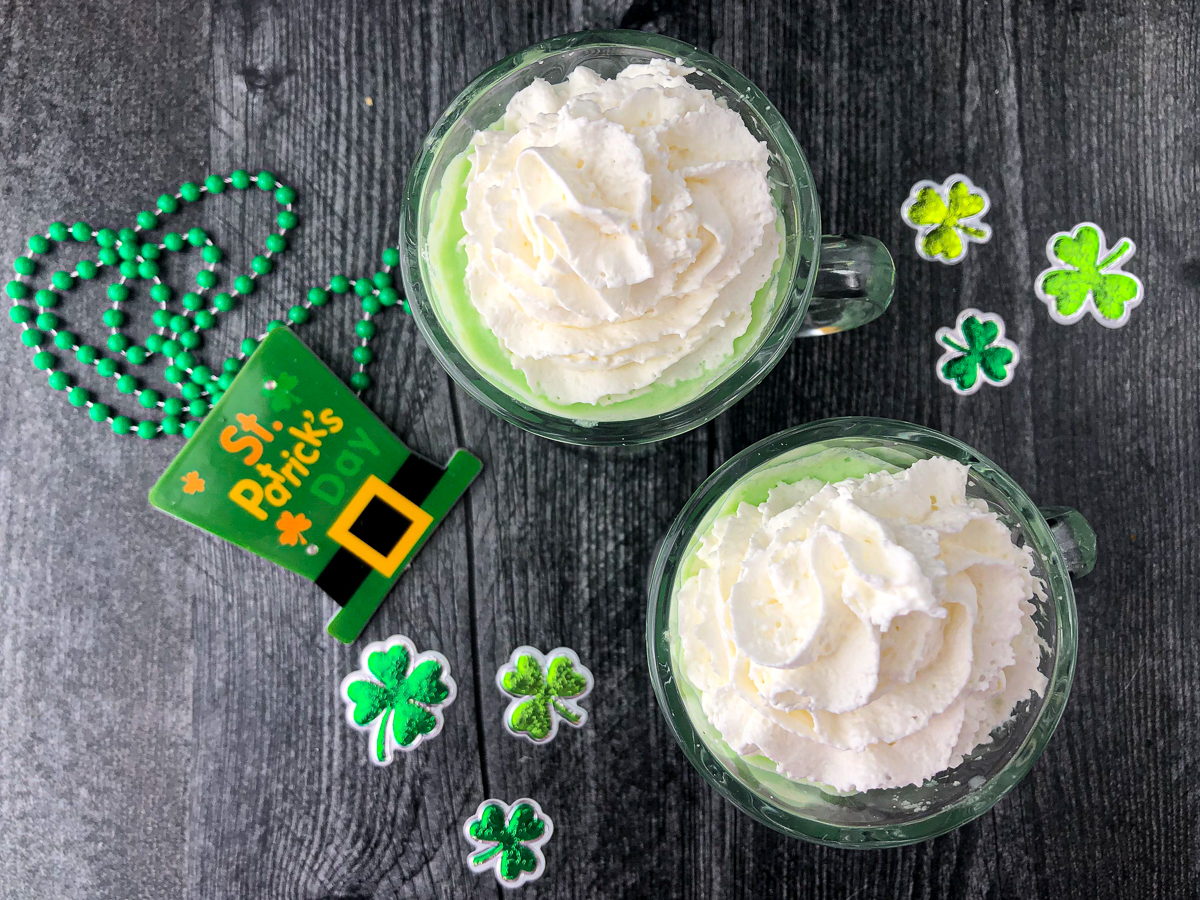 I also make some green colored sugar with granular sweetened to put on top. I had no idea how easy it is to make and I'll share that with you below.
Comparing this keto milkshake with a McDonald's Shamrock milkshake.
My keto recipe uses heavy cream which accounts for most of the fat but it has very little carbs. My milkshake has 225 calories and 4.2g net carbs.
A McDonald's small mint milkshake uses ice cream and has 460 calories and 76 grams of carbs! (source) So if you crave this seasoning shakes, give mine low carb version a try.
Sugar free milkshake ingredients.
All you need for a keto mint milkshake is heavy whipping cream, unsweetened almond milk, peppermint extract, sugar free vanilla pudding and liquid vanilla stevia. And I used ice cubes to thicken it as well.
Recipe notes and substitutions.
I used the vanilla sugar free pudding to thicken it a bit and to add creamy flavor. I only used a tablespoon because it has 5 grams of sugar per serving. If you don't want to use that you can try some xanthum gum or glucomannan powder which are keto thickeners.
You could also use coconut cream as a dairy free replacement for the heavy cream. Make sure the can says coconut cream and not coconut milk and just use the cream from the can and not the water. You might want to check the ingredients on the sugar free pudding two and eliminate it if you want and add a bit of vanilla extract.
As for the sweetener, I love SweetLeaf vanilla cream stevia drops. They work great for this recipe but you can really use your favorite choice of sweetener. Not that I only used ¼ teaspoon of stevia and you will have to use at least a tablespoon of regular granular sweetener as stevia is much sweeter.
If you don't want to use food dye one option is to use fresh baby spinach. To use this I would add a handful when you are adding the almond milk but save the ice for last. You want to make sure the spinach is all pureed before adding the ice. You might need to adjust the amount of sweetener a bit to compensate for the earthy flavor of the spinach.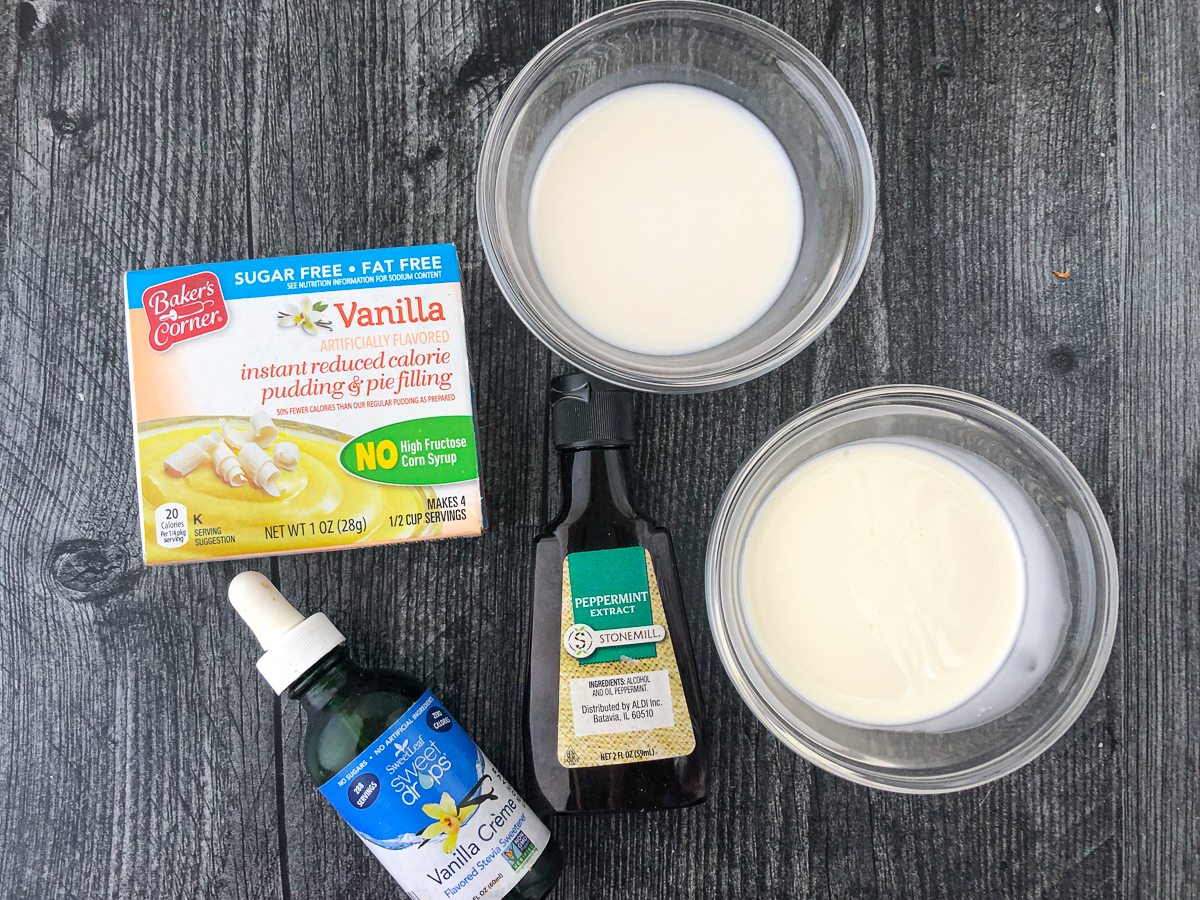 How to make a keto shamrock shake.
Step 1: I found the order of blending the ingredients makes a bit of difference so first add the heavy cream and pudding mix into a high speed blender. Blend on high until nice and creamy.
Step 2: Next add the almond milk, stevia, ice and peppermint extract and blend for a minute or two until nice and cream like below. Taste it and see if you want more peppermint or sweetness and adjust accordingly.
Step 3: Lastly add a few drops of green food coloring to the milkshake base and blend once more. I think I used about 3-4 drops and you can see what it looks like below.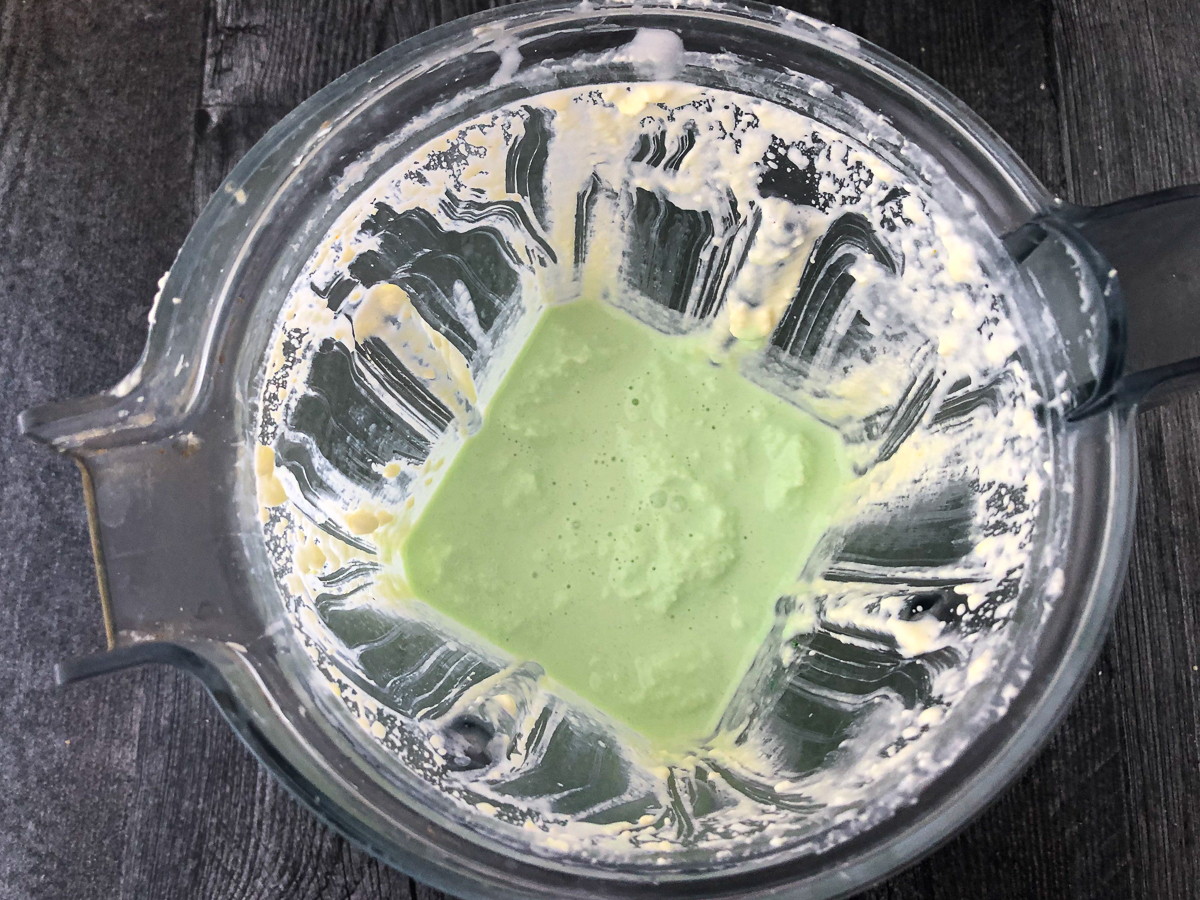 Step 4: Pour shake mixture into tall glasses and top with whipped cream and colored sweetener if you wish. This recipe made two smaller sized milkshakes. (Please scroll down to view the printable the recipe card.)
How to make sugar free colored sugar sprinkles.
I was surprised how very easy this was. Just use a granular sweetener (not powdered) and place it into a ziplock bag. Add just 2-4 drops of food coloring and seal the baggie.
Use your hands to mix the food coloring into the sweeter from the outside of the bag. That's all there is to it! Doing it in the baggie is a good way to store it as well.
More keto St. Patrick's Day recipes to try.
I have a whole post of 36 St. Patrick's Day keto recipes to try but here are a few sweet treats that would work great.
Well I hope you like this quick post and give this keto homemade shamrock shake a try. It's really simple but delicious and you don't have to wait for St. Patrick's Day. You can drink this delicious shake all year long!
Then nutritional info for 1 shake without whipped cream for topping: 225 calories / 22.8g fat / 4.4g carbs / 0.2g fiber / 1.5g protein = 4.2g net carbs
Keto Shamrock Shake Recipe
This rich and creamy keto sharock milkshake recipe only takes minutes to make and is a great way to celebrate St. Patrick's Day when on a low carb diet.
Ingredients
1 tablespoon sugar free vanilla pudding
½ cup heavy cream
½ cup unsweetened almond milk
1 cup of ice
¼ teaspoon vanilla stevia liquid sweetener
½ teaspoon peppermint extract
Instructions
In a blender add the heavy cream and pudding. Blend for 1 minute until it turns into a whipped cream.
Next add the almond milk, peppermint extract, stevia and ice. Blend on high for 1-2 minutes until the ice is completely crushed. Taste the milkshake and add more peppermint or sweetener if it needs it.
Lastly add a few drops of green food dye if using and blend again.
Pour into 2 glasses and top with whipped cream and sugar free sprinkles if using.
Notes
Then nutritional info for 1 shake without whipped cream and sprinkles is: 225 calories / 22.8g fat / 4.4g carbs / 0.2g fiber / 1.5g protein = 4.2g net carbs
You can substitute your favorite sweetener for the liquid vanilla stevia. However you will need to use more than the ¼ teaspoon as stevia is much sweetener than most sweeteners. Start with 1 tablespoon sweetener and go from there.
If you want to make colored sugar free sugar sprinkles, just add a drop or two to a baggie with your favorite granular sweetener. Seal the bag and mix together from the outside of the bag until all the sugar is colored.
Nutrition Information:
Yield:

2
Serving Size:

1
Amount Per Serving:
Calories:

225