If you are looking for a sugar free fruit spread try this keto strawberry chia jam made with chia seeds. It's super easy to make and you can use it on keto friendly toast, waffles, pancakes and more. This low carb jam needs only juicy strawberries and 3 other ingredients and has just 1.5g net carbs per tablespoon!
You might also like this keto ginger peach chia jam recipe!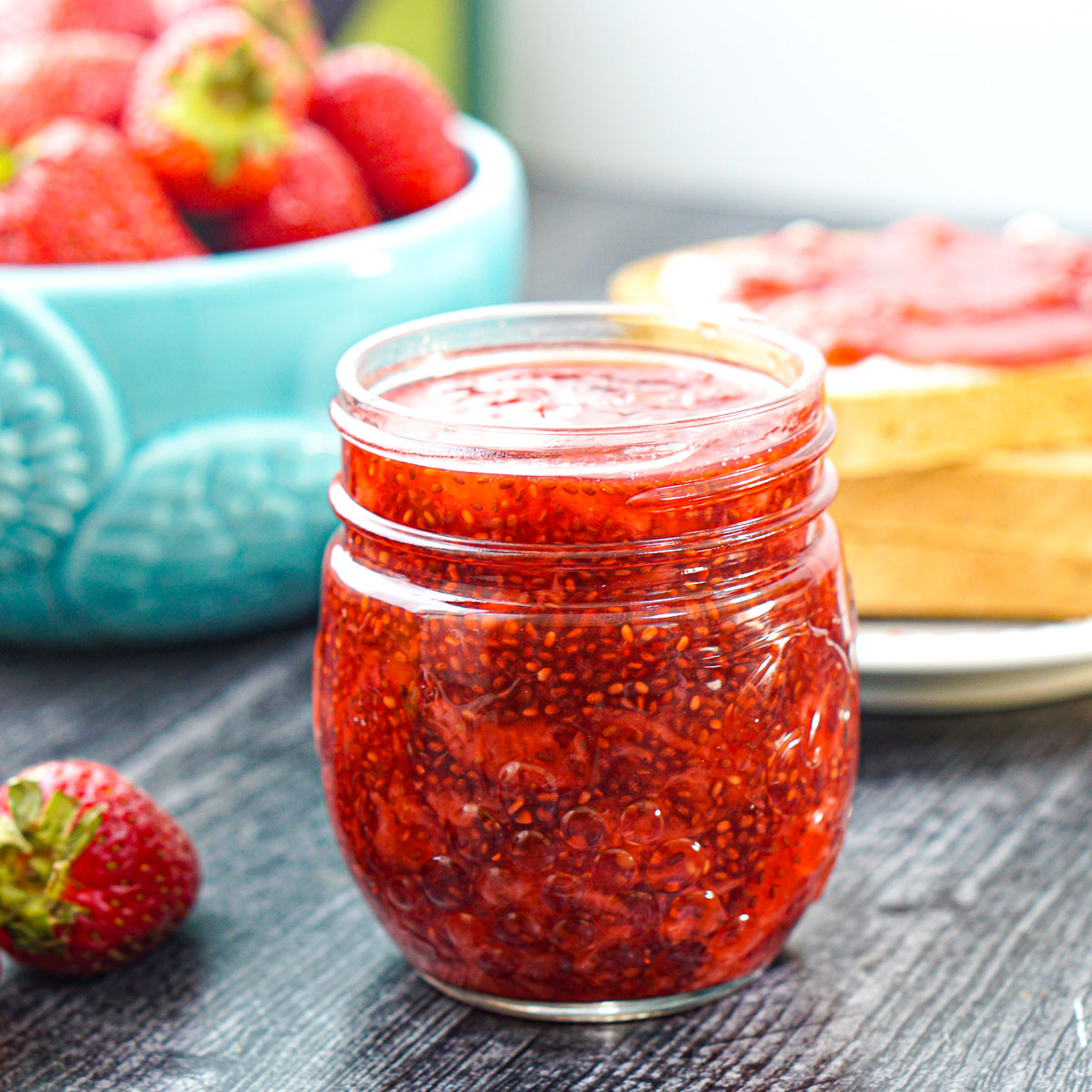 One thing I find myself craving on a keto diet is peanut butter and jelly sandwiches which is a childhood comfort food for me. I found that almond butter or natural peanut butter with a sugar free fruit jam does the trick.
However store bought sugar free jams use a lot of artificial sweeteners and have a weird texture so I decided to make my own keto strawberry chia jam.
It's so easy to make chia seed jam using any mix of berries but strawberries are my favorite berry jam. With just 4 ingredients you can make just about any berry flavored sugar free jam to eat with the vast amount of keto bread and cracker products that are in the grocery stores this day.
I bought some keto bread from Aldi that I really like it can be a bit dry. However when you toast it and add some of this berry chia jam it's delicious!
The health benefits of chia seeds and other keto recipes that use them.
Chia seeds are very filling because they are high in fiber and have many health benefits. They are:
loaded with antioxidants
low calorie and low carb (1 oz has 138 calories and 2g net carbs)
high in fiber(1 oz has 10g fiber)
high in protein and healthy omega 3 fatty acids
For more information about the benefits of chia seeds check out this article.
Some of my favorite low carb recipes that use them are these keto milk chocolate or fruity tea chia drinks. Or this peanut butter or coffee breakfast chia pudding. But you can also use them in crackers or smoothie bowls.
Recipe ingredients I used.
You only need 4 simple ingredients to make sugar free strawberry jam – fresh strawberries (can use frozen berries too), chia seeds, lemon juice and Swerve sweetener (or your sweetener of choice.)
Note that you can just other frozen or fresh berries like blueberries, blackberries, raspberries, mixed berries, etc in place of the strawberries. Also you can use any sweetener you like.
Also I used bottled lemon juice but you can use fresh lemon juice as well. The carb count should be similar.
How to make keto strawberry chia jam.
Step 1: Get out a medium saucepan and heat to medium heat. Add the sliced strawberries, sweetener, lemon juice and 4 tablespoons of water to the pan. Stir well and cook for about 10 minutes over medium heat.
Step 2: After about 10 minutes use a potato masher or the back of a fork and smash the cooked strawberries mixture and leave a little bit of the pieces of fruit.
Step 3: Add the chia seeds and ¾ cup of water. Mix well, cover and cook for roughly 10 more minutes. Take it off the heat and let it cool. It will thicken up when it cools and later when you refrigerate it.
Step 4: Once cool, pour or spoon the jam into a mason jar or other airtight container and refrigerate up to 1 week.
This recipe makes approximately 2 cups of jam which is 16 tablespoons worth. (Please scroll down to view the printable recipe card.)
If you are one of those people who hate the pieces of berries you can place in the blender or food processor to make a smoother low carb strawberry jam.
Note that this is a simple keto jam recipe. But some other options that go well with strawberry is fresh ginger, mint leaves, chocolate, peach and rhubarb. Experiment and have fun with this recipe!
What to use with this sugar free fruit spread.
Different ways to use this sugar free strawberry spread are: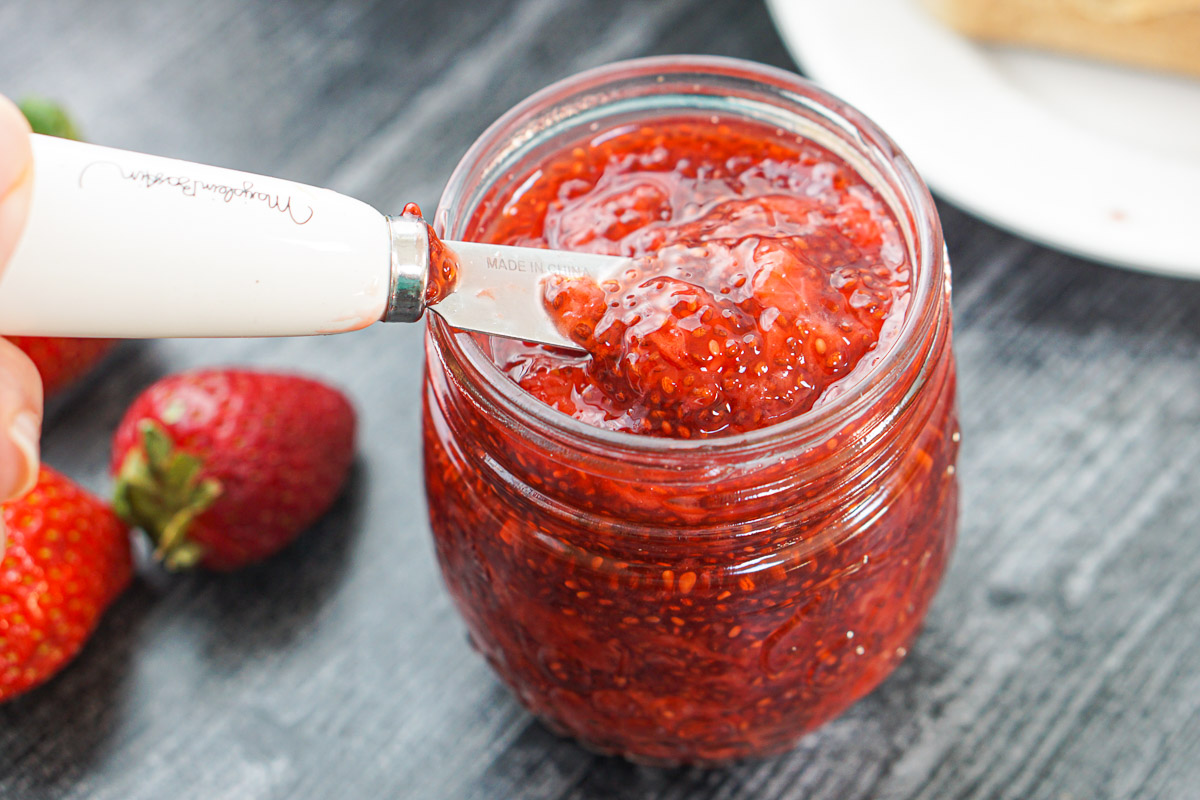 Well I hope you give this keto strawberry jam recipe a try. It's great for those on a low carb diet that want something sweet in the morning or for a low carb snack. It's so easy to make and you can use your berries of choice or add other flavors like ginger or mint. Enjoy!
The nutrition information for 1 tablespoon has just 14 calories / 0.4g fat / 2.3g carbs / 0.8g fiber / 0.3g protein = 1.5g net carbs
Keto Strawberry Chia Jam
This easy keto strawberry chia seed jam is the perfect sugar free spread for low carb bread, crackers, pancakes and more. Using juicy strawberries and chia seeds to make a sweet but low carb breakfast condiment.
Ingredients
2 cups fresh strawberries, sliced
½ cup sweetener (I like Swerve)
2 tablespoons lemon juice
2 tablespoons chia seeds
1 cup water (divided)
Instructions
Heat up a medium sized saucepan to medium heat. Add the strawberries, lemon juice, sweetener and ¼ cup of water. Bring to boil and then simmer for 10 minutes.
Use a potato masher or the back of a fork and smash the strawberries up. Then add the chia seeds and remaining water, stir and cook for 10 more minutes.
Take it off the stove and let it cool completely then spoon into jars.
Place in the refrigerator where it will continue to thicken.
Notes
The nutritional information for 1 tablespoon has just 14 calories / 0.4g fat / 2.3g carbs / 0.8g fiber / 0.3g protein = 1.5g net carbs
Note  you can also use frozen strawberries though I used fresh.
Nutrition Information:
Yield:

16
Serving Size:

1
Amount Per Serving:
Calories:

14