If you are looking for a crunchy low carb snack, try making some of this easy keto cracker recipe. Made mostly from seeds, this gluten free cracker recipe makes 45 crispy crackers and 5 crackers have only 1 gram net carbs, 3 grams of fiber and 5.5 grams protein!
You might also like these keto recipes for snacks.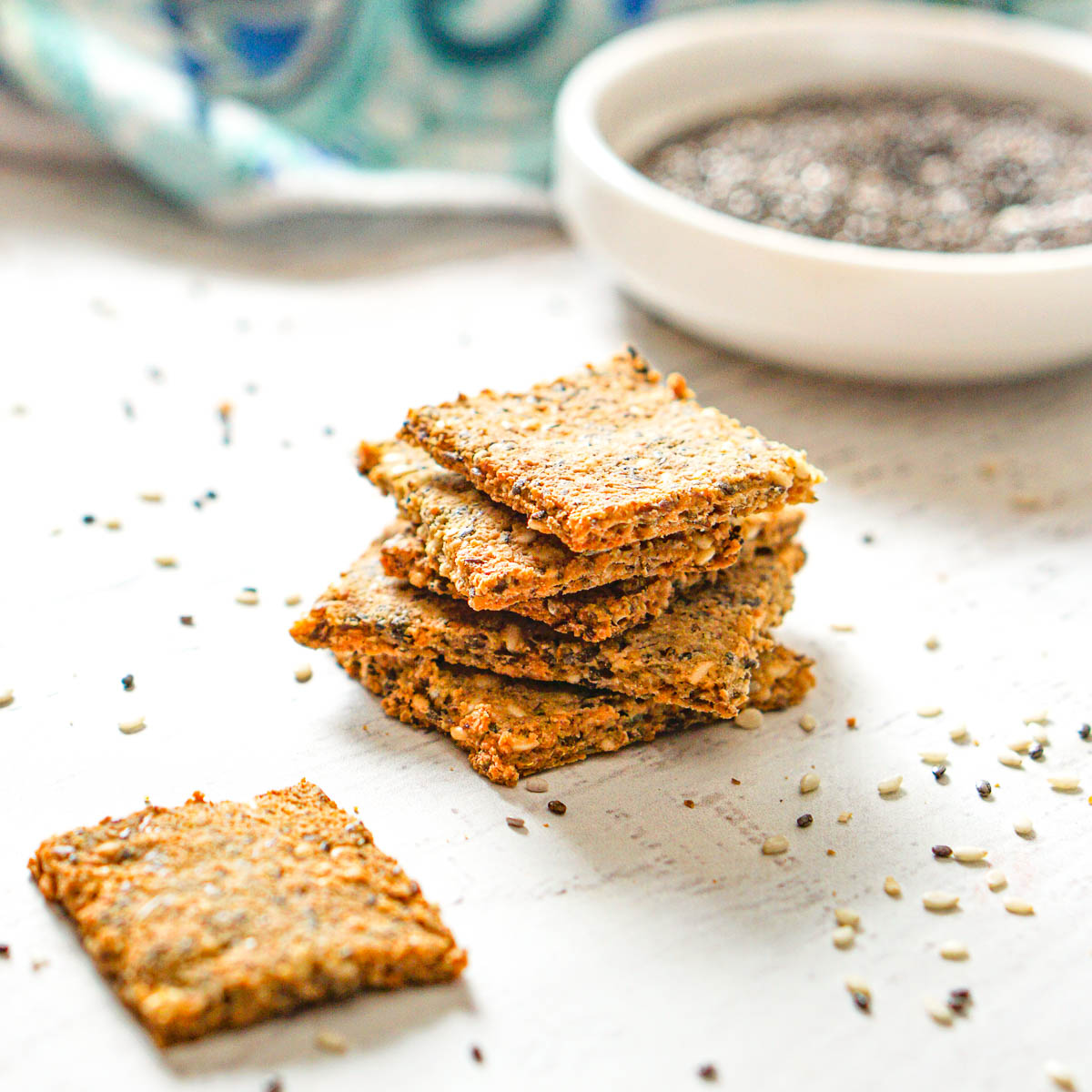 I don't know about you but I've had a hard time finding good low carb crackers. My favorite is herb flavored Mary's Gone Crackers but they are hard to find in the stores sometimes so I decided to try to make my own homemade crackers.
While this keto cracker recipe don't taste exactly like those, they are full of flavor, low carb, high protein and perfect for a low carb crunchy snack!
These easy keto crackers are made with nut flour, seeds, spices and even parmesan cheese. There are only 1 gram net carbs in 5 crackers and 5.5g of protein so they are great for those on a keto diet. I eat them plain but they would be delicious with a good piece of cheese.
Simple ingredients I used.
Almond Flour
I like finely ground blanched almond flour for most of my keto recipes but you can also use almond meal in this one. You can use other nut flours if you want.
I've made cashew and peanut crackers by just grinding the nuts into flour. Coconut flour however is not a one to one substitute for almond flour so you might want to look up how to substitute coconut flour for almond.
Ground Flax Seed
You have to make sure to use ground flax seed and not the whole seed. This adds another flour element to the base of the recipe.
Chia Seeds and Sesame Seeds
Both the chia seeds and sesame seeds add a lot of fiber, texture and nutrients to the recipe. You can also use other kinds of seeds if you have them like sunflower seeds or pepitas. This is what I had on hand so I used them.
Parmesan Cheese
This ingredient adds extra flavor and also binds the ingredients together a bit. You can use nutritional yeast if you are dairy free.
Egg Whites
These act as the main binder in the recipe. You only need the whites but I think it would work ok if you use the egg yolks as well but I've never tried it.
Seasonings
I used garlic powder, sage, thyme and soy sauce all for flavor. For flavoring I used various seasonings to mimic those Herb Mary's Gone Crackers that I like so much. If you want to use different herbs and spices like Italian seasoning or something you can. Use similar amounts for the herbs.
However keep the soy sauce though. It adds some salt so you don't really need salt and black pepper in this recipe. If you want a soy free substitute, coconut aminos are an option.
How to make this keto cracker recipe.
To make these keto crackers you just mix together the dry ingredients and then add the egg whites and soy sauce. Mix to make a dough. Cover cookie sheets with pieces of parchment paper and roll out cracker dough thinly. Score to make the crackers. Then bake in a 350°F oven for 15 minutes or until golden brown.
Here are the step by step instructions for making either round individual or a sheet of square crackers. You can pick which ever option appeals to you.
Step 1: Preheat oven to 350°F. Cover baking sheets with parchment paper and set aside.
Step 2: Make the cracker dough by mixing together the dry ingredients (almond flour, spices, Parmesan cheese and seeds). Then add the egg whites and soy sauce and mix until it forms a dough. You may need to use your hands with the mixture.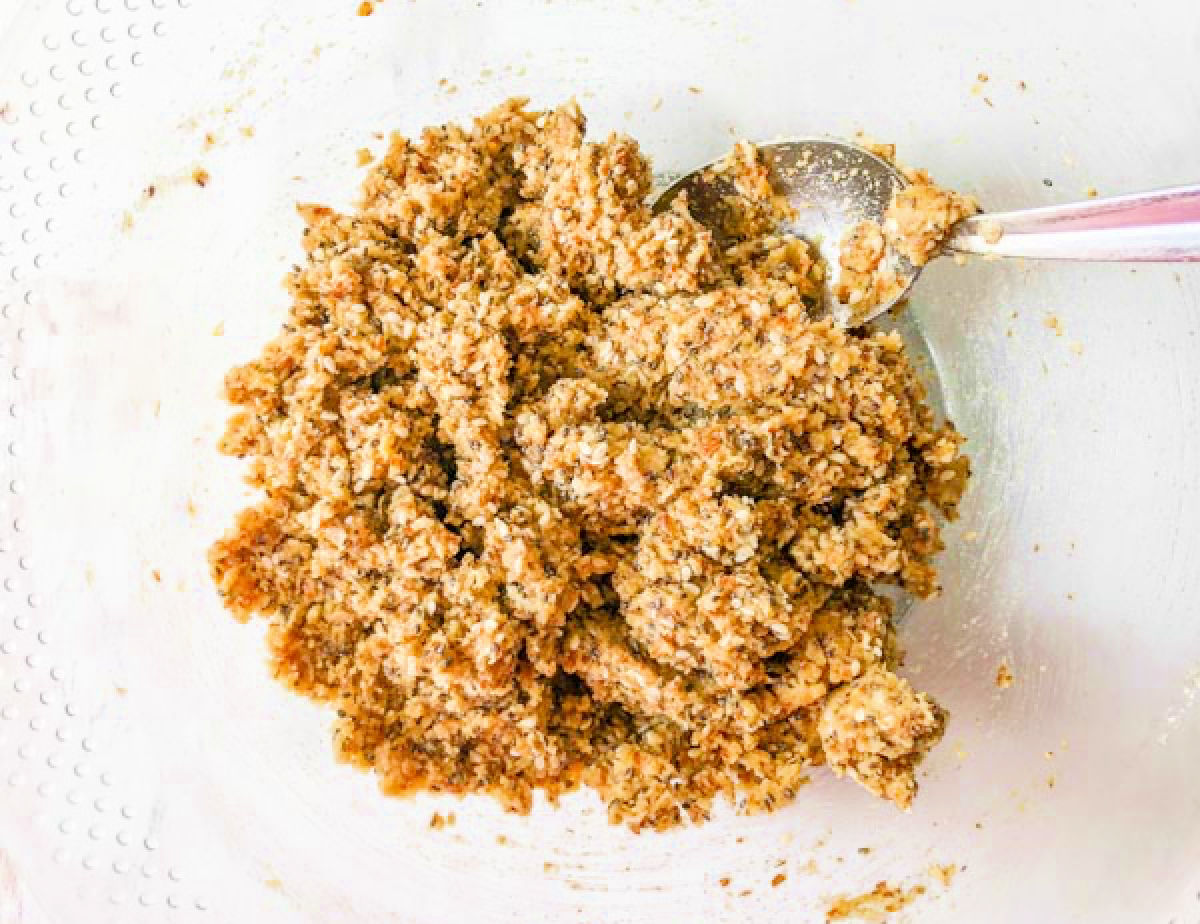 Step 3: You can either make round shape crackers or square. The round crackers are somewhat time intensive. Roll the dough into very small balls and place on the baking sheet that are covered in pieces of parchment paper. Make sure they are evenly spaced out.
Step 4: Then take another piece of parchment paper (small piece) and spray with cooking spray. Press down until the balls make a very thin cracker.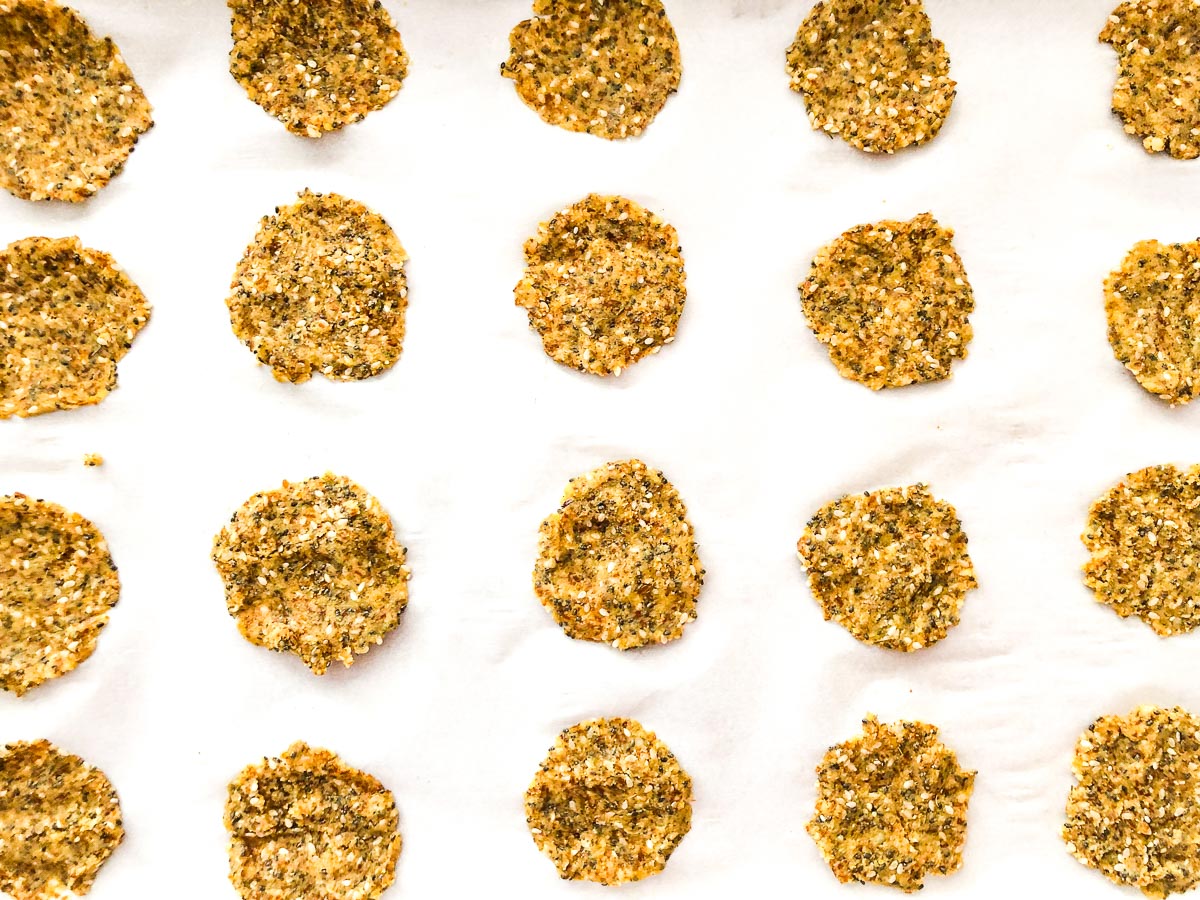 Peel off the parchment paper and continue. I had to spray my sheet many times because the dough is sticky. Place the baking sheet in the preheated oven and bake for about 15 minutes until golden brown. Note bake time may vary.
Here is what they look like when done. Check them towards the end to make sure they are aren't burning.
Step 5: To make square crackers place the dough or mixture on a large silicone mat or piece of parchment paper cut to fit your cookie sheet. Take another piece of parchment or wax paper and spray it with cooking oil.
Step 6: Place the wax paper sprayed side down and use a rolling pin to make a very thin sheet of dough. You may need to play around with this to get it nice and even in thickness.
Step 7: se a knife or pizza cutter and score the cracker into roughly 1 inch squares but do not cut all the way through. Place cookie sheet in the preheated oven.
Step 8: Bake for 15 minutes. Take out and if the edges are browning but not the middle, break off the ends and place back inside for a few more minutes. Continue doing this until you have the desired crispiness of your crackers.
Below you can see how I broke a few off the browned edge pieces and baked the rest. I only did this once but depending on how evenly you get the dough you might have to do this more than once.

And below you can see how they look when they are finished. Like I mentioned above, the square ones take less time to make but you have to pay attention to them as they are baking.
Please scroll down for the printable recipe card.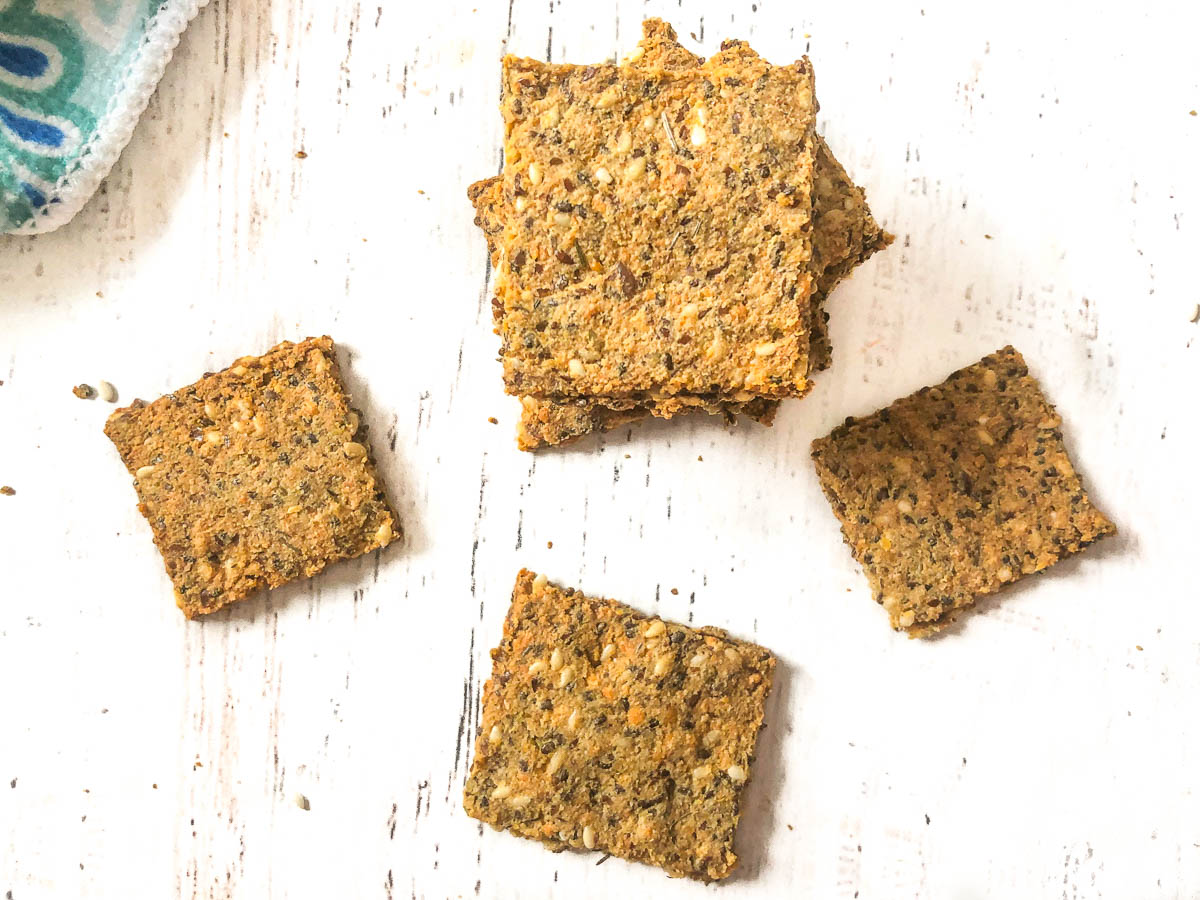 How to store these homemade keto crackers.
I just keep these in a sealed baggie or airtight container on the counter. They tend to get a bit soft, but you could bake them for a few minutes in the oven to crisp them up if you don't like the texture.
Other keto cracker recipes to try.
I have a few other low carb cracker recipes and a delicious crispbread recipe you might like.
Delicious keto dips & spreads to eat these with.
Here are a few more keto recipes to give you a few ideas of foods you can eat with these crackers if you are on a low carb diet.
Other low carb foods to try are cream cheese, mashed avocado, salami, ham, turkey, cheeses, sugar free jelly, nut butters, butter, etc.
Next time you crave some crackers and cheese, try this keto cracker recipe. It's practically fool proof, healthy and the perfect crunch snack for those on a low carb diet. And check out some of those keto dips and spreads to go with them.
The nutrition for 1 cracker is: 21 cals / 1.5g fat / 0.8g carbs / 0.6g fiber / 1.1g protein = 0.2g net carbs
You might also like my friend Jenn's keto crackers … go check them out!
Easy Keto Crackers Recipe
If you are looking for a crunchy low carb snack, try making some of these easy keto cracker recipe. Made mostly from seeds, this gluten free cracker recipe makes 45 crackers and 5 crackers have only 1g net carbs!
Ingredients
1 cup almond flour
¼ cup flaxseed, ground
2 tablespoons chia seeds
2 tablespoons sesame seeds
¼ cup Parmesan cheese, grated
½ teaspoon thyme
½ teaspoon sage
½ teaspoon garlic powder
2 tablespoons soy sauce
2 egg whites
Instructions
Preheat oven to 350 °F. Cover baking tray with sheets of parchment paper.
In a bowl, mix almond flour, sage, thyme and garlic powder.
Next stir in the Parmesan cheese, flax seed meal, sesame seeds and chia seeds.
Lastly stir in the egg whites and soy sauce to make a dough. You may have to use your hands at some point.
Line a cookie sheet with parchment paper or a silicone mat.
To make the round keto crackers - Place little balls of dough evenly on the cookie sheet. Then take a small piece of parchment or wax paper and spray with cooking spray. Place on the little balls one by one and press down until a thin round cracker is made. Do this for every dough ball. You may need to spray the wax paper many times. The square shape is much easier.
To make square keto crackers - Place the dough on the covered cookie sheet. Place another piece of sprayed wax or parchment paper on top and with a rolling pin, roll a nice even thin layer of dough. Use a knife or pizza cutter, LIGHTLY score the dough to make your crackers.
Bake for 15 minutes and if making the round crackers you are done. For the square crackers the ends might brown quicker so break those off and bake a few minutes more. Note bake time may vary. Store in an air tight sealed container.
Notes
The nutrition for 1 keto cracker is:
21 cals / 1.5g fat / 0.8g carbs / 0.6g fiber / 1.1g protein = 0.2g net carbs
Nutrition Information:
Yield:

45
Serving Size:

1 grams
Amount Per Serving:
Calories:

21
Unsaturated Fat:

0g