This low carb smoked salmon cream cheese dip is an easy and tasty keto snack you can eat with fresh veggies or crackers. It only takes a few ingredients and 5 minutes to make! Only 0.6g net carbs per 2 tablespoons!
You might also like easy brined smoked salmon recipe!
I'm not sure what put me in the mood to make this smoked salmon cream cheese dip but I was Jonesin' for it. It was something that my mom made, and not that often, but I really liked it when she did.
And now that I'm a low carber I thought this would be a great snack or lunch for me. There is not much too it, just salmon, cream cheese, liquid smoke and a few other things, but it's really tasty. It would be a nice cream cheese dip for a party too.
Salmon Cream Cheese Dip Ingredients
For this recipe I used canned wild salmon, cream cheese, liquid smoke, lemon juice and green onions.
The liquid smoke is what gives it that smoke flavor and I've used it in my bbq pork and bbq chicken to give it that bbq smoked flavor even though I made them both in the slow cooker.
Next time I make this I'm going to use some leftovers from our brined smoked salmon. I think it will be even better with that. No need for the liquid smoke too.
Salmon Cream Cheese Dip Recipe
Start by adding the green onions to a food processor and chop them real fine.
Make sure there are no bones in the canned salmon. If you have bones, take them all out before adding to the food processor.
Add the rest of the ingredients and process on high until nice and creamy. That's it!
What Low Carb Foods To Eat With This Dip
I like to eat this cream cheese dip with celery but my mom used to eat it with crackers. Below are some of the low carb foods you can eat with this smoked salmon spread.
raw vegetables like celery, carrots, peppers, cucumbers
low carb crackers like Mary's Gone Crackers
low carb flatbread or bagels
I bought a big box of Mary's Gone Crackers and they are pictured below. They are an acquired taste for some but I really like them because they are low in carbs, gluten free and a good source of omega 3s. The herb flavored is my favorite!
Some Other Low Carb Cream Cheese Dips & Spreads
Cream cheese is great when you are on a low carb diet. You can use it in sauces, spreads, dips and even fat bombs! Here are some great keto snacks to try using cream cheese: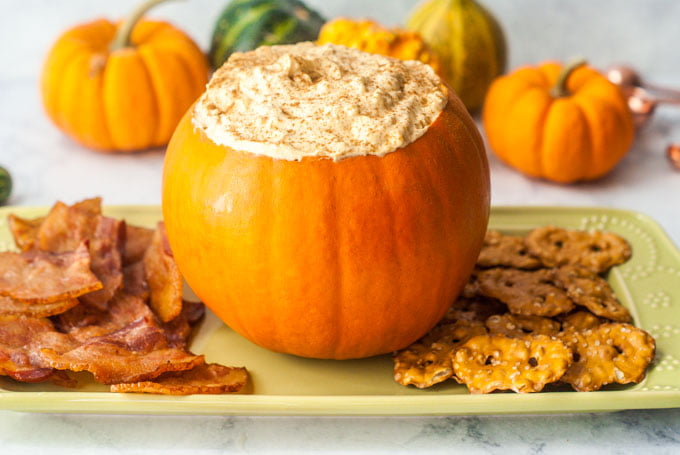 So that just a quick one for you on this Friday. Sometimes those old recipes of my mom, just pop into my head and I remember how good they tastes. Hope you like it!
1 serving (roughly 2T) = 84 cals / 5.7g fat / 0.6g carbs / 0g fiber / 6.8g protein = 0.6g net carbs
Low Carb Smoked Salmon Cream Cheese Dip
This low carb smoked salmon cream cheese dip is a tasty keto snack to eat with fresh veggies or crackers. Only a few ingredients and minutes to make.
Ingredients
8

oz

cream cheese, softened

14.5

can

salmon, bones taken out

1

teaspoon

liquid smoke

1

teaspoon

lemon juice

4

green onions
Instructions
If your salmon has bones and other nice things in it, make sure you take them all out before mixing with the other ingredients.

Add green onions to food process and pulse until well chopped. Then add everything to a food processor and process until everything is well combined.

Refrigerate until ready to use.

Serve with raw vegetables or crackers.