This sweet and creamy keto pumpkin cheesecake dip recipe is perfect with salty bacon chips. This salty and sweet combination makes an awesome keto party food and just one tablespoon of cheesecake dip has 0.7g carbs!
You might like this keto no bake pumpkin cheesecake recipe!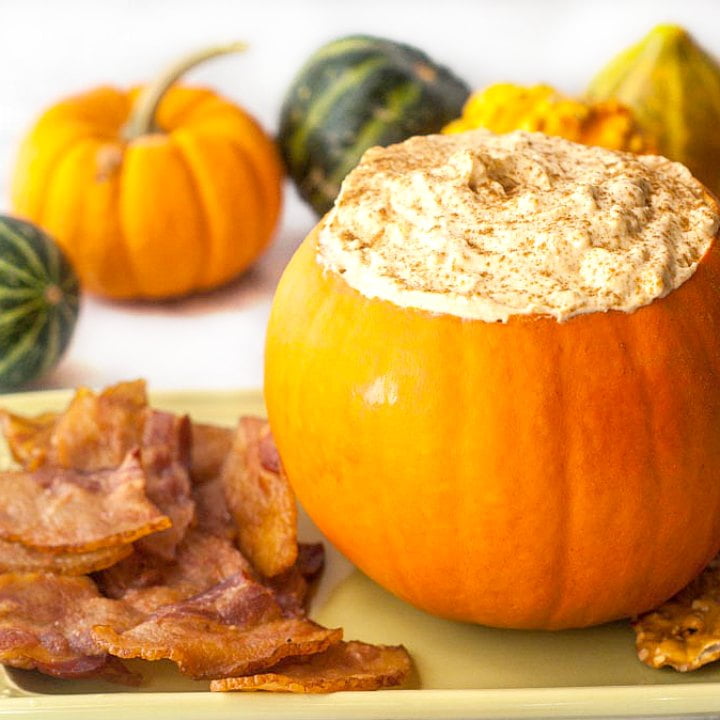 One thing I love about fall is how colorful it is. Not only are the leaves changing color but the grocery store has all those little pumpkins and gourds in different shapes and textures. I want to buy them all!
Fall is also the time I start making all of my keto pumpkin puree recipes like this no bake keto pumpkin cheesecake dip. My son's birthday is October and we have a family party every year so try to make my keto party foods for it like this one. OMG salty bacon chips on their own are delicious but with the creamy sweet pumpkin cheesecake dip it's heaven.
Bacon chips make a most delicious no carb keto snack as most brands of bacon have no carbs in it. And using bacon chips with this dip counterbalances the sweetness of the dip. Let me show you how I make them.
How To Make Keto Bacon Chips
These bacon chips are simply thick pieces of bacon cooked in the oven to keep them nice and flat to make good, sturdy chips.
The secret to these bacon chips is to buy thick cut bacon and cut through the whole pack with 3 cuts while it's raw. You don't want to cut individual slices as it is much harder to cut. Then bake it in the oven for about 40 minutes until crispy. You can see before and after pics below.
The thick cut bacon will ensure it's nice and sturdy to dunk into the dip. I bought 1 ½ lbs and got 36 chips. You could probably cut it into 4ths and get 48 chips and they would still be big enough for the dip.
Let's Make Some Keto Pumpkin Cheesecake Dip
So this recipe is very similar to make low carb no bake cheesecakes. You basically cream together cream cheese, spices and Swerve sweetener. Then you add in the pumpkin puree and heavy cream and whip until nice and creamy. Easy peasy right?
---
How To Make A Pumpkin Serving Bowl
It's really easy to make a pumpkin serving bowl for this low carb appetizer. I used a small pumpkin and cleaned it out for the container. If you get the right size, you can put a large ramekin inside so you won't have to fill the whole pumpkin with dip.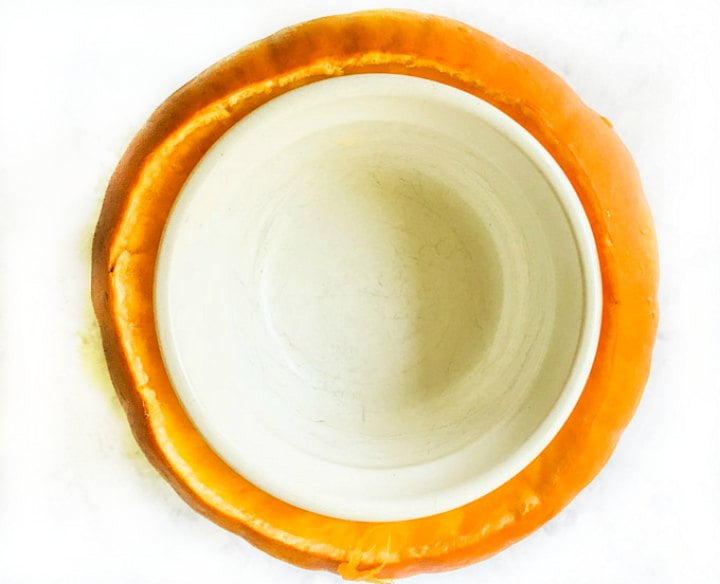 Pumpkin Cheesecake Dip With Bacon Chips
And if you are not a bacon fan and don't care about the low carb aspect of this dip, you can use pretzel chips or graham crackers with this.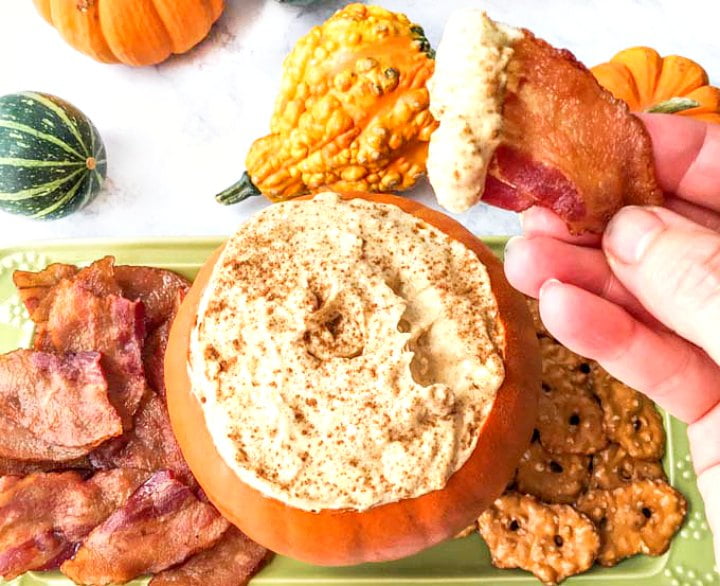 I hope you like this keto friendly pumpkin cheesecake dip as I'm sure your friends and family will. Here are a few more low carb pumpkin recipes to try!
The nutrition for 1 tablespoon of dip is:
36 cals / 3.5g fat / 3.3g carbs / 2.6g fiber / 0.5g protein = 0.7g carbs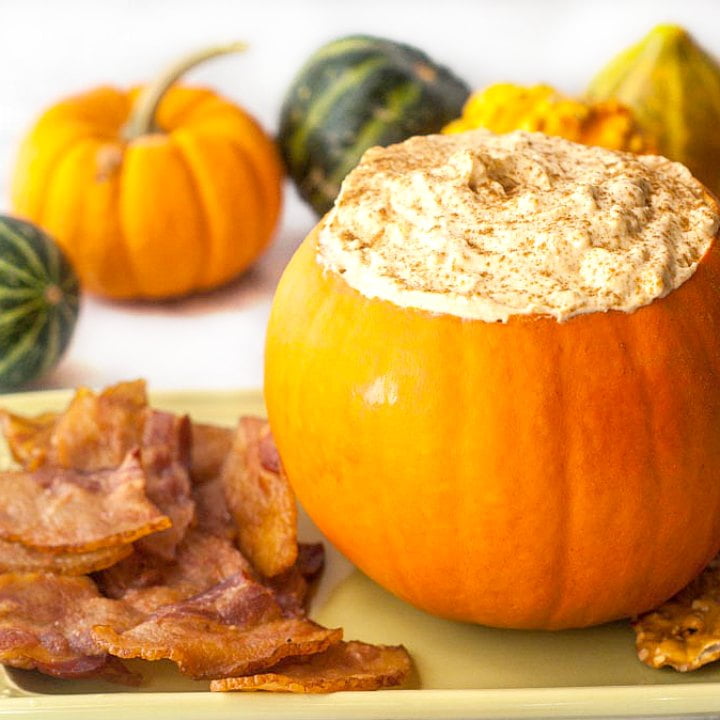 Pumpkin Cheesecake Dip with Bacon Chips (low carb)
This pumpkin cheesecake dip with bacon chips is the perfect combination of salty and sweet and just happens to be low carb too! This is an appetizer everyone will love because, hey... it's bacon and cheesecake!
Ingredients
8 oz thick cut bacon cut into 2" pieces
8 oz cream cheese, softened
½ cup Swerve sweetener
1 cup pure pumpkin
1 teaspoon pumpkin spice
½ teaspoon cinnamon
¼ teaspoon vanilla stevia, liquid
1 cup heavy cream
Instructions
Preheat oven to 350 degrees F.
Arrange bacon pieces on a cookie sheet and bake fore 35-45 minutes until crisp and firm.
In the meantime add cream cheese, Swerve and spices to a mixer and whip until well combined. Then add the pumpkin and mix to well combined. Lastly add in the heavy cream and whip for a few minutes until light and fluffy.
Keep refrigerated until ready to use.
Notes
The nutrition for 1 tablespoon of dip is:
36 cals / 3.5g fat / 3.3g carbs / 2.6g fiber / 0.5g protein = 0.7g carbs
Nutrition Information:
Yield:

48
Serving Size:

1 tablespoon
Amount Per Serving:
Calories:

36
Unsaturated Fat:

0g