This easy spicy pumpkin hummus is an quick appetizer that's perfect for fall parties.  You only need 5 minutes and a few ingredients to make this tasty dip.
You might also like this beautiful lemony beet hummus recipe!
This is the last appetizer that I made for my son's party recently. I've been on a pumpkin kick lately and I think it's simply because I love the look of pumpkins and all the fall colors.
Anyway my family is quite used to eating hummus and my aunt Mimi makes the absolute best. But today I wanted to mix it up a bit and made this easy spicy pumpkin hummus. It's quite easy to make and it was also served in a festive pumpkin.
Last week I made the pumpkin cheesecake dip with bacon chips and this week it's pumpkin hummus. Tis the season right? Another reason I've been making pumpkin dishes and pumpkin bowls is for pumpkin seeds. I love those things!
If you've never made hummus yourself, you should. It's so much better than already prepared hummus and it's very simple. It's just a matter of throwing all the ingredients into a food processor and blending everything.
I personally think tahini which is a ground sesame paste, is key to good hummus. My aunt Mimi would say it's the garlic. That's the great thing about hummus, you can doctor it to be any consistency or taste you like.
For this recipe I added pumpkin, cayenne and hot sauce. The pumpkin added a subtle sweetness and the cayenne and hot sauce added the heat. It was a delicious combination.
For the bowl I took off the top and added a large ramekin. If you can find the right sized pumpkin and ramekin this is the way to go. The ramekin will fit right in there and it makes it much less messy to clean up.
So keep that in mind when you pick out your pumpkin if you want to use it for a bowl.
Easy Spicy Pumpkin Hummus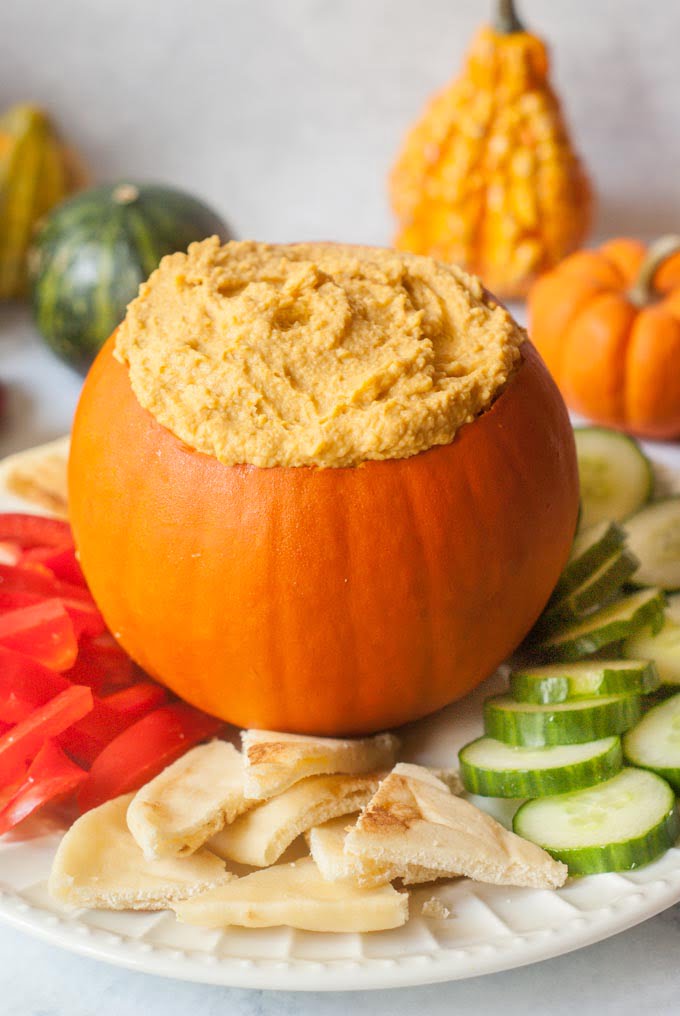 So this was a quick one for you. You can serve this hummus with pita bread, or a variety of vegetables. I personally love cucumbers, peppers and carrots with my hummus. I hope you enjoy this festive dip!
Spicy Pumpkin Hummus
This easy spicy pumpkin hummus is an quick appetizer that's perfect for fall parties.
Ingredients
1 ½ cups pumpkin, pure
1 can chick peas, drained
3 tablespoons tahini
2 clove garlic
4 tablespoons lemon
¼ teaspoon cayenne
1 tablespoon of hot sauce
¼ teaspoon salt
Instructions
Add everything to the food processor and blend on high until nice and creamy.
Refrigerate until ready to use.
Serve with pita bread or fresh cut vegetables.
Nutrition Information:
Yield:

56 tablespoons
Serving Size:

1 tablespoon
Amount Per Serving:
Calories:

11
Total Fat:

1g
Saturated Fat:

0g
Trans Fat:

0g
Unsaturated Fat:

0g
Cholesterol:

0mg
Sodium:

10mg
Carbohydrates:

1g
Fiber:

0g
Sugar:

0g
Protein:

0g
This post may contain affiliate links. For more information please visit our policies page.
---
More pumpkin madness!