Don't throw away those pumpkin seeds when you carve your pumpkin, make these low carb pumpkin seeds roasted in that delicious everything spice. They make a tasty crunchy, salty and healthy keto snack with only 1g net carb per serving.
You might also like these Thai curry roasted pumpkin seeds recipe.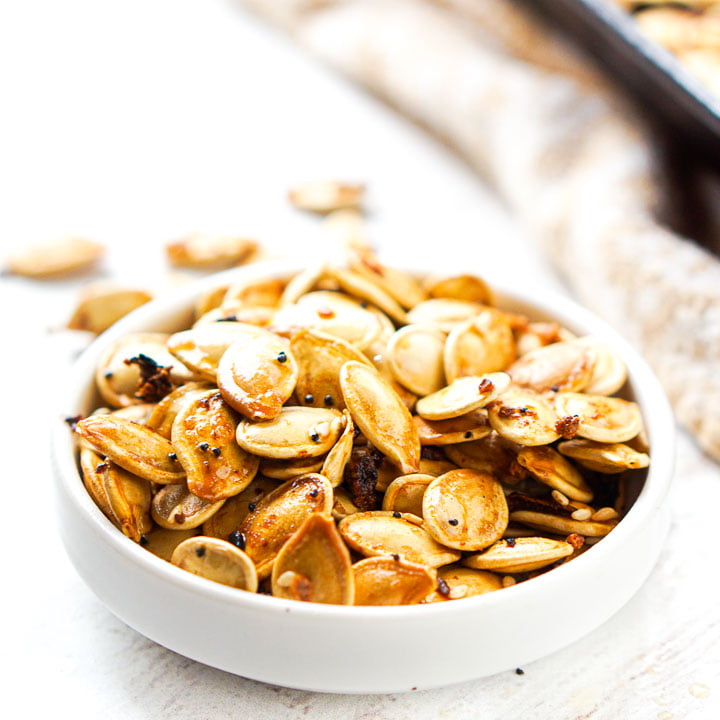 One of my favorite things about fall is roasting pumpkin seeds when we carve our pumpkins. Actually I eat pumpkin seeds all year long but I usually buy them already roasted from Trader Joes.
Today I made these low carb pumpkin seeds that I roasted with everything spices. I love them because they are a healthy and low carb snack and they just taste delicious. This was just a small batch of pumpkin seeds and the whole batch has only 2g net carbs!
Why I love pumpkin seeds on a low carb diet
pumpkin seeds are low carb and full of nutrients
they are very filling so they make a great keto snack
they are easy to prepare and you can vary the flavor with spices and seasonings
you can eat pumpkin seeds on the go so I always have some in the car or at my desk for a healthy snack
pumpkin seeds make a good low carb substitution for crunchy snacks like pretzels or chips
Are pumpkin seeds keto?
Yes pumpkin seeds are good on a keto diet. They are high in fiber, low in carbs and are also full of antioxidants, iron, zinc, magnesium, etc.
The nutritional information for 1/4 cup of pumpkin seeds with shell on is:
120 cals/ 5g fat/ 3g carbs/ 1.99g fiber/ 8g protein = 1.01g net carbs (source)
Pepitas vs pumpkin seeds with the shell
The little green pepitas that you often see in granola bars only come from certain pumpkins that produce the hull-less seeds. The kind of pumpkins you buy for Halloween produce seeds with the shell on like we are using today. (source)
In other words you are unlikely to find the kind of pumpkin at the grocery store that would produce the green hull-less pepitas. You should just buy seeds as is.
Pumpkin seeds with the shell on have more than twice the fiber of hull-less pumpkin seeds – pepitas (source).
And while we are use the regular white shell on seeds today, you could also make this recipe with pepitas.
Let's get cooking
First thing you want to do is scrape out the pumpkin seeds from the pumpkin. So when you carve your pumpkin this Halloween, take out the pumpkin seeds and set aside for this delicious keto snack.
Rince them well and try to get all the orange, stringy pulp off. Then dry them with a paper towel so the oil and seasonings will cling to them.
Now mix them with the olive oil and everything spice and spread out evenly on a cookie sheet.
Bake them in a 350°F oven for 20 minutes until they are brown and toasty. Check on them occasionally to make sure they aren't burning as times may vary depending on the size of your seeds.
How to store roasted seeds
You can store these roasted pumpkin seeds in a sealed container or even a sealed baggie. They should stay crisp and crunchy for a long time.
Because of the oil they can go rancid like all nuts and seeds so I suggest you keep them for 1 to 2 weeks if storing at room temperature. However if you keep them in the refrigerator they can last for up to a few months.
Well I hope you enjoy these everything spice keto pumpkin seeds as much as I did.
The nutritional information for 1/4 cup is:
210 cals / 11.8g fat / 3g carbs / 2g fiber / 8g protein = 1g net carbs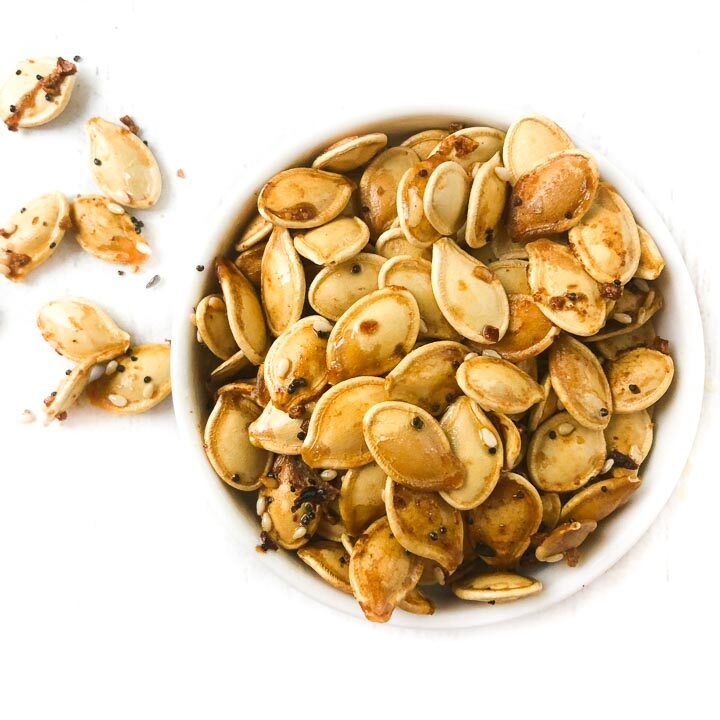 Keto Everything Roasted Pumpkin Seeds
Yield:
1/2 cup - 2 servings
These keto everything roasted pumpkin seeds are the perfect keto snack with fresh seeds from your fall pumpkin. Easy to make and full of that everything bagel spice!
Ingredients
1/2 cup of fresh pumpkin seeds
1 tablespoon of oil
1 tablespoons of everything bagel spice
Instructions
Preheat oven to 350 degrees F.
Make sure your pumpkin seeds are free of pumpkin pulp and are dried before mixing with oil.
Mix the oil, spices and pumpkin seeds in a bowl.
Place pumpkin seeds on a sprayed cookie sheet and spread out evenly.
Roast for 20 minutes or until the seeds are crispy brown. Check every so often as different size seeds may brown quicker and you don't want them to burn.
Notes
Recommended Products
As an Amazon Associate and member of other affiliate programs, I earn from qualifying purchases.
Nutrition Information:
Yield:

1
Serving Size:

1/4 cup
Amount Per Serving:
Calories:

210