These roasted Thai curry pumpkin seeds are delicious! You've got to try this nice little twist when you make your roasted pumpkin seeds this fall. Only 2.1g net carbs per serving.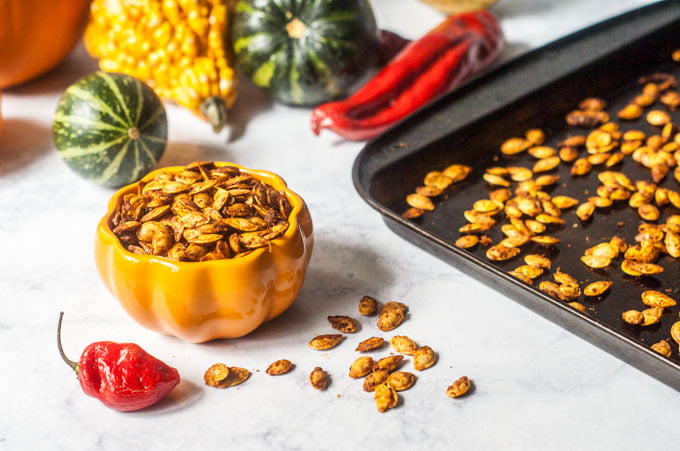 I've made these 3 times already. I will probably scarf up a couple more pumpkins before they leave the grocery store because I love these roasted Thai curry pumpkin seeds so much. I remember when I was a kid that roasting pumpkin seeds were ALMOST as good as the candy. And because we only ate them once a year made them that much more special. This recipe is really simple to make and if you love roasted pumpkin seeds I think you will love these. They have a bit of sweetness and a lot of spice and they are salty and crunchy and yum!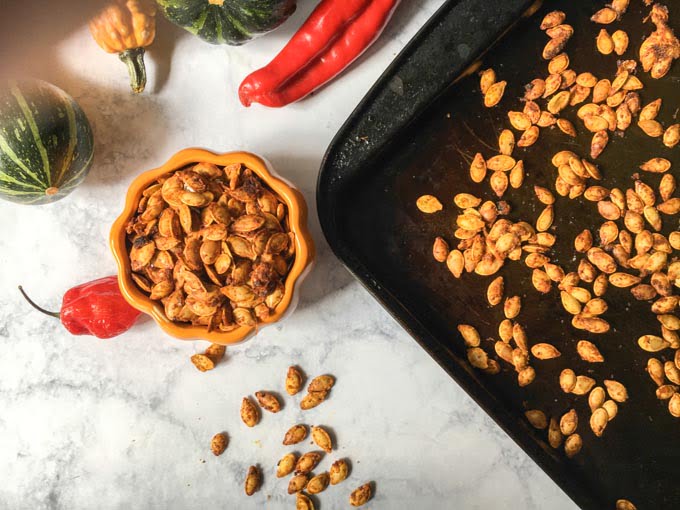 You must know by now that I love my Mae Ploy curry pastes. I use it in my:
It's good stuff plain and simple. In this recipe all you need is the Thai curry paste, coconut oil, brown sugar or sweetener and of course the pumpkin seeds. Below you can see how they look before roasting.
And below you can see all that toasty, spicy goodness of roasted pumpkin seeds.
Pumpkin seeds are good for you by the way. They are high in magnesium, zinc and many other nutrients. You can read more about them in Dr. Mercola's article if you are interested. I just eat them because they taste so good!
Roasted Thai Curry Pumpkin Seeds
Well I hope you get a chance to try this little spin on traditional roasted pumpkin seeds. Please note you do not need to use Mae Ploy curry paste. Most grocery stores sell some type of red curry paste and that will work fine! The nutrition for 1 serving is:
131 cals / 11g fat / 3g carbs / 0.8g fiber / 5.4g protein = 2.1g net carbs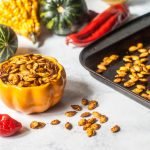 Thai Curry Pumpkin Seeds
These Thai curry pumpkin seeds are delicious! You've got to try this nice little twist when you make your roasted pumpkin seeds this fall.
Ingredients
½

cup

fresh pumpkin seeds

1

tablespoon

coconut oil

1

teaspoon

red curry paste

I use Mae Ploy

¼

teaspoon

salt

1

teaspoon

brown sugar sweetener

I usedJust Like Brown Sugar***
Instructions
Preheat oven to 350 degrees F.

Melt your

coconut oil

in the microwave. it should take about 30 seconds or so.

Add the curry paste and sweetener and mix well.

Place pumpkin seeds on a sprayed cookie sheet and the pour the oil mixture over top.

Try to incorporate the oil with the seeds as best you can using a spoon.

Sprinkle salt over seeds.

Roast for 30 minutes or until the seeds are crispy brown.

*** If you don't care about net carbs, you can use brown sugar or coconut sugar. If you care about the net carbs but don't have brown sugar sweetener, you can use

Swerve

sweetener or Splenda.
This post may contain affiliate links. For more information please visit our policies page.
---
More Pumpkin Goodness For The Season!