If you miss crackers on a keto diet, try this low carb almond flour crackers recipe. It's an easy recipe that you can make with only 4 ingredients and it's gluten free. Topped with cheese these crackers make a great keto snack. Only 3g net carbs for 10 keto crackers!
You might also like this low carb cashew crackers!
If you have never made crackers before, I highly recommend it. Especially if you are on a low carb or gluten free diet. It's so easy and inexpensive so no need to buy them in the store.
For this almond flour crackers recipe, I only used 4 ingredients and they are ones I have on hand all the time so I can make these crackers whenever I want.
Each cracker has only 0.3g net carbs and while they are small in size, that still means 10 of them has only 3g net carbs. Topped with cheese or pepperoni, they make a tasty and easy keto snack.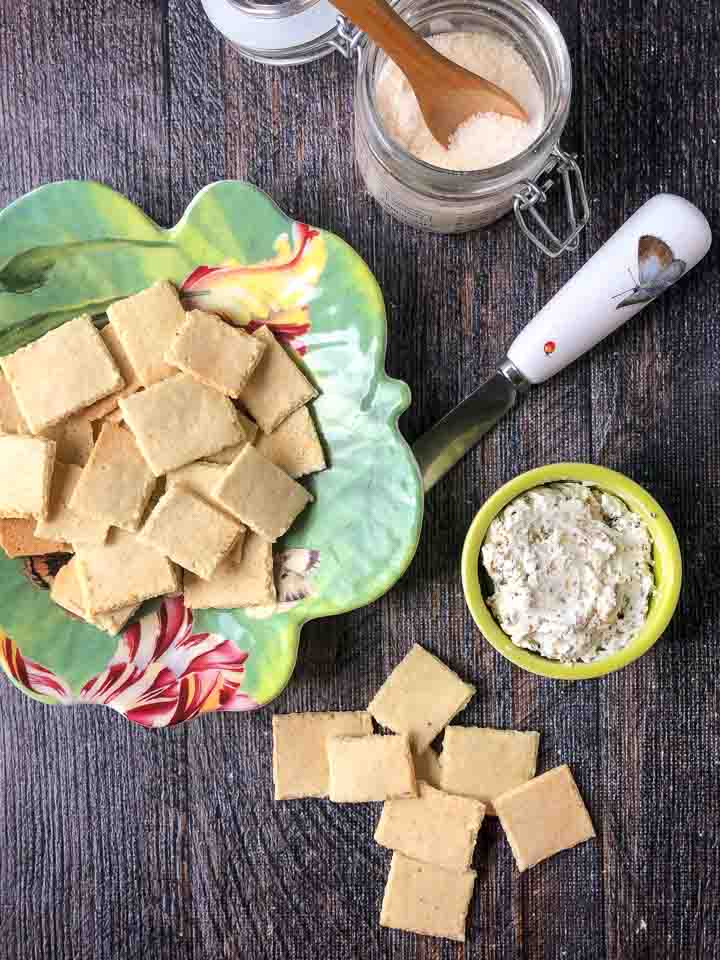 4 ingredients to make Almond flour crackers
As mentioned I have all 4 of these ingredients on hand most of the time. I've bought them all at Aldi. I'm so happy Aldi has almond flour regularly now. Anyway the ingredient are almond flour, onion powder, garlic powder and an egg white.
Let's make some low carb crackers!
Even though these crackers are super easy, they do take a bit of time to bake. You just mix the ingredients and make a dough as seen in the below collage. Then you roll it out as thin as possible on a silicone mat or a piece of parchment paper.
The dough is really sticky so you will want to take a piece of parchment or wax paper, spray some cooking oil on it and then lay it on the dough and use a rolling pin. This keeps the dough from sticking to the rolling pin.
Once you have the cracker dough rolled out, score it with a knife. Make sure not to cut all the way through. This will make it easier for you to break them apart.
Then you bake them for about 12- 15 minutes and then turn off the oven. Take them out and break off the out crackers that are usually thinner and bake faster.
Place the tray back into the oven (even the you've turned it off) and check them every 5-10 minutes. Break off the outer crackers and put the tray back in. Do this until they are all baked.
Ways to change this cracker recipe up
This is a savory low carb cracker but you could make it sweet if you wish. Try some Swerve sweetener and cinnamon. Or even use some raspberry or maple extract in the dough but take out the garlic and onion powder of course.
Other savory combinations might be some Italian seasoning and garlic, rosemary and garlic, or maybe even chili powder and onion powder. Experiment!
Recipe Tips and Notes
Try to roll the dough as thin as you can. I admittedly am not too good at this and my crackers are pretty thick. They are still good but they would be better thinner.
Use a silicone mat or parchment paper because the dough is very sticky. Also use another piece of parchment paper, spray it with cooking spray when rolling out the dough to prevent it sticking to the rolling pin.
You can use any spices you like. You can even try to make them sweet with Swerve sweetener and cinnamon.
Store them in a ziplock bag or sealed container.
Well I hope you give this almond cracker recipe a chance. It really is super easy and I was really please with the taste. The nutritional information for 1 cracker is:
16 cals / 1.3g fat / 0.6g carbs / 0.3g fiber / 0.7g protein = 0.3g net carbs

Note I have this is a really old recipe that I had adapted from Healthy Living How To.com.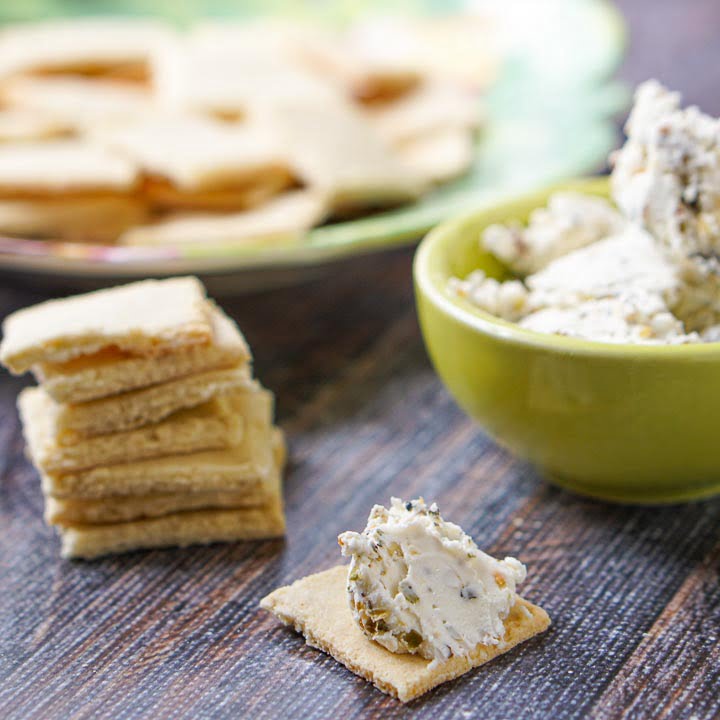 Low Carb Almond Thins
Ingredients
1 1/2 cup almond flour, not almond meal
1/8 teaspoon garlic powder
1/8 teaspoon onion powder
2 egg white
Instructions
Preheat oven to 325 degrees.
Mix all the ingredients in a bowl to form a dough.
Place a Silpat on a cookie sheet. Spray some cooking spray on a piece of wax paper. Place the dough between the Silpat and the wax paper and roll very thin.
Score the crackers with a butter knife and bake for 12-15 minutes. The outer edges will brown faster because they are usually thinner. Just break them off and keep cooking the rest. Checking every couple minutes and taking out the ones that are done.
PLEASE NOTE: I turn off the oven after 15 minutes and keep the crackers in the oven. Check every couple of minutes to break off the ones that are done and return the cookie sheet to the oven to let the rest cook. By turning off the oven you are less likely to burn them. They will still cook as the oven cools off. You only have to do this a couple times and they should be done.
Notes
The nutritional information for 1 cracker is:

16 cals / 1.3g fat / 0.6g carbs / 0.3g fiber / 0.7g protein = 0.3g net carbs
Recommended Products
As an Amazon Associate and member of other affiliate programs, I earn from qualifying purchases.
Nutrition Information:
Yield:

64
Serving Size:

1
Amount Per Serving:
Calories:

16
Net Carbohydrates:

.3g