If you love chocolate milk and chia drinks this is the recipe for you. This keto chocolate milk chia drink is thick, sweet, filling and full chocolate flavor. You only need 4 ingredients to make this healthy drink. This chia drink is low carb (2g) and high protein (9g) as well as a good source of fiber (18g). Great for an easy keto sweet snack or even a low carb breakfast!
You might also like this low carb Thai tea chia drink recipe!
I've been craving chocolate lately and while scanning my huge bag of chia seeds decided to make his keto chocolate milk chia drink. It was so easy, tasty and filling! It's perfect for an afternoon low carb snack.
All you need are a few ingredients and you mix a batch up in the morning, place it in the refrigerator to do it's magic and you can drink it at lunch. It's a great way to satisfy chocolate cravings.
What I really like about chia drinks are that they have a high fiber content and really fill you up. And the keto chocolate milk is just plain delicious to me! If you add a little protein powder it would be a good low carb meal replacement option.
Health benefits of chia seeds.
Chia seeds are native to Mexico when they are placed in a liquid the expand and form a thick gel. Since they don't have any flavor they take on the liquid they are placed in like today's keto chocolate milk!
Chia seeds are full of fiber so they fill you up and help digestion. They are high in fiber and protein, a good source of omega-3 fatty acids and also high in many minerals like selenium, magnesium, and calcium. (source)
Chia seeds are very healthy and if you like the taste of texture of them, you might want to make them a part of your diet.
Recipe ingredients I used.
All you need to make this yummy sugar free drink is 4 simple ingredients – chia seeds, unsweetened cocoa powder, Swerve confectioners sweetener and unsweetened almond milk.
As I have mentioned many times I like to use good cocoa powder like Divine cocoa or Guittard cocoa rouge because they have less carbs that regular and much better taste. But of course you can still use regular unsweetened cocoa powder.
As for sweetener I used Swerve confectioners sweetener because I like how it dissolves easier than granular but you can use your sweetener of choice. I sometimes like to use vanilla cream liquid stevia which are very sweet. But again use your favorite keto sweetener.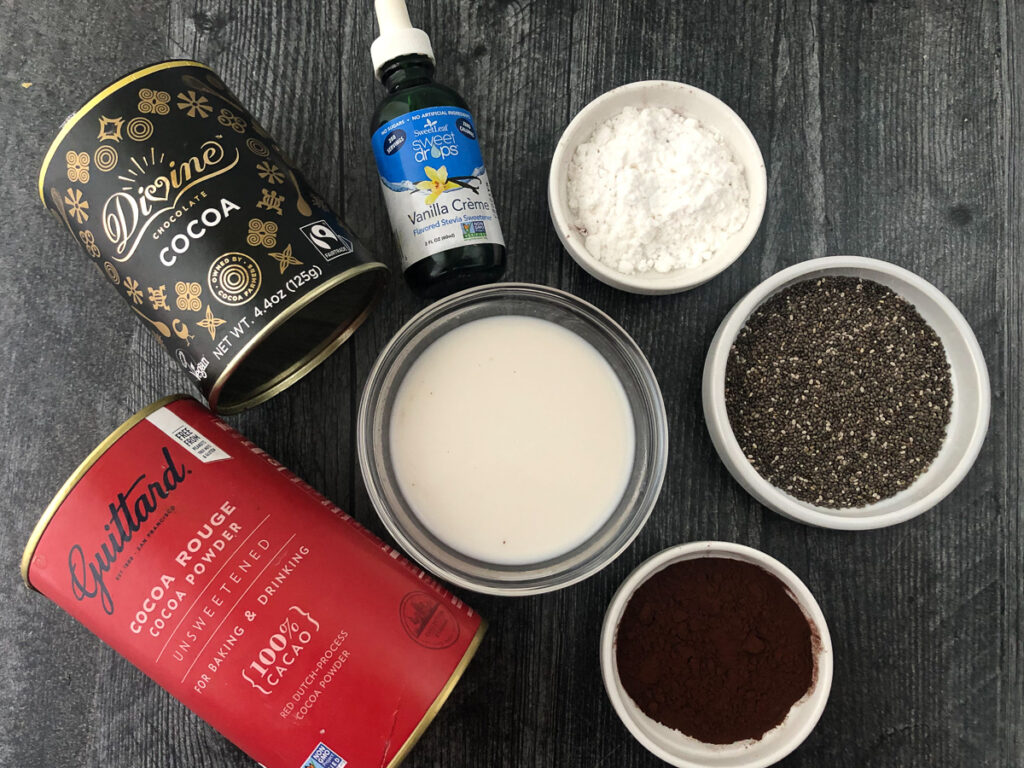 How to make chia chocolate milk drink.
Step 1: This couldn't be more easy. First you get a large glass mason jar if you have one, and add the almond milk, Swerve sweetener and cocoa powder.
Mix it well with a whisk to make sure the cocoa powder and sweetener are well combined with the almond milk.
Step 2: Add the chia seeds to the chocolate mixture and mix well. Place the jar in the refrigerator for about 2-4 hours. If you can open the refrigerator every once in awhile and mix it again because the chia seeds will clump together.
But it's not a big deal if you forget. Just make sure you really mix well once the chia seeds have swelled after a few hours.
NOTE: If you don't like the texture of the gelled chia seeds you could also place all of this into a high speed blender and blend until the seeds are mixed well with the other ingredients. It will still thicken the drink and you will have all the health benefits but it won't be as thick as the gelled state.
Step 3: Taste the keto chocolate milk and seed if it sweet enough. You can always add more sweetener at this point to get it to your desired sweetness level.
If you make this in a jar, you can use add the lid or plastic wrap and store in the refrigerator. Otherwise store in an airtight container of your choice. (Please scroll down to view the printable recipe card.)
NOTE: This makes 1 large chia drink with only 2g net carbs and 9g protein. However you can make this into 2 small drinks because it is filling. Which of course would only have 1 gram net carbs, 9 grams of fiber and 4.5 grams of protein.
Other low carb things you can put in your chocolate milk.
If you want to add even more flavor to this keto drink, you can try one of these additions.
Add a sugar free syrup to change up the flavor such as Torani sugar free syrups like salted caramel, pumpkin spice, hazelnut, etc.
Substitute some of the almond milk with heavy cream for a decadent version of this drink. Or try some canned coconut milk for a different flavor.
Try a baking extract like vanilla extract, almond, mint, orange, raspberry, etc. You can find these in the baking aisle at the supermarket.
Top with whipped cream and a sprinkle of cocoa powder, shredded toasted coconut, sugar free chocolate chips, dark chocolate shavings or cocoa nibs.
Add your favorite protein powder to make it thicker and even more healthier.
Try adding almond butter or other nut butters like peanut butter or even peanut butter powder.
More things you can do with chia seeds.
Here are few more low carb recipes you can make with chia seeds.
Well I hope you give this keto chocolate milk chia drink a try. It has the rich chocolate flavor and thickness like a chocolate shake. I liked to drink it for a low carb sweet treat and it really satisfies my sweet tooth.
And I just love chia drinks because they are fun to drink and also very filling. So it's perfect for a breakfast or afternoon keto sweet snack.
The nutritional information for 1 large serving is : 267 calories / 16g fat / 20g carbs / 18g fiber / 9g protein = 2g net carbs.
Keto Chocolate Milk Chia Drink
Total Time:
2 hours
5 minutes
This keto chocolate milk chia drink recipe is the perfect way to start you day. It's full of fiber and protein as well as being a low carb drink. You can also make it for a healthy snack. Easy and nutritious!
Ingredients
2 cups almond milk, unsweetened 
1 tablespoon cocoa powder (I like Divine or Guittard)
3 tablespoons Swerve confectioners sweetener
3 tablespoons chia seeds
Instructions
Add almond milk, cocoa powder and Swerve sweetener to a glass mason jar or other container.
Mix well with a whisk or even a blender to get the cocoa powder well incorporated.
Add in the chia seeds and mix well. Place in the refrigerator for 2-4 hours until the seeds swell and thicken the chocolate milk.
Note if you don't like the texture of the chia seeds you can add everything to a blender and blend on high to crush the seeds. Place the refrigerator for about an hour to thicken the drink. It will be thicker though if you don't blend at all.
Notes
The nutritional information for 1 large serving is : 267 calories / 16g fat / 20g carbs / 18g fiber / 9g protein = 2g net carbs.
NOTE: This makes 1 large chia drink with only 2g net carbs and 9g protein. However you can make this into 2 small drinks because it is filling. Which of course would only have 1g net carbs, 9g fiber and 4.5g protein.
You can add other things to change up the flavor like Torani sugar free syrups, baking extracts, top with whipped cream or add protein powder to up the nutrition.
Nutrition Information:
Yield:

1
Serving Size:

1
Amount Per Serving:
Calories:

267