This golden turmeric chai smoothie bowl is the perfect way to start your day. A healthy, tasty breakfast you can make in just minutes.
I made today's smoothie bowl for 2 reasons. The first is that I got my first and hopefully my last cold of the season and wanted to use some healthy ingredients to support my immune system. The second reason is that I just love both golden milk and chai and was craving those flavors. So this turmeric chai smoothie bowl is a flavor combination of healthful golden milk and chai tea. It is delicious! Oh and there is a third reason: smoothie bowls are so fun to decorate! 😉
Have you ever heard of golden milk? It's a combination of turmeric, coconut milk or oil and black pepper. Turmeric contains curcumin which a strong anti-inflammatory and promotes healthy cell function. Black pepper has properties that help you absorb the turmeric better and the coconut oil or milk has antioxidants and can help against certain viruses. You can learn more about all the great healthy benefits of golden milk here. 
To make this creamy concoction I started with an avocado, coconut milk, turmeric, fresh ginger and lots of spices. Just add everything to a high speed blender and pour into a large bowl. Then the fun part starts. You get to decorate it with fruit, nuts, seeds, etc. I used shredded coconut, chia seeds, raspberries and goji berries to make mine but some other things you can try are sunflower seeds, pumpkin seeds, flax seed, almond, pecans, walnuts, berries, or dried fruit. 
Turmeric Chai Smoothie Bowl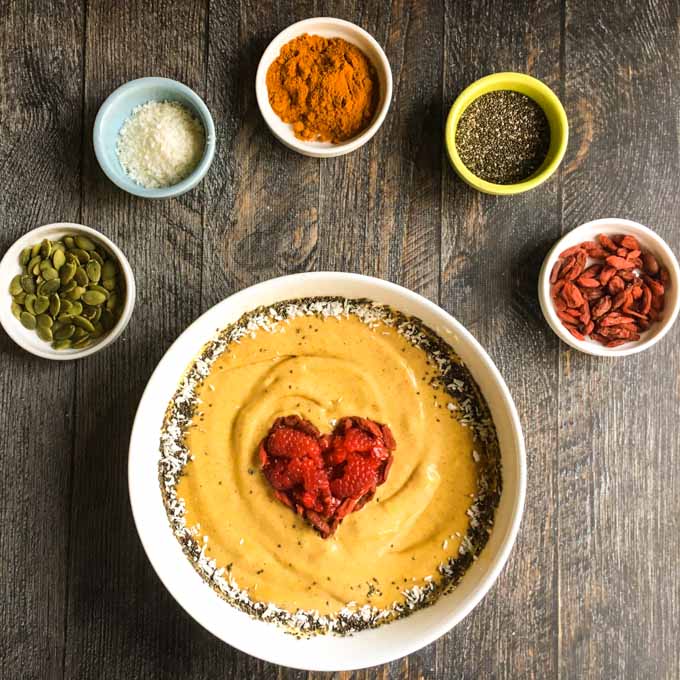 If you like chai tea or golden milk, you will love this smoothie bowl. Of course you can eliminate the toppings and just drink it as a thick smoothie. It's delicious! This recipe makes a big batch that you can split into two smaller bowls if you want. Enjoy!
Turmeric Chai Smoothie Bowl
This turmeric chai smoothie bowl is the perfect way to start your day. A healthy, tasty breakfast you can make in just minutes.
Author:
Denise Wright (MyLifeCookbook.com)
Ingredients
½ avocado
1 cup coconut milk
3-4 ice cubes
1 teaspoon vanilla
1 teaspoon turmeric powder
2 teaspoons ginger, grated
½ teaspoon black pepper
1 teaspoon cinnamon
½ teaspoon cardamon
½ teaspoon nutmeg
1-2 tablespoons honey (or sweetener of choice)
1 scoop vanilla protein powder (optional)
raspberries, coconut, chia seeds to garnish (optional)
Instructions
In a blender add the ice cubes, coconut milk, avocado, vanilla, and all the spices and blend on high.
Add to a bowl and top with any fruits, nuts, seeds or coconut. I used raspberries, coconut and chia seeds.
THIS POST MAY CONTAIN AFFILIATE LINKS. FOR MORE INFO PLEASE VISIT OUR POLICIES PAGE.
---
More smoothies for you!