Try these keto cream cheese pancakes for a delicious low carb breakfast. These easy keto pancakes are made with cream cheese and egg to make them light and fluffy. Then you can top them with a simple sugar free blueberry sauce for a delicious low carb breakfas. Each has just 2.1g net carbs per pancake and only need 5 ingredients.
You might also like these keto blueberry waffles.
I rarely eat regular traditional pancakes because they immediately make me want to take a nap. But today I wanted a sweet treat for breakfast and thought I'd try a low carb version.
So I got out my new mini Dash griddle and made some easy keto cream cheese pancakes and topped them with a yummy blueberry sauce.They were so good and I didn't want to fall asleep afterward!
These low carb pancakes were light and fluffy and took no time to make. Even with the blueberry sauce, the whole recipe only took 15 minutes! And I only used 5 ingredients.
Another plus for these gluten free pancakes are that I didn't use any almond flour so if you have a nut allergies they will work for you too. This recipe is great for those who crave comfort food for breakfast and are on a low carb diet.
Why I love my mini Dash griddle!
Recently I bought a Dash mini waffle maker. It's great for making keto chaffles because of the small size they are easy to get out. So when I saw the griddle I thought I'd try that one too.
The Dash mini griddle is also very handy. It's perfect for making a fried egg for a sausage egg sandwich. You can also use these mini low carb tortillas with it to make keto pizza quesadillas. And now I'm making pancakes with it.
These mini Dash products are usually less than $15 and you can buy them on Amazon or at Target. For a small kitchen appliance I highly recommend them for low carb cooking. I liked them so much I gave them to my nieces for Christmas!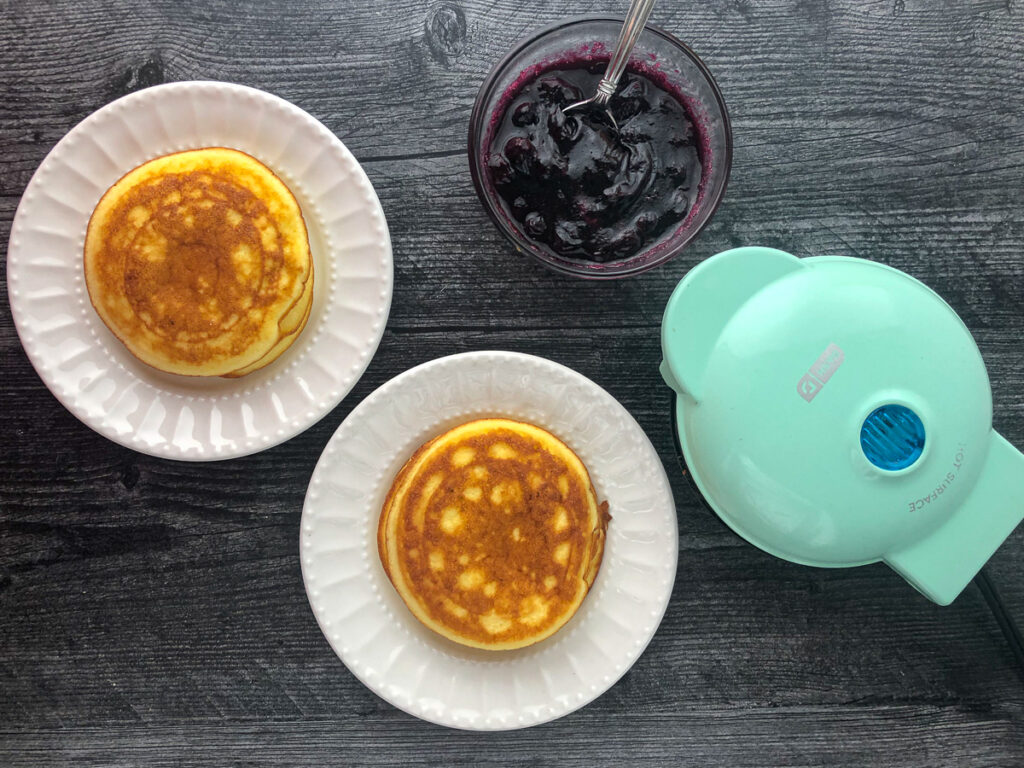 The 5 recipe ingredients I used.
The 5 simple ingredients for cream cheese pancakes are whipped cream cheese, eggs, coconut flour, baking powder and Swerve powdered sugar sweetener.
Note I used whipped cream cheese that comes in a tub. I think it gives the pancakes a lighter, fluffy texture. However you can use regular if you want. just make sure it is room temperature so it mixes well with the other ingredients.
For the blueberry sauce I just used fresh blueberries and Swerve sweetener. You could also use frozen blueberries if you want. And of course you can use your choice of sweetener though I like Swerve confectioners as it dissolves quickly into the sauce and pancakes.
How to make keto cream cheese pancakes.
Step 1: Get the blueberry sauce going if you are using that. Add the blueberries, Swerve sweetener and water to a pan and let it simmer while you are making the pancakes.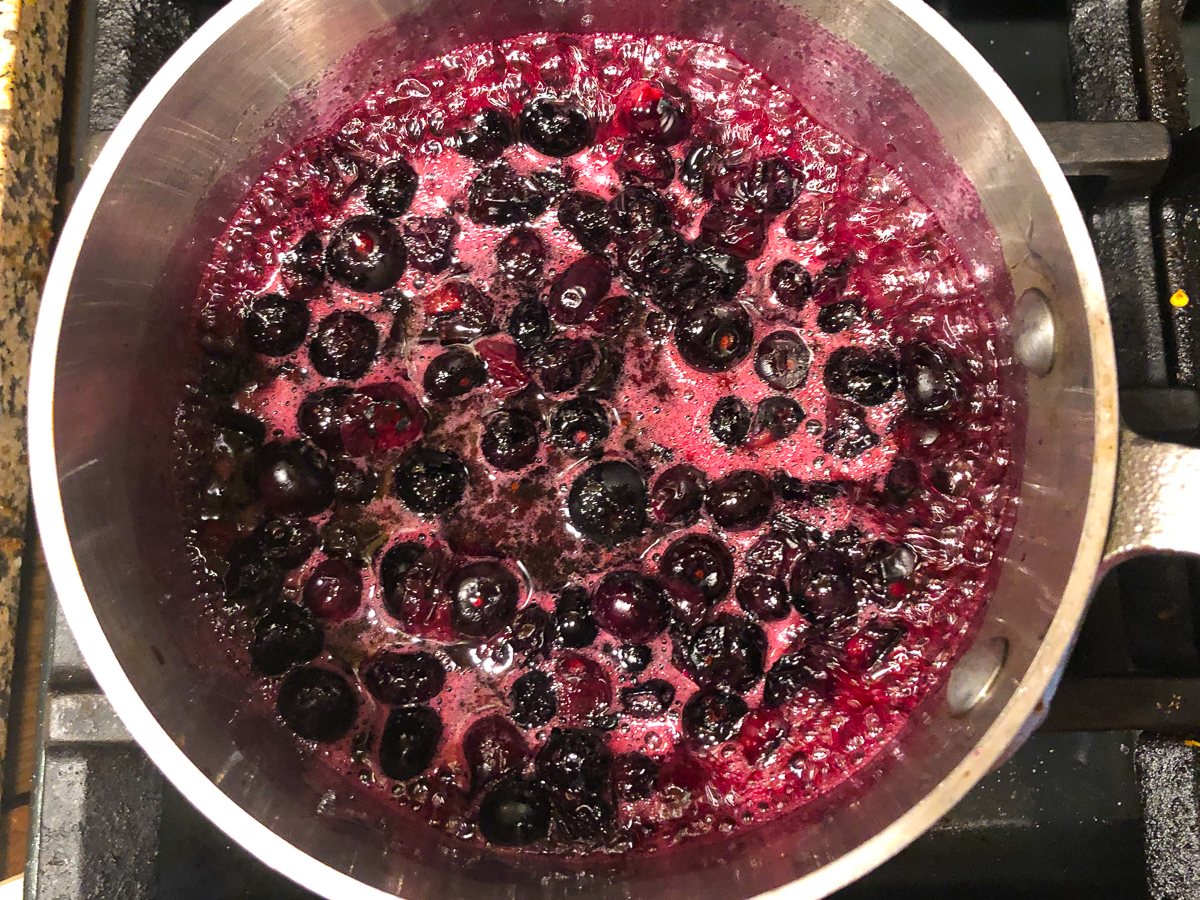 Step 2: To make the cream cheese pancakes, add the cream cheese, egg, baking powder, sweetener and coconut flour to a high speed blender. Blend until everything is well combined. Let it sit for 3-5 minutes and the batter will thicken because of the coconut flour.
Step 3: While the pancake batter is setting, heat up the griddle and then spray with nonstick cooking spray or melted butter or coconut oil.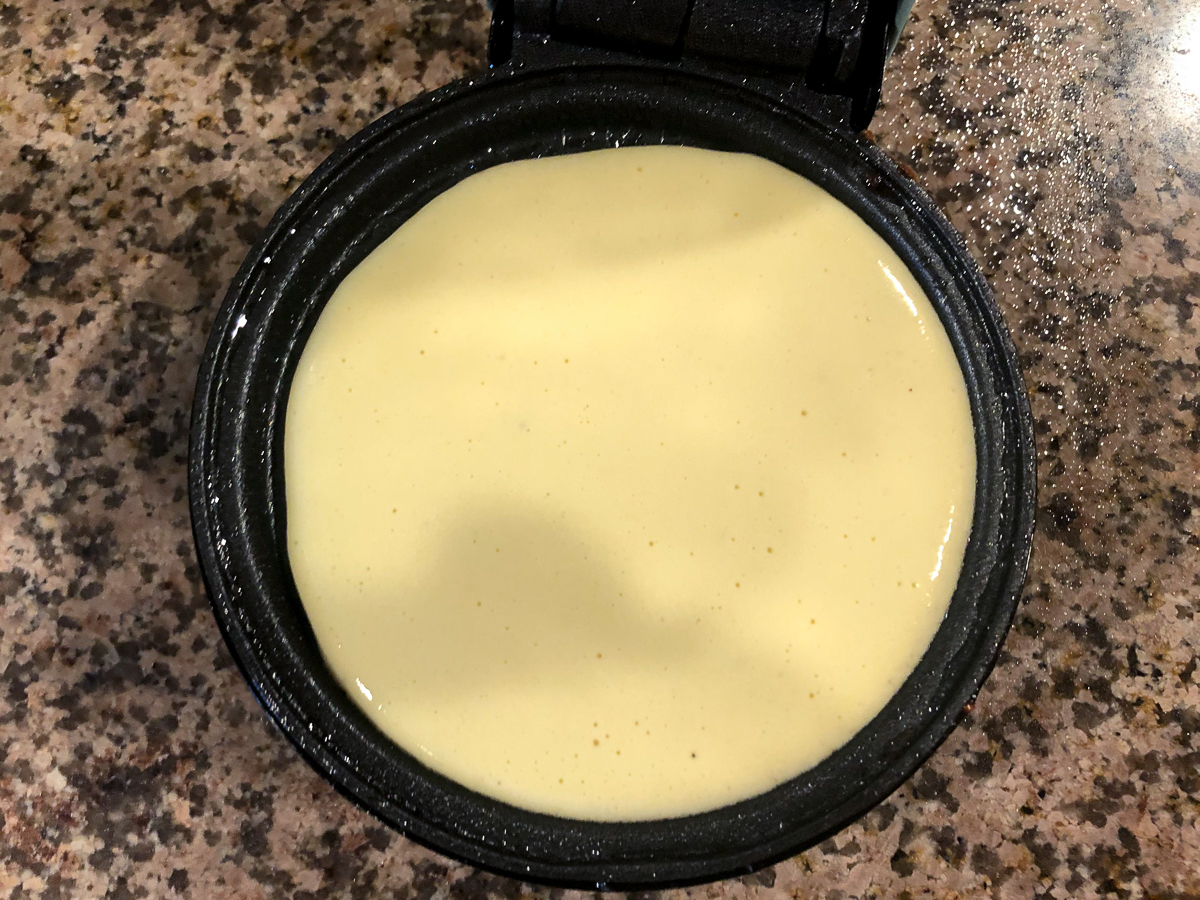 Step 4: Add about 3 tablespoons of the batter to the mini Dash griddle or you can make larger pancakes using a regular skillet. This recipe made 6 medium sized fluffy pancakes.
Let cook for a couple of minutes until golden brown and take it out of the mini griddle or flip if using a pan.
Step 5: If you are using the blueberry sauce it should be done. Take it off the heat and let it set for a few minutes to let it thicken even more. Use to top your pancakes and serve.
Store leftover pancakes in an airtight container in the refrigerator. They will have better texture if you reheat them in a skillet or the mini griddle. (Please scroll down to view the printable recipe card.)
You can add other tasty things to these low carb cream cheese pancakes such as sugar free chocolate chips or add a few blueberries to the batter. They are very versatile.
Other ways to use the sugar free blueberry sauce.
I have a more complete post on the keto blueberry sauce if you are interested in reading. You can use this simple fruit sauce on these low carb recipes.
These keto coconut flour pancakes were very easy to make and I will definitely be making them in the future. I think they would be great to freeze for easy keto meal prep.
Today I used the blueberry sauce but I think they would also be great with butter and cinnamon sweetener. Of course you can buy Lakanto keto pancake syrup or another brand of sugar free syrup but I enjoy the fruit sauce myself.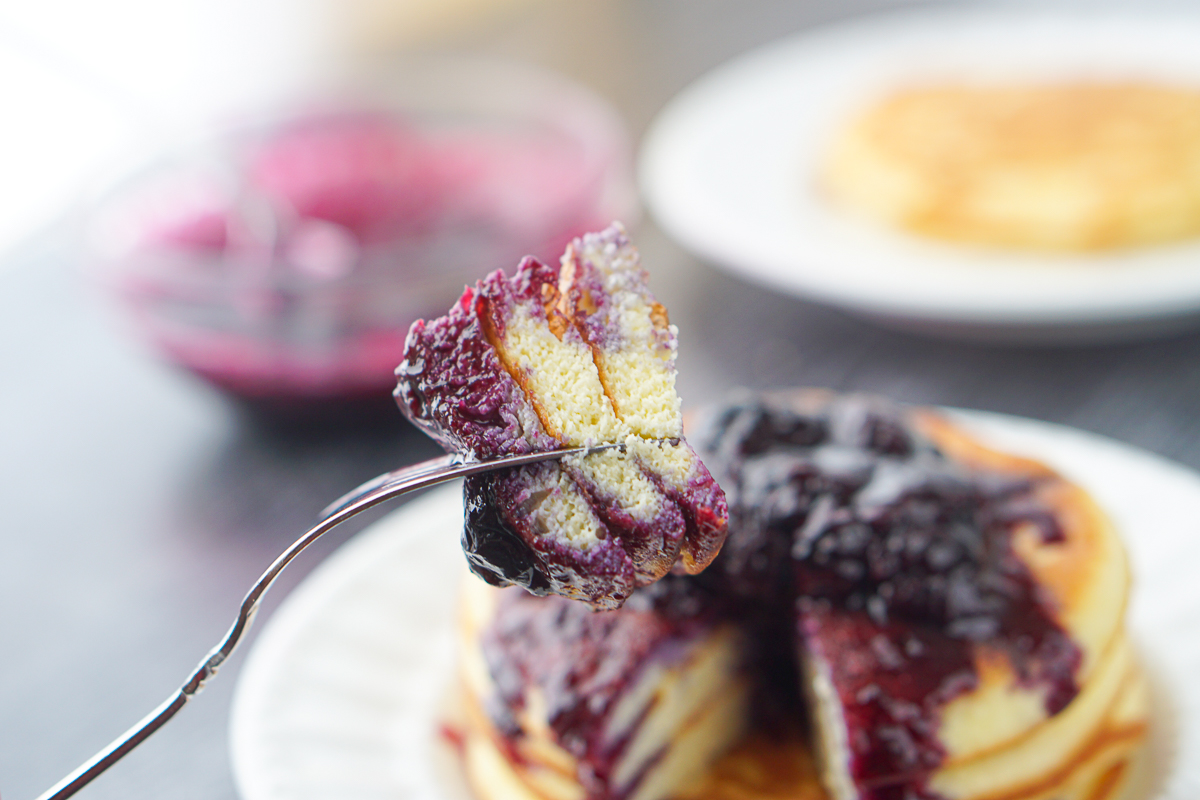 Next time you need a little comfort food for breakfast, skip the regular pancakes and try these fluffy keto pancakes with cream cheese. With or without the sugar free blueberry sauce, you will love how good they taste! It's definitely a keto family friendly recipe.
The nutritional information for 1 pancake is 60 calories / 4.2g fat / 3.4g carbs / 1.3g fiber / 3g protein = 2.1g net carbs
Keto Cream Cheese Pancake Recipe
These keto cream cheese pancakes are delicious and fluffy with great texture. The are sugar free and gluten free and make a great low carb breakfast. Top them with a sugar blueberry sauce or your own sugar free maple syrup.
Ingredients
6 tablespoons cream cheese, whipped if possible
2 eggs
½ teaspoon baking powder
1 tablespoon Swerve confectioners sweetener
2 tablespoons coconut flour
1 cup blueberries (for sauce - optional)
¼ cup Swerve confectioners sweetener (for sauce - optional)
2 tablespoons water (for sauce - optional)
Instructions
If making the sauce, add the blueberries, ¼ cup sweetener and 2 tablespoons of water to a small pan. Mix well and turn the heat to medium heat. Stir occasionally while making the pancakes.
Add the pancake ingredients to a high speed blender and blend for 30 seconds on low until everything is well incorporated.
Heat up a pan or the Dash mini griddle. Spray with nonstick cooking spray for either one you are using. Add about 3 tablespoons of batter to the mini griddle if using. If you are using a regular pan you can make them any size you want.
Let cook for 1-2 minutes and continue with all the batter if using the griddle. If using a pan, flip after a minute or two and cook the other side.
Let sit for a minute when the pancakes are done. By then the blueberry sauce should be thickend and reduced. Let cool for a few minutes and use to cover your pancakes.
Or you can use your own low carb pancake syrup. I sometimes like them with butter, cinnamon and sweetener sprinkled over top.
Nutrition Information:
Yield:

6
Serving Size:

1
Amount Per Serving:
Calories:

60