These low carb berry scones not only low carb, they are gluten free and so delicious! Using almond flour and frozen berries it takes only minutes.
I have never made scones before. I'm not sure if I mentioned this but I am a not a good baker. I feel like I'm a pretty good cook but not a baker. So when I saw this recipe for low carb berry scones and I had all the ingredients I thought I'd give it a try. While I'm not much of a fan of sweet breakfasts, these berry scones are just sweet enough and very filling.
I also wanted to have a gluten-free breakfast item for my husband to eat. He loves his blueberry bagel in the morning and I'm trying to get him away from that after reading Grain Brain and Wheat Belly. So this was an attempt to make something he would like. And he did. He said he would definitely eat this for breakfast so I am happy. 🙂
It's very easy to whip up and I'm sure you could freeze them but since it only makes 6 scones, they go fast. It's adapted from Healthy Living How To's Cranberry Drop Scones. All I did was substitute frozen berries instead of the cranberries and eliminated the cinnamon. Try them out and let me know how you like them.
Low Carb Berry Scones
If you like low carb breakfast recipes check out my new peach scones, maple walnut biscotti and my most popular recipe savory breakfast cookies.
The nutritional information for 1 scone is:
152 cals / 11.3g fat / 18.4g carbs / 13.5g fiber / 3.5g protein = 4.9g net carbs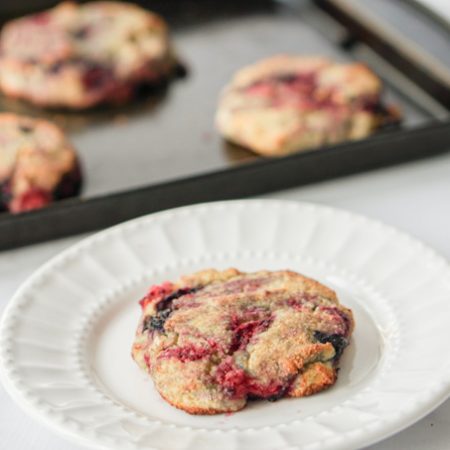 Low Carb Berry Scones
This is an adaptation of How Living How To's Cranberry Drop Scones. See above for link.
Ingredients
1

cup

almond flour

(not almond meal)

2

Tablespoons

coconut flour

2

teaspoons

baking powder

¼

cup

Swerve or Splenda

pinch

salt

2

eggs

1 ½

teaspoons

vanilla

½

cup

frozen berries

chopped
Instructions
Preheat oven to 375 degrees.

Beat the eggs and add vanilla.

In a separate bowl, mix almond flour, coconut flour, baking powered, sweetener, cinnamon and salt.

Add egg mixture until it forms a dough. Slowly fold in berries. Don't mix too much or your dough will start to look gray from the berries.

Put a piece of parchment paper or a Silpat on a cookie tray. Form dough into 6 scones (any form you like really).

Bake 12-15 minutes till golden brown. Let sit and cool.