These maple walnut low carb biscotti are the perfect gluten free snack. Enjoy with a nice cup of coffee for an afternoon break or even as dessert! Easy to make, this keto biscotti also makes a great gift.
You might also like these keto chocolate brownie cookies!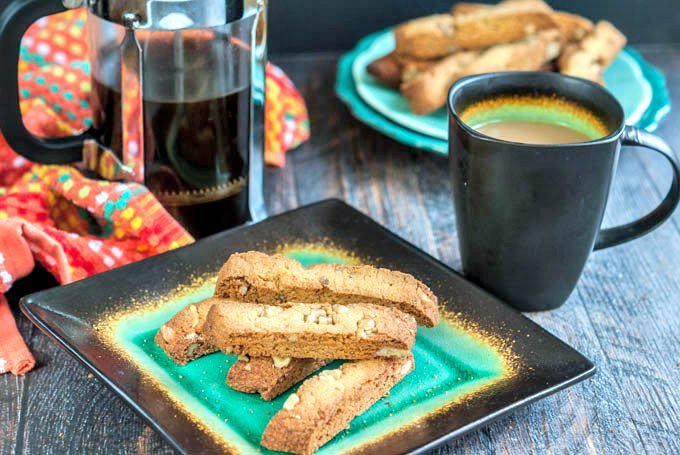 I'm really into biscotti these days. For one thing it's so easy to make and for another it satisfies my craving for cookies.
Usually by mid afternoon I need a little pick me up so lately I grab a cup of coffee and a piece of biscotti and head out to the porch (if it's warm enough). I love the peace and solitude, not to mention the caffeine and sweets!
However with this maple walnut low carb biscotti I don't feel guilty about it. Not only is it gluten free, it only has 2.2g net carbs and is sugar free!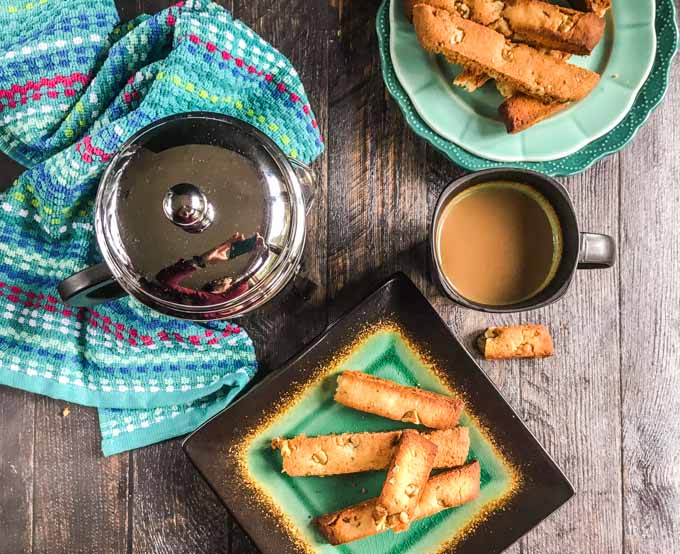 Recipe Ingredients I Used.
You only need a few ingredients to make his gluten free biscotti and they are almond flour, coconut flour, baking powder, sweetener, eggs, maple extract and melted butter.
How To Make Maple Walnut Keto Biscotti.
Now let's make some biscotti. This is very easy to make but it does take some time to because you have to bake it low and slow to get it nice and crunchy.
Start by mixing the wet ingredients (eggs, melted butter and maple extract) in a bowl. mix
In a separate bowl mix the almond flour, sweetener, coconut flour and baking powder.
Mix the wet and dry ingredients together and then the walnuts to make a dough. It should be the consistency of cookie dough.
Use a silicone mat or a piece of parchment paper and place that on a cookie sheet. Form the dough into a long, flat log shape.
Bake in a 300°F oven for 22-25 minutes until it's lightly browned.
Next take it out of the oven but don't turn the oven off. You are not done yet! Wait for about 30 minutes then slice the biscotti using a straight edge knife and just press straight down so it won't crumble.
Turn then on their sides and bake another 10 minutes. Flip them and bake another 10 minutes.
Lastly turn off the oven and let them sit in there for at least an hour to get them hard and crunchy.
So this is how I treat myself in the afternoon. A nice cup of coffee or tea and a sugar free, gluten free biscotti.
More Low Carb Biscotti Recipes To Try.
I'm just updating this post to let you know about my latest low carb biscotti recipes. I made a cranberry pistachio biscotti for the holidays with red cranberries and green pistachios.
And my more recent recipes are this keto chocolate chip biscotti and this keto cinnamon toast biscotti. Such a delicious afternoon low carb snack!
Well I hope you liked this biscotti recipe. I made 3 batches of this one to get it right (though they were all good) so I'm set for quite awhile. Enjoy!
The nutrition for 1 piece of biscotti is: 116 cals / 9.8g fat / 4.6g carbs / 2.4g fiber / 4.3g protein = 2.2g net carbs
Gluten Free Maple Walnut Biscotti (low carb, dairy free)
Total Time:
2 hours
10 minutes
These gluten free, maple walnut biscotti are the perfect low carb treat. Enjoy with a nice cup of coffee for an afternoon break or even as dessert!
Ingredients
1 cup almond flour
1 tablespoon coconut flour
¼ cup Swerve sweetener
1 egg
2 tablespoons butter, melted
2 teaspoon maple extract
1 teaspoon baking powder
¼ cup walnuts
Instructions
Preheat oven to 300 degree F.
In a large bowl add egg and maple extract and beat well. Add in butter and mix again.
In another bowl mix together the almond flour, coconut flour, Swerve sweetener and baking powder.
Add the dry ingredients to the wet ingredients and mix well, and then add the walnuts.
Mix to combine.
Add a piece of parchment or a silicon mat to a cookie sheet.
Place the dough on the parchment and form a long, flat log shape.
Bake for 22-25 minutes or until lightly browned.
Take out of the oven but do not turn off. Let cool for 30 minutes and then cut into pieces using a flat edge knife. Push straight down with knife so not to crumble when cutting.
Place pieces on side and bake for 10 minutes.
Flip the pieces to the other side and bake for 10 more minutes.
When done, turn off oven but keep biscotti inside for at least 1 hour to dry out.
Store in an airtight container.
*Note on sweetener* You can use whatever sweetener you like or even white sugar. As long as it is the equivalent to ½ cup of white sugar.
Nutrition Information:
Yield:

10
Serving Size:

1
Amount Per Serving:
Calories:

116
Unsaturated Fat:

0g