This tasty peach scone recipe is easy to make super tasty with fresh summer peaches. Not only are these peach scones low carb, they are gluten free and sugar free too. Perfect for a quick low carb breakfast in the morning with only 4g net carbs.
You might also like these low carb berry scone recipe too!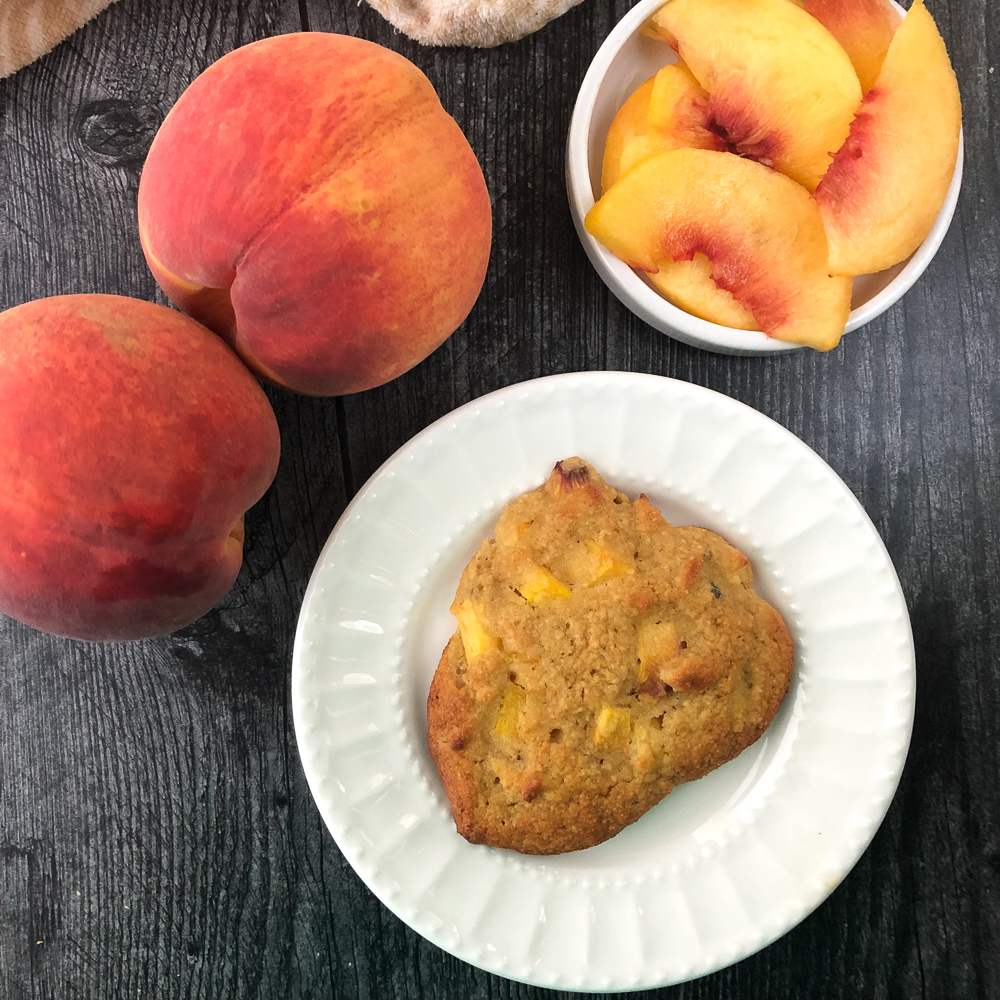 My husband just started cutting a few carbs out of his diet. Gone are his morning bagels and peach oatmeal.
Here to take their place is this lovely low carb peach scone recipe. Made from almond flour, these scones are gluten free, low carb and very easy to whip up. They are also dairy free because I don't use any butter or milk.
You can even freeze them to have on grab and go low carb breakfast or snack!
I think I have told you more than a few times that I am not much of a baker. However I can make this type of scone.
It involves essentially just mixing everything in a bowl and placing it on a cookie sheet to bake. That is it. If I can do it, so can you.
Are peaches low carb?
Technically I would say that peaches are low carb. However they are not that bad. When using them in a recipe like this in which we are only using 1 cup it works.
The nutritional information for 1 cup of fresh peaches is 71 calories, 15.6 carbs, 2.3g fiber and 1.4g of protein. So the net carbs are 13.3g. (source)
So if you were eating a cup of peaches it might be pretty high in carbs but when baking with that amount you are not consuming as many carbs.
Recipe ingredients I used.
The simple ingredients I used were almond flour, coconut flour, baking powder, cinnamon, Swerve brown sugar sweetener, eggs, vanilla extract, salt and fresh peaches.
I have never used frozen peaches but I think they would work if they were thawed and there was no added liquid. Do not use canned peaches as they would usually have added sugar.
I use Swerve brown sugar sweetener because it works really well with baking and has no carbs. It's a zero calorie sweetener that measures cup for cup like sugar. Lakanto golden sweetener is another good one. And if you don't care about carbs coconut sugar is a nice option.
Another note about almond flour. By far my favorite almond flour is Honeyville blanched almond flour. There are no skins because the almonds are blanched and it's a fine grind which is great for low carb baking. I usually buy mine on Amazon but recently I've seen it at Costco so check it out there.
How to make low carb peach scones.
This peach scone recipe is super easy to make. You just basically mix and bake!
Step 1: Preheat the oven to 375°F. Place piece of parchment paper or silcone mat on a baking sheet.
Step 2: In a medium bowl, beat the eggs with a whisk or fork and add the vanilla extract.
Step 3: In a separate bowl mix the dry ingredients (almond flour, baking powder, salt, coconut flour, Swerve brown sugar and cinnamon.)
Step 4: Blend the dry mixture with the wet ingredients and mix to form a sticky dough. Then fold in the peaches with a rubber spatula. Below you can see the scone dough or batter is pretty wet.
Step 5: Divide the mixture into 8 portions and form them into circles or triangles in your hands and place on the prepared baking sheet. The dough is sticky so smooth them scones out once you have them on the tray.
Step 6: Place in the oven and bake for 15-20 minutes until golden brown. Baking time may vary. Let cool completely before eating. Store the baked scones in an airtight container. (Please scroll down to view and print the recipe card.)
I think next time I make these I'm going to add some fresh ginger. Ginger and peach go so well together. I recently made a ginger peach chia jam and will link to that once the post is live.
How to freeze these scones for later.
And as I mentioned earlier you can freeze these and microwave them for a quick low carb breakfast.
You can either place a few in baggies and freeze or sometimes I like to place them in a container and use wax paper to in between layers like you would if you were freezing cookies.
To eat them whenever you want, just pop them in the microwave for about 30-60 seconds. Let them sit for a few minutes before eating.
Well I hope you liked these gluten free peach scones. My hubby did and I guess I'll be making more! They are really good with fresh juicy peaches in the summer. Please let me know if you have any questions and as always, enjoy! 
You might also like these low carb glazed orange scones from my friend Sara.
This recipe makes 8 scones and each scone has the following nutritional value: 120 cal / 8.4g fat / 14.3g carbs / 10.3g fiber / 4.9g protein = 4g net carbs
---
Low Carb Peach Scones (gluten free, sugar free)
These tasty, fresh peach scones are low carb and gluten free. Easy to make and perfect for a quick breakfast in the morning using sweet peaches. Freezable too!
Ingredients
1 cup almond flour, (not almond meal)
2 tablespoons coconut flour
2 teaspoons baking powder
¼ cup Swerve Brown Sugar Sweetener or Lakanto Golden
½ teaspoon cinnamon
pinch salt
2 eggs
1 teaspoons vanilla extract
1 cup peaches, chopped
Instructions
Preheat oven to 375°F
In one bowl, beat eggs and add vanilla.
In another bowl add almond flour, coconut flour, baking powder, salt, Swerve sweetener and cinnamon.
Add the dry ingredients to the wet and mix to form a dough.
Fold in peaches.
Cover a cookie sheet with parchment paper (or use a silicone mat) divide the dough into 8 pieces and form a circle or triangle shapes.
Bake for 15-20 minutes or until lightly browned. Let cool completely before eating. Store in an air-tight container.
Nutrition Information:
Yield:

8
Serving Size:

1
Amount Per Serving:
Calories:

120
Unsaturated Fat:

0g