This keto beef stew is easy to make in the slow cooker and full of beefy flavor. There is big chunks of beef, lots of veggies and a very savory broth with a secret ingredient – pumpkin. Come see how I make this easy, low carb and healthy dinner!
If you are looking for other stew recipes, check out
this nourishing Instant Pot beef stew recipe.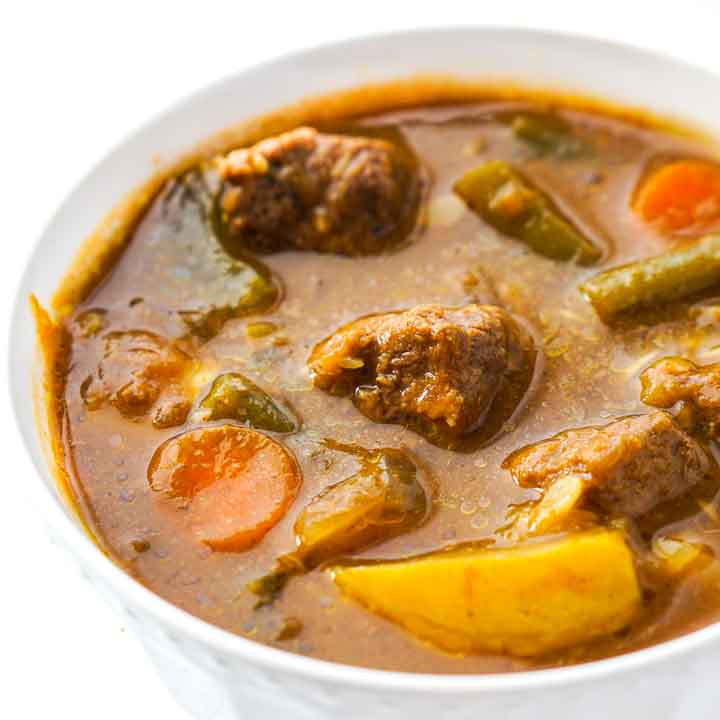 When I was just out of college, I used to make beef stew all the time. I liked it because I could throw it in my crock pot and come home from work to a nice wholesome meal that would last for days.
Because the weather is turning I wanted to make this healthy stew again but update it to make it lower in carbs. So this keto beef stew is filling, low carb, gluten free, high protein, Paleo and super tasty comfort food. You can beat that!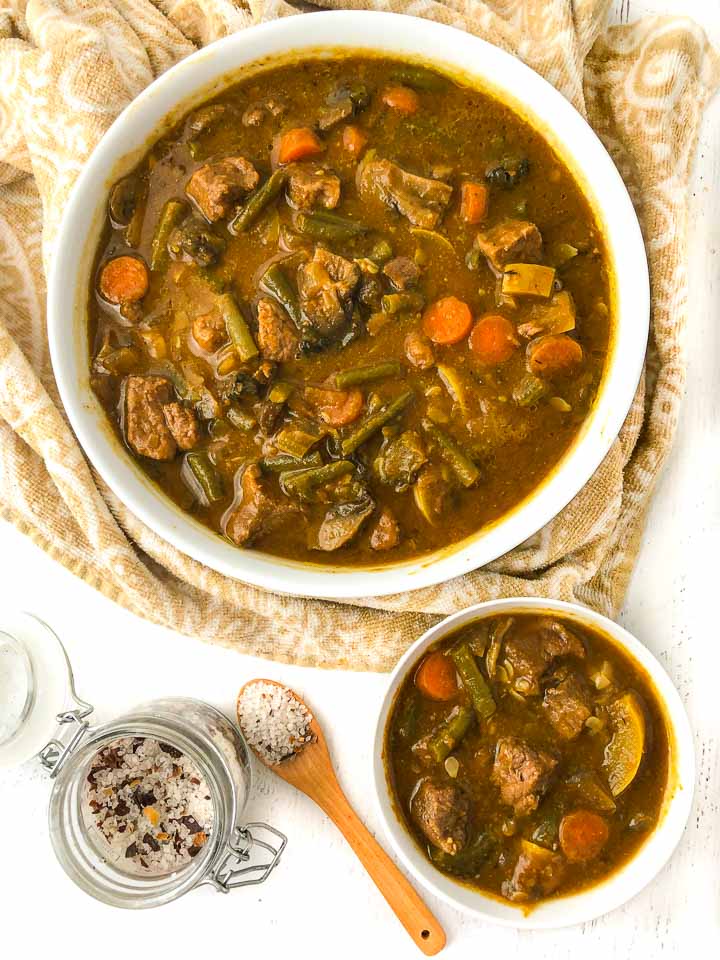 What's In This Low Carb Beef Stew?
Originally I thought this dish would taste great with some pumpkin puree for thickness, instead of flour. It worked great and also add more healthy nutrition to the stew.
I had also wanted to make this Paleo which means a stew without potatoes. Back then I had used turnips and parsnips instead of potatoes. However since I'm updating this recipe to be low carb I used the following ingredients:
beef stewing meat (or chuck roast)
Better than Bouillon (beef base) and beef broth
garlic, thyme, salt, garlic powder and pepper
worcestershire sauce
carrots, onions, celery, mushrooms, green and yellow zucchini and green beans
pure pumpkin puree
If you want to make this stew even healthier try using bone broth and grass fed beef.
Let's Make This Stew!
So to make this luscious beef stew start by add the beef to the bottom of your slow cooker. Season with salt, black pepper, thyme, garlic powder, garlic and Worcestershire sauce.
Next add all the chopped vegetables on top.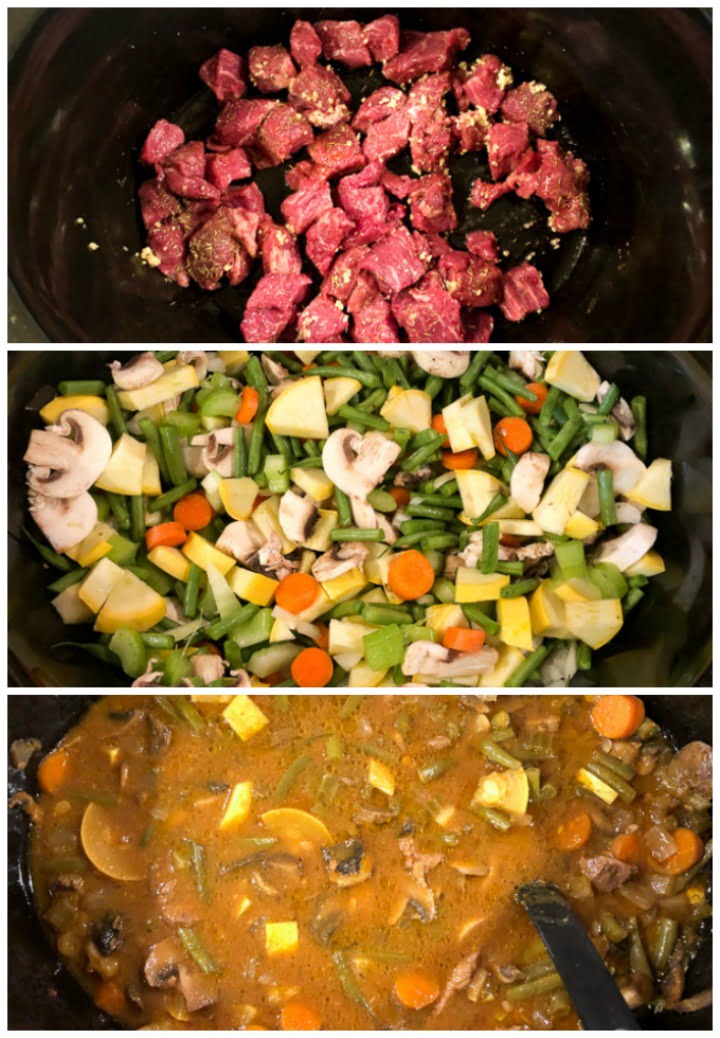 For the sauce I just used beef broth, Better than Bouillon beef base and pumpkin puree.
NOTE: I think Better than Bouillon REALLY adds a lot of flavor to soups and stews and think it is worth buying. If you don't have any you can substitute regular beef bouillon.
Mix these together and pour over the veggies. Place on the lid and cook all day on low or for 6 hours on high.
I let mine cook all day until the meat was very tender and the flavors all mingled together. This is perfect keto comfort food on a cold day.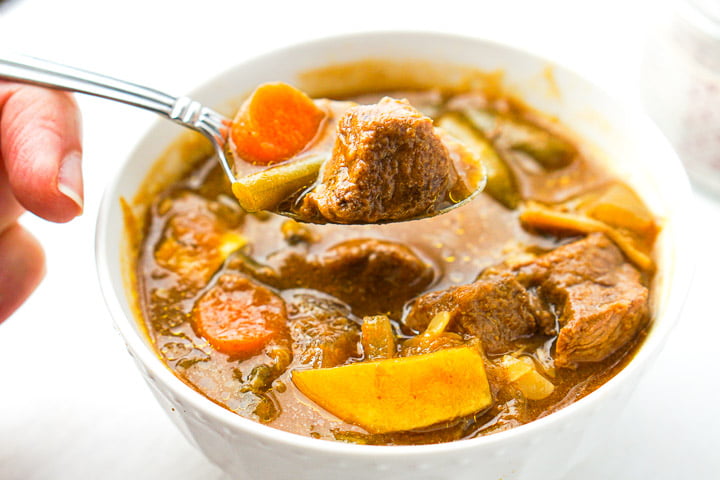 I hope you enjoy this healthy, low carb beef stew as much as I did.
Frequently Asked Questions
What are the nutritional information and carb count for this beef stew?
The nutritional information for 1 serving is 385 cals
21g fat / 10.7g carbs / 4.2g fiber / 27.5 protein = 6.5g net carbs

Can you freeze this beef stew?
Yes I freeze portions all the time to eat for lunch. Just spoon it into microwave/freezer safe containers and microwave for a few minutes when you want to eat it.

What to serve with this keto beef stew?
I just like to eat this stew as is but you could serve it over cauliflower rice too. If you don't carb about being keto, try regular rice or egg noodles.

How to thicken this beef stew?
I feel it is thick enough as it is. The pumpkin puree helps a bit with that. You can also try xanthan gum too. See how to use xanthan gum here.
You might also like my friend Mira's Keto Shepherd's Pie.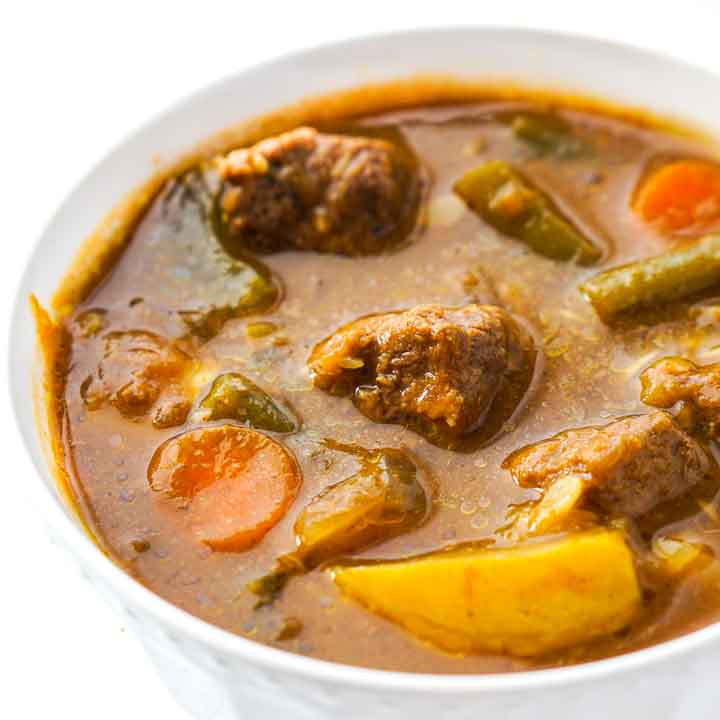 Keto Beef Stew in the Slow Cooker (Paleo, Gluten Free)
Total Time:
8 hours
10 minutes
This keto beef stew is so easy to make and tastes delicious. The secret ingredient to this low carb recipe is pumpkin.
Ingredients
1 ½ lbs beef stew meat (can use beef chuck roast or grass fed beef)
¼ teaspoon pepper
½ teaspoon salt
2 cloves garlic, crushed
½ teaspoon thyme
½ teaspoon garlic powder
1 teaspoon Worcestershire sauce
2 medium carrots, chopped
1 celery stalk, chopped
½ onion, chopped
3 cups beef broth
2 cups zucchini, chopped (I used yellow and green)
1 ½ cups green beans
8 oz small portobello mushrooms sliced
1 ¾ cup pure pumpkin puree (1 can)
2 teaspoons Better than Bouillon (beef base)
Instructions
Add your meat, pepper, salt, garlic, thyme, garlic powder and worchestershire sauce to the slow cooker and mix well.
Top meat with all of the chopped vegetables.
In a bowl mix the beef stock, pumpkin and Better than Bouillon base. Then pour over vegetables and mix well.
Set slow cooker to slow setting for 6-8 hours or until the meat is tender. Can also cook at a high setting just as long the meat is tender in the end.
To make this even more nutritious you can use bone broth and grass fed beef.
Recommended Products
As an Amazon Associate and member of other affiliate programs, I earn from qualifying purchases.
Nutrition Information:
Yield:

8
Serving Size:

1
Amount Per Serving:
Calories:

385
Unsaturated Fat:

0g