This easy low carb Italian sub salad is so good you won't miss the bun! It only takes a few minutes to make this tasty, filling dish that's low carb too! Each serving has only 5.7g net carbs so if you are looking for a delicious keto salad this is the one!
You might also like this low carb bacon cheeseburger salad too!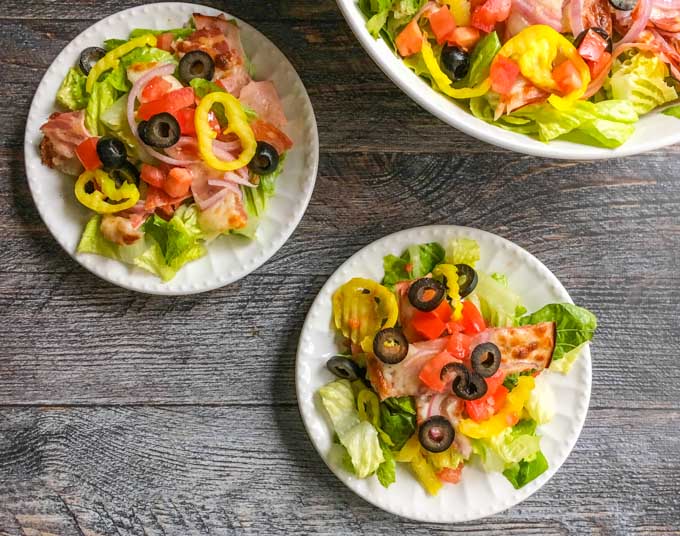 Long, long ago in a land far away there was a little restaurant called Bubba Darius. My father and I used to go there on a Friday night and had the best meals. They had delicious baba ganoush as well as pizzas.
They also served an antipasto salad that was much like the salad I've made today. Unfortunately they closed shop some years ago so I had to learn to make it myself. The thing that I really like about this easy low carb Italian sub salad is that it's just like eating a sub sandwich but without the bread. In other words it's one tasty salad!


Other Low Carb Salads To Try
I eat salads all the time. I just love them. As a matter of fact, recently a waitress at a local restaurant said to me that she wasn't giving me a menu because she knew I was going to order a big chicken salad. And I did. 😛
I have lots of salad posts …. 33 to be exact. Three of my favorites are: bacon blue cheeseburger salad, big mac salad and the Greek chicken salad. But I also love my Pittsburgh steak salad and taco cobb salad. Oh I love them all!
Let's Make That Italian Sub Salad
To make this salad, you only need to place some ham, salami and capricola slices on a sprayed piece of tin foil. Then add some provolone and red onion on top. Stick that under the broiler until it's brown and bubbly.
Take it out of the oven and use a pizza cutter to cut it into pieces to put on your salad. Otherwise it's hard to eat.
The salad base is some romaine lettuce with pickled banana peppers, diced tomatoes, sliced olives and whatever dressing you want. Just toss that together and add your meats and cheese.
Easy Low Carb Italian Sub Salad
Recipe Notes And Tips
I used thinly sliced lunchmeat from Aldi. This makes it easier to chop up than thick slices but you could use either.
Also I used ham, salami and capricola but you can use what ever lunchmeat and cheeses you wish.
Make sure to chop up the lunchmeat after it is baked because it's hard to eat the salad otherwise.
The nutritional information does not include salad dressing. You might not even need any to be honest.
That is my simple low carb salad. It has all the flavor of an Italian sub without the bun. The nutrition for 1 serving without dressing is:
320 cals / 18.5g fat / 6.4g carbs / 0.7g fiber / 27.8g protein = 5.7g net carbs
Italian Sub Salad (low carb)
This easy Italian sub salad is so good you won't miss the bun! It only takes a few minutes to make this tasty, filling dish that's fairly low carb too!
Ingredients
4 cups romaine lettuce, chopped
1 tomato thinly sliced or chopped
⅛ cup red onion thinly sliced
1 oz banana pepper rings
⅛ cup black olives, sliced
4 oz salami, sliced
⅛ cup black olives, sliced
4 oz ham, thinly sliced
4 oz cappicola ham, thinly sliced
2 oz provolone, sliced
Instructions
Layers the meat, then cheese and onions on a cookie sheet or piece of aluminum foil.
Broil for 4 minutes or until the cheese starts to brown.
In a large bowl, add your lettuce and dressing of choice and toss.
Cut the meat and cheese into pieces using a pizza cutter.
Add the meat on top of the lettuce and then add your tomatoes, pepper rings and olives.
Serve and enjoy!
Notes
The nutrition for 1 serving without dressing is:

320 cals / 18.5g fat / 6.4g carbs / 0.7g fiber / 27.8g protein = 5.7g net carbs
Nutrition Information:
Yield:

3
Serving Size:

1 Servings
Amount Per Serving:
Calories:

320
Net Carbohydrates:

5.7g