Try this great low carb lunch from your freezer – keto Mexican rice. Make this cauliflower rice dish in one pan and freeze for later. Full of veggies, ground meat and a tasty spice blend you can whip up this keto freezer meal in about 15 minutes. Easy, healthy and tasty low carb lunch.
You might also like these keto freezer breakfast burritos.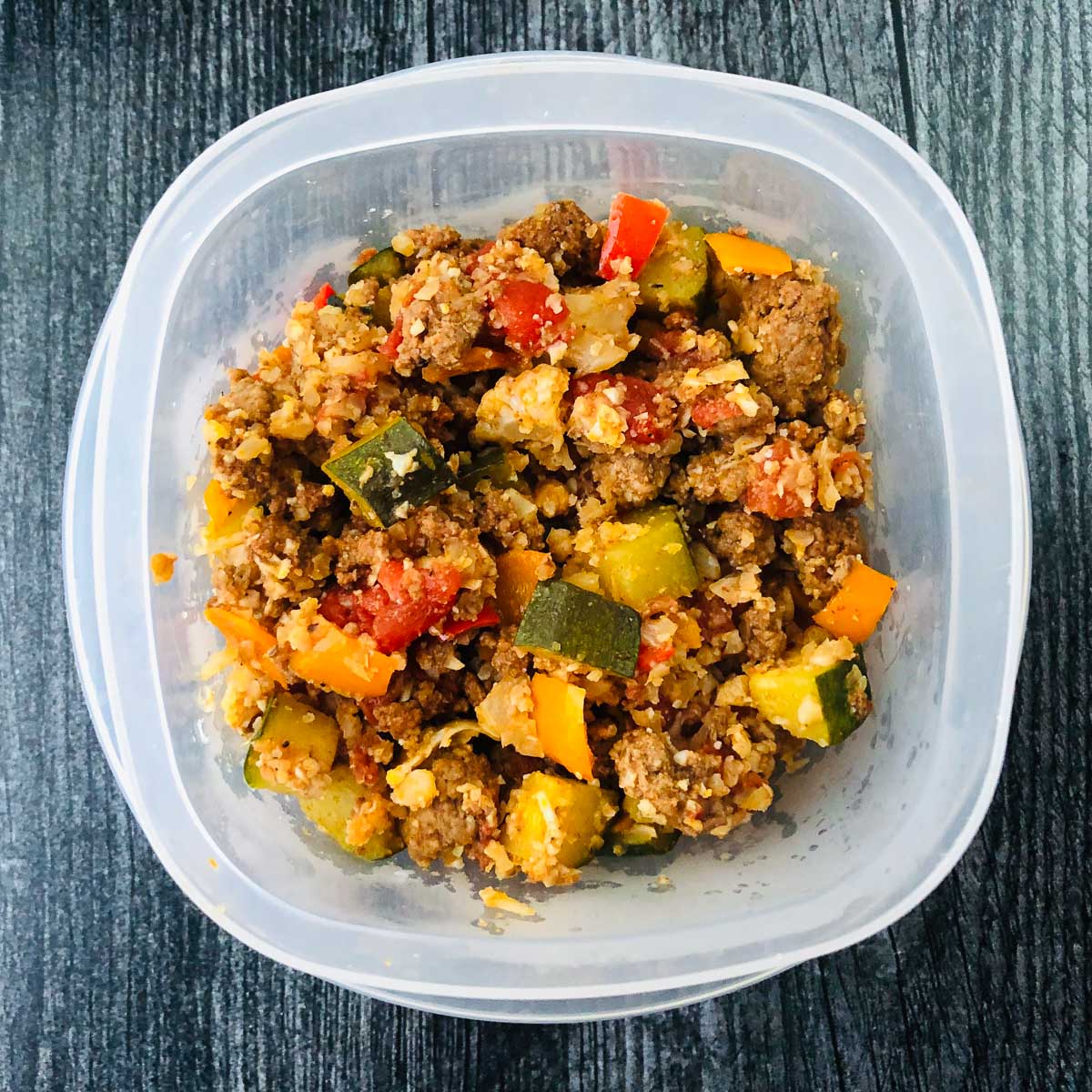 I'm getting serious this summer about staying on track with my diet and maximizing my time with my family. For me all it takes is a little planning and some batching cooking.
I was in the mood for some Mexican food and decided to make a keto Mexican rice dish. I made a big pan and stored portions of it in the freezer for those busy days in summer.
Sometimes it's so easy to grab fast food or head out to lunch at a nice restaurant but I want to save time, money and stick to my diet and I knew this was the way I do it.
My favorite storage containers for freezing meals.
My husband saw a commercial for these Rubbermaid storage containers on tv and convinced me to buy them. Best decision ever! Our kitchen cupboard was full of miss matched lids and containers and was a hazard to even open the cupboard to get one.
I love the storage containers because:
they stack really well and are heavy duty
the larger sizes have a built-in vent for splatter-free microwaving
the lids snap together at the bases to reduce clutter
they are BPA free, microwave safe and dishwasher safe
The are great for meal prep and have a very high rating on Amazon. If you do a lot of keto freezer meals you might want to invest in a set. This is the set I got on Amazon but they come in different size sets.
Below you can see the lunch sized ones I used for this freezable lunch. I believe they hold 2 cups.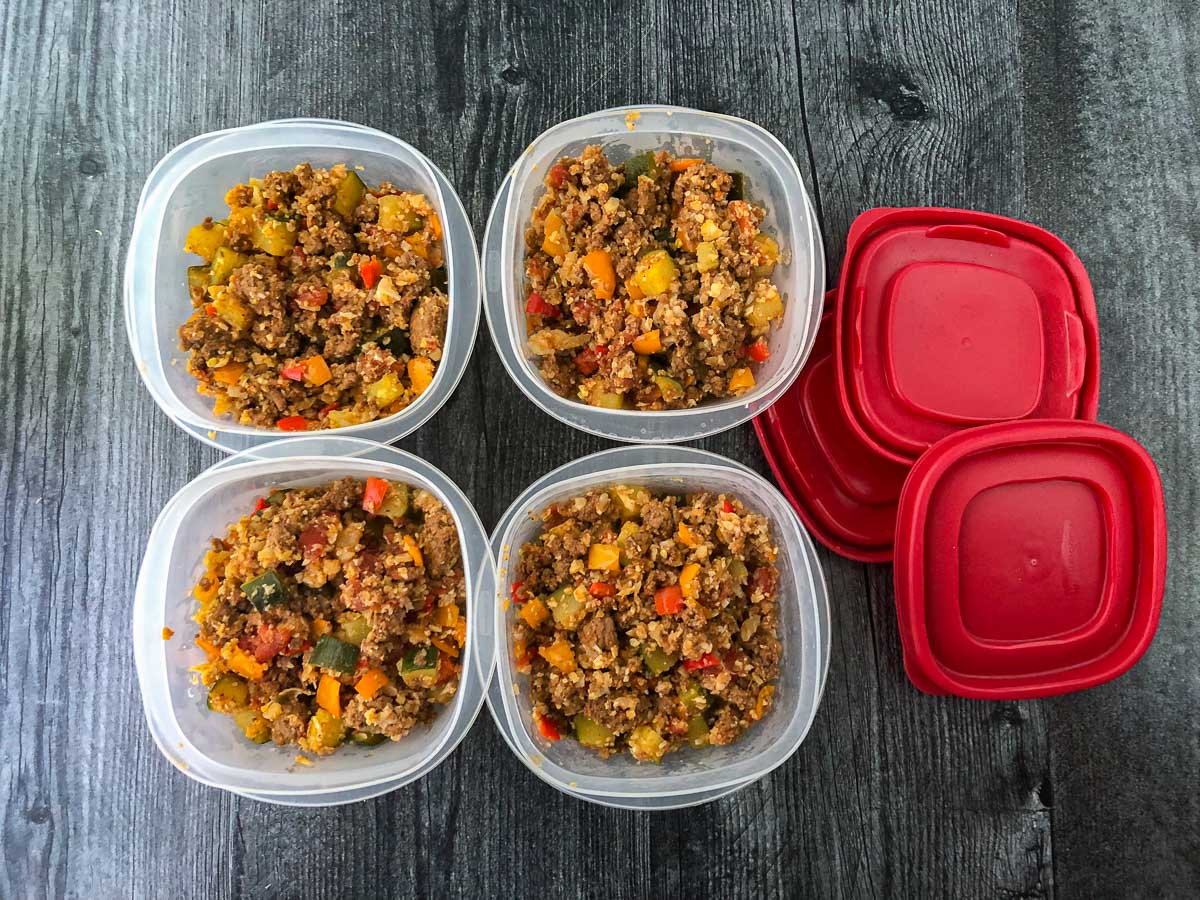 Recipe ingredients I used.
I just used a few simple ingredients I had on hand to make this healthy freezer meal. I used fresh cauliflower rice, lean ground beef, chopped sweet peppers and zucchini, canned diced tomatoes and a taco spice blend (salt, pepper, onion powder, garlic powder, cumin and chili powder).
I like to make my own cauliflower rice because it's very easy and tastes better than frozen cauliflower rice in my opinion. You just need to get a head of cauliflower, chop into florets then pulse in a food processor until it looks like grains of rice. Easy peasy.
I like to use a lean ground beef of this meal because it will shrink less than a fattier ground beef. Also you don't have to worry about draining the grease from the meat.
How to make keto Mexican rice for freezer lunches.
Step 1: Get a big nonstick skillet out and heat over medium high heat. Spray it with nonstick cooking spray and then add the ground beef, tomatoes and spices. Mix well, then turn down the heat to medium and continue to cook until the beef starts to brown.
Step 2: Add the peppers and zucchini then mix, cover and cook for 5 minutes. While it's cooking you can make your cauliflower rice by adding cauliflower florets to a food processor and pulse to make rice size pieces.
Step 3: Take off the lid of the pan and add in the riced cauliflower. Mix well and cook for another 5 minutes.
Step 4: Once everything is cooked take it off the stove and let cool completely before placing in airtight freezer containers. Freeze for up to 3 months.
Note if you wanted to add beans which are typically high in carbs, you can try canned black soy beans which are very much like regular black beans but have way less carbs. They can be hard to find so I buy them occasionally on Amazon.
Please scroll down to view the printable recipe card.
How to serve this keto Mexican rice.
All you really need to do is take the Mexican rice out of the freezer and place into the microwave. Cook for a couple of minutes then stir and continue to cook until everything has been heated through. It should take anywhere between 3-5 minutes.
Some things you can add to this low carb lunch are:
Melt cheddar cheese, or a taco cheese blend after you mix the dish. You can try any cheese you want. You don't want to add cheese before freezing as it doesn't freeze well. It's better to put it on when reheating.
Add some heat with hot pepper flakes, hot sauce or cayenne powder.
Top the cooked dish with low carb toppings such as sour cream, fresh cilantro leaves, low carb salsa, thinly sliced jalapenos, pickled jalapeños, avocado or sliced black olives.
More healthy keto lunches you can freeze!
I few other keto recipes I made for my freezer lunches are various low carb soups and these recipes.
I wanted to add more cauliflower rice but with the other veggies, it was adding more carbs. So this dish is about 50/50 meat to veggies.
Well I hope you like this Keto Mexican cauliflower rice recipe. It really does make an easy low carb freezable lunch to have on hand. The nutrition info for 1 serving is:
197 cals / 7.7g fat / 8g carbs / 2.9g fiber / 20.3g protein – 5.1g net carbs
You might also like my friend Jessica's dirty rice and ground beef recipe!
Easy& Freezable Keto Mexican Rice Recipe
A great low carb lunch from your freezer - keto Mexican cauliflower rice. Make in one pan and freeze for later. Easy, healthy and tasty low carb lunch.
Ingredients
1 pound lean ground beef
2 teaspoons chili powder
1 teaspoon cumin
1 teaspoon onion powder
½ teaspoon pepper
1 teaspoon salt
1 teaspoon garlic powder
2 cups of cauliflower rice
10 oz can of diced tomatoes (I used one with chiles)
1 cup zucchini, diced
1 cup bell peppers, diced
Instructions
Spray a large saute pan with nonstick cooking spray and heat to medium high heat. Add your ground meat, tomatoes and spices. Mix well then turn the heat down to medium
As the meat begins to brown, add in your veggies except for the cauliflower rice.
Cover and cook on medium heat for 5 minutes.
Add in the cauliflower, mix well and cover and cook for 5 more minutes.
When done, set aside to cool competely before putting into containers.
Freeze until ready to eat. Pop into a microwave to cook for a few minutes when you are ready to eat them!
Notes
The nutritional information for 1 serving is: 197 cals / 7.7g fat / 8g carbs / 2.9g fiber / 20.3g protein – 5.1g net carbs
Nutrition Information:
Yield:

5
Serving Size:

1
Amount Per Serving:
Calories:

197
Unsaturated Fat:

0g